Why Start A Mighty Girl Book Club?
A Mighty Girl book clubs provide girls with tremendous educational, social, and self-esteem-boosting benefits and parent-child book clubs also provide great bonding opportunities. Books are a great equalizer, providing children and adults with the same opportunities for self-discovery and emotional connection. A book discussion allows adults to better understand what their children are thinking and feeling about the world around them, through the lens of a book. We can provide you with some resources to make these discussions fun and engaging, and these monthly newsletters will give you tips and tricks to maintain the momentum of a successful book club and help take the stress out of planning.
How to Help Support the Work of A Mighty Girl
A Mighty Girl was created by a grassroots wife-husband team as a labor of love but we need your help to maintain the site and provide girl-empowering resources for people worldwide. If members of your book club plan to purchase the books that you'll be reading in your club, please encourage them to do so via the "Buy from Amazon.com" link on every book's A Mighty Girl product page. At no added cost to the buyer, A Mighty Girl receives a small commission from the sale.
Of course, we appreciate that many book club members may seek to purchase books locally or  borrow them from the library. In that case, if your group finds value in the resources provided by A Mighty Girl, please consider making a donation to help support the work of A Mighty Girl using the "donate" link at the top of our website. Your gift to A Mighty Girl will be deeply appreciated and allow us to continue maintaining our website and providing resources for groups like yours.
We Want to Hear From You!
We'd love to hear about your A Mighty Girls book club and what you are reading. We are also happy to help answer any questions you might have or provide advice regarding any challenges you are encountering to the best of our ability. To contact us, send an email to bookclub@amightygirl.com. If you have not yet signed up your A Mighty Girl book club, be sure to sign-up your group here to stay connected to our book club community.
---
In this Newsletter:
How to Organize Your Club:
Book and Activity Guides:
---
The Most Important Thing: A Guiding Purpose
When deciding on the structure for your meetings, think back to your motivation for starting this club: What were your overarching goals for this experience? Keeping this guiding purpose in mind will help you structure the meetings accordingly. Will your meetings include food? An activity? Some playtime for the kids?
To ensure that the meetings work for everyone, discuss your preferences for the meeting's structure during an Organizational Meeting with the other parents for a parent-child club. For a kids-only club, it's helpful to hold a preliminary discussion with the children involved to choose the right shape for your group. It helps to have a mental agenda to keep the group on track, but there's no need for a formal agenda or officers of the club. Shireen Dodson writes in her book The Mother-Daughter Book Club, "Any structure you decide on should be for the sole purpose of simplifying the effort so you can focus on enjoying books and one another."
That said, you should all discuss the general purpose and philosophy of the club, responsibilities beyond reading, such as hosting or planning activities, and choose a leader to facilitate the housekeeping parts of the meetings. Establish a meeting length and time and stick with it, and plan for holidays and vacations in advance. Expect that everyone will miss a meeting from time to time, but make Book Club time a planning priority!
Choosing Books
Shireen Dodson also shares two great pieces of advice when it comes to choosing books for your group:
1. "You can't really judge a book by looking at its cover -- or even its reputation.
2. Always be sure that one of the [parents] in the group -- or a trusted librarian, bookstore contact or other knowledgeable adviser -- has read a book before you suggest it to your group."
A Mighty Girl offers book club reading recommendations for four different age groups.  If your club is focusing on a specific theme, you can also browse through the menus on the A Mighty Girl website. The site has many different types of book categories to explore such as fiction, history, biographies, and books on various social issues. You can also talk to your librarian about books he or she would recommend on that theme. A Mighty Girl's Facebook page also includes daily book recommendations.
If your group starts a book that isn't a good fit because of subject matter or language, you don't have to plow through: talk about why it isn't working, and usually you'll gain insights into the issues the book raises just by deciding to drop it.
The reading and discussion group is as enduring as the written word, for as long as words have been written, people have read, contemplated and gathered to talk about them.-- Alan Moores, Rhea Rubin"Let's Talk About It", American Library Association
Leading Effective Discussions: An Introduction
Effective book discussions take the messages of a book and apply them to life, opening up a world of shared reactions and common understanding. Discussions are a great way for group members to get close to each other as they get close to the characters and experiences of the book, as long as there are good questions, animated participation, and respectful leadership. Here are some tips to help conversation flow:
Use questions of fact, interpretation, and evaluation.

Questions of fact define the story, using the text to talk about details
Questions of interpretation answer "Why?" questions to discuss why something happened or should have happened.
Questions of evaluation provide an opportunity to agree or disagree with the author's point of view.
Let the kids lead discussion. Once adults have had a chance to model good discussion techniques, gradually allow the children to facilitate the discussion at least part of the time. It's ok for them to start with fact questions that may seem basic to you, but if the adults model how to interpret or evaluate the book, the kids will soon ask more detailed questions. It's important for the adults to step back from their role as parent or teacher and let the kids practice leadership on their own terms.
Let everyone speak freely. No one should be afraid to state an unpopular opinion, so encourage respectful disagreement without letting it get personal. Set ground rules for taking turns that work for your group and stick to them. Make respect the number one rule of the book club.
Use the 30-second rule for dead air. If someone asks a question and there is no immediate response, let everyone think for at least 30 seconds before prompting or deciding to move on. This will give everyone a chance to gather their thoughts, and you will be surprised with the well-formulated responses that arise after 30 seconds of silence. Don't think of it as "awkward silence" but rather as productive silence!
Share experiences, not lectures. It can be tempting to let the adults offer lengthy interpretations and in-depth thoughts about a theme, but instead try to use experiences as examples. Story-telling is a great way to share life lessons without lecturing, and the kids will learn much more about the adults in their lives while connecting to the book.
---
Activity Ideas for Younger Readers (Grades 1-5): The Hundred Dresses by Eleanor Estes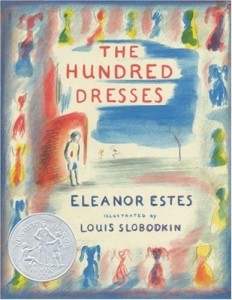 Overview: The Hundred Dresses
Wanda Petronski tells the girls in her class that she has one hundred dresses at home so they will stop teasing her, but instead they follow her everywhere just to taunt her about how poor she is. When Wanda and her family move away, the girls realize how hurtful words can be, and resolve to speak kindly to everyone.
About the Author
Eleanor Estes grew up in West Haven, Connecticut, and she is beloved for her ability to write honestly and earnestly from the perspective of a child. She has said, "In my writing, I like to feel that I am holding up a mirror, and I hope what is reflected in it is a true image of childhood."
Read & Refresh with Dress Cookies
Use your favorite sugar cookie recipe or packaged dough to make and decorate dress cookies! The host can use a dress-shaped cookie cutter (easily found online or at a craft-supply store) to cut out and bake enough cookies for each member before the meeting.
Make an assembly line with things like sprinkles, colored frosting, and small candies for the kids to decorate their cookies, and enjoy this special treat during or after discussion!
Craft Time
Younger readers can design their own dresses using the attached template and coloring supplies. Have mothers and daughters design dresses for each other!
Service Opportunity
Wanda lies about her hundred dresses because she is embarrassed to be poor. Have each member of the group bring an item of clothing to donate to a women's shelter or other needy organization, suggests one book club leader. Show the children how they can immediately put the lessons of the book into action by providing clothing for someone else, and talk about the importance of giving back to the community.
Sample Discussion Questions
Define: How was Wanda treated differently from the other girls? What did she do in response to bullying?
Interpret: Why did Wanda lie? What should the girls have done when they found out she was lying?
Evaluate: What does the author think about the behavior of Wanda's classmates? How can you tell? Have you ever been in a situation where you felt like an outsider like Wanda and, if so, how did if make you feel? Have you ever witnessed teasing, and if so, what did you do?
---
Book and Activity Ideas for Middle Grade Readers (Grades 4 -- 7): The Breadwinner by Deborah Ellis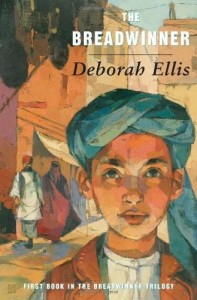 Overview: The Breadwinner
When the Taliban arrest her father because of his education, it is up to 11-year old Parvana to provide for her family. In this first book of a trilogy, Ellis explores the dangers and frustrations of living under Taliban rule in Afghanistan through the eyes of the brave Parvana, who must disguise herself as a boy to survive. This coming-of-age story features a cast of strong, literate female role models and is driven by Parvana's courage and love for her family despite the world of war and oppression.
About the Author
In 1999, Ellis traveled to Afghan refugee camps in Pakistan where she interviewed women and learned about the hardships that became a part of The Breadwinner. She says, "It was a real honor for me to be able to hear these women's stories of survival and courage, and to share a bit of that courage with others through Parvana's story."
Read & Refresh with Naan: visit A Mighty Girl's website for the recipe.
Recipe Notes: The dough should be very soft, so you may have to adjust the amount of water depending on the humidity of the air.
1 (.25 ounce) package active dry yeast
1 cup warm water
1/4 cup white sugar
3 tablespoons milk
1 egg, beaten
2 teaspoons salt
4 1/2 cups bread flour
2 teaspoons minced garlic (optional)
1/4 cup butter, melted
In a large bowl, dissolve yeast in warm water. Let stand about 10 minutes, until frothy. Stir in sugar, milk, egg, salt, and enough flour to make a soft dough. Knead for 6 to 8 minutes on a lightly floured surface, or until smooth. Place dough in a well-oiled bowl, cover with a damp cloth, and set aside to rise. Let rise 1 hour, until the dough has doubled in volume.
Punch down dough, and knead in garlic. Pinch off small handfuls of dough about the size of a golf ball. Roll into balls, and place on a tray. Cover with a towel, and allow to rise until doubled in size, about 30 minutes.
During the second rising, preheat grill to high heat.
At grill side, roll one ball of dough out into a thin circle. Lightly oil grill. Place dough on grill, and cook for 2 to 3 minutes, or until puffy and lightly browned. Brush uncooked side with butter, and turn over. Brush cooked side with butter, and cook until browned, another 2 to 4 minutes. Remove from grill, and continue the process until all the naan has been prepared. (adapted from allrecipes.com)
Service Opportunity:
As a group, research the organization Women for Afghan Women. Hold a bake sale (with some of that delicious naan!) to raise money, join their email newsletter list, or spend some time thinking about ways your group can raise awareness about the organization.
Sample Discussion Questions:
Define: What happened to Hossain? What happens to Parvana's father? How do Nooria and Parvana get along? Does it change from the beginning of the story to the end? Find examples of how their relationship changes or stays the same.
Interpret: What are some similarities and differences between Parvana's life and the daily lives of you and your friends? Why do you think Parvana keeps the Window Woman a secret? Why does she plant flowers for her at the end of the book?
Evaluate: What does reading the Talib's letter reveal to Parvana? How does this change her view of the Taliban in general? Did it change your ideas of the Taliban as well? Would you have been as brave as Parvana? What would have happened to her family if she hadn't become the breadwinner? Why do you think Deborah Ellis wrote this book? Do you think it's still important to read about the Taliban even though they are no longer in power? (adapted from Scholastic's Literature Circle Guide to The Breadwinner)