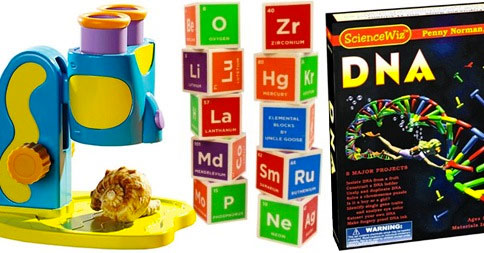 By Katherine Handcock, A Mighty Girl Communications Specialist
Kids are full of curiosity about how the world works, so why not give them a gift that helps them explore it? With a high-quality science kit or toy, kids can incorporate the wonder of the everyday world into their play. In fact, it's amazing how much they can learn that way!
In this blog post, you'll find our favorite science, math, and programming toys and kits for curious kids of all ages. Whether you know a would-be star-gazer, a budding biologist, or an eager young robotics specialist, there are options here that will fascinate them. And who knows? Play alongside them and you might just learn something new too.
For more fun STEM-related toys and kits, visit our Science & Math Toy Collection. For more girl-empowering toys of all varieties, check out our 2015 Holiday Gift Guide and our 2015 Gift Guide Blog Series.
The Rules of the Universe: Chemistry, Physics, and Math
Do you remember how incredible it was to learn that certain principles of math, physics, and chemistry were behind all the complexity of the world around us? With these toys, kids can explore what the rules of the universe are and how they affect everything that we do.
Periodic Table Building Blocks
Most wooden blocks feature the A, B, Cs — but why not Au, Be, and Cu? This beautiful set of solid-wood blocks from Uncle Goose features all the elements of the periodic table, complete with symbol, name, and atomic number These ethically-made and eco-friendly blocks would be a hit with an adult chemistry fan, too!
Primary Science Set
Get the youngest scientists hands on with this set of real science tools perfectly sized for little hands! The set includes lab staples like a beaker, a flask, a large test tube with a stand, and a magnifying glass. It even comes with a set of goggles so you can teach lab safety from the beginning! Ten double-sided activity cards complete the set, ensuring that you can spark an interest in science from a young age.
Super Sorting Pie
This is a delicious way to teach early math skills. Place the sorting cards in the bottom of the pie to practice different ways to separate objects: color, shape, and number are all covered. There are 60 colorful fruit pieces to sort, 7 fruits in five different colors, and the top "crust" becomes a bowl to hold pieces while kids play. As an added bonus, the tweezers help develop fine motor skills.
Inchimals
These thoughtfully designed wooden blocks are a great way to introduce measurement and proportion! Each inchimal is a different size, from the 1" ladybug to the 12" giraffe. Using the blocks and the 100 write-on/wipe-off math puzzles, kids will explore counting, number value, and scale, as well as developing language, fine motor skills, and more. When math time is done, the colorful animals also make great pretend play toys. They're a colorful way to build excitement about numbers.
Mix and Measure Set
Now preschoolers and young school-aged kids can explore some of the foundations of chemistry with this set, which includes tools sized for smaller hands and experiments that are safe for younger chemists! As kids make puff paint, mystery goo, slime, and more, they'll also be learning about volume, weight, and fractions, as well as practical skills like accurate measurement.
My First Super Science Kit
Kids will love discovering the world of science with this kit from Be Amazing! Use the giant magnifier to examine the details of everyday objects; make a human circuit board with the Energy Stick; and even grow a giant crystal ball and then make it "disappear" in a bowl of water. The 75 experiments you can do with the supplies in this kit provide a wide range of intriguing science for kids to explore.
My First Mind Blowing Science Kit
Show off some flashy science with this fun and accessible kit! With this set, both adults and kids can learn about solutions, acids and bases, and more — and how you can use them to create truly impressive results. From a color-changing volcano to growing jiggly crystals, these experiments will truly blow your mind. The detailed instructions ensure that you don't need an extensive background in science to make the experiment work or to understand why they do.
Super Magnet Lab
When you think about it, magnetism is pretty amazing — and this kit provides plenty of opportunity to explore it first-hand! This 224-piece kit includes magnetic chips, metal ring magnets, mini metal horseshoe magnets, metal bar magnets, and much more. An included activity guide provides lots of ideas for exploring how these magnets works and what they can do.
Magic School Bus: Chemistry Lab
Jump on The Magic School Bus with Ms. Frizzle and the gang to learn about the basics of chemistry! Kids will use litmus paper to measure pH, make sticky ice, form a bouncy ball, plate copper, and much more. This bus-shaped kit packs a lot of learning into a small package: 51 experiment cards, some supplies, and a data notebook to record your observations. Seatbelts, everyone!
Magic Science for Wizards Only
The way that science works, it can sometimes seem like magic! In this kit, kids will test 11 different experiments with results that seem magical, but are actually based in the principles of chemistry. From color-changing spells to smoke from your fingers, these experiments are sure to delight kids. Plus, they get to customize their own "magic wand"! This kit is a great way to show kids that science is often stranger — and more magical — than fantasy.
Glow In The Dark Crystal Growing Kit
Enjoy a classic hands-on science experiment with a twist: these crystals glow in the dark! Follow the instructions to grow your own crystal using the included powder; then, compare it to a real fluorite specimen to see the similarities and differences. The included guide provides lots of interesting information about crystals and about natural rocks that glow in the dark.
Big Bag of Science
Start digging into the foundations of science with this kit from Be Amazing Toys. The kit lays out the three areas of science, physical, earth, and life, so in addition to teaching chemistry and physics, kids will also touch on concepts in biology, geology, and more. More than 70 unique and fun hands-on science activities will give kids a good sense of what the different ares of science explain and which sciences they find the most fascinating.
Physics Workshop
Everyone's heard of a chemistry set, but a set that teaches physics is far more rare. Fortunately, leading science kit maker Thames and Kosmos is on the case! This set begins with building simple machines, like a pulley, to learn about basic forces, then expands to complex machines, like a pendulum clock, to teach advanced concepts like measuring work and centripetal force. With 300 pieces and 36 models to build and experiment with, there's plenty to satisfy your curious young physicist.
Crystal Growing Kit
Chemistry is a beautiful thing with this kit from Thames and Kosmos. Kids will learn how they can use dyes to make colored crystals, and why different compounds create crystals of different shapes. They'll also mold plaster into different shapes to see what happens when the crystals grow on different surfaces. With 15 experiments to conduct, as well as a clear locking treasure chest to display their crystal creation, kids will be intrigued by this set.
Prime Climb
This award-winning, colorful mathematical board game lets you deepen your mastery of multiplication and division in a whole new way! Roll the dice and add, subtract, multiply, and divide your way towards the center of the board. Pick up Prime cards and bump your opponents back to the start. The first person to land both pawns on 101 wins! This unique game builds deeper understanding of math while you enjoy traditional board game play.
Earth, Sky, and Space: Biology, Geology, and Astronomy
Some kids are more interested in the specifics of earth and life sciences, rather than the guiding principles behind them! Whether your child likes studying microscopic creatures or gazing to the stars, there's a gift idea here to foster their interests.
My First Microscope
This microscope from Geosafari is specially designed to be rugged and easy to use for preschoolers! The extra-large eyepieces and chunky focusing knob are similar to the ones on an adult microscope, and the bright LED with an easy push-button activation illuminates even more detail. The 8X magnification is enough to make a noticeable difference, but still familiar enough to help younger kids connect what they see through the scope with the real-life object. It's the perfect option for an eager scientist who's not quite ready for the real thing. For more sophisticated scopes for older kids, check out our recommendations below.
Skeleton Floor Puzzle
Introduce her to what lies beneath her skin with this amazing 4 foot floor puzzle! This highly detailed puzzle is made of soft foam; when kids are done assembling it, they can lie down and compare their own bodies to the skeleton they put together. All the major bones are represented, and each is labeled on the reverse side, so kids can start learning the proper names of bones.
Solar System Puzzle
Learn about the features of our solar system with this extra-large 48 piece floor puzzle from Melissa and Doug! This 2 by 3 foot puzzle provides plenty of details, so kids can see things like the asteroid belt, the rings around Saturn, Neptune, and Uranus, and even all the planets' moons. The background, with its stars and galaxies, hints at the enormousness of the universe beyond our own star. Little space-loving kids will love to assemble this one again and again.
Your Body Layer Puzzle
Kids who wonder what their body would look like under the skin will love this puzzle, which features multiple layers depicting a clothed body, skin, muscles, organs, and bones. This high-quality wood puzzle provides a fun challenge, with 29 pieces making up the five different layers. Add the Your Body Boy Layer Puzzle to show the difference between male and female anatomy, or the Mother Layer Puzzle to show how a baby develops from conception to birth.
Stomp Rocket Jr. Glow Kit
Explore the fun of rockets — with the help of a little kid power! These rockets blast off thanks to air pressure produced by a blast pad, so kids can burn off a little extra energy leaping on and seeing how high they can make the rockets fly; they can get as high as 100 feet. Plus, the foam rockets in this set glow, so you can keep up the fun long into the night.
Crystal Mining Kit
From Kidzlabs comes the Crystal Mining kit with 8 genuine little crystals (clear quartz, agate, dolomite, amethyst or rose quartz) embedded in a big hunk of plaster. Us the included digging tool and brush to excavate your treasures, then study them with the magnifier and keep it all safe in the storage pouch. Let her search for real buried treasure!
Magic School Bus: A Journey Into the Human Body
Learn all about how the body works with this set full of breathtaking experiments. Kids will bend bones, make joints, map taste buds, measure lung capacities and heart rates, and much more! The kit includes a life-sized human body poster with eight sheets of body part stickers kids can use to show off all they've learned. It's sure to be a hit with budding doctors and anatomists.
Moon In My Room
Some might say the moon was the original nightlight! This moon replica includes rows of lights that glow behind a detailed lunar surface. As you adjust the time of month with the remote, the lights turn on and off to show the phases of the moon; you can change them manually or set them to change in sync with the actual lunar cycle. For budding young astronomers, there's no nicer way to drift off to sleep.
Professional Rock Tumbler
See the true beauty of the gems you find with this high-quality rock tumbler. This set from National Geographic has an automatic shutoff timer, so it will run for just the right length of time, and speed control you can adjust depending on whether you want a fast polish time or pristine results. The powerful motor and noise-reducing barrel make it a pleasure to use! It comes with 1lb of assorted stones to get you started.
Diggin' Up Dinos: T-Rex
What dinosaur-loving kid hasn't dreamed of discovering their very own dinosaur bones? In this kit, a model tyrannosaurus rex skeleton is buried deep within a sandy block, waiting to be discovered. Put on your safety goggles and use your excavation tools to safely remove the bones, then assemble them into a display model. The set includes a color poster with intriguing facts about paleontology.
Wee Enchanted Fairy Garden
Combine science and art with this charming little garden kit from Faber and Castell. After you paint your planter, fill it with soil, and add decorations like a fairy house and little gems, plant the mixture of wheatgrass seeds and beans and watch your garden grow! Kids will be fascinated as they guess which plants will grow first and observe the differences between the two kinds of plants. Plus, they'll be proud to say the little garden on the windowsill is theirs — no fairy magic required!
DNA Experiment Kit
You can dive into the world of DNA with this set from ScienceWiz! 18 activities teach kids all the key basics about DNA and genetics: everything from assembling a DNA puzzle to extracting DNA from fruit! You'll even get to sample your own DNA and use it to make forgery-proof DNA ink. To take the lesson further, check out the ScienceWiz website for animations and additional explanations.
You Explore It: Squishy Human Body
Enter the world of the human body — with a little gross factor for some extra appeal! This 12" figure from SmartLab has removable squishy organs, as well as representation of the skeletal, vascular, and muscular systems. In the accompanying guide, research physician Lucille Kayes explains how the organs work together to digest food and provide energy and oxygen to the body. It's a unique way to examine the complex workings of the human body.
K'Nex DNA Replications and Transcription Kit
Learn about genetics with K'Nex? It's not as far-fetched as it sounds! After all, a building toy is an excellent way to show how four molecules not only build the famous double helix, but also how splitting them in half allows genes to reassemble themselves correctly after cells divide. By following the projects in this kit, kids learn the structure and processes of both RNA and DNA, the building blocks of life.
Break Your Own Geodes
Now kids can discover their own remarkable gem landscape inside this box of geodes — but first, they'll have to break them open! 12 geodes are included in each kit, ranging in size from a large marble to a golf ball; Gem Center USA guarantees that 90% of them will be hollow. Find clear quartz, smoky quartz, or maybe even amethyst! The included guide teaches budding geologists how to safely crack their geodes, as well as providing information about the minerals and crystals they'll find inside.
Solar System Planetarium
With this kit from 4M, you'll build a solar system with planets that can really orbit around the sun! The planet models include textured details, making them easy to paint, and the base's moveable planet stands will allow kids to see how planets circle the sun and how their orbits come together in conjunctions before separating again. It even comes with a teeny set of rings for Saturn! It's a fun hands-on way to learn more about the planets.
Master Detective Toolkit
Solving crime these days takes more than interviewing suspects: it takes a lot of science! With this kit, budding forensic scientists and crime scene investigators will learn how to secure a crime scene, how to process and preserve evidence, and how to use the information you glean to make conclusion about what happened. From pulling fingerprints to testing soil samples, this toolkit will highlight the importance of the scientific mind in law enforcement. As an added bonus, kids can try their hand at solving the sample mystery included in the manual.
Handheld Digital Microscope
This compact and fun digital microscope makes it easy to examine the world all around you. Its magnification ranges from 10X to 220X, and the four LED lights ensure that your field of vision is always bright enough to see all the details. Connect it to your computer with a USB cord and use the included software to easily capture and annotate the images you see. This basic version is a good starting model, but as her skills develop, other models from the series offer additional features. Or, for a simpler version for younger kids, check out the Zoomy Handheld Microscope for ages 4 and up.
Duo Scope Microscope
This flexible microscope offers easy use for a variety of different samples! It has 40X, 100X, and 400X magnification options, and the dual lights allow you to observe both prepared slides and solid objects with ease. The set includes over 50 accessories, including materials to make your own slides, and a detailed instruction manual.
Telescope and Astronomy Kit
Get your budding astronomer started with this entry-level kit from Thames and Kosmos. This high-quality refractor telescope features coated glass optics and includes plenty of accessories to get your observations started, including a stand and a variety of eyepieces for different purposes. The included guide teaches you how to properly care for and view through your telescope. With a maximum magnification of 140X, kids can easily view the planets, their moons, and several galaxies and nebulae.
Tandem-X Launch Set
Launch not one, but two different rockets with this set from Estes! You'll build two popular rocket models: the Amazon, which is almost three feet tall and can reach heights of 600 feet, and the Crossfire, which is small but powerful and can soar as high as 1,150 feet. Both rockets are outfitted with parachutes to float them safely to Earth — so they can take part in future launches! Any would-be rocket scientist will get hours of fun out of this kit.
LEGO Ideas: Birds
Build and display models of three well-loved birds — out of LEGO! This set was designed by gardener and bird enthusiast Thomas Poulsom and selected by the LEGO Ideas community. Each bird represents a different continent: the robin for Europe, the blue jay for North America, and the hummingbird from South America. The detailed models come with presentation stands featuring their scientific names, as well as booklets providing more information about each species. It's sure to delight building fans and birdwatchers alike.
Power Up: Energy, Robotics, and Programming
For many kids, the most exciting part of science is everything that it lets us do! From learning about electricity to building robots that really work, these kits will get kids into the engineering and design that goes into the technology we use every day.
Kid Galaxy RC Robot
This is the world's only RC robot specifically designed for preschoolers! This cheerful bot has working lights and fun sounds, and and its moving eyes give it fun expressions. Simple button commands control its direction and speed, so its remote is easy to use. Equally importantly, both remote and robot are sturdy enough to take all the rough and tumble play a preschooler has to offer.
MaKey MaKey
This is an invention kit for everyone! Using the pieces in the MaKey MaKey set, nearly any ordinary object can become an input device for your computer. As long as the item you pick is mildly conductive, you can make it work with any program — so you can type a letter using an alphabet soup keyboard, or play a song on a keyboard made out of bananas! This creative and inspiring kit can be used by kids as young as three with adult assistance; older kids can let their imaginations run wild on their own.
Robot Turtles
Programming is going to be a key skill in the future, and this game teaches programming fundamentals to kids aged 4 and up. By using a system similar to the Logo programming language, kids write a program with playing cars so the adult "turtle mover" can direct their turtle through a maze to claim a jewel. As they progress, mazes get trickier, introducing longer code strings and functions — and, of course, if things don't go as planned, kids will have to debug! This clever game was a hit on Kickstarter, and it'll be a hit with your family too.
Dash and Dot Wonder Pack
These clever little robots can do amazing things — with a little help from you! These fully-assembled robots perceive the world with sensors, so they can hear sounds, observe objects, and sense if you are moving them. Using the compatible apps, you can direct them to do all sorts of things, learning programming concepts as you go. This set also includes accessories for Dash and Dot, including a xylophone for some musical fun!
Puzzlets Starter Pack
Turn STEAM (science, technology, engineering, arts, and math) into a puzzle with this fun learning system! Puzzlets combine hands-on play with interactive gaming to help teach kids key concepts from STEAM. Put the puzzlet pieces into the Play Tray to solve the puzzles on the screen. The Starter Pack includes the game Cork the Volcano, which teaches programming fundamentals; future expansions will include special puzzlets to teach chemistry, music, and more.
Ozobot
This is one of the world's smallest programmable robots — only 1" in diameter! — but it offers some big fun. Ozobot uses an easy to understand, color-based programming language, so kids can start out by drawing their programs on paper or on a tablet screen, then set their Ozobot down to watch it follow their commands. You can also download the free compatible apps to create custom maps, challenge friends to games, or even make their Ozobot dance to music! Parents and educators alike will appreciate the free lesson plans and workshops available so kids get the most out of this little package.
Snap Circuits: Light
The innovative Snap Circuits sets allow kids to explore electronics with easy, snap-together modular components — no soldering or glue required! With this kit, kids can explore how fiber optics, LEDs, and other light sources work to make light a key — and often underappreciated — part of technology. The 55 pieces can create 182 projects, or you can add the pieces of this kit to other Snap Circuits sets for endless possibilities. For a similar set that explores sound and recording, check out Snap Circuits: Sound, also for age 8 and up.
Solar Power Kit
Harness the power of the sun's rays to power six different models with this kit! The special solar panel included with this set has three solar cells which generate 1.5 volts of electricity in bright sunlight. You can attach the panel to your models directly, or use it to charge a battery to use on cloudy days. Kids will be amazed when their own bulldozer, single-prop plane, or helicopter gets moving with nothing but solar power. The pieces in this set are compatible with several other Thames and Kosmos kits, so you can also experiment with powering other devices.
Snap Circuits: Alternative Energy
One of the great challenges of this century will be developing alternative energy sources, and this kit teaches kids about some of the most common ones! Using the guide for this kit, kids will learn about solar power, hydroelectric power, windmills, geothermal energy, and more. Then, they'll learn how batteries can store that power to be used in the future. Use this kit alone, or combine it with other Snap Circuits kits to power your own projects!
Super Solar Recycler Robot
Explore both solar power and the potential in recycling trash with this fun kit, which shows kids how they can turn plastic bottles, aluminum cans, and old CDs into solar powered robots! Kids will make fun projects like a street roller, a walking robot, or a flying bird. This eco-friendly kit gets kids thinking about how they can limit waste and reuse valuable materials.
Snap Circuits: Motion
The true power of electricity is what it can do, and this kit explores how electric power can make things move. Kids will power things like pulleys, fans, and motion detectors, as well as building cool models like a propeller plane and a robotic crawler. Because the modular pieces snap together and apart easily, kids can easily reconfigure things if they haven't got them quite right. It's the perfect kit for a budding electrical engineer.
Wind Power Set
Wind powered generators have surprising potential — an old technology turned new! With this set, kids will experiment with two different wind turbine blades and a gearbox with three different gear ratios to determine how they can get the most power to charge their rechargeable batteries. Then, use those batteries to power the models you build, including a glider, a racecar, and a tricycle. It's a fun way to explore the possibilities of this free source of renewable energy.
Snap Circuits Extreme
Fans of Snap Circuits will be over the moon at this enormous kit! All the parts you need for over 750 different projects are included; you'll build a sound activated switch, a lie detector, and adjustable light controller, and more. 80 color-coded pieces make it easy to assemble the projects by following the detailed manual, or to work out your own ideas. It even includes a computer interface so you can view waveforms and frequencies, just like a real electronics engineer.
Sparki: The Easy Arduino DIY Robot
This is a fun and easy to use introduction to programming, electronics, and robotics. This open-source robotics kit will teach you how to build a robot that can avoid an edge, follow a line, navigate a room, and draw shapes... and that's just the beginning! A wide array of components are included, and you can also connect Sparki to and Arduino or Raspberry Pi computer. Accessible to beginners and feature-packed for experts, everyone will love Sparki! For another highly recommended DIY programming set, check out the popular Raspberry Pi Ultimate Set.
littleBits Gizmos and Gadgets
You can have big fun with littleBits! These magnetic modular components let kids experiment with all sorts of devices. In the Gizmos and Gadgets kit, you'll use motors, wheels, lights, servos, and more to build cool models like a remote control racecar and an automatic bubble blowing device. It's the perfect set for a young tinkerer to start bringing their ideas to life.
LEGO Mindstorms EV3
Combine the versatility of LEGO with robotics and programming thanks to this enormous kit! Build one of a variety of different robot models — or come up with your own — and then use the intuitive icon-based programming language to direct your robot. You can use the enclosed remote to control your creation, or download the app to control it from your tablet. There's an active, exciting community of Mindstorms fans just waiting to share ideas with you — and to hear yours!
Additional Recommended Resources