Our top 50 picks of backpacks for children and teens that reflect Mighty Girls' diverse interests in a wide range of colors and designs.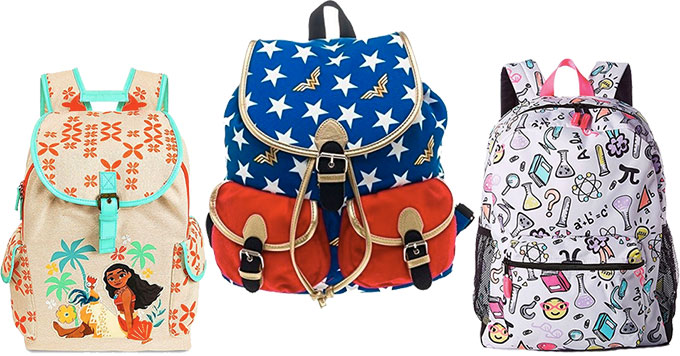 Whether you're looking for a new backpack for school, need something to tote stuff for sleepovers, or want a heavy-duty, high-capacity daypack for hikes and traveling, it's important that the bag you pick can take everything your Mighty Girl has to throw at it! At the same time, backpacks are a fun way to reflect a child's interests and a tween's or teen's personality. The best backpacks are the ones that both go the distance and capture the wide array of interests of the Mighty Girls in our lives!
With that in mind, we've put together a selection of 50 of our favorite backpacks for kids, from toddlers to teens. In the first half of this blog post, we've showcased a variety of backpacks in fun, colorful patterns that cover a wide variety of themes ranging from animals to science, and then in the second half, we've shared some of our favorite backpacks featuring Mighty Girl characters, including site favorites such as Wonder Woman, Moana, Star Wars, Inside Out, and Doc McStuffins. We're confident there's one every Mighty Girl will love!
And, to help your kids feel prepared for school -- whether they are just starting out or are heading back to middle or high school -- you can also find many encouraging books in our two back-to-school blog posts, 40 Books About Mighty Girls' Adventures at School and 35 Essential Guides For Mighty Girls in Middle School, High School, and Beyond.
On The Go: Colorful Backpacks for Mighty Girls
Show Some Character: licensed backpacks for Mighty Girls
If your child has a favorite Mighty Girl character, why not let her show her off on her backpack? These backpacks feature a variety of fun licensed characters.
Additional Recommended Resources