35 Posters for Children With Uplifting Messages of Support & Solidarity.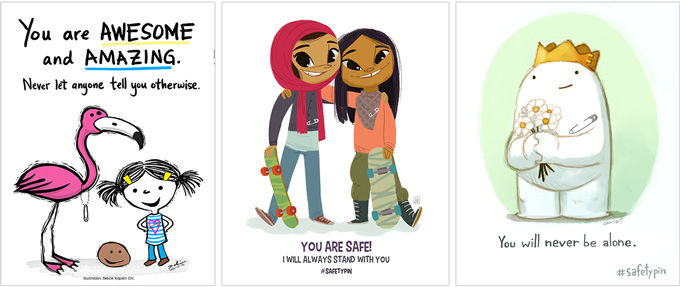 Over the past few days, children's book illustrators have been creating images featuring their beloved characters coupled with messages of love and support. Many of these images show their characters with a safety pin (#KidLitSafetyPin), others show the characters hugging (#HugsfromKidLit), but all are symbols to kids feeling vulnerable or being targeted with harassment that they are not alone -- that they are loved and valued. Moreover, these drawings, which the artists hope teachers and librarians will post in schools (you can click on any image below to open a printable version), send an important message to all students that now is the time to come together with friends and classmates to stand against any hateful speech or actions motivated by differences in gender, race, religion, sexual orientation, country of origin, or ability.
Along with sharing these messages of love, hope, and solidarity with children, author Kate Messner also expressed the importance of taking the next step: "If this is something you plan to share with students, please also take time to talk about what it means to have someone's back when it comes to fighting bullying and bigotry. Wearing a safety pin (or putting up a poster) doesn't really help unless it's accompanied by a promise of action. Speaking up and standing beside people who are being targeted requires courage, commitment, and planning. Here's a resource [from the Southern Poverty Law Center] that I think is great for talking with middle grade kids and older."
With young children, picture books offer an excellent way to emphasize the importance of kindness and acceptance of others. And, of course, literature is also a powerful way to explore topics ranging from misogyny to bigotry to xenophobia with older children and teens, as well as a vehicle for encouraging discussion on how we can build a more just and inclusive society now and in the future. In the resource section below, you can find a variety of such reading recommendations for all ages.
We hope you will print the images below, share them, and let all of the kids in your community know: they can find safety, hope, and love in books and with you. Continue reading → Continue reading