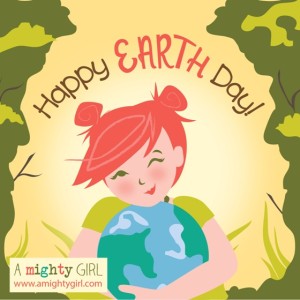 By Lili Sandler, A Mighty Girl Senior Research Intern
Happy Earth Day! Earth Day is celebrated on April 22nd in almost 200 countries all over the world as a day to support and protect the Earth. Many communities have volunteer opportunities during the entire week -- often referred to as Earth Week -- so that individuals can take part in environmental activities to help care for the Earth.
At A Mighty Girl, our Earth Week focus is on the Mighty Girls and women of the environmental movement. How have girls and women contributed to our global understanding of ecology, recycling, alternative energies, and many other environmental issues? More ways than you can count!
Below you'll find many of our favorite books and films about real-life environmentalists to share with the eco-kids in your life! And, if you missed the first two blogs in our Earth Day series, you can learn more great fictional stories about the environment starring Mighty Girl in our post on Ten Mighty Girl Books to Inspire Young Environmentalists and about toys to teach children about the environment in our post on post on Eco-Toys, Games, and Gear for Green Girls. Continue reading → Continue reading