A Mighty Girl's top picks of books about healthy relationships for tweens and teens in recognition of Teen Dating Violence Awareness Month.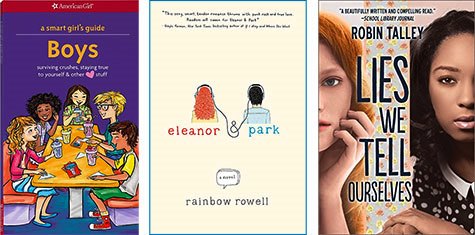 Tweens and teens are entering a new world of love and romantic relationships. But when you combine the overwhelming emotions of first crushes and partners with the emotional complexity of tween and teen minds, it can be hard to figure out whether a relationship is real — and whether it's healthy. Add in media messages that glorify unhealthy behavior — how many romantic comedies involve the boy who just won't give up on the girl who said no? — and kids can find it extremely difficult to figure out what healthy romantic love really looks like.
February is Teen Dating Violence Awareness Month, which makes it the perfect time to start conversations about healthy relationships with the Mighty Girls in your life. Dating violence among teens is a big issue: according to Loveisrespect, an organization dedicated to helping teens in unhealthy and abusive relationships, one in three US teens will experience physical, sexual, or emotional abuse from a partner before they reach adulthood. But parents and educators who teach kids about what a positive, respectful relationship looks like — and how to identify an unhealthy one — can make a huge difference.
So this February, start talking to your kids about what healthy relationships look like! By sharing these stories, and talking about what makes real love so empowering and special, we can help the next generation find the loving, respectful partners they deserve. Continue reading → Continue reading