In honor of Banned Books Week, we're showcasing a selection of high quality books for children and teens that have been challenged or banned.
The Diary of A Young Girl is a classic Mighty Girl book that beautifully captures the emotional life of its author, Anne Frank, as her family and friends attempted to hide from the Nazi regime. It has been translated into 67 languages and sold over 30 million copies, and is often used by schools for units on the Holocaust or to discuss the feelings and physical changes that come with adolescence.
And yet, as recently as 2015, parents have challenged the use of the book in classrooms due to a reference to Anne's sexual awakening. In fact, since 1952, when the diary was first published in the US, it has been challenged dozens of times for reasons ranging from Anne's discussion of her sexuality, to concerns about introducing the Holocaust to middle-school students, to disapproval of Anne's unflattering descriptions of her mother. As the history of challenges to this book makes clear, one person's bad influence is another person's literary classic.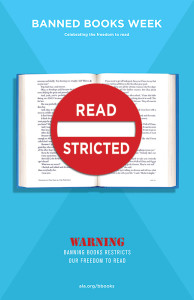 September 23 to 29 is Banned Books Week, "an annual event celebrating the freedom to read…[and] to seek and to express ideas, even those some consider unorthodox or unpopular." During this week, The American Library Association and others in the book community come together to expose the dangers of restricting access to books. The banning of books, at least in the US, occurs on a local level, generally by local school districts which decide to pull a book from school libraries or classrooms. Often a book that is banned in one school district is a core part of the curriculum in many others.
Banned Books Week celebrates that the majority of the books that have been challenged are still available on shelves, a testament to "the efforts of librarians, teachers, students, and community members who stand up and speak out for the freedom to read."
At A Mighty Girl, we believe that children — and their parents — should be free to explore difficult ideas and concepts. While parents should be aware of potential concerns with a title, removing a book from the shelves limits choice and sends the message to children that they aren't competent to handle challenging topics. With that in mind, we have gathered a selection of Mighty Girl books that have been challenged or banned. Many of these books are considered classics, and many have received literary awards. Yet for reasons ranging from racism to violence to religious objections, people have had to fight to keep these books accessible to readers. A Mighty Girl is proud to have each one as part of our collection of empowering titles. Continue reading → Continue reading