By Katherine Handcock, A Mighty Girl Communications Specialist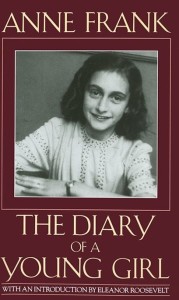 "Think of all the beauty still left around you and be happy." — Anne Frank
Stories about the Holocaust can seem very distant to a child today: decades of time and, more importantly, vast differences in life experiences separate them from the life of a persecuted girl suffering from the Nazi regime. And then, at some point, she will read Anne Frank's Diary of a Young Girl (which we recommend for ages 11 and up) and, suddenly, there is a face to this painful history: the face of a girl her age, whose dreams, thoughts, and emotions are like her own.
When the facts and figures of Holocaust history — the vast numbers of displaced or dead — are inconceivable, the life of this one girl, hiding with her family in a desperate effort to save themselves, is strikingly real.
And yet the inspiring thing about Anne Frank's life and writing is that she was never beaten down by the hatred directed at her. Instead, she continued to see the best of humanity. As she wrote, "It's really a wonder that I haven't dropped all my ideals, because they seem so absurd and impossible to carry out. Yet I keep them, because in spite of everything I still believe that people are really good at heart." Her astounding optimism and resiliency have inspired girls — and the world — for generations, ever since the loose pages of her diary left Otto Frank's hands to be published in 1947.
To honor this amazing spirit, A Mighty Girl has put together this collection of our favorite resources for young people about Anne Frank. This selection features books, movies, and even a poster that make tribute to the girl whose optimism and hope lasted through it all.
Of course, in addition to reading about Anne Frank, it is important that your child has an understanding of the Holocaust as a whole. You can find reading recommendations for children and teens about other aspects of Holocaust history in our first Holocaust Remembrance Week blog post, Yom HaShoah: A Mighty Girl Recognizes Holocaust Remembrance Week, and in our World War II / Holocaust section.