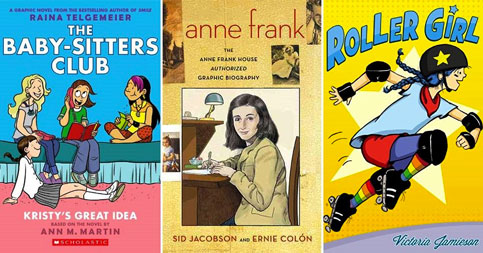 By Katherine Handcock, A Mighty Girl Communications Specialist
While many people think of graphic novels as "just comic books", the truth is that a good graphic novel doesn't simplify a story: instead, it amplifies it, drawing out details and adding emotional weight. For young or reluctant readers, in particular, a graphic novel format makes it easier to understand more complex stories. In fact, we'd argue that high-quality graphic novels are a key part of any library!
With that in mind, we're showcasing a selection of high quality graphic novels starring Mighty Girls — and since there are so many good titles out there, we are sharing them in a series, not a single post! In this blog post, we're featuring graphic novels for children that are grounded in real life. While some of these titles are non-fiction and explore moments in history or role models of the past, others are fictional stories that capture what it's like to be a girl growing up in today's world. No matter which one you choose, young readers will see that there are plenty of amazing stories within the everyday world.
And stay tuned for future blog posts, where we'll share graphic novels for young readers that are set in fantasy worlds, as well as more challenging graphic novel titles suitable for teens! In the meantime, you can browse our entire collection of over 100 graphic novels starring girls and women in our special feature on the Top Graphic Novels Starring Mighty Girls.
In this gentle historical fiction graphic novel, Dounia, now a grandmother, tells her granddaughter about her life in Paris during the Nazi occupation. The story begins with seemingly little hurts, like being ostracized by former friends and being forced to wear the yellow star. But when police break into her home, her parents hide her behind a secret panel to keep her from being arrested along with them. Thus began her hidden life, as friends and neighbors risked their lives to keep her safe from the concentration camps. This tender story teaches young readers Holocaust history in an age-appropriate way, and celebrates the role that a grandparent can play in opening a child's mind to the wider world.
Additional Recommended Resources