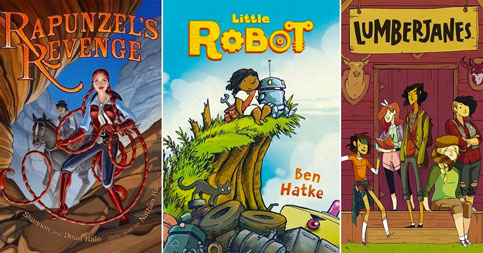 By Katherine Handcock, A Mighty Girl Communication Specialist
If realism-based graphic novels amplify and deepen a story grounded in the real world, guess what an author and illustrator can do with a tale of pure fantasy! For young readers, it can be revolutionary to see new worlds, born entirely of someone's imagination, come to life on the page. A good combination of story and artwork can make almost anything seem real and who doesn't love the feeling of being absorbed in a good book?
With that in mind, the second blog post in our graphic novel series features books for children that are set in worlds of fantasy. Whether these stories make just a small tweak to an otherwise realistic setting — like adding friendly robots, escaped doodles, or alligators that really do live in the sewers — or create a completely new world to explore, these books will open kids' minds to the incredible possibilities inherent in storytelling. They might just be inspiring to come up with an amazing new world themselves!
For recommendations of graphic novels that are grounded in real life, check out the first post in our blog series, Life in Pictures: Mighty Girl Graphic Novels for Young Readers about Real Life. You also can browse our entire collection of over 100 graphic novels starring girls and women on a wide variety of themes in our special feature on the Top Graphic Novels Starring Mighty Girls.
8-year-old Mandy doesn't show her emotions, not even when her beloved sister is heading off to college. But when her sister gives her a sketchbook as a goodbye present, Mandy experiments with drawing her emotions, only to have them escape and run rampant through the neighborhood! Fortunately, one of the monsters, Happster, is there to guide Mandy through the process of getting the sketches back on the pages where they belong — she just has to allow herself to feel the emotions that she fears will get out of control. This clever graphic novel provides plenty of fodder for discussion about emotional health and about respectful ways to express your feelings.
Additional REcommended Resources