Our favorite costumes based on popular Mighty Girl characters and photos of Mighty Girls in costume shared by our community!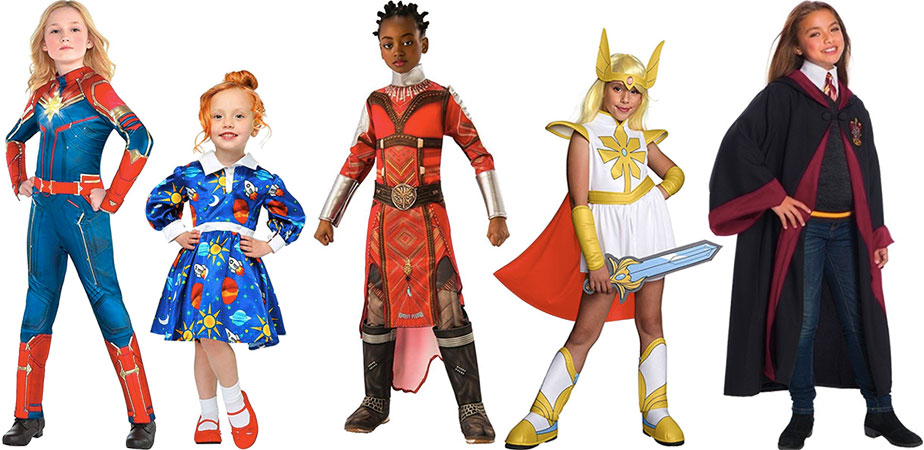 Halloween is all about imagining yourself as someone else so if there's a character that speaks to you, why not dress up as them? Most kids have a favorite character, and whether that character is from a book, TV show, or a movie, Halloween provides a great opportunity to become the character they love -- at least for a day!
In this blog post, we've shared our favorite costumes inspired by book, film, and TV characters. In the first section, we showcase a number of character-themed costumes from A Mighty Girl's costume collection. Of course, many Mighty Girls enjoy the challenge of creating their own costume, so in the second section, we highlight a few of our favorite costumes inspired by characters that community members have shared with us in previous years! Between the two, your Mighty Girl is sure to find lots of ideas for a fun Halloween costume!
For more costume inspiration on themes ranging from superheroes to animals, you'll find hundreds of costumes for all ages from infants through adults in our Girl Empowerment Halloween Costume Guide.
Character-Inspired Costumes From A Mighty Girl's Collection
Recommended Age: 0 - 6 months
"There's no place like home..." especially when it's time for trick or treating! This adorable Dorothy costume from Princess Paradise is perfect for an individual costume, or as part of a group theme. The iconic blue and white gingham dress has a red underskirt and comes with a matching diaper cover. A red headband and red "slipper" shoe covers complete the look.
Mighty Girls in Costume from Our Community
Additional Recommended Resources