Our favorite occupation-themed Mighty Girl costumes from our own costume collection and photos of Mighty Girls in costume shared by our community!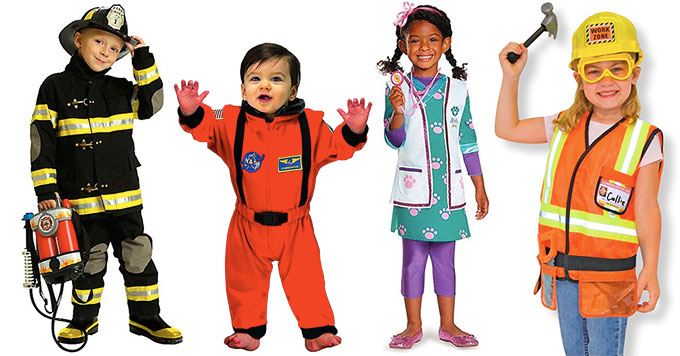 Halloween dress-up fun gives kids a wonderful opportunity to imagine themselves in any number of roles, such as pursuing a future career aspiration! Whether she sees herself as a doctor, firefighter, ballerina, or scientist, she can "try on" her dream job for a night -- and perhaps even spark an interest that will last a lifetime.
In today's blog post, we share some of our favorite occupation-themed costumes, including a number from A Mighty Girl's costume collection such as veterinarian, astronaut, and chef costumes. Of course, many Mighty Girls enjoy the challenge of creating their own costume, so in the second section, we highlight a few of our favorite costumes inspired by careers that community members have shared with us in previous years!
For even more costume inspiration on themes ranging from superheroes to animals, you'll find hundreds of costumes for all ages from infants through adults in our Girl Empowerment Halloween Costume Guide.
Occupation-Themed costumes From A Mighty Girl's Collection
Doctor Layette Set
Paging Dr. Baby! Future medical professionals will be snuggled up, comfortable and warm, in this 100% cotton layette set that looks like a doctor's uniform. The sleeper includes an embroidered stethoscope and pen detail and comes with a separate set of hospital "booties", as well as a surgical cap-style hat. It all comes in a gift box that makes it a great shower gift, as well as the perfect choice for a baby's first Halloween.
Police Layette Set
Get her ready to serve and protect with this costume layette set! This 100% cotton layette includes a bodysuit with details that make it look like a real police uniform, a black brimmed cap, and a police-themed gift box. It's a great first Halloween costume, either on its own or as part of a group costume theme, and it makes a perfect shower gift for the police officer in your life who's hoping it runs in the family.
Ballerina Layette Set
If dance is in her blood, she can dress up as a ballerina for her very first Halloween with this layette set! This snuggly cotton sleeper is embellished with an organza tutu and printed ballet slipper feet, and also comes with a soft hat with ribbon trim. It's a perfect first costume — but it also comes in a gift box, making it a great shower gift for the dancing parent-to-be in your life!
Astronaut Costume
3, 2, 1... blastoff! Next stop, orbit. If she imagines herself doing a tour on the International Space Station — or maybe as the first woman on Mars — then she'll love this astronaut costume, which comes with a tough jumpsuit with real NASA patches, as well as accents like real buckles and a leather-like collar. An adjustable NASA cap is included. For an alternate option, check out this white version of the suit for ages 6 - 12, or the Melissa and Doug Astronaut Dress-Up Set for ages 3 - 6. Complete the look with NASA astronaut boots (ages 4 - 8) and an astronaut helmet with sounds (ages 5 and up).
Letter Carrier
Neither snow nor rain nor heat nor gloom of night... Getting letters and parcels to the right people is an important task, even in this day of electronic communication. This officially licensed USPS costume allows kids to imagine themselves delivering these critical packages, either in their own neighborhood or across the country! The set comes with a shirt, pants, and a cap, all with great realistic details.
Junior Lab Coat
If she dreams of being a scientist or doctor — or conducts experiments in her spare time — this lab coat is perfect! Although it can be used as a costume, this is a real child-sized lab coat so can also be used for at-home experimenting. It's machine washable and features three pockets for all the equipment she'll need for a busy day at work.
Firefighter Costume
When things get hot, she's ready for action! Future firefighters will love this realistic firefighter costume, which includes a rugged overcoat with gauntlets, helmet, and overalls with suspenders. There are lots of authentic details, such as reflective strips and knee and elbow patches, so this suit looks just like the ones her heroes wear every day! For a similar set, check out Melissa and Doug's Fire Chief set for ages 3 - 6.
Zookeeper Costume
Modern zoos aren't just about showing people wild animals; they're also about rehabilitation, breeding, and research. If your Mighty Girl imagines herself devoting her attention to keeping zoo animals healthy and happy, check out this zookeeper set which includes a jumpsuit with zookeeper patch, a belt, and a hat.
Police Officer Costume
To serve and protect: a good officer is devoted to her community! If police officers are her heroes, she can be ready to enforce the law in this realistic costume, which includes a shirt, pants, hat, whistle, and belt, all with careful detailing to make them look authentic. Parents of the littlest Mighty Girls can check out the Baby Police Officer layette set for ages 0 - 6 months, or get Melissa and Doug's police officer set for ages 3 - 6.
Pilot Costume
Ladies and gentlemen, this is your captain speaking! She'll be ready to take to the skies in this fun pilot roleplaying set. This detailed set includes a uniform jacket with a built-in shirtfront, a set of pilot's wings, a hat, a detachable necktie, a flight checklist, and even a steering yoke. It's the perfect pick for a kid who dreams of soaring through the clouds one day.
Veterinarian Costume
She'll be ready to take care of plenty of animals in need with this fun costume set! The set includes a jacket, face mask, and surgical cap (all machine washable), plus a stethoscope with sound effects, a syringe, a bandage, and a name tag you can personalize. As an added bonus, a plush puppy patient comes with the costume — perfect for practicing her vet skills.
Magician Costume
She'll astound her friends and family with her amazing tricks in this fun magician costume! This high quality costume set includes a vest, a cape with a bow tie, and a magic wand. It even comes with a few good tricks: make a coin magically appear and disappear in the vest pocket or pull a rabbit out of the included top hat. A card with some additional magic tricks will provide hours of fun for your little magician.
Doctor Costume
The doctor will see you now! This dress-up set includes a jacket and face mask, a stethoscope with sound effects, a reflex hammer, an otoscope, a syringe, and a name tag you can personalize. Budding doctors will love wearing this trick-or-treating or for day-to-day play. You can also check out the Baby M.D. Layette set for ages 0 - 6 months, the Surgeon Costume Set for ages 4 to 8, and, for Doc McStuffins fans, the Doc McStuffins costume for ages 3 - 8.
Construction Worker Costume
Who says girls don't use power tools? Your future contractor will love this set, which includes a hard hat, realistic work zone safety vest, tool belt, and customizable name tag. For added fun, this set comes with a pair of toy safety goggles, a toy saw, and a toy hammer — or, get a larger toy tool set like the Green Toys tool kit (ages 2 - 5) which is even made out of recycled plastic.
Astronaut Costume
Blast off into trick or treating with this fun astronaut costume! This detailed dress-up set includes a spacesuit with a rocket ship emblem, a fabric helmet, gloves, and even a customizable name tag for your little space adventurer. While it's great for Halloween, this costume is also sturdy enough for plenty of year-round dress-up play — it's tough enough to go to Mars and back!
Chef Costume
Bon appétit! She might be the next great chef, so foster her dreams with this fun chef's dress-up set. The set comes with a machine washable chef's jacket and hat, so she can wear it in the kitchen as she learns as well as for dress-up play! Also included are a set of play measuring spoons, wooden utensils, oven mitt, and a name tag for personalizing. And if she really loves to cook, add this set of real child-sized chef's tools. Littler Mighty Girls can opt for this Baby Chef Layette Set, which is suitable for newborn to 6 months of age.
Pediatric Nurse Costume
This baby needs a true professional to make sure she gets better — and now your child can be the one to do it! This pediatric nurse costume comes with everything she needs to dress up as one of these dedicated practitioners, from a child-friendly, gender-neutral uniform to medical tools like a stethoscope, otoscope, and thermometer to a customizable hospital ID. The set even comes with a baby doll with a removable diaper so she can practice doing a head-to-toe checkup.
Train Engineer
The train goes chugging down the track — thanks to the deft engineer at the controls! If your Mighty Girl pictures herself riding the rails as she sees people and cargo safely to their destinations, get her this engineer costume set, which includes an overall smock and a hat, as well as accessories like a train schedule, a hammer and wrench, a walkie-talkie, and a customizable name tag.
Nature Explorer Costume
Get your binoculars, your net, and your tools: there's a whole world to explore out there! This nature explorer set is perfect for dress-up play or for actual outdoor investigation. In addition to the jacket and plastic hat, this set comes with a basic set of binoculars, a mesh net, a magnifier, a bug jar, a set of tweezers, a flashlight, and a set of utility tools.
Doc McStuffins Pet Vet Costume
Get ready to fix some animal boo-boos with the Doc McStuffins Pet Vet Child Costume, perfect for your aspiring little doctor to be! This officially licensed costume set, which is inspired by the recent season of Doc McStuffins, includes a paw print dress, a white vest, purple leggings, and a toy stethoscope.
Equestrian Costume
Running a show barn is hard work! Horse-loving Mighty Girls will be thrilled with this costume, which includes a hat, jacket, jabot, and pants. It looks just like the ones she's seen on riders in televised equestrian competitions, so she can imagine herself riding for a medal!
Surgeon Costume
Get on your scrubs; it's time for some life-saving surgery! Kids who dream of a career at the operating table will love this surgeon costume set, which comes with a realistic cotton shirt and scrub pants, as well as a hat and a set of doctor's tools like a stethoscope, otoscope, blood pressure gauge, and more. It's perfect for either day to day dress-up play or for a very professional Halloween look.
Rocket Scientist Lab Coat
If you want to get people and cargo safely into space, you'd better call on the rocket scientist! This officially licensed lab coat includes the embroidered title Rocket Scientist on the chest. The 3/4 length coat is high quality, just a like a real lab coat, and young space scientists will be thrilled to see the real NASA meatball logo on their coat. Get ready for blast off!
Scientist Costume Set
Discover great things with this scientist role play set from Melissa and Doug! An official-looking white lab with a reusable name tag is sized to fit little lab techs five to eight years old, and the lab goggles remind even budding scientists that safety comes first. As an added bonus, kids get a selection of real lab gear — including a test tube, a petri dish, measuring spoons, and more — for experimenting year round.
Mighty Girls in Costume from Our Community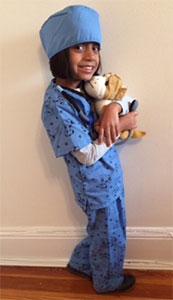 Veterinarian
Satya is five years old and loves animals. She was excited to carry around one of her stuffed animals with her on Halloween aka her patient.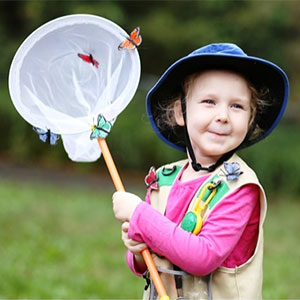 Biologist
My daughter wanted to be a biologist for Halloween, specifically a "scientist who studies butterflies". She loves it and had so much fun helping me put it all together.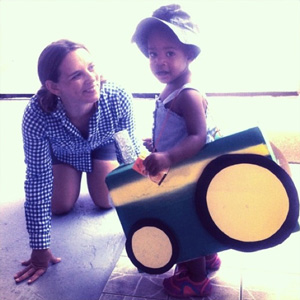 Farmer/Tractor Driver
My daughter, Eve, who will be 2 in December, loves vehicles and has a special obsession with John Deere. So we went as farmers. She also insisted on wearing her surfing shoes:)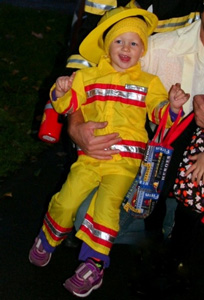 Firefighter
We had a mother/daughter duo costume as Firefighters! At age 2 1/2 Katherine didn't notice when people said "what a cute fireman'. My simple reply was "yes, she is a cute Firefighter"! Mighty Girl Power!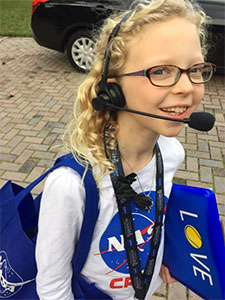 Space Shuttle Operator
Abigail (age 9) has attended camp Kennedy Space Center for 2 years. This year's costume is inspired by her dream job, Space Shuttle Systems Operator.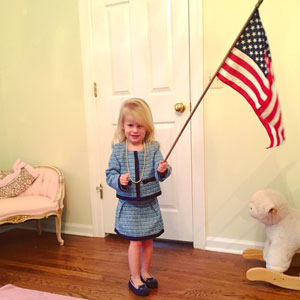 President of the United States
Charlotte, 3 years old, officially announcing her candidacy for President! #2048
Thank you a mighty girl for all the inspiration!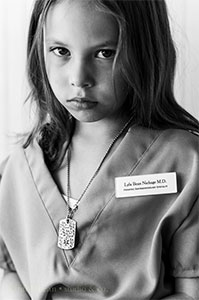 Pediatric Gastroenterologist
Lyla - age 7. She decided to dress as her future self - a pediatric gastroenterologist. She knows exactly what this is because she's had one she's looked up to since she was 8 months old. And, she can say pediatric gastroenterologist faster than most adults can say, "Doctor".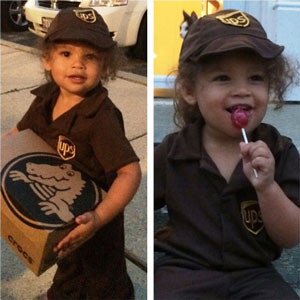 UPS Girl
Vivienne (2 years old) loves to see the big brown UPS truck when it pulls onto our street. And she loves our UPS delivery gal. She insisted being a UPS worker and "delivering" candy to all the trick-or-treaters who can to our door.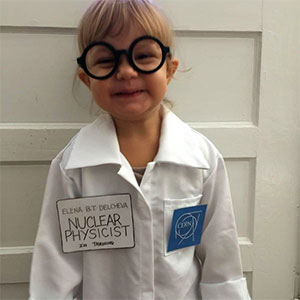 CERN Nuclear Scientist
My 2-year-old daughter dressed up as a CERN "nuclear scientist in training"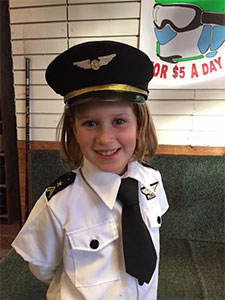 Pilot Lucy
Lucy, 7, dreams of becoming an
Airline Pilot
, so this year, there was only one choice of costume :)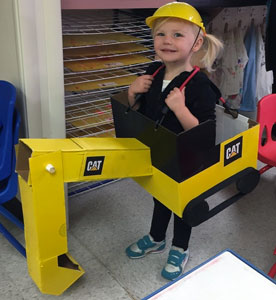 Mini Excavator
Madison, 2 1/2 years old, loves looking at construction sites and points out all of the excavators we see! An excavator was the 1st thing she thought of when we asked her what she wanted to be for Halloween!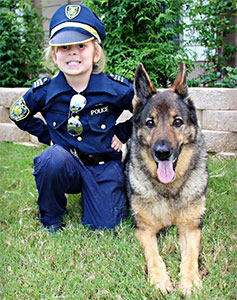 Police Officer
Isabelle, who is 5, choose to be a police officer for Halloween. We have a neighbor who is a Highway Patrol Officer. Isabelle also enjoys pretending to write her sister tickets for speeding on her bike.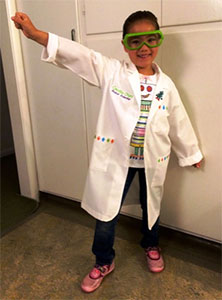 Mighty Robot Scientist
Cecilia, age 6, dreams of making and designing robots. She already has a full design sketchbook! She came up with this Robot Scientist costume all on her own, and she designed her own robot teeshirt, visible under her lab coat. As she says, "Robots are awesome, and they're for everybody! When I grow up I'm going to make them." You go, my wonderful Mighty Girl, you GO!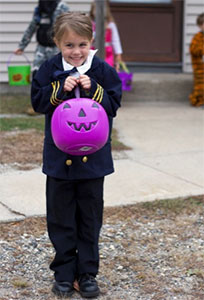 Commander
Anna's Navy officer costume mirrors her dream job when she's grown up: Navy Marine Biologist. Original plan was a scientist costume, but when her brother got his special forces costume, he convinced her to use his Navy costume from last year so she "could be the commander back at headquarters". So she kinda combined ideas. :)
Additional Recommended Resources