A Mighty Girl's top picks of bullying prevention books for tweens and teens!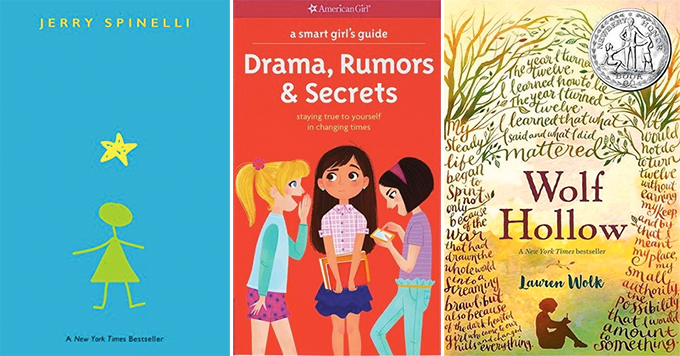 As kids enter puberty and their bodies and emotions start to change, bullying takes on new challenges: not only do relationships become more complex, but self-esteem is often more fragile and popularity can seem so much more important than it did a few years ago. So it's particularly important for parents to continue offering their children resources to develop their understanding of relational aggression and bullying! Whether your Mighty Girl prefers to read fiction about the topic, or enjoys a non-fiction guide, there is material in this blog to help her unravel the complexities of bullying in middle school, high school, and beyond.
For Mighty Girl books on bullying prevention for younger girls, check out our post, The End of Bullying Begins With Me: Bullying Prevention Books for Young Children.. For bullying prevention resources for adults, visit our post, Leading the Way: Bullying Prevention Books for Parents and Educators.
Mean Girls: Fictional Bullies
Fiction can be a safe way to explore a challenging topic, especially for girls this age, who are acutely aware of the changing social dynamic around them. These books talk about bullying for a variety of reasons and from a variety of perspectives, so that your Mighty Girl can learn more about what bullies during the tween and teen years can be like — and how to deal with them.
Shannon and Adrienne have been best friends forever, but things start to change when Adrienne starts hanging out with Jen, the leader of the elementary school's popular clique known as The Group. To be in The Group, you have to do everything Jen says — even if that means bullying others. Shannon will need to decide whether being part of The Group is worth it... and figure out how to stand up for herself if it's not. Young Shannon's day dreams hint at her future as a bestselling author, while LeUyen Pham's appealing illustrations still underscore how alienated Shannon feels with The Group and how comfortable she feels with other friends. This graphic novel memoir from beloved author Shannon Hale about relational aggression and the power of finding true friends will speak to many tweens.
Taking A Stand: Non-Fiction About Bullying
Some tweens and teens may prefer a non-fiction guide or workbook to help them explore constructive ways to deal with bullying. The books below all offer great information to Mighty Girls of this age group.
Tweens and teens are at the age where they begin to see the power they have to change the world. When they work together, there are few things that they cannot accomplish. When we teach our Mighty Girl tweens and teens to stand up for what is right, they can go out and help their peers feel special, loved and safe.
Additional Resources