A Mighty Girl's top picks of girl-empowering books for children and teens about making friends and coping with friendship challenges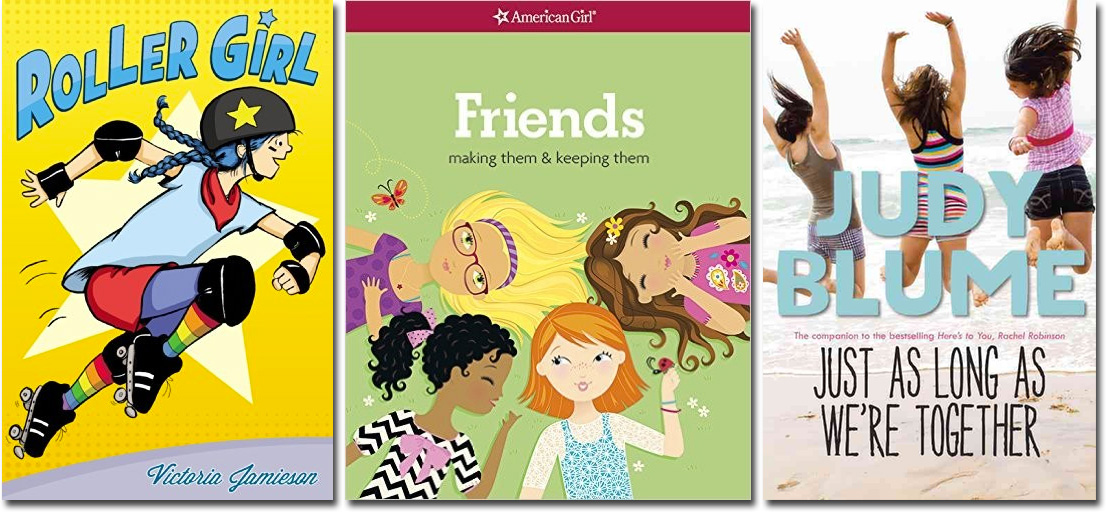 With a new school year here, Mighty Girls of all ages are renewing old friendships and making new ones. But being a friend is a skill, and like all skills, it takes practice! To help your Mighty Girl navigate the complexities of friendship — from the first introduction to the first big fight — we've put together a selection of great books that will help her learn how to be a great friend.
The recommendations shared in this post are just a small sample of Mighty Girl books on friendship. For hundreds of options for both children and teens, visit our Friendship section.
Exploring Friendship
Who will be a friend, and how that friendship comes to be, is a topic that deserves attention of its own! These books explore the idea of friendship, and remind Mighty Girls that the most important ingredient is two people who care about one another.
We're Amazing 1, 2, 3
Kids don't have to think or play the same way to be the best of friends! We're Amazing 1, 2, 3 began as an online resource from the Sesame Workshop, designed to help neurotypical peers understand how their autistic friends might interact with them. When Abby Cadabby first meets Julia, she thinks Julia doesn't like her: Julia doesn't look at her or say hello. Fortunately, Elmo is able to help Abby understand how to interact and connect with Julia, and it's not long before all three of them are ready to play. Now, this title is available in the beloved Big Golden Book format, perfect for sharing with individual kids and classrooms so that kids learn that part of being a good friend is understanding and supporting one another — and that all kids are amazing.
Ladybug Girl and Bumblebee Boy
Lulu and Sam are best friends but that doesn't mean deciding what to play is easy. Sam suggests Diggers; Lulu counters with Monkeys. Sam wants to play under the castle; Lulu wants to climb to the top. But once Sam creates a new alter ego, Bumblebee Boy, inspired by Lulu's character Ladybug Girl, they finally find something they can both agree to play. This charming story is terrific for showing the give and take that comes with a great friendship.
The Fairiest Fairy
Good friends celebrate one another's strengths! The young fairy Betty is so busy rescuing animals and helping friends that she's never been able to perfect fairy arts like painting rainbows or turning an elegant pirouette. So when it's time for the fairy ball, Betty's surely not in the running for the award of Fairiest Fairy... or is she? It turns out that all of Betty's friends want everyone to know just how much they appreciate her kindness and compassion! This sweet story is a reminder that being a good friend is a value worth celebrating.
Farfallina and Marcel
Friendship can survive — and thrive — through even the most dramatic changes. Farfallina the caterpillar and Marcel the gosling do everything together until the day that Farfallina declares that she needs to rest on a tree branch for a while. Loyal Marcel sits to wait for her, and as Farfallina sleeps in her cocoon, growing new wings, Marcel sheds his baby fuzz and grows his adult feathers. When the day finally comes that the friends reunite, they don't recognize one another's outsides...but inside, they're still the best of friends. This touching books is perfect for any Mighty Girl who's worried that a change in her — or her friend's — life will mean the end of a friendship.
Margaret and Margarita / Margarita Y Margaret
Margaret speaks only English, and Margarita speaks only Spanish. When their mothers take them each to the park, both complain (in their respective languages) that there's nobody to play with — until each spots the other. Their mothers assume that their lack of a common language will be a barrier, but as far as the girls are concerned, that just means they have to get a little more creative! By the time playtime is over, each girl knows a few words in the other's language and their mothers are smiling at the realization that friendship can go beyond words. This clever bilingual picture book captures how creative children can be when it comes to making a friend!
My Friend Isabelle
Charlie and Isabelle are friends who share a lot in common: favorite games, foods, activities. But like all friends, they're different too: Charlie is tall while Isabelle is short; Charlie is fast while Isabelle doesn't rush for anything. And Isabelle has Down Syndrome, which means that she thinks and speaks differently than Charlie does. But why should that be any more important than their other differences? After all, as Charlie says, "Life is more fun with friends like Isabelle."
The Girl and the Bicycle
Friendship can blossom between a Mighty Girl and an adult as easily as it can between two children! In this wordless picture book, a little girl's dream bicycle appears in a shop window — and her quest for chores to earn the money for the bike leads her to a friendly neighborhood woman who offers her yardwork. Side by side, the pair tend her garden, their bond growing as they work together. But when the girl goes back to the store to find the bicycle has been sold, she does a good deed for her brother — and is rewarded for her patience and generosity by her new friend. This sweet story provides an excellent example of cross-generational friendship.
The Princess in Black and the Mysterious Playdate
Princess Magnolia and Princess Sneezewort have a perfectly awesome playdate planned — the perfect chance for Magnolia to take a break from her secret life as the monster-defeating Princess in Black! They dress up and do karaoke, they have fun in the playhouse and enjoy a snack. But then a shout comes from outside Sneezewort's castle: a monster is on the loose! Princess Magnolia makes her excuses and transforms into the Princess in Black, but when she gets outside, the only thing she sees is another mysterious masked avenger. Who is this unexpected hero? And was the cry of monster really a false alarm? This new title in The Princess in Black early chapter book series is an ode to friendship and a reminder that two heroes are better than one!
The Other Side
Clover and Anna live on two sides of a fence: the fence that keeps Clover's African-American community separate from Anna's Caucasian community. Clover's mother says it's dangerous to cross the fence, but how can she not be curious about the little girl who plays out in the rain? Finally, curiosity overwhelms caution, and they find a way around the rules by sitting next to one another on the fence. Clover's friends and family disapprove of this new friendship at first, but by the end of the summer, all the girls play together. At the end, Anna bets that "Someday somebody's going to come along and knock this old fence down." This poignant story of friendships blooming despite a divided community is also an excellent way to introduce the history of segregation to younger readers.
Mae and June and the Wonder Wheel
June has a secret: her dog Sammy can talk, but only she can hear him. Her older sister is too big to play with them now, so June and Sammy decide to set out to make a new friend — one who can appreciate them both. A girl named Mae has just moved into the neighborhood, so June uses the Wonder Wheel, a game sent by her grandma Penny, to help them pick a new adventure to have each day. But is Mae the kind of friend who will believe June when she tells her about Sammy? This charming early chapter book celebrates friendship and the adventures to be had right outside your door.
Four Feet, Two Sandals
In times of crisis and need, a friend can help sustain you. Lina and Feroza both live in a refugee camp in Pakistan, and when relief workers bring a donation of much-needed clothing, each girl ends up with one shoe out of a pair that would fit either of them. Rather than fight over the sandals, however, the girls decide to share them, and soon develop a friendship that will sustain them through the hardship of their lives as refugees. And when one of the girls has the opportunity to escape the camp and settle in a new country, the sandals will remain to remind each of them of their treasured friend.
Wolfie and Fly
Curmudgeonly Renata Wolfman (AKA Wolfie) prefers to spend time alone: after all, friends just take up time she could use for facts and reading! But when she meets Livingston Flott (Fly), the eccentric boy next door, she soon finds herself with a companion in her cardboard box submarine. Wolfie is relieved when she has to go on a solo mission to find a key part for their game, but to her surprise, she finds that the time alone isn't quite as appealing as it was before. Maybe it's not so bad having Fly around... This charming and funny early chapter book celebrates an unexpected friendship and the pleasure to be found when you are open to new experiences.
Star Scouts
Avani is struggling to find a place to fit in after moving to a new town. Everyone in school thinks she's weird, especially the girls in her Flower Scouts troop. Is it so weird to think scouting should be about fun and adventure, not about makeovers and boys, boys, boys? Then Avani is accidentally abducted by Mabel, an alien from across the galaxy. It turns out that Mabel is a Star Scout, and collecting alien specimens is just one of the activities on her troop's list. If Avani can make it through the Star Scouts' Camp Andromeda — and manage to prevent her dad from realizing she's left the planet — she'll prove that humans can hold their own in the Star Scouts and finally find a place to belong. Kids will devour this fun sci-fi romp full of teamwork, inventiveness, and laughs.
El Deafo
A noticeable difference often makes kids wonder if they can overcome standing out to find good friends. After a childhood illness leaves Cece hard of hearing — which means she needs a very visible Phonic Ear hearing aid in order to attend school — Cece finds friendship much harder than she'd expected. Between the feeling of being singled out and the challenges of teaching hearing peers how to interact with her, Cece wonders if she'll ever find true friends again. It's only once she learns to turn the thing that makes her different into an asset that she realizes that she can have the friendships she craves — both as Cece and as her superpowered alter ego, El Deafo!
Real Friends
Shannon and Adrienne have been best friends forever, but things start to change when Adrienne starts hanging out with Jen, the leader of the elementary school's popular clique known as The Group. To be in The Group, you have to do everything Jen says — even if that means bullying others. Shannon will need to decide whether being part of The Group is worth it... and figure out how to stand up for herself if it's not. Young Shannon's day dreams hint at her future as a bestselling author, while LeUyen Pham's appealing illustrations still underscore how alienated Shannon feels with The Group and how comfortable she feels with other friends. This graphic novel memoir from beloved author Shannon Hale about navigating the challenges of friendship and discovering what it means to be a real friend will resonate with many young readers.
Breakaway
Sometimes it takes an unexpected new friend to remind a Mighty Girl how valuable friends are. LJ is a soccer star, but it doesn't matter how often she scores goals: LJ's coach refuses to put up with the bad attitude and ego that's ruining things for the rest of the team. To her shock, he puts LJ on the bench. There, she joins Tabitha, a popular girl who doesn't seem to care much about soccer. But Tabitha is the only person on the team who hasn't been put off by LJ's tantrums, and it turns out that she has a lot to teach LJ about how fleeting glory is — and how important a team can be.
Ronia, the Robber's Daughter
Ronia might dance and yell like the rest of the robbers that live in her father's castle, but it's really in the quiet forest that she feels most at home. On one of her forest walks, she meets Birk, the son of her father's greatest rival. As they get to know one another, Birk soon becomes the only friend who really understands Ronia. But when the rival band erupt in a ferocious conflict, Ronia and Birk have to figure out how to turn their friendship into lasting peace. Lingren, the author of the classic Pippi Longstocking novels has filled this coming of age story with adventure, suspense, and the true transformative power of friendship.
Ophelia and the Marvelous Boy
When someone needs help, a friend can come to the rescue! Ophelia's family is grieving the loss of her mother when they become caretakers of a strange museum. On her wanderings through the exhibits, Ophelia discovers a boy who claims he was locked in a room of the museum by the Snow Queen — and that only Ophelia can free him and save the world from her icy grasp. Scientific and logical Ophelia finds it hard to believe his story of magic and curses, and yet as she befriends him, more and more of his fantastical world reveals itself. Soon, Ophelia learns that courage isn't always grand and dramatic: sometimes it shows up as a friend who refuses to give up on the person she cares for.
Making Friends with Billy Wong
One good friendship can help a Mighty Girl blossom. It's 1952, and Azalea is dreading a summer helping her Grandmother Clark — she struggles to make friends at the best of times, and now she'll spend months in an unfamiliar town. When Billy Wong, a local Chinese-American boy, shows up to help in her grandmother's garden, Azalea is startled that her grandmother encourages her to talk to him. Not only does it turn out that Billy is easy to befriend — a surprise given their different backgrounds and experiences — but Azalea also discovers that making friends with others isn't as hard as she thought it was after all.
Tru and Nelle
Despite — or perhaps because of — their place as town misfits, Tru and Nelle are best friends who love playing detective — which turns out to be honing their observation skills for their future careers as authors! In this fictionalized account of Truman Capote and Harper Lee's childhood friendship, their penchant for sleuthing turns into a bit of a tangle when their investigation into a drugstore theft results in some real-life trouble for the daring pair. Humorous and heartfelt, this novel celebrates the joy of finding the person whose strengths and weaknesses are perfectly offset by your own.
Roller Girl
A new interest can create new friendships — and add new facets to old ones! Astrid thinks her longtime friendship with Nicole is over when Nicole chooses to go to ballet camp instead of following Astrid's new passion for roller derby. Learning roller derby when you've rarely even been on skates is hard, but feeling like your best friend is gone forever is harder. Fortunately, by the end of the summer Astrid has not only made new friends within her sport, but discovered that true friends can support one another as they explore new horizons.
The Question of Miracles
Iris is struggling: she's simultaneously dealing with her family's recent move and grief over her friend Sarah's death. At first Boris, the school's awkward know-it-all, is just someone to eat lunch with, but as they develop a true friendship, Iris also learns that Boris is a miracle, alive despite a supposedly fatal birth defect. But if Boris got a miracle, why didn't Sarah? In the end, perhaps the true miracle is friendship itself — that it exists, and that it can be found even when you're not looking for it. This book tackles some tough but important questions about life, friendship, and fate.
The Baby-Sitters Club Graphic Novel Box Set
Fans of Ann M. Martin's The Baby-Sitters Club will love these graphic novels adapted by Raina Telgemeier! Kristy, Mary Anne, Claudia, Stacey, and Dawn are The Baby-sitters Club! Whatever comes up — from cranky toddlers to unexpected illnesses to spats between friends — you can count on them to work together to support one another and save the day. This box set collect the full-color editions of all four volumes of these graphic novels, perfect for fans of the series.
Lumberjanes, Volume 1: Beware the Kitten Holy
Jo, April, Mal, Molly and Ripley are best friends who are looking forward to a fun few weeks at camp, that is, until they see a woman turn into a giant bear! Suddenly, the friends find themselves in the midst of mysterious and supernatural adventures. Fortunately, "Miss Qiunzella Thiskwin Penniquiqul Thistle Crumpet's Camp for Hardcore Lady-Types" can provide them with all the skills they need. It's going to be quite the unexpected summer! This collection gathers issues 1 to 4 of this fun series, which also makes reference to inspiring women of history. Fans of the first volume will also want to check out the rest of the Lumberjanes series, including the newest release, Lumberjanes, Volume 6: Sink or Swim.
Raymie Nightingale
Raymie has a plan: she'll win the Little Miss Central Florida Tire competition, her father will see her picture in the paper, and he'll forget all about the woman he ran away with and come home. Winning the competition requires new skills, including dealing with her fellow competitors — like Louisiana Elefante, who has a show business background but faints constantly, and Beverly Tapinski, who's determined to sabotage the whole thing. But as the competition approaches, the three girls develop an unexpected bond based on loneliness, grief, and a series of adventures in which each girl gets a chance to come to the rescue. Through Raymie's eyes, middle readers will see how friendship can help you find peace in a difficult time.
I Will Always Write Back
Sometimes, a friendship can dramatically change the lives of both friends — even one that starts unexpectedly through a school assignment. Caitlin, a 12-year-old from a middle class American family, was assigned a pen pal named Martin, a 14-year-old from a Zimbabwe slum. Caitlin began by describing a world of shopping mall trips, movies, and quarrels with friends; when Martin finally opened up, Caitlin was shocked to realize how many of the things he dreamed of having were things she took for granted. In this dual memoir, the pair recount how that simple assignment became a six year relationship that changed both of their lives, as Caitlin helped Martin achieve his dream of studying at an American university, while Martin opened Caitlin eyes to the world and her privileged place within it. Unflinching but hopeful, their writing also shows how individual friendship can drive global change.
Under A Painted Sky
It's 1849 in Missouri, and Samantha dreams of moving back to New York to be a professional musician — a difficult enough challenge when you're Chinese and female. But when her father dies in a fire, and Samantha is forced to kill a man in self-defense, all she can hope for is survival. Her friend Annamae, a slave housekeeper, runs away with her, and the two friends conceal themselves as boys while they make their way down the Oregon Trail, hopefully to safety. The law is hot on their tail, but with the help of a sympathetic band of cowboys — and each other — perhaps they can find safety, hope, and happiness.
Rose Under Fire
In this companion to Wein's remarkable Code Name Verity, Rose Justice is an American pilot who is captured in Nazi-held France and sent to the infamous Ravensbruck concentration camp. There she will befriend the most unexpected people including a Polish girl who was used for medical experimentation, a Russian woman pilot, and even a German woman, formerly a guard but now a fellow prisoner. Each friend, in her own way, will help Rose survive, escape, and recover from the tremendous trauma of the horrors she experienced. And in return, Rose will help her friends by telling their stories to the world. This remarkable work of historical fiction shows how friends can get through the worst times together.
Struggles and Challenges
Of course, friendship doesn't always run smoothly, and learning how to deal with conflict or with a friend in crisis is an important part of learning to be a good friend. These books will help your Mighty Girl figure out how to handle friendship when it's not all fun.
The Sandwich Swap
Conflict can break out over the simplest things sometimes — like lunch. When Lily tells Salma that her hummus and pita looks yucky, and Salma counters that Lily's peanut butter and jelly stinks, soon the former best friends are embroiled in a huge fight — one that's drawing in the rest of the school, who start calling each other "jelly heads" and "chickpea brains." After a food fight ends up with the two girls in the office, they decide that it's time to fix everything, starting with their friendship. Trading lunches results in a realization that new experiences are positive and that the little differences are never worth losing a friend.
Willow Finds A Way
Willow's classmate Kristabelle is having a fabulous birthday party — and using the prospect of it to bully everyone into doing things her way. Willow wants to tell Kristabelle that she's being mean, but she can't find the words, no matter how hard she tries. When Kristabelle starts crossing people of the "invited" list, though, Willow finds a way not only to break Kristabelle's hold on the class, but also to show Kristabelle that mistakes can be forgiven. One of the few books about bullying that shows the power of the bystander, Willow Finds A Way is also a reminder that friends know when to give one another a chance to make amends.
Maddi's Fridge
When a friend needs help, but asks you not to tell, what do you do? Sofia and Maddi are the best of friends, but one day Sofia stumbles upon Maddi's secret: her family's fridge is nearly empty. Maddi begs Sofia not to say anything, but Sofia can't bear to think of her friend's family going hungry. Smuggling food from home may work for a day, but what Sofia really wants is to make sure that her friend never goes hungry again. Finally, Sofia realizes that, sometimes, a good friend has to break a confidence. This compassionate look at the problem of hunger in an urban community is also a great starting point for discussions about when a friend's secret needs to be shared.
Juna's Jar
When a friend moves away, can the friendship survive? Juna loves collecting treasures in empty kimchee jars with her best friend Hector — until the day he moves away without even getting to say goodbye. Juna's older brother, Minho, sees her sadness and gives her small gifts hoping to cheer her up, including a cricket. But it's not until Juna's vivid imagination takes her on a cricket ride to Hector's new bedroom — complete with a kimchi jar still on the windowsill — that she's reassured that Hector will be okay and that she will be too. What Juna finds is that adventure and new friends can be found in the most unexpected places.
The Lemonade Club
Sometimes a friendship is rocked by circumstances that neither friend controls. Traci is having a great year in fifth grade when she starts noticing changes in her best friend, Marilyn. Marilyn is tired all the time, and she's losing weight even though she's not dieting. When Marilyn reveals that she's been diagnosed with leukemia, and is facing chemotherapy, Traci doesn't know what to do. But their beloved teacher's advice that "when life hands you lemons, make lemonade!" will be the key to helping Traci figure out how to support her friend and get the whole fifth-grade class to stand with her, too. Based on the true story of Polacco's daughter and her best friend, this book shows how friendship can provide so much, even when friends feel helpless in the face of illness.
Ruby Lee and Me
When the prejudice of others puts pressure on a friendship, it's hard for kids to know what to do. It's 1969, and for Sarah Beth Willis, everything is changing. Her sister Robin has had a terrible accident, forcing Sarah to go live with her grandparents. Everyone in town seems upset about the new teacher, Mrs. Smyre, just because she's African American. And Sarah still doesn't understand why people think she shouldn't be friends with Ruby Lee just because their skin colors aren't the same. Fortunately, Mrs. Smyre is able to help Sarah understand this strange world of Freedom Riders and family struggles — and to get the whole community thinking about things in a new way. This tender story, and the touching friendship between Sarah and Ruby Lee, is also an excellent introduction to civil rights struggles.
Faith, Hope, and Ivy June
Ivy June and Catherine are the first two seventh-grade exchange students to switch between their Kentucky schools, and as each girl gets the chance to live with the other, it becomes clear that their families couldn't be more different: Catherine's parents have a huge home, with plenty of space, while Ivy June's house is so full that she lives with her grandparents, while her Pappa works in the coal mines to support four generations of family. But as the girls get to know each other, they realize that they share more similarities than differences...and when tragedies strikes both families, it's the support that each provides the other that gets them through the fear of losing someone they love.
My Year of Epic Rock
A broken friendship sometimes can't — or shouldn't — be put back together. Nina's always been able to rely on her friend Brianna, even when Nina's severe food allergies could have isolated her. But when Brianna returns from a summer vacation with a new, more popular friend, Nina finds herself exiled to the "allergy table"...alongside the other outcasts she and Brianna used to mock. As the year goes on without Brianna, Nina discovers new friends and a new passion drumming for the Epi-Pens, the school's newest band — but she also realizes some unpleasant truths about Brianna, and about her own past actions. On top of allergies, talent shows, and school, Nina also has to decide if she would really want to be friends with Brianna again.
Awkward
Peppi Torres knows that the two cardinal rules of school are 1) don't get noticed by the mean kids and 2) seek out groups with similar interests for support. But on her first day, she trips into quiet Jaime, and immediately starts getting teased as the "nerder girlfriend." Peppi doesn't handle the moment well, and even as she finds friends in the art club, she feels ashamed about how she treated Jaime — even as she learns that he's a member of the science club, the art club's archrivals. But maybe friendship can cross the lines of interests... and maybe if it does, Peppi and Jaime will both feel more at ease with their place in the world. This graphic novel about managing the rapidly changing social relations of middle school also captures how friendship can help you become comfortable in your own skin.
Summerlost
A friend — old or new — can help a person through grief... even when that seems impossible. It's the first summer since Cedar's father and brother were killed in an accident, and Cedar and what's left of our family are returning to the town of Iron Creek. Cedar's mom sets herself to fixing up the house, leaving Cedar and her younger brother to explore on their own. When Cedar sees a boy in a costume ride by on a bike, she's curious enough to follow him — and discovers the renowned local theater festival. With a new friend, a job at the festival, and a mystery to occupy her mind, Cedar might find the most valuable thing of all: healing. This touching and tender novel uses lyrical language and vibrant characters to tell a heartfelt story about grief and resilience.
Forget Me Not
Ever since her father died, astronomy-loving Calliope June has struggled with her mother's constant moves — and faced rejection among new sets of peers when her Tourette's syndrome causes facial tics and noises that she can't control. When they arrive in St. George, Utah, Calli once again tries and fails to blend in, but she finds friendship with her neighbor Jinsong, the student body president and a sports star. But will he be brave enough to make their friendship public? And what if Calli's mom decides to move again just as she's beginning to feel like her differences aren't the end of the world? Told in Calli and Jinsong's dual perspectives, in prose poetry and free verse, this touching story celebrates the power of accepting — and being true — to who you are.
Nest
While friends can provide support, it is heartbreaking to realize that they don't always provide the best solutions. Chirp and her friend and neighbor Joey are facing some serious problems: Chirp's mother, who has been diagnosed with multiple sclerosis, falls into depression and eventually commits suicide, while Joey's family is abusive. To the two friends, struggling to deal with challenges they're ill-equipped to face, the solution seems obvious: run away to a place where their memories are happy. But Chirp and Joey discover that memories can deceive, and there's no way to go back in time — or escape the present. This heartfelt book is a reminder that friends, especially young ones, can't handle everything alone.
Lily and Dunkin
Big secrets and tough choices can complicate a friendship — but a friend can also give you the courage to be yourself. Timothy McGrother is actually Lily, and she feels trapped in a body that looks like a boy; Norbert Dorfman is new in town, struggling to maintain a normal life even though he's gone off his medication for bipolar disorder in order to play on the middle school basketball team. When the two of them meet, for the first time, each has someone who is ready to take them just as they are. Alternating first-person chapters tell the story of how Norbert becomes Dunkin and Timothy becomes Lily, thanks to the support of a new friend.
Just As Long As We're Together
Sometimes a new friendship challenges an established one. Stephanie and Rachel have been best friends since second grade — but then Alison moves into the neighborhood, and suddenly the old friends are keeping secrets from each other. Stephanie wonders if it's possible to have two best friends, or if she has to give up one to be friends with the other. Fortunately for Stephanie, when she needs a friend to help her through her parents' separation, she discovers that the only thing better than a best friend is a group of friends who can count on each other — always.
I Hadn't Meant to Tell You This
Marie lives in a prosperous African-American community, and is surprised when she becomes friends with Lena, a new white girl in school. The two girls bond over shared sadness — Lena's mother died of cancer, while Marie's mother has abandoned her family. But as they grow closer, Lena reveals a terrible secret: her father sexually abuses her. Marie is desperate to help, but doesn't feel like she can break her promise not to tell. Marie's decisions — and the outcome for Lena — are sure to prompt many discussions with your Mighty Girl about what responsibility to and caring for a friend really means.
Lies We Tell Ourselves
Families — and societies — can tear at the fabric of a friendship, sometimes before it even begins. In this historical novel, Sarah Dunbar and Linda Hairston are the last two people you'd think would become friends: Linda is the daughter of the town's most vocal segregationists, while Sarah is one of the first black students to study at the previously all-white high school. When they're thrown together on a school project, they draw closer — perhaps even as more than friends. But how can their relationship — as friends or otherwise — survive a community that expects them to hate one another? Or can the girls find a way to be true to the identities they're only just discovering for themselves?
The Museum of Intangible Things
Throughout everything — Hannah's alcoholic parents, Zoe's bipolar disorder — these two friends have always been able to rely upon each other. When their lives spiral out of control after a crashed party, Zoe's mania leads them on a cross-country car trip of adventure and discovery...that also involves an Amber Alert and Hannah's dawning realization that Zoe's grip on reality is starting to fade. This book provides a touching but painful look at a friendship that can't last — because this story can't end well — and a good starting point for discussions about when a friend needs more help than you can provide.
Girls Like Us
Sometimes a friendship is solidified by a common experience, however painful. Biddy and Quincy are paired to share housing with an elderly widow after graduating from their high school special education class. The pair see everything differently — Biddy is sweet but terrified, while Quincy approaches everything with her guard up — and initially feel like their only connection is their shared identity as "Speddie" kids. But as the pair share their painful life stories — and equally heart-wrenching current tragedies — with one another, they realize that they have a lot to offer one another. Quincy helps Biddy overcome her fears, while Biddy helps Quincy open up and learn to lean on another person's support. Perhaps, after eighteen years of abuse and bullying, they have finally found someone who cares about them.
Guides to Friendship
Some tweens and teens would rather read a non-fiction guide to friendship and social interaction. If that describes your Mighty Girl, check out these great books!
Friends: Making Them and Keeping Them
This interactive book features a combination of tips, anecdotes, quizzes, and hands-on activities to help girls learn everything from where to find new friends to how to introduce yourself to how to handle when a friend is being mean — or when a friend says you're the mean one. A series of examples demonstrates how to respond to a friend in a positive way, while "trouble starters" show how particular behavior can cause strife in a friendship.
Stand Up For Yourself And Your Friends: Dealing with Bullies and Bossiness and Finding a Better Way
Sometimes the challenge is figuring out how to protect yourself and your friends from bullies. If your Mighty Girl wonders how to intervene when someone targets her — or her friends — this book provides a range of solutions, from ignoring the instigator to clever comebacks to a guide about when adult involvement is necessary. The book includes a pledge at the end that girls can sign to show their commitment to being a good friend — and to doing what's right.
A Smart Girl's Guide: Drama, Rumors, & Secrets
As girls hit their tweens, relationship drama like secrets, jealousy, and gossip can start to make friendships more complicated — whether they happen within a group of friends or they're directed at people outside the group. This new release teaches girls how to handle it when relationship drama starts to pop up within their peer group. This handy book shows girls how to recognize drama as it begins, how to deflect and defuse it...and what to do if it goes to far, into the realms of cyberbullying and relational aggression. For any girl who's wondered how to stay true to herself in a world that seems determined to make her pick sides, this will be an excellent addition to the library.
A Smart Girl's Guide to Friendship Troubles
Whether your Mighty Girl is feeling left out, trying to figure out how to talk to a friend about a problem without hurting her feelings, or dealing with a friendship turned toxic through rule-setting, backstabbing, or bullying, there are tips to help her out in this book. Despite the focus on friendship troubles, the overall message is positive, reminding the reader that a true friendship will buoy her up, support her through the tough times, and leave her feeling her best.
The Teen Girl's Survival Guide: Ten Tips for Making Friends, Avoiding Drama, and Coping with Social Stress
A teen's life is increasingly complicated and stressful — but good friendships can make all the difference! Psychologist and teen expert Lucie Hemmen provides tips for building, sustaining, and deepening the social relationships you want, whether that's one or two very close friends or a wide network of people. Thought-provoking exercises and quizzes help girls learn more about their socialization style and what they can do to be their best, authentic selves, as well as tackling what to do when conflict arises and how to address negative social habits. This book will help any teen girl develop a sense of confidence and security in her social life.
The Shyness and Social Anxiety Workbook for Teens
If your teen finds that the problem goes beyond typical social struggles — maybe even to the point where she avoids some situations rather than risking saying or doing 'the wrong thing' — then a book to help her deal with social anxiety may be just the thing she needs. This workbook is for teens who feel like their shyness or discomfort with socializing is making them miss out on great opportunities. The exercises teach basic cognitive behavioral techniques to help her feel more confident speaking out and showing her true self. By learning to identify and counter the distorted thoughts and worst-case scenario thinking that comes with this anxiety, your teen can develop new confidence in her ability to develop the friendships she wants.
The Social Success Workbook for Teens
Teens who have particular social challenges, like Asperger's, non-verbal learning disorder, and other problems empathizing with others, can get tailored help from this book. Whether she needs help dealing with changing plans, figuring out how to cool off when her emotions run high, understanding the social cues she gets from others, or learning how to filter what she says, there's guidance in this workbook, which incorporates comic strip stories about social situations and both written and visual arts activities to explore social skills. Making friends is a skill, and for teens who struggle with it, it can be a huge relief to know that it's something they can practice and improve — just like any other skill.
No relationship is easy all the time: it takes the investment of time, caring, and understanding to move from being an acquaintance to being a friend. But every Mighty Girl deserves to know what a true friendship feels like. With these books in hand, we hope that she'll be able to find the perfect friendship for her.
Additional Recommended Resources