A Mighty Girl's top picks of girl-empowering books for children and teens about making friends and coping with friendship challenges.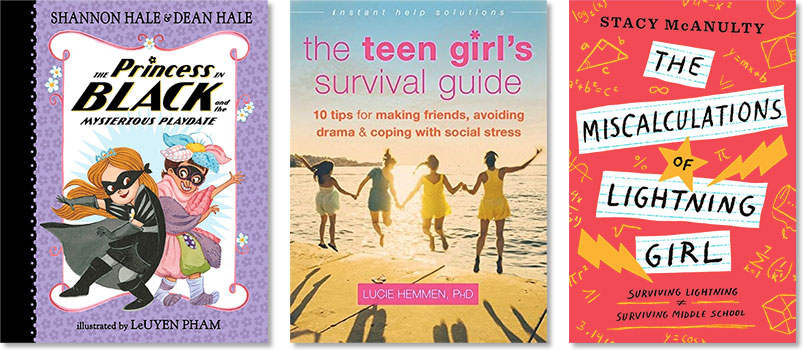 Whether they are in the midst of making new friends or renewing old ones, learning to navigate the complexities of friendship is an important part of growing up. In this blog post, we've showcased our favorite fictional stories and non-fiction guides that can help children and teens learn how to form and keep positive, healthy friendships. From the first introduction to the first big fight, these timely stories will help your Mighty Girl learn how to be a great friend at every age!
The recommendations shared in this post are just a small sample of Mighty Girl books on friendship. For hundreds of options for both children and teens, visit our Friendship section.
Mighty Girl Guides to Friendship
Some tweens and teens would rather read a non-fiction guide to friendship and social interaction. If that describes your Mighty Girl, check out these great books!
This interactive book features a combination of tips, anecdotes, quizzes, and hands-on activities to help girls learn everything from where to find new friends to how to introduce yourself to how to handle when a friend is being mean — or when a friend says you're the mean one. A series of examples demonstrates how to respond to a friend in a positive way, while "trouble starters" show how particular behavior can cause strife in a friendship.
Girl-Empowering Fictional Stories Exploring Friendship
Who will be a friend, and how that friendship comes to be, is a topic that deserves attention of its own! These books explore the idea of friendship, and remind Mighty Girls that the most important ingredient is two people who care about one another.
Struggles and Challenges
Of course, friendship doesn't always run smoothly, and learning how to deal with conflict or with a friend in crisis is an important part of learning to be a good friend. These books will help your Mighty Girl figure out how to handle friendship when it's not all fun.
No relationship is easy all the time: it takes the investment of time, caring, and understanding to move from being an acquaintance to being a friend. But every Mighty Girl deserves to know what a true friendship feels like. With these books in hand, we hope that she'll be able to find the perfect friendship for her.
Additional Recommended Resources