A Mighty Girl's favorite Hanukkah stories starring Mighty Girls!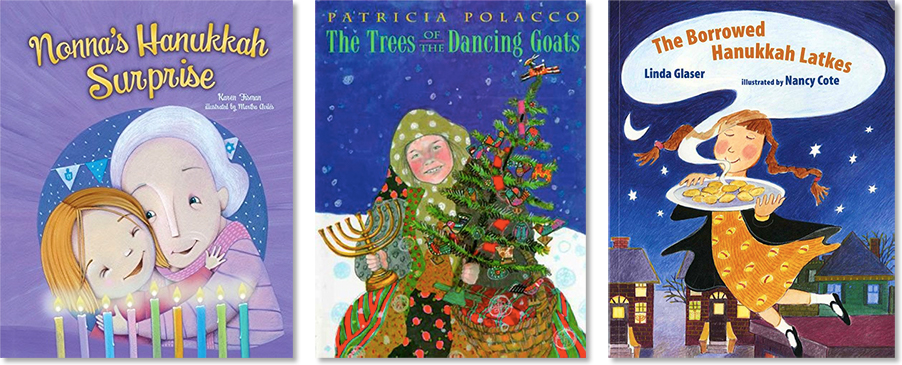 This year, Hanukkah, the winter Festival of Lights, begins in just a few short weeks on December 12. To help you celebrate the miracle of eight days of light, we're sharing our favorite Hanukkah books starring Mighty Girls. These books celebrate this special holiday and how it brings families together for eight special nights every winter. Full of joy, fun, and the importance of family tradition, these stories are a perfect way to remember this special holiday.
You can also learn about our favorite books celebrating Christmas in our blog post, Christmas is Coming: 50 Mighty Girl Christmas Stories.

Hanukkah Stories Starring Mighty Girls
Where Is Baby's Dreidl?
Baby wants to spin the dreidel but where is it? As baby hunts — and your little one lifts the flaps in this colorful board book — she spots gelt, the menorah, presents, and even latkes. Where will she finally find her dreidel, though? This simple book, full of Katz's distinctive colorful, appealing illustrations, is perfect for introducing very young child to the traditions of Hanukkah.
The Night Before Hanukkah
Everyone is excited on the night before the eight-day celebration of Hanukkah begins! Follow one little girl and her brother as they enjoy lighting the candles during special time together each night. Delicious food like latkes and special games like dreidel make the eight days of Hanukkah an extra treat for both the adults and children of this family. Jewish families will particularly appreciate the care devoted to ensuring all symbols and traditions are described and illustrated correctly, even while Wing and Wummer depict a thoroughly modern family's holiday.
Latkes, Latkes, Good to Eat
Sadie and her four brothers are poor and hungry, but Sadie has never forgotten the importance of giving to others, even in their desperate situation. On the first day of Hanukkah, Sadie is rewarded for a generous act — with a magic frying pan. With a few words, Sadie can make as many latkes as the family could ever want! But Sadie's mischievous brother's can't resist trying it out for themselves when she goes out — and discover that, while they can get the pan to start cooking, they don't know how to make it stop! Cheerful illustrations depict a traditional Russian village, and Howland includes a recipe for Sadie's latkes at the end of the book so you can enjoy your own feast at home.
Hanukkah Bear
Bubba Brayna is 97 years old, and while she has some trouble hearing and seeing, she's still more than capable of putting on a wonderful Hanukkah meal. But when she makes her famous latkes, the best in the village, the delicious smell wakes up a very hungry bear — that Bubba Brayna mistakes for her rabbi! Hilarity ensues as Bubba Brayna tries to convince the bear to take off his coat — and as the opportunistic bear happily eats all the latkes. Fortunately, once the mistake is discovered, everyone works together to ensure that everyone can join in the feast. This warm, fun story is sure to get kids giggling.
Hanukkah Cookies with Sprinkles
When Sara sees an old man taking free bruised fruit from her local supermarket, her grandmother explains that he's probably poor and willing to eat around the bad spots to get something to eat. She also tells Sara about tzedakah, or acts of charity, and Sara realizes that her family could help: with her mother and grandmother, they start leaving their own offerings for him, from his own menorah to cookies with sprinkles. And when they get to know him, they realize that he has his own gifts to share! This charming story is perfect for talking about the importance of helping people in our community, both at Hanukkah and all year round.
Sadie's Almost Marvelous Menorah
The Monday before Hanukkah, Sadie's teacher gives each of the children clay to make their own menorah. Over the whole week, Sadie carefully shapes and paints her menorah until it's absolutely perfect. But when she gets home and runs to show her mother, she trips and the marvelous menorah shatters on the floor. Sadie is heartbroken until her mother points out that the part to hold the shammash, the "helper" candle that lights all the others, is intact. Now named "Sadie's Super Shammash", Sadie's creation will still get to be part of a special holiday tradition! This fun holiday story is also an excellent lesson in handling adversity.
Dear Santa, Love Rachel Rosenstein
Rachel is tired of being different from all her friends, and decides that this year, she's going to celebrate Christmas — with or without the help of her Jewish family. But despite writing a letter to Santa, and even visiting him at the mall, he never shows up. Poor Rachel isn't even sure she'll be able to enjoy her family's annual dinner at a Chinese restaurant... until she realizes there are plenty of her peers who don't celebrate Christmas and that your unique cultural identity is something that should make you proud. This heartfelt and funny story is an excellent way to share the many different ways cultures celebrate their holidays.
Little Red Ruthie: A Hanukkah Tale
It was a chilly winter in the northern woods, but Ruthie doesn't mind. Dressed in her favorite puffy red coat, she is going to spend Hanukkah with her grandmother, who lives on the other side of the forest. Ruthie is bringing sour cream and applesauce to go along with the yummy latkes. She carefully packs her basket and kisses her mother good-bye. When snow begins to fall, however, Ruthie is soon lost in a thicket, and realizes that she's not alone. When she comes face to face with a wolf, she'll have to convince the wolf that eating latkes will be tastier than eating her!
Hanukkah in Alaska
Hanukkah in Alaska is a bit different than anywhere else — especially when there's a hungry moose that's threatening the tree with your favorite swing! The little girl in this story tries everything she can think of to lure the moose away: apples, carrots, even cookies. It's not until the last night of Hanukkah, as she and her father watch the aurora borealis, that she discovers the trick... it turns out that even moose like latkes! This charming story includes an author's note with information about Hanukkah traditions and Alaskan wildlife.
Mrs. Greenberg's Messy Hanukkah
Mrs. Greenberg doesn't have any plans for the first night of Hanukkah and she certainly doesn't expect an invasion from her young neighbor! But Rachel's family isn't starting their celebrations until the end of the holiday, and she's dying to make some latkes, the traditional crispy potato pancakes that Rachel loves. The solution — natural enough to this spunky girl's mind — is to join "lonely" Mrs. Greenberg and make latkes with her.
Nonna's Hanukkah Surprise
Rachel is thrilled to be visiting Nonna all the way in Italy this year, but she's worried, too: Nonna and the cousins celebrate Christmas, but Rachel's family celebrates Hanukkah. Her parents tell her they're prepared: they're bringing a suitcase of all the things they need, including gelt, candles, and a gift for Rachel — a special menorah just for her! But after a long, exhausting international flight, Rachel leaves the menorah on the plane. Fortunately, clever, creative Nonna comes up with a sweet-smelling way to show Rachel that she can celebrate Hanukkah anyway! This loving grandmother and granddaughter are the perfect pair for the holiday.
Queen of the Hanukkah Dosas
In Sadie's family, they celebrate Hanukkah a little differently: since Mom is Indian and Dad is Jewish, their Hanukkah includes delicious dosas instead of latkes! But Sadie's brother thinks she's going to be nothing but a pain when it's time to make the dosas: no matter where she goes, Sadie climbs on everything. Fortunately, when the family accidentally locks themselves out of the house, Sadie's climbing skills can save the day! This sweet celebration of multicultural celebrations and being yourself even includes recipes for dosas and sambar that you can try at home.
Daddy Christmas and Hanukkah Mama
Of course, many families celebrate more than one winter holiday! Holidays at Sadie's house mean Hanukkah gelt coins under a Christmas tree, latkes by the fireplace for Santa, and other mixes of Christmas and Hanukkah celebrations. The book avoids discussing the religious meaning of the two holidays, instead focusing on celebrating how diverse families can make sure that everyone gets to enjoy cherished traditions. The book includes a recipe for a cranberry kugel dressing, and a timeline of Christian, Jewish, and secular holidays throughout the year. Sadie's story is a great celebration of diverse families and their holidays.
When Mindy Saved Hanukkah
Mindy and her family are tiny — so little they can live hidden behind the wall of the Eldridge Street Synagogue — but they too look forward to a Hanukkah celebration of warmth and light. when Mindy's father sprains his ankle just before the holiday, the family wonders if they can have their festivities this year. If the family is going to have a candle for Hanukkah, Mindy will have to bring it back herself, braving an excursion into the open — and an encounter with a very large cat! This playful story also introduces children to many characters, stories, and symbols of Judaism.
The Borrowed Hanukkah Latkes
It's the last night of Hanukkah, and more relatives are coming than originally planned. Rachel decides to borrow potatoes from Mrs. Greenberg. She asks Mrs. Greenberg, who is all alone, to come for Hanukkah but, as always, she declines. But, when the guest list continues to grow, Rachel has an idea — if Mrs. Greenberg won't come to their house to celebrate, maybe they will just have to bring the party to her!
Potatoes at Turtle Rock
Anna's family always celebrates the first day of Hanukkah in the woods around their family farm, so even though it's snowing, Anna comes up with a clever way to keep them warm! With a pocket full of hot potatoes — just like Great-Grandpop's mom used to use — the cold doesn't seem so bad. As the family visits Old Log, Squeezy Cave, and Billy Goat's Bridge, Anna uses riddles to keep the family in festive spirits... and when they finally get to Turtle Creek, they give thanks for the light, warmth, family, and potatoes they enjoy throughout the year!
The Trees of the Dancing Goats
How can you enjoy a holiday when your neighbors aren't enjoying theirs? Trisha's family is the only Jewish household in the area, so they prepare for Hanukkah alone. But when Trisha stops by her closest neighbor's house for a visit, she finds her friends sick with scarlet fever. Hanukkah doesn't feel so bright when their neighbors can't celebrate Christmas... that is, until Trisha and her Grampa have an idea on how to spread the holiday cheer. This touching story of compassion and generosity reminds readers of the importance of kindness to everyone around you.
The Only One Club
Jennifer is the only student in Mrs. Matthew's first grade class who celebrates Hanukkah, not Christmas. So while the other kids make Christmas decorations, Jennifer makes Hanukkah ones. Enjoying all the attention, Jennifer declares herself the creator — and sole member — of the "Only One Club." But as the day goes on, Jennifer realizes that each of her classmates and friends is the "only one" of something and that clubs are more fun when everyone is invited! This sweet story celebrating diversity and uniqueness will inspire children to look for the special qualities in everyone around them.
Light the Lights!: A Story About Celebrating Hanukkah and Christmas
Every December, Emma's family celebrates not one but two very special holidays! First comes Hanukkah, with dreidl games and candles to light on the menorah; then comes Christmas, with carols, a Christmas tree, and presents for everyone. For interfaith families that celebrate both holidays with their own traditions, or for children learning about how religious families celebrate special days, this book captures the warmth and joy that these times with friends and family can bring.
Hanukkah Moon
Among the rarely-represented Latin-Jewish community, there's a celebration for women and girls that honors the luna nueva, the new moon of Hanukkah. Isobel has never celebrated the luna nueva, so she's uncertain about spending this Hanukkah with her Aunt Luisa, who has recently arrived from Mexico. But as she experiences the late night celebration of Rosh Hodesh, Isobel — and the reader — are introduced to the beauty of this little-known special occasion. This lovely title is perfect for showcasing the diversity of Hanukkah celebrations around the world.
One Candle
Hanukkah is a time of celebration, but for the family in this story, it's also the time for a solemn — but triumphant — memory. Among the brisket and latkes, on a table with fine linens and china, Grandma places a single raw potato and recounts the story of how she, as a 12-year-old girl in Buchenwald concentration camp, used a precious piece of food to celebrate the holiday in secret. This gentle story reminds children that the past contains both tragedies and triumphs, and that the values of tradition and family ensure that there will always be hope for the future.
Additional Recommended Resources