A Mighty Girl's top picks of science toys for curious Mighty Girls of all ages!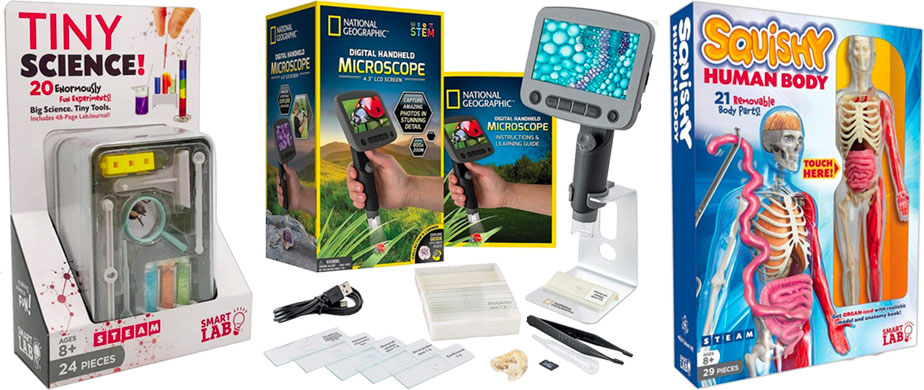 Kids are full of curiosity about how the world works, so why not give them a gift that helps them explore it? With a high-quality science kit or toy, kids can incorporate the wonder of the everyday world into their play. In fact, it's amazing how much they can learn that way!
In this blog post, you'll find our favorite science toys and kits for curious kids of all ages, from toddlers to teens. These toys encourage kids to explore a wide selection of sciences, including chemistry, geology, physics, astronomy, biology, and more. Best of all, these all-in-one science kits come with everything kids need to start playing and learning without having to seek out for extra supplies.
You can also discover books about science-loving girls and women to share with all the kids in your life in our blog post, Ignite Her Curiosity: Books to Inspire Science-Loving Mighty Girls.
Science Toys For Mighty Girls
Do you remember how incredible it was to learn that certain principles of math, physics, and chemistry were behind all the complexity of the world around us? With these toys, kids can explore what the rules of the universe are and how they affect everything that we do.
Recommended Age: 2 and up
Most wooden blocks feature the A, B, Cs — but why not Au, Be, and Cu? Elements are the building blocks of the universe and now they can be the building blocks of your toy box with this fun set from Uncle Goose! 20 solid wood building blocks, made in the US from sustainable Michigan basswood, feature the elements of the periodic table painted in non-toxic, child-safe inks. And even though they're building blocks, don't think they're just for babies — chemistry geeks will love these colorful blocks as much at 36 years as 36 months!
Buy:
Amazon.co.uk
(Unavailable)