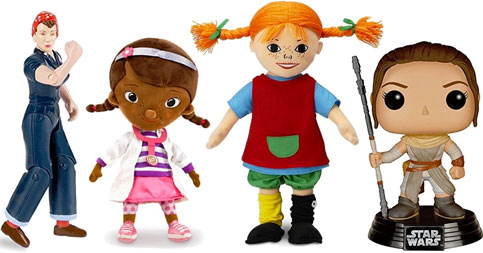 By Katherine Handcock, A Mighty Girl Communications Specialist
Dolls and figurines have been favorite pretend play toys for hundreds of years, but there are a lot more choices now than there were in the past! Today, dolls and action figures can represent historical figures; popular book, TV, and movie characters; or people from around the world.
If you've been looking for a unique doll or exciting action figure for your Mighty Girl, you'll find dozens of our favorites in this post. From poseable dolls to cuddly plush toys to action figures, there's a new best friend awaiting every child!
For more empowering dolls for all ages, you can browse our full collection of over 350 Dolls and Action Figures. For more girl-empowering toys of all varieties, including science, building, and arts & crafts, check out our 2015 Girl Empowerment Holiday Gift Guide and our 2015 Holiday Guide blog series.
Forever Friends: Hard-Bodied and Poseable Dolls
Instead of an ordinary doll, consider giving these Mighty Girl dolls instead! From role models from history to popular characters from movies and television, these dolls are sure to be a hit.
Recommended Age: 3 and up
Fans of Ludwig Bemelmans' Madeline will adore this doll that stands 8 inches tall and comes with her loyal companion, a Genevieve soft toy.This beautiful poseable doll is wearing her classic blue coat, plaid dress, and yellow hat -- and she even has the appendectomy scar from her first adventure. She's sure to become a beloved friend.
Cuddle Buddies: Stuffed Animals and Plush Dolls
Whether they're based on figures from history, movie characters, or  unique characters all their own, nothing beats these dolls for comfort and cuddles!
Pocket Sized Fun: Action Figures and Mini Dolls
A small package can still mean big fun ahead! Whether you're getting them for display or play, these small figures will provide countless hours of play.
Additional Recommended Resources