Our top picks of stories to inspire your Mighty Girl to dream big this year and follow through with the hard work and perseverance to make those dreams come true.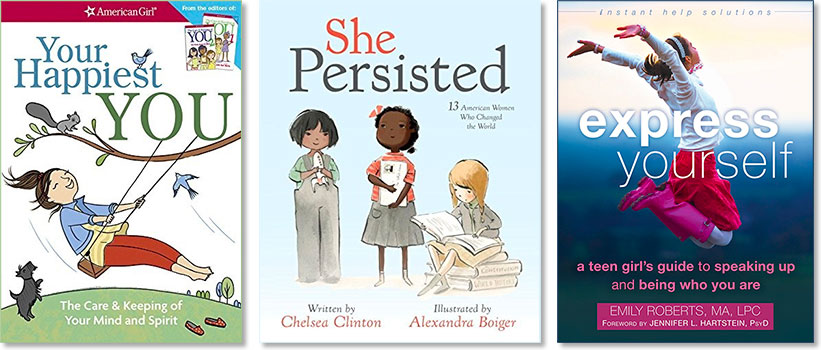 A new year always seems ripe with opportunity, and it's not just adults who are eager to challenge themselves to achieve new things: kids and teens are often ready to tackle new goals when the calendar rolls around to January! But, of course, trying new things can seem intimidating, and it will take perseverance and dedication in order to accomplish whatever your Mighty Girl has set as her goal.
With that in mind, we've collected some of our favorite books for inspiring Mighty Girls to take a deep breath, jump in with both feet, and then see their plan through to the end! These books will get kids dreaming big dreams and remind them that those dreams are always worth striving for, even if there are some bumps along the way.
The First Step: Daring To Try
The first step — and often the most difficult one — is having the courage to try something new! These books will show Mighty Girl that she does have the daring necessary to test out her dreams.
Plant A Kiss
Many children are also inspired by knowing that their efforts make a difference to those around them. In this clever story, Little Miss plants a kiss in the ground and carefully tends it. When a delicate, sparkling plant grows, Little Miss decides she should share it with the world and travels to every distant corner to do so. The glittery magic being shared is left open to interpretation, but the message is clear: even a little girl can bring something special to the world.
Dream Friends
Melody has a wonderful friend in her dreams, but is too shy to talk to other children on the playground in real life. She wishes that her dream friend could join her in her waking life too, but no matter how hard she tries, it just won't work. But her dream friend is happy to give her a little nudge, and before long, there are two little girls joining him in dreamland! This gentle, whimsical story about overcoming shyness is sure to inspire young readers.
There Might Be Lobsters
While her little girl gets excited for their trip to the beach, Sukie the dog is dreading it. After all, the beach is so big... the waves are so whooshy... and there might be lobsters! Sukie uses her fears as a justification for staying up on the sand, but when beloved stuffed animal Chunka Munka gets swept out to sea, Sukie is able to overcome all of it to swim out and save the day. A charming and funny story with clever details in the illustrations — including plenty of lobsters — this book will remind readers that overcoming a fear is truly empowering.
Drum Dream Girl: How One Girl's Courage Changed Music
On an island filled with music, one rule always holds true: girls cannot be drummers. That is, until the day that a girl appears who dreams of drums all day and all night. She didn't dare let people see and hear her desire for music, even as she heard rhythms in every sound and every moment. But after years of determined, secret practice, the drum dream girl's music was enough to convince everyone that boys and girls should be allowed to play. Inspired by the story of Millo Castro Zaldarriaga, the Chinese-African-Cuban girl who broke Cuba's taboo against women drummers, this book captures the power of a dream to change others' lives as well as your own.
My Brave Year of Firsts: Tries, Sighs, and High Fives
There is a lot of everyday bravery involved in being a kid! Frankie, the main character in this book, has a lot of new experiences over the course of a year: she learns to ride a bike, gets her first dog, goes to first grade, and more. And while all of these things seem insignificant once you're grown up, Frankie learns that discovering you're brave enough to try anything is part of what growing up is all about. This fun and touching book will also remind parents that these little steps only look little in retrospect.
Marilyn's Monster
Sometimes the best things in life come when you dare to try something different! Some of the kids in Marilyn's class have their monster and Marilyn knows she just has to be patient: everyone knows the monster has to find you. That's just how it works. But as more and more of her classmates get found, Marilyn decides this is taking too long for her monster to find her — it's time to take some initiative and go looking on her own! This fun story reminds kids that, sometimes, you have to go forth boldly to achieve what you want.
The Year of the Dog
Sometimes feeling different can make a Mighty Girl want to hold herself back. 4th grader Pacy's Chinese horoscope says that this is the year she will "find herself." But it's hard enough struggling to meld her Taiwanese background with American culture! In the end, after wrestling with friends, crushes, and schoolwork, it's having the courage to enter a contest that will give Pacy a clue about her future path. This charming coming-of-age novel is sure to speak to any reader who feels like it takes courage just to be herself.
Your Happiest You: The Care and Keeping of Your Mind and Spirit
If you've read The Care and Keeping of You, you already know a lot about caring for your body — but your mind and spirit need care too! In this new book from the American Girl Library, you'll learn important skills for long-term happiness: how to focus on what really matters to you, how to bounce back after a setback, how to find calm inside, and how to connect with the people you love. It also shows how you can make your happiness "contagious!" Friendly, accessible advice and stories from real girls just like you remind young readers that happiness doesn't just happen; it's something you can learn.
Otherwise Known As Sheila The Great
Even harder than overcoming fear can be admitting that you have fears in the first place! Sheila is brave on the surface, but Secret Sheila is afraid of spiders, dogs, and swimming. When her family rents a house for the summer — that comes with a dog — and signs her up for swimming lessons, she's forced to meet her fears head on. Even though Sheila suspects she's not fooling her new best friend, it will take a lot before Sheila will admit that she's not fearless Sheila the Great all the time.
Dream It, Do It! Careers Quiz Book
Tweens are discovering their passions, talents, and interests — and this book will help them take that information and figure out what might be their dream career! From quizzes to determine her strengths to projects, games, and other activities to help her tease out what jobs will excite and fascinate her, this quiz book provides plenty of fodder for big dreams about her future. The final pages provide tips for motivation and a job glossary full of occupations that might not even have crossed her mind. It's a great way to get girls thinking about their future in a fun way!
A Smart Girl's Guide to Knowing What to Say
If your Mighty Girl wants some help learning how to speak up for herself as she pursues her dreams, this book will help her learn tips, techniques, and conversation starters to make speaking up a little easier. The guide covers over two hundred different situations, including talking to a new girl at school, comforting a friend whose relative has died, and negotiating with parents for a change in the rules. By planning for some common scenarios, your Mighty Girl will feel confident that she knows what to say in any situation.
Minnie McClary Speaks Her Mind
As Mighty Girls get older, they also need to learn to speak up — both for themselves and for those they care about. Minnie doesn't fit in at school until the day Miss Marks takes over Minnie's language arts class and encourages the kids to ask questions and think critically. Minnie loves Miss Marks, but some parents in town don't like the questions she's encouraging their children to ask. Fortunately, Miss Marks' teaching inspires Minnie to stand up for herself and the teacher who has made such a difference in her life.
The Gutsy Girl: Escapades for Your Life of Epic Adventure
When Caroline Paul was a girl, she let fear hold her back from all sorts of adventures she wanted to try. As an adult, she has flown planes, rafted on white water, and become one of San Francisco's first female fire fighters. In her book, she shares stories of daring women from history and from her own journey — and encourages girls to set their own path to adventure. Each section includes a spot for girls to write about their own adventures, as well as confidence-building activities girls can try on their own. This book celebrates all the good things that can come when you assess the risks, take a deep breath, and take that first step.
Be A Changemaker: How To Start Something That Matters
Many people wish they could do something that would really change the world for the better, but it can seem hard to turn that desire to do good into a reality that works. This terrific guide will show kids how to take their passions and interests and turn them into an idea for a charity, social entrepreneurship company, or volunteer organization that will help people across the street or around the globe! After settling on her vision, the book also provides great advice on how to set up your group's structure, seek adult guidance and mentorship, plan for expansion, and more.
Fangirl
One of the greatest challenges anyone can face is re-evaluating how they see themselves. Cath and her twin sister Wren have been dedicated fans of a popular book series for years. But they're going to college, and Wren has dropped a bombshell: she's ready to move away from fandom and she doesn't want to live with Cath. As Cath tentatively steps out into the world — without her sister — she discovers that there are hints of a great life, all her own, that she could have. Is she willing to leave behind fanfic and conventions — and everything that she used to be — in order to see how her own story plays out? This story about finding your own way is sure to speak to any teenage Mighty Girl as she faces a great, but scary, adventure: her own life.
Everything All At Once
When Lottie's favorite aunt, the author of the best-selling Alvin Hatter series, dies of cancer, she leaves her niece an unusual bequest: 24 letters. Each of them contains a challenge designed to encourage Lottie to overcome her grief — and her anxiety. So Lottie, her friend Em, her younger brother Abe, and her almost-boyfriend Sam set off to complete them all. Along the way, though, Helen's challenges reveal a secret about the inspiration for Alvin Hatter. This adventurous story with a mystical twist celebrates the power of love, writing, and daring to take a risk.
Express Yourself: A Teen Girl's Guide to Speaking Up and Being Who You Are
Many teen girls feel the pressure to be "nice" and avoid labels like "bossy" or "pushy", but it's hard to find and pursue your dreams if you don't feel like you can be yourself. With this guide from the Instant Help Solutions series, girls will learn how to have positive interactions with others, deal with difficult emotions that can arise from bullying or dealing with challenging peers, and discover easy-to-use strategies that will boost their self-esteem and confidence. By developing their ability to speak with an authentic voice, girls will not only be able to dream big: they'll be able to speak frankly and confidently about those dreams.
Making It Happen: Persistence and Hard Work
Of course, after taking the first step into a new experience, you have to keep going! It can be hard to remember sometimes that a lot of persistence and work is necessary to achieve what you want. These books will remind your Mighty Girl that dreams need to be backed up by some serious dedication!
The Wednesday Surprise
Sometimes it's important to remind children that even adults have to work hard to learn new things. Anna and Grandma have been working together, planning a special surprise for Dad's birthday. Together, over many weeks, they spend hours curled up together with a book, always keeping the secret. When Dad's birthday finally comes, after he has opened all his presents, Grandma is able to give him one more, extra special gift — by reading him a story for the very first time. It's a great way to show every child that you're never too young or too old to try something new.
Three Little Words
Everyone's favorite forgetful fish has some helpful advice about persistence, resiliency, and finding your way! In this original book based on the characters in Finding Dory, Dory's motto of "just keep swimming" shows how a positive attitude and a determination to finish what you started can help you overcome surprising obstacles. Beautiful original watercolor artwork perfectly complements this simple, cheerful story about the importance of working hard for what you want.
The Book of Mistakes
On an empty page an artist starts to create — and things don't work out exactly as planned. But amidst mistakes like one eye bigger than the other, or a weird frog-cow-cat... thing, or an inky smudge, this artist is able to see possibility. The eye may have been a mistake, but the glasses look great; the frog-cow-cat makes an excellent bush; and even the smudges can look like leaves floating across the sky. With simple, playful text, author/illustrator Corinna Luyken reminds readers young and old that "mistakes" can be the start of bright ideas — and that all of us are works in progress. It's the perfect reminder as she heads out for a new adventure.
Keep Climbing, Girls
Mighty Girls need to hear that they should never give up reaching for the sky! Beah E. Richards, the African-American playwright and poet, wrote a poem called Keep Climbing, Girls in 1951 that celebrates a daring young girl's determination to reach the top — of both a nearby tree, and of her life's aspirations. This picture book edition exhorts girls to remember that "the path of life goes up and up / not down!" Although the reading level is appropriate for girls as young as 4, the message of this book makes it perfect for all ages, including as an inspirational gift for graduates or those in the midst of other life transitions.
The Most Magnificent Thing
When you're striving for a particular result, it's easy to look at how your work fails, rather than at how it succeeds. The little girl in this story has an idea for building the most magnificent thing she's ever made... but her first attempt just isn't right. Neither is her second, or her third... Finally, in a fit of frustration (complete with smashing, pummeling, and an explosion of fury) she quits altogether. Fortunately, after a little time to calm down — and a walk with her patient, sympathetic furry friend — she's able to go back and see that there's a lot right with everything she made. This charming and funny story will remind kids that taking a break and trying again usually results in success.
Rosie Revere, Engineer
It's important to understand that failures are part of the process of achieving great things. In this story, Rosie loves inventing crazy contraptions, but rarely shows her stuff, afraid that things won't work the way she imagines. When her great-great-aunt Rose (a cameo by Rosie the Riveter) confesses that her dream is to fly, Rosie is determined to invent something to let her do just that... except her great invention falls from the sky and smashes on the floor. Far from being disappointed, though, Rose is delighted, telling Rosie that the only true failure is giving up.
Firebird
When confidence is fragile, it's harder to push yourself long enough to achieve big dreams. In this book, an everygirl and would-be dancer looks up at her idol, a prima ballerina, but instead of being inspired, she despairs. How can she possibly ever soar so high, no matter how much time and effort she puts in? Fortunately, the ballerina's reassuring voice tells her that she was once a young dancer too, and that it was time, determination, and courage that turned her into the Firebird. In addition to its confidence-building tone, this book conveys a powerful message: not only does your work lead to achievement, but each person who succeeds can inspire and uplift the next generation.
La La La: A Story of Hope
One day, a lonely little girl dares to raise her voice. "La la la," she sings, and waits to hear a response... but there is only silence. So she decides to brave the wider world and skips out, pausing every so often to sing again: "la la la." As night falls, she even climbs as high as she can, singing out to the moon; still, nothing. Heartbroken, she falls asleep on the ground, only to be woken later by the most wonderful sound... "LA!" This nearly wordless picture book with exquisite art gently explores loneliness, connection, hope, and persistence; adults will find its message inspiring too.
The Girl Who Buried Her Dreams In A Can
Years ago in Rhodesia, a child dreamed of an education that was off limits to girls like her. So while she taught herself to read and count, she reconciled herself to a life as a wife and mother only. But when she married, she followed a community tradition: she wrote her dreams down and buried them in an old can as a reminder never to give up. Years later, Dr. Tererai Trent would indeed get university degrees in America — and return to educate the children at her home. This inspiring true story of perseverance despite years of obstacles is sure to inspire.
She Persisted: 13 American Women Who Changed the World
"Nevertheless, she persisted" began as a rebuke, but it's become a celebration of the groundbreaking women who refused to take "no" for an answer! In Chelsea Clinton's captivating picture book, she celebrates thirteen American women whose determination and grit shaped their nation, paving the way for future generations to follow in their footsteps. Her capsule biographies are accented with vivid art from Alexandra Boiger, showing young readers that that no matter what obstacles may be in their paths, they shouldn't give up on their dreams. Persistence is power.
A Smart Girl's Guide: Getting It Together
With so much going on and so much to remember, tweens can feel overwhelmed — especially if they don't know how to organize their belongings or their time. This guide teaches girls to look at all aspects of their life, from their backpack to their bedroom to their schedule, to clear them out, tidy them up, and focus on what's really important. Quizzes and step-by-step guides will help girls feel more in control and confident that they can manage everything they need for school, extracurriculars, and more.
Doable: The Girl's Guide to Accomplishing Just About Anything
Lots of girls find it easy to dream big, but sometimes it can be hard to clarify dreams into a workable goal and then figure out the steps to making that goal a reality. In this step-by-step guide, Reber teaches girls how to write clear, definable goals; plan the steps they need to take to achieve them; and dodge common obstacles (including procrastination) on their way. Equally importantly, she discusses what to do when your goal doesn't work out the way you'd planned — and how you can still turn that "failure" into a step on your path to success.
You Got This! Unleash Your Awesomeness, Find Your Path, and Change the World
Maya Penn is a teen entrepreneur with three TEDTalks under her belt who has created an eco-friendly fashion line, developed animated films, and more — but even she has faced doubts in the past. In this book, Penn speaks honestly about the joys and challenges of her path so far, and lays out a blueprint for other teens looking to make their own way in the world. Full of creative prompts, encouraging advice, and tips for turning your passion into action, this book highlights how much work goes on behind the scenes of an "overnight success."
Take 5 For Your Dreams
As Mighty Girls get older, too many of them lose sight of their dreams — or never really deeply examine what they want in the first place. In this daily workbook, your Mighty Girl will find a series of five minute prompts and exercises to help her examine her strengths, her desires, and how she can turn her dreams into reality. These daily sessions will encourage girls to define their futures by what they want, rather than by expectations from people around them. Then, fortified by their new confidence in themselves, girls can go out and find ways to make their dreams come true.
The Self-Esteem Workbook for Teens: Activities to Help You Build Confidence and Achieve Your Goals
To achieve your goals, you need positive self-esteem and confidence...and this book will help you build them. This entry from the Instant Help Solutions series teaches teens while self-esteem is a necessary foundation for all of their other goals. Step-by-step workbook pages teach teens to honestly assess their strengths and weaknesses, understand and respond to constructive criticism, and develop the emotional resources you need to succeed.
Get Out Of Your Mind And Into Your Life For Teens
If your Mighty Girl finds that the stresses of teenage life make it hard for her to pursue her dreams, this guide from the Instant Help Solutions series will help her work through feelings of anger, embarrassment, or self-doubt to find inner reserves of confidence and self-worth that she never knew she had. As she becomes more aware of how her emotions work, she'll be more ready to face them and overcome the ones that are holding her back. Teens can also check out The Self-Esteem Workbook for Teens from the same series to help them assess themselves realistically so they can find the assurance they need to achieve their goals.
The Grit Guide for Teens: A Workbook to Help You Build Perseverance, Self-Control, and a Growth Mindset
Want to power through the challenges in your life and achieve your goals? Then you need grit! The term "grit" encompasses all the attributes you need to accomplish what you want, from tenacity to self-control to the ability to bounce back from failure. This guide introduces teens to the concepts of grit and growth mindset — focusing on improvement and hard work — and shows them how these ideas can translate into turning disappointment into opportunity, embracing challenges, managing stress, and more. After all, life isn't necessarily about being the best of the best; it's about being the best YOU that you can possibly be! If she likes this volume from the Instant Help Solutions series, then she can also check out Conquer Negative Thinking for Teens and A Teen's Guide to Getting Stuff Done.
Additional Recommended Resources