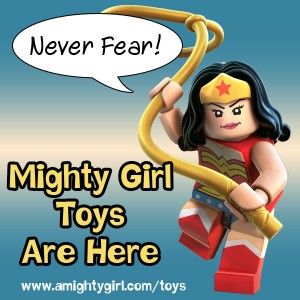 After months of hard work, we are thrilled to present our newest site addition -- A Mighty Girl Toys! With the world's largest collection of girl empowering books, movies, and music, adding toys was a natural extension of our mission of showcasing diverse and high-quality girl empowering products.
From science and building toys to dolls and action figures to video games and crafts, the new toy section features nearly 2,000 carefully selected toys that honor the entire breadth of girls' interests – not just those represented in the 'girls' aisle of your average toy store.
In this post, we hope to provide answers to a few common questions about the toy section and, hopefully, make it easy for you to find exactly what you're looking for during your visit.
1. What's the best way to find specific types of toys?
While you can search for toys on our site, you'll have the best results by visiting the relevant toy category on our toy menu. Just mouse over the 'Toys' button on our main menu bar and you'll see our six main toy categories of Toys & Games, Imaginative Play, Arts & Crafts, Outdoor Play, For Baby, and Kids' Gear and an array of sub-categories below each one. Using this menu, you can browse the main categories or go directly to sub-categories such as Science / Math or Dolls / Action Figures.
2. How do the toy filters work?
Once you've found a section that interests you, whether it's Building Toys or Video Games, you can use the filters found on the left-menu to further refine the toy options. You can sort the toys by recommended age, award winners, price, video game platform type, and several special characteristics including empowerment theme, eco-friendly, and ethically made.
While we believe that all of the toys we've selected to include in our toy section are girl-empowering, some are explicitly focused on female empowerment such as our array of Women's History-related toys. These types of toys have been designated as having a specific 'empowerment theme'. Eco-friendly toys are ones in which the manufacturers use wood from sustainable sources and organic fabrics, strive to reduce their energy consumption during manufacturing or apply other green practices. Ethically made toys are from manufacturers concerned about their workers' condition, pay living wages, or are fair trade.
And, remember that nearly all A Mighty Girl product pages also have a 'Related Products' section under the display picture. So if you like one toy, you can use this feature to find similar ones.
3. I read that I can support A Mighty Girl through my toy purchases. How does that work?
If you discover an item on the site that you plan on purchasing, please click the "Buy from Amazon" link located on each toy's A Mighty Girl page. By using this link to purchase your toy, A Mighty Girl receives a small commission from the sale at no added cost to you. A Mighty Girl is run by a small husband/wife team and your support is critical to allowing us to continuing maintaining and expanding the site.
If you use the site as a research tool and plan on making your purchases elsewhere (and, yes, we love small toy stores - it's great to support them if you have one in your community!), please consider making a donation to support our girl empowerment mission. As the site has grown, so have our costs to maintain the site. Your support is deeply appreciated and will go far in ensuring that A Mighty Girl can continue to grow and flourish as a resource for everyone committed to girl empowerment.
If you are outside the US and would like to purchase items listed on A Mighty Girl, it is easy to do so in many countries -- please read our FAQ at for more details.
4. If I add an item now to my Amazon shopping cart, will A Mighty Girl get credit for the referral?
If you click the 'buy from Amazon' link on any A Mighty Girl product page and save an item to your Amazon shopping cart, we would receive 'credit' for the purchase if it's made before your shopping cart expires (usually after 90 days).
5. How does A Mighty Girl's Wishlist feature work?
After creating A Mighty Girl account, you will have the ability to use the site's Wishlist tool. The Wishlist allows you to track products of interest to you as you browse through the site. Each product page has an "Add to Wishlist" button. When you click this button, you will be taken to the Wishlist page and have the opportunity to add notes to yourself about the product. Then when you are ready to make your purchase, you simply visit your wishlist and click the item to visit its Amazon.com page.
6. After researching so many toys, what's your favorite?
Tough question! Within the next two weeks, we'll be posting the favorite toys of each of the A Mighty Girl interns who helped create the toy section - stay tuned!
7. How did you find so many wonderful toys?
Lots and lots of research! Special credit is due to our team of fantastic A Mighty Girl interns who each went above and beyond in building this incredible girl empowerment resource. A huge thank you to Liz Alarid, Katherine Handcock, Lili Sandler, Jen de Beer, and Pauline Phan for their amazing dedication and awesome research prowess!
8. I love the new section and want to let you know and share my recommendations of new toys to add! How do I get in touch?
We'd love to hear your feedback about our new toy section. Please add your comments here or, if you'd like to recommend a toy for inclusion in this section, please use the red feedback button at right.