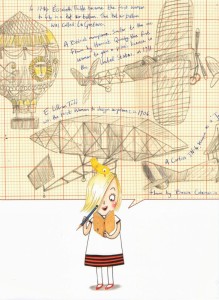 A great way to encourage girls' interest in STEM (science, technology, engineering, and math) fields is by sharing stories starring girls and women who love science and technology! Seeing female faces as scientists, whether in the lab or out in the field, is a powerful message to girls that these subjects are open to all. And, while introducing them to real-life women in STEM through biographies is important, fictional stories showing science-loving girls and women are another excellent way to entice girls with the unlimited possibilities before them.
With that in mind, we're showcasing our favorite fictional books for both children and teens starring Mighty Girls who love science, engineering, and math — each in their own thematic section below. With options ranging from the fun and fanciful to the more contemplative, you're sure to discover a title to excite every budding scientist or engineer, girls and boys alike — after all, both need to learn that science is for everyone!
If you're looking for books for children and teens about real-life female scientists, you can find dozens of titles in our Science Biographies section. And, for toys and science kits to further support her interests, check out the recommendations in our blog posts: Wrapped Up In Science: Top 40 Science Toys for Mighty Girls and Building Her Dreams: Building and Engineering Toys for Mighty Girls.
Unbridled Curiosity: Stories About Girls Who Love Science
One of the great things about science is that it encourages the natural curiosity and wonder that kids have! These stories show how that drive to understand fosters scientific investigation... even if things don't always go as planned.
The girl in this story is dreaming of a space adventure! She imagines herself as a member of a shuttle crew, blasting off into orbit — and then, discovering how every-day occasions like taking a nap or having a meal change when you have to do them in zero gravity. She'll go for a space walk and even fix a satellite... and then, finally, come safely home to Earth. Space-loving little ones will love picturing themselves riding along!
Putting It Together: Books About Engineers and Tinkerers
Some kids want to go beyond academic curiosity and start getting their hands dirty! The Mighty Girls in these books love engineering and technology.
Numbers Game: Stories About Math-Loving Mighty Girls
It's easy to forget the M from STEM — math! But the truth is that mathematics provide the basic principles necessary to understand and operate in all scientific fields. These math-loving Mighty Girls show just how useful math concepts can be.
Additional Recommended Resources