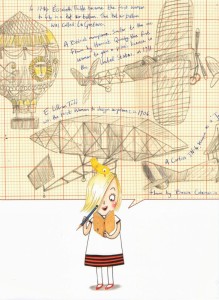 A great way to encourage girls' interest in STEM (science, technology, engineering, and math) fields is by sharing stories starring girls and women who love science and technology! Seeing female faces as scientists, whether in the lab or out in the field, is a powerful message to girls that these subjects are open to all. And, while introducing them to real-life women in STEM through biographies is important, fictional stories showing science-loving girls and women are another excellent way to entice girls with the unlimited possibilities before them.
With that in mind, we're showcasing our favorite fictional books for both children and teens starring Mighty Girls who love science, engineering, and math — each in their own thematic section below. With options ranging from the fun and fanciful to the more contemplative, you're sure to discover a title to excite every budding scientist or engineer, girls and boys alike — after all, both need to learn that science is for everyone!
If you're looking for books for children and teens about real-life female scientists, you can find dozens of titles in our Science Biographies section. And, for toys and science kits to further support her interests, check out the recommendations in our blog posts: Wrapped Up In Science: Top 40 Science Toys for Mighty Girls and Building Her Dreams: Building and Engineering Toys for Mighty Girls.
Unbridled Curiosity: Stories About Girls Who Love Science
One of the great things about science is that it encourages the natural curiosity and wonder that kids have! These stories show how that drive to understand fosters scientific investigation... even if things don't always go as planned.
I Want To Be An Astronaut
The girl in this story is dreaming of a space adventure! She imagines herself as a member of a shuttle crew, blasting off into orbit — and then, discovering how every-day occasions like taking a nap or having a meal change when you have to do them in zero gravity. She'll go for a space walk and even fix a satellite... and then, finally, come safely home to Earth. Space-loving little ones will love picturing themselves riding along!
Maisy's Moon Landing
Maisy is curious about space — so she sets off for the moon! As kids learn scientific vocabulary like satellite and landing module, they also get to move levers and tabs to launch a rocket, drive the moon rover, and open a parachute when she's ready for landing. This book, one of the Maisy's First Science Book line, is a fun way to show kids that childhood curiosity can lead to a scientific career.
Rhoda's Rock Hunt
On a long hiking trip with her aunt and uncle, Rhoda makes a beeline for what she loves most: rocks! Everywhere she looks there are rocks with different patterns and colors and textures, and all of her treasures end up in her increasingly heavy backpack. By the last day, though, her pack is too heavy to lift. Fortunately, she comes up with a clever solution — one that will allow her to share the beauty of her finds with future hikers. This charming story of a girl who particularly loves one aspect of the nature will give kids new perspectives on the things they see every day.
Ada Twist, Scientist
Young Ada is full of boundless curiosity, so when her house fills with a toe-curling smell, she's determined to track down the cause. Not afraid of failure, she embarks on a fact-finding mission and conducts scientific experiments, all in the name of discovery. But, this time, her experiments lead to even more stink and get her into trouble! Fortunately, Ada and her supportive family realize that it's always worth asking "why", even if only leads to more questions. This new release by the author of Rosie Revere, Engineer reinforces the importance of perseverance captured in that book, as well as celebrating a love of science and a burning desire to learn.
I Wonder
Every scientific discovery began with two works: "I wonder." In this beautiful book, Eva and her mother take a walk and explore some of the mysteries of life: how gravity works, why things live and die, and even how big the universe really is. Along the way, Eva learns that it's okay to say, "I don't know" — and that some mysteries are out there, still to be discovered by curious minds like hers! This book is a wonderful way to remind kids that there's no such thing as too many questions.
11 Experiments That Failed
Any scientist can tell you that, for every experiment that works, there are an awful lot of missed steps! This hilarious book actually teaches the scientific method — complete with hypotheses, experimental methods, and conclusions — as the book's irrepressible narrator decides to explore questions like "Can a kid make it through the winter eating only snow and ketchup?" and "Can a washing machine wash dishes?" Fortunately, while these particular experiments may not turn out well, this eager young scientist knows it's only a matter of time until she gets one just right.
Velma Gratch and the Way Cool Butterfly
All anyone can talk about is Velma's amazing older sisters... which means that nobody notices Velma at all. That is, until her first grade class takes a field trip to the butterfly conservatory, someplace her sisters have never been. Velma is thrilled and quickly studies up on everything she can learn about butterflies — and when a monarch takes a liking to Velma, she'll never be forgotten again. More importantly, though, Velma has discovered a new identity and a new passion: she loves science! This charming and funny story is perfect as a read-aloud.
Marty McGuire Digs Worms!
Marty's third-grade class has a challenge: find ways to save the Earth! And Marty's sure her idea — composting leftovers from the cafeteria with the help of some hungry worms — will win the grand prize. But worms take a long time to work, and when they manage to escape, the whole class is mad with Marty! She'll have to recapture the worms, maintain her friendships, and learn a little patience if she wants to reach her goal. Any kid who's found that "simple" experiments are harder than they seem will appreciate Marty's frustration, as well as her pride when her lowly little worms work just as they're supposed to.
Ada Lace, On The Case
Third grade scientist and inventor extraordinaire Ada Lace has a new challenge to take on: her neighbor's beloved Yorkie dog has been dognapped! Ada is sure that her homemade gadgets and her knack for scientific thinking will allow her to crack the case. A quirky neighborhood girl, Nina, insists on helping, but she has has her own theory about the missing dog (involving alien abduction, of all things!) As Ada and Nina get closer to the solution, though, they'll also discover that opposites can make for the best of friends! This new series from Emily Calandrelli, host of Xploration Outer Space and MIT graduate, provides a scientifically-minded detective young readers will love.
The Complete Franny K. Stein, Mad Scientist
This young mad scientist is determine to take over the world — but before she does, she'll have to perfect her methods! This imaginative (if a bit maniacal) girl explores areas from cloning to time travel over the course of the seven books collected in this fun box set. Colorful illustrations make this series a treat for young readers, and they'll giggle to see the predicaments Franny gets herself into!  Throughout it all, they'll appreciate that it's Franny's intelligence and ingenuity that saves the day. For one of Franny's adventures with a robotic theme, which is included as part of this set, check out The Fran With Four Brains.
The Case of the Missing Moonstone
Imagine a world where Lady Ada Byron (who created the first computer algorithm) and Mary Shelley (the author of Frankenstein) met as girls — and decided to turn their combined brainpower to solving mysteries! That's the premise behind this unique new series in which the pair form The Wollstonecraft Detective Agency. In order to find the missing heirloom — and prove the false confession wrong — they'll have to use science, math, and creative analytical thinking to unveil the true culprit. Ada and Mary's adventures continue in the sequel, The Case of the Girl in Grey.
Chasing Secrets
It's 1900 in San Francisco, and 13-year-old Lizzie Kennedy puts on a brave face at her finishing school, acting like a "proper" young lady. But secretly, her passion is science, which she indulges when she joins her doctor father on house calls. That's where she first learns of a dark side to the city she loves — a side that's full of rumors of the plague. Everyone, including her beloved father, insists it's nonsense, but then why is the heart of the city under quarantine? Lizzie will have to cross the lines of gender, class, and race if she wants to solve the mystery and save the people she loves in this medical mystery.
The Evolution of Calpurnia Tate
11-year-old Calpurnia is curious why the yellow grasshoppers in her yard are so much bigger than the green grasshoppers. But it's Texas in 1899, and girls are supposed to devote their time to proper activities like needlework, not tromping through the grasses studying bugs. Still, Calpurnia recruits her grandfather, an avid naturalist, to help her figure out the mystery. As the pair grows closer, Calpurnia dreams of becoming a scientist, even as it becomes more obvious how difficult that will be for a girl of her time. This award-winning novel will give tweens new perspective on the challenges that faced female scientists in the past. Fans of Calpurnia can read the continuation of her story in 2015's The Curious World of Calpurnia Tate.
The Sweetness at the Bottom of the Pie
Flavia de Luce is an aspiring chemist with a particular interest in poisons, but in her 1950s English village, she's definitely the oddball. But her talents for listening at keyholes and picking locks come in handy when a series of mysterious events come to the mansion at Buckshaw: first a dead bird on the doorstep with a postage stamp on its beak, then a dying man in the family's cucumber patch. No matter what happens, Flavia can't help but admit that her life began in earnest once murder came calling! Rollicking and intriguing, this is an excellent option for teens and adults alike. You can continue the series with The Weed that Strings the Hangman's Bag.
Putting It Together: Books About Engineers and Tinkerers
Some kids want to go beyond academic curiosity and start getting their hands dirty! The Mighty Girls in these books love engineering and technology.
Baby Loves Aerospace Engineering!
Accurate enough to satisfy an expert, yet simple enough for baby, this colorful book about a little girl and bird explores the basics of flight – from birds, to planes and rockets – and ties it all to baby's world. Beautiful, visually stimulating illustrations complement age-appropriate language to encourage baby's sense of wonder. Parents and caregivers may learn a thing or two, as well!
Robot, Go Bot!
When this little girl builds her own robot, she thinks she's got the perfect best friend: one who will do whatever she says! But even robots can get tired of being told what to do all the time, and eventually — after being ordered to mow the grass and hoe the garden — the robot storms off. The little girl will have to figure out the right way to make amends before the friends can play again. This simple comic reader from the Step Into Reading series is a great read-aloud for very young kids and is easy enough for early readers to read on their own.
Oh, No! (Or How My Science Project Destroyed The World)
The eager young scientist in this book has a great idea for her school's science fair: a real-life robot! But in the process of building, she gets a little carried away, adding a superclaw, a laser eye, and even the power to control dogs' minds. It's not until she turns it on at the fair, though, that she realizes her biggest mistake: she forgot to give it a way to register her commands. It's going to take all her ingenuity to save the day now... This hilarious story also provides a good reminder for budding inventors: plan your design very, very carefully! Fans of this book will enjoy the sequel, Oh, No! Not Again! (Or How I Built A Time Machine To Save History) (Or At Least My History Grade), which touches on the perils of time travel.
Interstellar Cinderella
This Cinderella is a whiz at rocket ship repair! So when her stepmother and stepsisters desert her on a planet while they head off to the Prince's Gravity Free Ball, she accepts a gift of tools from her fairy godrobot and soon repairs a derelict rocket. When she heads off to space and encounters the Prince in his broken down ship, Cinderella might just discover a new calling —  as the new chief royal mechanic! This fun story with its retro-style illustrations is sure to delight kids with its tinkering heroine.
The Most Magnificent Thing
The little girl in this story has an idea in her head for the most MAGNIFICENT thing... so with the help of her puppy sidekick, she collects some bits and pieces and starts building. Except that the result isn't quite as magnificent as she wanted, so she tries again... and again... and again. Eventually, frustration overtakes her, and she not only smashes, pummels, and explodes, she also quits. It's not until she takes a walk with her dog and clears her head that she can see the potential in all her previous design and build something that she really does feel is magnificent. This fun picture book sends a great message to young would-be inventors about the power of persistence.
Cleonardo, The Little Inventor
Cleonardo's father is an inventor...and so was her grandfather, her great-grandfather, and even more generations gone by. She desperately wants to be an inventor too, but no matter how many ideas she gives her father, he never uses any of them. So Cleonardo — with the help of Leonardo, her grandfather — decides to make her own invention, which she does successfully. She thinks it's wonderful, but will others think the same — especially her dad? This book celebrates both the desire to create and invent and the importance of fathers and daughters spending time together.
Violet the Pilot
Violet Van Winkle could fix almost anything in her house by the time she was two. By eight, she's building incredible flying machines, even though the kids at school tease her for her eccentric creations. She decides to earn their respect by winning the blue ribbon at the Air Show, but on her way to the show, Violet sees a Boy Scout troop in trouble and has to decide which is more important: showing off her creation for applause, or using it to do the right thing. Kids who dream of careers as pilots or aeronautics engineers will cheer as Violet shows the world the joy of flight!
Rosie Revere, Engineer
Quiet Rosie dreams of inventing gizmos and gadgets, so when she hears her Great-Aunt Rose (of Rosie the Riveter fame) sighing that she never fulfilled her dream to fly, Rosie decides to create a solution that will let Aunt Rose soar. Despite her hard work, though, the heli-o-cheese-copter hovers for just a moment before crashing to the ground. Although Rosie considers it a failure, Aunt Rose reassures her that it was actually a tremendous success — because you only truly fail if you quit. This fun story about perseverance is sprinkled with a tidbits about women's aviation history. Fans of Rosie will want to check out Rosie Revere's Big Project Book for Bold Engineers, which provides plenty of inspiration for her own engineering adventures!
Little Robot
A little girl who loves to tinker and fix things finds a robot in the woods — and is shocked when the push of a button activates him for the first time! Soon, the pair are the best of friends, but the little robot is also curious about its own kind. Unfortunately, the large, sinister robots at the factory that made the little robot are looking for him too and they don't care who they hurt along the way to get him back. Now, the two new friends will have to fight for the little robot's freedom! This fun and charming wordless graphic novel, which stars an inventive and intelligent Mighty Girl, will be a hit with any young reader who's imagined having their own robot friend.
Nick and Tesla's Robot Army Rampage: A Mystery with Hoverbots, Bristle Bots, and Other Robots You Can Build Yourself
Nick and Tesla are 11-year-old sleuths who use science and technology to save the day! In this adventure, a rash of robberies has hit the town of Half Moon Bay, and to catch the criminal, the pair will have to build several different robots. Step-by-step directions using mostly household items guide kids through building hoverbots, robo-roaches, and more as they work to solve the case. Budding young builders will love puzzling out the solution to the mystery as they learn about real-life science concepts.
Mechanica
When her mother was still alive, Nicolette learned to be an inventor by her side; now that she's gone, her stepsisters laugh and call her "Mechanica." But when she discovers a secret workshop full of mechanical tools powered in part by fey magic, she sees the opportunity to escape her miserable situation: with both a technological exhibition and a royal ball approaching, if Nicolette can't impress the prince, perhaps she can impress investors. This innovative fairy tale, featuring a steampunk Cinderella, celebrates a mechanically-inclined Mighty Girl and also conveys important lessons about the value of independence and freedom.
Cinder: Book One of the Lunar Chronicles
Cinder, a gifted mechanic, is a cyborg. She's a second-class citizen with a mysterious past, reviled by her stepmother and blamed for her stepsister's illness. But when her life becomes intertwined with the handsome Prince Kai's, she suddenly finds herself at the center of an intergalactic struggle, and a forbidden attraction. Caught between duty and freedom, loyalty and betrayal, she must uncover secrets about her past in order to protect her world's future. No one — including Cinder herself — knows that Earth's fate hinges on one very special young woman....
Numbers Game: Stories About Math-Loving Mighty Girls
It's easy to forget the M from STEM — math! But the truth is that mathematics provide the basic principles necessary to understand and operate in all scientific fields. These math-loving Mighty Girls show just how useful math concepts can be.
Peg + Cat: The Chicken Problem
Peg likes to work things through logically and analytically; her friend Cat is creative and intuitive. And when it comes to dealing with tricky math problems, it takes both of them to find the best solution! In this picture book adaptation of one episode of the PBS show, someone's left the chicken coop open and the chickens are running amok. Peg and Cat will need to combine efforts to make sure that all 100 chickens get home safely. With illustrations full of details and a "can-do" attitude on every page, kids will love finding out how Peg and Cat deal with this predicament! A video version of this book is also included as one of eight episodes on the Peg + Cat: Chicken Problem DVD.
Zero
Zero is just a big, round nothing — all the other numbers have value, but she doesn't add anything to the equation. So she tries to stretch and bend and twist herself into a number that counts, without success. Then, one day, Zero realizes that she has incredible power: with her, 1 becomes 10, then 100, then 1000! Soon all the numbers are combining instead of adding, and discovering that Zero help other numbers "count even more." In addition to introducing math concepts, there's a subtle body-positive message in this book that parents will love.
One Grain of Rice: A Mathematical Folk Tale
Clever Rani in this story shows that, with a solid understanding of math, it's easy to outsmart a selfish raja! Rani's village is starving, and the raja has more than enough rice to feed them all — but in his greed, he hoards it. When Rani does him a good deed and he offers to let her pick a reward in return, however, she asks for a seemingly humble amount: one grain of rice, doubled every day for thirty days. It doesn't seem like much... until you add it up. Kids will love the procession of animals that bring Rani's reward, from one grain in the beak of a bird to 256 elephants carrying enough rice to feed everyone. The vivid illustrations and poetic language make this a stand-out telling of this traditional tale.
Infinity and Me
Uma feels so small when she looks up at the night sky. How can she ever possibly imagine infinity? But as she wonders, she starts thinking of different ways to think about this enormous concept. Is infinity an endless racetrack? A number that grows forever? An ever-growing family tree? Can infinity even appear in an ice cream cone? This contemplative picture book takes a big idea and makes it accessible to young philosophers who, even though they're small, are already starting to think about things that never end.
Math Curse
One day at school, this girl's teacher says, "You know, you can think of almost everything as a math problem" — and the next day, when she wakes up, everything is! She has ten things to do and thirty minutes before the bus arrives... is there enough time? How many pints are in a gallon? Then the problems become a little wackier: does tunafish + tunafish = fournafish? How many M&Ms would it take to measure the length of the Mississippi River? It turns out that this Math Curse can actually be pretty funny! For any child who's considered word problems to be the bane of their existence, this book will show them the light side of math — and prove the point that math really is everywhere.
The Red Blazer Girls
Sophie, Margaret, and Rebecca are all students at St. Veronica's when their routines are broken by the appearance of a ghostly face in a window across the courtyard! The face turns out to be a woman in need of help: she is estranged from her daughter, but might be able to repair the relationship if the girls can help her solve a scavenger hunt full of logic puzzles and geometry equations. But the girls aren't alone in their quest, so they'll have to work fast to get to the treasure first! Full of twists, turns, and laugh-out-loud moments, this is sure to be a favorite with math and mystery loving Mighty Girls.
Additional Recommended Resources