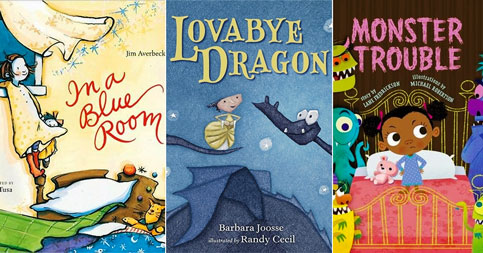 In order to be ready for her daring, adventurous days, your Mighty Girl needs to get a good night's rest! But it can be hard settling down for sleep when there's an exciting world out there to be discovered. Most kids love the chance to curl up and read together with the people they love as a way to wind down before bed. Whether you're reading a book about bedtime, or just one that gets her into a quiet, contemplative mood, bedtime books can make those last few minutes one of the favorite parts of her day — and yours.
To help get your kids ready for bed, we're showcasing 25 of our favorite bedtime books starring Mighty Girls. Hopefully, these stories — ranging from the sweet and fanciful to the clever and funny — will help everyone in the family get a good night's sleep!
If you'd like to find books to read together with older children who have moved beyond picture books, check out the recommendations in our special collection of 150 Read Aloud Books Starring Mighty Girls.
Mighty Girl Books for Bedtime
Please, Baby, Please
From waking up painfully early, to tantrums when it's time to leave the playground, to splashing water out of the tub, her parents' cries of "Please, baby, please!" are roundly ignored by this exuberant toddler. But when bedtime rolls around, and a little girl is asking, "Mama, please?" to one last kiss, we all know how the story will end. Fans of this heartwarming story will enjoy seeing the tables turned on the toddlers in a sequel, Please, Puppy, Please.
Girl of Mine
A loving father cradles his little girl, and as he sings her to sleep, his voice leads her off on an amazing adventure under a moonlit sky. Her fantastic travels end up right where she began — cuddled up in loving arms and ready for bed. The vibrant colors and spunky heroine are sure to be a hit with even the littlest Mighty Girls.
Sleepy Little Yoga: A Toddler's Sleepy Book of Yoga
The fun but relaxing poses in this yoga book are perfect to help little ones settle for sleep at night. A sequence of nine easy poses mimic nocturnal animals as your Mighty Girl stretches her tired body before going to bed. Accessible to both kids and parents, this book stresses allowing a toddler's yoga practice to become a playful, fun part of bedtime. Parents who want to experiment with toddler yoga during the daytime can check out the duo's other book, Little Yoga: A Toddler's Book of Yoga (also age 1 - 5).
When Mama Comes Home Tonight
A little girl eagerly waits for Mama to get home from work, when the simple rituals of cleaning up toys, having a cup of tea (with a sip for someone who wants to feel grown up), and mending some clothes will become special time that helps her wind down for bed. Both working parents and children will enjoy the reminder that even the short hours between work and bed are plenty enough time for play, cuddles, and love.
Ten, Nine, Eight
"10 small toes all washed and warm..." starts this charming book, in which a loving father getting his daughter ready for bed turns counting down from 10 to 1 into a combination game and lullaby. The soft, sweet illustrations, full of tiny details — like a missing shoe on the page for number 7 that turns up on a later page — won a Caldecott Honor in 1984. This melodious book it perfect for sharing with even the youngest children at bedtime.
Please Bring Balloons
Emma finds a note on the polar bear on the carousel, asking her to bring balloons, and she follows through, "just in case." Soon, she and the bear are flying into the air towards the North Star, off to climb mountains, stomp through snow, and party with other polar bears! Emma returns home in time for bedtime, and when she wakes up the next morning, everything is just as it was. Was it all a dream? This dreamy, creative story is sure to get your child's imagination going!
Frozen 5-Minute Stories
Join Anna and Elsa as they discover a mysterious mountain monster, have a royal sleepover, babysit the trolls, and more! With 12 Frozen stories that can each be read in 5 minutes, this padded storybook is the perfect fit for bedtime, story time, or anytime! Frozen fans can also find many more books, toys, and t-shirts in our Anna & Elsa Collection.
Once Upon A Cloud
Celeste wants to give her mother something very special, but she can't think of just the right thing. As she lies in bed, though, she finds herself whisked off into the sky, where she searches the sun, moon, and stars for the perfect gift. Finally, from her viewpoint high above, Celeste sees the perfect thing — and the next morning, after some careful gathering, her mother is delighted by Celeste's surprise. Keane, who worked on the Disney films Tangled and Frozen, uses soft pastels to excellent effect in this dreamy story of the love between mother and daughter.
Kitchen Dance
A little girl and her brother are supposed to be sound asleep, but curious noises get them creeping down the stairs. There, they discover their mother and father, dancing together as they sing "¡Como te quiero! Oh, how I love you!" The children get swooped up into a family dance, which becomes slower, softer, and soothing as little heads start to get heavy. Soon, two sleeping children are tucked back into bed. This vivid, exuberant book featuring a deeply loving family is sure to be a favorite.
Red Knit Cap Girl
Red Knit Cap Girl lives in a forest with her animal friends, and she has a big dream: to meet the moon. So she and her animal companions start looking for ways she could get up to the sky. Unfortunately, Mr. Owl has to tell her the truth: no animal can fly as high as the moon. But perhaps there is a way to convince the moon to come to her... Dreamy and calming, with beautiful illustrations on wood grain, this book reminds kids of the wonders around us when we turn off the lights and noise that fill our days.
Lovabye Dragon
A lonely princess dreams of a dragon friend, while in a cave far away, a dragon dreams of a little girl. When the two of them meet, the day is full of play and adventure, but when nighttime comes, it's time to curl up in the Lovabye Dragon's embrace. The lilting writing is soothing, while the soft oil paintings make the book feel like it lives in a sleepy twilight. It's a beautiful tribute to best friends and the power of the imagination.
In A Blue Room
Alice's mother has brought her everything she can think of to help her sleep, but Alice insists she can only sleep in a blue room. Mom's flowers and tea and quilt are nice, but none of them are blue. But then, when the light goes out, Alice's room is transformed by a blue moon. Parents will recognize their own Mighty Girl in Alice as she goes from bouncing on the bed to accepting being tucked in to being drowsy and finally falling asleep.
Moonday
On a drive home one night, a little girl muses drowsily that the moon seems to be following them home. But when she wakes up the next morning, she discovers that wasn't her imagination: the moon is sitting in her backyard! But in the darkness, people yawn and stumble, and the ocean's tides seep into their yard rather than gently coming and going across the beach. It will be up to the girl and her family to put the moon back where it belongs. This dreamlike blend of fantasy and reality, with luminous illustrations, will help kids lull themselves to sleep with the power of the question: what if?
Aunt Isabel Tells A Good One
Penelope is spending the night with Aunt Isabel, and part of the appeal is a made-to-order bedtime story! But if Aunt Isabel is going to tell a really good story, she'll need a little help... Soon, Penelope and Isabel are working together to create a story full of excitement, a little romance, and even a villain or two. This charming book, perfect for reading aloud, is also a great way to get kids thinking about how fiction works and whether they could start telling their own stories.
Wild Child
Mother Earth tries to get her energetic daughter to bed, but her wild child comes up with a variety of stalling tactics that will seem very familiar to any parent! Hints about the wild child's identity come in the red and orange leaves in her hair and the snack of chestnuts and pumpkins she eats, and the story ends with a wintery kiss goodnight as Autumn finally goes to sleep. This beautiful, poetic book also makes a lovely story to read for the changing of the seasons.
Girl Power 5-Minute Stories
For young children, parents are often on the lookout for quick reads for bedtime — especially if you can't resist giving in to their pleas for just one more! This collection of five minute stories is the perfect solution. With ten empowering titles, including A Mighty Girl community favorites like I Like Myself and terrific out-of-print stories like Chavela and the Magic Bubble, you could read two... maybe even three.
Frangoline and the Midnight Dream
By day, Frangoline is a perfectly polite little girl, but late at night, look out! She puts on a jet-black cloak, leaps out the window, and runs into the field, shreiking like banshee until even the moon says, "Little ones should be in bed!" But Frangonline defies the moon's warning — "You can't tell me what to do!" — until the saying "you'll wake the dead" actually comes true. Now Frangoline has to figure out a way out of this mess... but will she learn her lesson? Dark and spooky, but not over-scary, and featuring a courageous and independent main character, kids will love the mischievous Frangoline.
While Mama Had A Quick Little Chat
While Mama talks with Uncle Fred on the phone, Rose is supposed to be getting ready for bed. But then the doorbell rings, and soon the house is invaded by people carrying party supplies, waters for catering, party guests, and even a magician! And while Rose resists at first, soon she's jumping headlong into the party spirit... until she hears her mother says she'll be off the phone in a minute. Will Rose manage to get the party under wraps before Mama comes up to check on her? This funny tribute to impatience and imagination is sure to get kids giggling.
The Tea Party in the Woods
When Kikko's father forgets the pie he was supposed to bring to Grandma's house, she volunteers to run after him and put it in his basket. But as she follows her father's footprints in the snow, she sees a large house that she's never seen before. And when she's greeted by a lamb — wearing a coat and carrying a purse — who asks, "Are you here for the tea party?" she realizes that she's stumbled across something magical. This whimsical and calming story is sure to give your kids sweet dreams.
Charlotte Jane Battles Bedtime
What swashbuckling pirate lets her adventures be interrupted for something as boring as bedtime? Charlotte Jane the Hearty is NOT going to sleep, no matter what... but after successfully stealing a whole night awake, she finds that it's hard to "get all the juice out of my days" when you're exhausted! A great book for teaching kids the importance of a good night's sleep, your pirate-loving Mighty Girl is sure to love this one.
Naamah and the Ark at Night
How did the animals get to sleep on Noah's Ark? By listening to Naamah, Noah's wife — her name means "great singer." For forty days and forty nights, Naamah sings the pairs of animals to sleep, then her husband, their sons, and their wives. This cozy book brings a new perspective to the classic story, and its soothing, lyrical text is sure to lull your little one as if she were being rocked by waves on a boat.
Interrupting Chicken
A rooster is getting his Little Chicken ready for bed, but she needs a story first. She gets so involved in the stories, though, that she jumps in to save the hapless characters from making mistakes! When they run out of stories, how will Little Chicken — and Papa — get to sleep? This funny book is perfect for any child who has trouble containing her energy at story time, and parents will be smiling at the story's end too.
This Is Sadie
Sadie is a little girl with a big imagination: she's been raised by wolves, visited Wonderland, and lived under the sea. Her magic wings take her anywhere she wants to go, and always bring her home again. And she loves to make things: boxes turn into boats and cushions into castles. But most of all, she loves stories — because with a story, you can make something out of nothing at all. This meditative picture book about the power of storytelling and imagination will have your children dreaming of the stories they could tell.
Monster Trouble
Nothing scares Winnifred Schnitzel, not even the monsters under her bed that cause such a ruckus — but she is getting frustrated, because she needs her sleep! All of her attempts to shoo the monster away fail, until one night, a misplaced goodnight kiss provides the perfect solution... This playful picture book, with it's spooky-but-silly monsters, is a bedtime story that can provide reassurance for fearful children or a romp for confident ones.
Sleep Like A Tiger
A little girl — who is not at all sleepy — asks her parents, "Does everything in the world go to sleep?" Yes, her parents tell her gently, every animal in the world goes to sleep sometimes — cats, dogs, bats, whales, even the big, strong tiger. And in her cuddly, warm bed, the little girl things that maybe she, like the animals, is ready for sleep after all. This 2013 Caldecott Honor-winning book is sure to ring true to parents of any child who is definitely still not sleepy.
Additional Recommended Resources