A Mighty Girl's top picks of books for young children about their bodies, body privacy, appropriate touch, and more.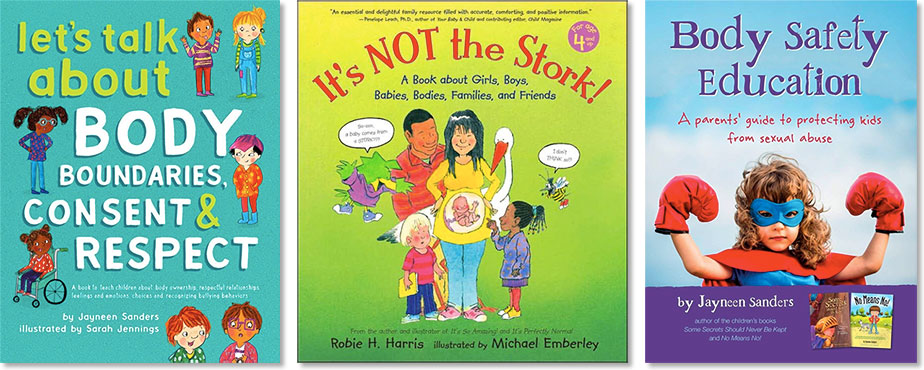 Since the moment someone said, "It's a girl" or "It's a boy", sex has been part of your child's life. Sooner or later, every child will notice how their body is the same, or different, from other bodies. But while conversations about bodies and sex can be awkward for parents, they're important even for a preschooler or elementary aged child.
There are many reasons why you should start talking to kids about sex and bodies in age-appropriate ways. One is to take the mystery away from genitalia: if you cheerfully label "ear", "arm", and "knee" but refer vaguely to "private parts" or use euphemisms, children may think that there is something wrong, dangerous, or scary about this part of their bodies. Another is to give your child clear language for health issues: if your child says she is "itchy down there" after a summer day trip, a care provider may be looking for poison ivy and not a yeast infection from a wet bathing suit.
Equally importantly is preparing your child to talk about puberty (which we discuss in the second part of this blog, Talking with Tweens and Teens about their Bodies) "Puberty!?" I can hear you thinking. "She's only 5!" And yet approximately 25% of girls experience breast budding, the first stage of puberty, at age 8 or 9 — third grade — and her first period will generally follow two to three years after the appearance of breast buds. If the girl in your life is an early bloomer, she may experience these changes before you are expecting them. But if you have been open and forthcoming with information about her body in the past, she will know that she can approach you with her questions.
"Where Do Babies Come From?"
It's usually during the preschool years that parents first hear this question from their kids. While many parents agonize over how to answer — how much information is too much, how to answer in an age-appropriate way, and so on — having some good resources to read with your child can help.
While Nellie and Gus enjoy a trip to the beach, they have some questions about why their bodies look the way they do — and what other peoples' bodies look like. This book focuses on explaining reproductive anatomy, alongside other body parts, and explaining that these differences are not only normal, but just a part of a much more important whole: the person! With illustrations that capture a diverse community and simple, clear language that's accessible to young preschoolers, this book is a great introduction to talking about bodies.
Understanding Touch And Body Privacy
You can't talk about kids and sex without confronting the challenge of talking about sexual abuse. Statistics vary, but it's generally accepted that somewhere around 1 in 4 girls experience some form of sexually abusive contact before the age of 18. Helping children understand what touch is okay and what touch is not is critical to helping protect them — and to encourage them to seek help if they experience abuse.
"I'm Not Ready For This..."
For parents who want to have these discussions but feel awkward and uncertain, here is one great resource — and several useful tips — to help you have this very important conversation.
Tips for Parents on Body Talk
When your child asks you a sex or body question, clarify exactly what the child wants to know. "Where did I come from?" might be about geography rather than pregnancy!
Keep your answers simple; your child will ask if they want more detail. For example, if a four-year-old finds a condom and ask what it is, the answer "It's a condom" will satisfy many children. If they follow it up with, "What's it for?" you can elaborate slightly: "We don't want any more babies right now; condoms help us do that." You don't have to give explicit detail unless you want to have a longer discussion.
Decide what the rules for touch are in your family. Does your child have to hug Uncle Bob or Grandma, even if she doesn't want to? Does she get to decide who helps her in the bath or with toileting? How do people in your family say, "I don't want to be touched right now" to one another in a caring way?
If you think your child has been abused, you can reference this page from the Rape, Abuse, and Incest National Network which will help you learn more about signs and symptoms of sexual abuse and where to get help.
Let your child know that you are approachable; answer their questions honestly. They deserve to get reliable, accurate information. And you will feel good to know that they are getting that information from you.
It won't be long before you look across the table and realize that your child is looking less and less like a child — and that you'd better start pulling out puberty resources. Fortunately, by laying a solid foundation with resources like these, you'll have given your daughter a great head start at understanding her body.
Additional recommended Resources