A Mighty Girl's top picks of books about women in politics from the First Ladies to trailblazing female political leaders.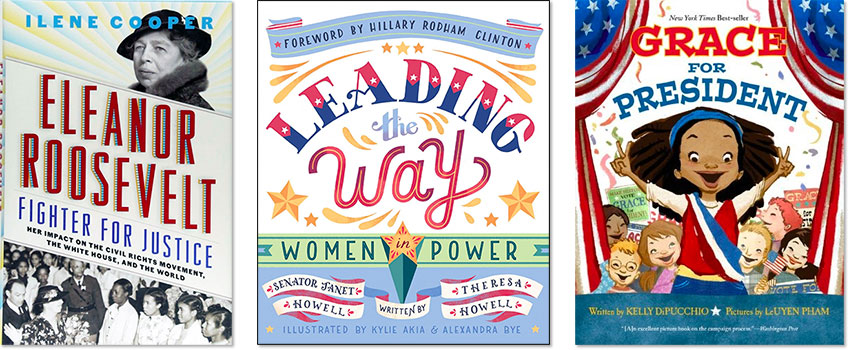 Each year on the third Monday in February, the United States celebrates its many presidents and their legacies. At A Mighty Girl, we have a slightly different take on the holiday: we like to celebrate the role of women in politics! From the First Ladies — including Martha Washington, Eleanor Roosevelt, and Michelle Obama — and the role that they have played in molding and supporting the office of the president, to the groundbreaking women who first stood in American elections, to the politicians who are shaping our world today, the story of women in American politics is constantly evolving.
Along with recognizing these pioneering women, we also forward to the day when we can switch our President's Day focus to celebrating the future women elected as Commander in Chief, and no doubt there are many more trailblazers to come!
The selections highlighted in this post are just a small number of our books about women in politics — to learn about more options for children and teen readers, visit A Mighty Girl's Government & Politics section.
Remember the Ladies: First Ladies Past and Present
From the founding of the country to its current challenges, First Ladies have played a key role — from hosting political gatherings to influencing their husbands' policies. These books pay tribute to the legacies of America's First Ladies.
"I look up to Michelle Obama. Let me tell you why..." Introduce your baby, toddler, or preschooler to a woman you admire with this book from the I Look Up To... series. This detailed board book distills Michelle Obama's excellent qualities into delicious little bites, with vibrant illustrations that are appealing for babies and toddlers but text that's interesting enough for preschoolers. Each spread is accented with a quote from Michelle Obama herself, encouraging kids to follow in the footsteps of this inspiring woman.
Part of the Process: Women In Politics
Of course, some women weren't just married to political figures — instead, they leaped headfirst into the political process! From biographies of Hillary Clinton, who has gone on to be remembered for much more than her time as a First Lady, to Belva Lockwood, America's first ever female presidential candidate, these women took — or are taking — an active role in American politics.
Encouraging Future Presidents
For all the girls out there who see themselves running for president some day, there are several great picture books to encourage their aspirations. Check out these excellent options!
Additional Recommended Resources