40 of our favorite Mighty Girl stories starring smart, confident, and courageous princesses!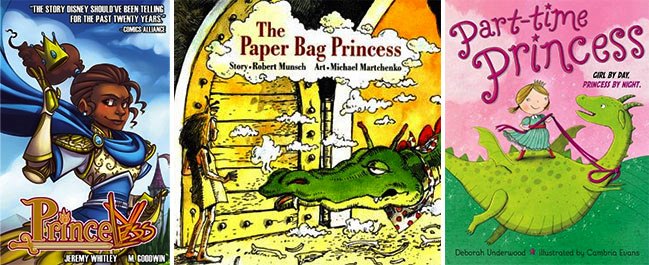 A princess is always pretty, sweet, passive, and needs a prince to rescue her, right? Wrong!
At A Mighty Girl, we receive many questions from people searching for empowering depictions of princesses — books that prove that princesses can be much so more than the limited stereotype usually applied! Instead, princess characters can be smart, strong, courageous, daring, and kind; and most importantly, they can be individuals, just like the children who love hearing their stories.
In this blog post, we feature 40 of our favorite independent princess stories but this is just a small sample of the many great titles available. In our popular special feature The Ultimate Guide to the Independent Princess, you'll find more than 100 books starring smart, confident, and courageous princesses for all ages!
Independent Princess Favorites
In this gentle book, a little princess weeps in her bed for the dragon friend she so desperately wants and her tears create a silver trail that lead a dragon who's been dreaming of a little girl to her side! Together, they march and fly, roar and whisper, and enjoy a very special friendship. But after a very busy day, when it's time to get to sleep, there's no better place to snuggle up than nestled with a lovabye dragon. This lyrical book, with its softly shaded illustrations that suggest an additional dimension to the story, is sure to become a bedtime favorite.
A Mighty Girl was founded on the belief that girls and boys both deserve to play strong, independent roles in our books, movies, TV shows, and toys. Empowering girls is good for everyone! So when you go looking for good books to share with the children in your lives, don't settle for stereotypes. Go looking for the bold, the unique, the diverse, and the creative, and we guarantee, you'll be happier with what you find.
Additional Recommended Resources