A Mighty Girl's top picks of books about healthy relationships for tweens and teens in recognition of Teen Dating Violence Awareness Month.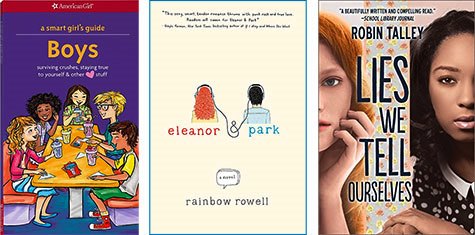 Tweens and teens are entering a new world of love and romantic relationships. But when you combine the overwhelming emotions of first crushes and partners with the emotional complexity of tween and teen minds, it can be hard to figure out whether a relationship is real — and whether it's healthy. Add in media messages that glorify unhealthy behavior — how many romantic comedies involve the boy who just won't give up on the girl who said no? — and kids can find it extremely difficult to figure out what healthy romantic love really looks like.
February is Teen Dating Violence Awareness Month, which makes it the perfect time to start conversations about healthy relationships with the Mighty Girls in your life. Dating violence among teens is a big issue: according to Loveisrespect, an organization dedicated to helping teens in unhealthy and abusive relationships, one in three US teens will experience physical, sexual, or emotional abuse from a partner before they reach adulthood. But parents and educators who teach kids about what a positive, respectful relationship looks like — and how to identify an unhealthy one — can make a huge difference.
So this February, start talking to your kids about what healthy relationships look like! By sharing these stories, and talking about what makes real love so empowering and special, we can help the next generation find the loving, respectful partners they deserve.
Love can feel crazy
For a tween or teen experiencing their first crush — pounding heart, sweating hands, and elation or depression (depending on what the object of their affection just did) — love doesn't necessarily feel like a wonderful thing, but understanding the difference between the overwhelming emotions of first love and unhealthy attachment and dependency on a partner are crucial. These books acknowledge and explore the erratic feelings that come with love.
Recommended Age: 10 and up
Callie's school year starts with heartbreak: after her hopes fly high when she gets a kiss from an upperclassman, he then rejects her at school the next day. She opts to throw herself into the school musical — where the drama, of course, isn't confined to the stage. This graphic novel tackles all the ups and downs tweens and teens experience as they start experiencing their first feelings of infatuation and love — hope, excitement, fear, uncertainty, and even the dawning realization of sexual orientation as one of Callie's friends from the drama club confines in her that he's gay — in a compelling and compassionate way.
Love Can Be Complicated
Sometimes it seems like "love" and "complication" are equivalent. Even "How do I let him know I like him?" is a big problem to a tween with her first crush! Talking about some of the complications that come up can help girls realize that bumps in the road are a normal part of relationships, even healthy ones.
Love Can last Forever
After reading about all the challenges of love and relationships, Mighty Girls might be wondering if love can ever go right. But when you do find the right partner — the one who truly loves, supports, and respects you — that experience is life-altering in the best possible way.
When Love Goes Wrong
Unfortunately, no matter how many examples kids have of healthy relationships, it's still possible to end up in an unhealthy, controlling, or abusive one. If you're worried about your Mighty Girl's relationship — or your own — these resources can help.
Love may not be simple, and tweens and teens may wonder what love will be like, but the books above will help them learn that it will be a great adventure: one full of twists, turns, challenges, and triumphs. At the same time, they will learn to avoid the biggest risks and pitfalls that false love has to offer. Give them crazy, complicated, powerful love stories to read, and they will know that love is a precious part of life — one worth welcoming.
Additional Recommended Resources