A Mighty Girl's top picks of books about healthy relationships for tweens and teens in recognition of Teen Dating Violence Awareness Month.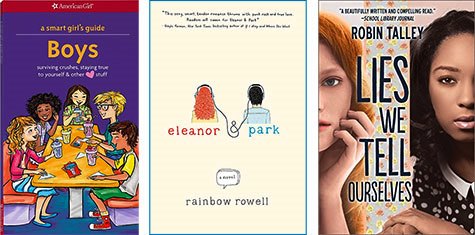 Tweens and teens are entering a new world of love and romantic relationships. But when you combine the overwhelming emotions of first crushes and partners with the emotional complexity of tween and teen minds, it can be hard to figure out whether a relationship is real — and whether it's healthy. Add in media messages that glorify unhealthy behavior — how many romantic comedies involve the boy who just won't give up on the girl who said no? — and kids can find it extremely difficult to figure out what healthy romantic love really looks like.
February is Teen Dating Violence Awareness Month, which makes it the perfect time to start conversations about healthy relationships with the Mighty Girls in your life. Dating violence among teens is a big issue: according to Loveisrespect, an organization dedicated to helping teens in unhealthy and abusive relationships, one in three US teens will experience physical, sexual, or emotional abuse from a partner before they reach adulthood. But parents and educators who teach kids about what a positive, respectful relationship looks like — and how to identify an unhealthy one — can make a huge difference.
So this February, start talking to your kids about what healthy relationships look like! By sharing these stories, and talking about what makes real love so empowering and special, we can help the next generation find the loving, respectful partners they deserve.
Love can feel crazy
For a tween or teen experiencing their first crush — pounding heart, sweating hands, and elation or depression (depending on what the object of their affection just did) — love doesn't necessarily feel like a wonderful thing, but understanding the difference between the overwhelming emotions of first love and unhealthy attachment and dependency on a partner are crucial. These books acknowledge and explore the erratic feelings that come with love.
Drama
Callie's school year starts with heartbreak: after her hopes fly high when she gets a kiss from an upperclassman, he then rejects her at school the next day. She opts to throw herself into the school musical — where the drama, of course, isn't confined to the stage. This graphic novel tackles all the ups and downs tweens and teens experience as they start experiencing their first feelings of infatuation and love — hope, excitement, fear, uncertainty, and even the dawning realization of sexual orientation as one of Callie's friends from the drama club confines in her that he's gay — in a compelling and compassionate way.
Stargirl
What do you do when the person you fall in love with is the "crazy" one? Leo, like the rest of his schoolmates, is captivated by the eccentric and fascinating Stargirl when she arrives. But when the school turns on the non-conforming Stargirl, Leo sees only two choices: join her as an outsider, or convince her to be "normal." Stargirl loves Leo, but she has her own question to answer: is it crazier to be in love with the weird kid at school, or to deny who you really are in the name of love?
Flipped
Juli and Bryce met in second grade, and she immediately knew he was perfect... while he just thought she was weird, with her love of trees and chickens. Six years later, though, Bryce is starting to look at Juli with different eyes, and suddenly her confidence in herself and her pride in her unique family are appealing, not strange. The only trouble is that Juli has just started thinking that maybe Bryce's beautiful blue eyes aren't enough to make him someone special. This romantic comedy of errors highlights just how bizarre it can feel when romance starts entering the picture. This title was also made into a feature film of the same name, recommended for ages 10 and up.
Everything, Everything
Since Maddy was an infant, her doctor mother has been protecting her from Severe Combined Immunodeficiency with a sterile home environment and little contact with the outside world, and until now Maddy's been content with her life. Then she "meets" Olly, the boy who's moved in next door, through written notes and instant messaging. Soon, she's daring to meet him in person — with the help of her nurse, Carla — and finds herself no longer satisfied by a life within four safe walls. But will she dare to take a bigger step out her front door? And if she takes that seemingly insane risk, what will she learn? With an ending that's sure to generate discussion, this book will get teens talking about what they would give up for someone they loved.
Silhouette of a Sparrow
Sometimes it's not love that makes you wonder if you're crazy — it's the person you love. It's 1926, and 16-year-old Garnet has been sent to a lake resort to keep her safe from the summer's polio epidemic. A job at a hat shop provides her with a taste of freedom, and introduces her to Isabella, a flapper from the local dance hall. To Garnet's shock, she finds herself romantically drawn to Isabella, even though the notion of a same-sex relationship is totally foreign to her. And if she can defy convention enough to accept her love for Isabella, surely her other unconventional dreams — college and a scientific career — aren't crazy either.
Delirium
What if love didn't just feel crazy, but was actually considered a mental illness? Lena is waiting for her "cure" for love — a procedure conducted at age 18 that is effectively emotional castration, after which she will be completely content with her government-controlled society selecting her career, her husband, and everything else in her life. Then, she meets Alex, and she starts to question the intentions of the cure. Would losing the anxiety, depression, and stress of love really be worth losing love itself?
Love Can Be Complicated
Sometimes it seems like "love" and "complication" are equivalent. Even "How do I let him know I like him?" is a big problem to a tween with her first crush! Talking about some of the complications that come up can help girls realize that bumps in the road are a normal part of relationships, even healthy ones.
A Smart Girl's Guide: Boys
This great resource for tweens answers all of their most common questions about boys and relationships, from how to tell if a boy likes you to how to maintain friendships (male and female) when dating enters the picture. Throughout, it reminds girls that being themselves is the most important thing. This book is accessible for girls to read on their own, and it also provides a conversation opener for parents and daughters to talk about relationships.
Looking for Alibrandi
Josephine Alibrandi has wrestled for years with her Italian-Australian heritage and her Catholic school's strict rules. She's determined that this will be the year that she falls in love — except even that gets complicated when she's drawn to two different boys. Add in a sudden appearance from her biological father and the suicide of a friend, and Josie's starts to wonder if anything in her life — especially love — can be simple. Josie's sense of humor crackles throughout this book, which captures the rollercoaster that comes with navigating romantic life while you're still coming to terms with your identity.
Lies We Tell Ourselves
Love is especially complicated when it crosses the boundaries that our communities expect us to hold firm. In 1959, Sarah Dunbar is one of the first black students to attend a previously all-white high school; there, she's tormented by multiple students, including Linda Hairston, the daughter of the town's most prominent segregationist. But when the pair are forced to work on a project together, they don't just confront ugly truths about race and power: they also start to develop a taboo romantic bond. The girls will have to struggle to find strength, truth, and most importantly, their own authentic voices, despite the obstacles that surround them.
To All The Boys I've Loved Before
What would happen if your unrequited crushes got revealed? Lara Jean Song, the middle child of three sisters, has concealed five crushes in her life — including the one she had on her older sister Margot's boyfriend Josh. When her crushes get revealed, though, Lara Jean's romantic life gets complex. Determined to prove to Josh that her crush is over, she agrees to a fake relationship with another past crush, Peter. But spending time with Peter as her fake boyfriend makes Lara Jean starts wondering if he could actually be a real one. Fans of this story will want to check out the sequel, P.S. I Still Love You.
Born Confused
In our multicultural world, girls sometimes find that their parents' culture is in conflict with that of others around them. Dimple Lala is a child of parents from India, but she's grown up rejecting their efforts to teach her about their culture. Unsurprisingly, she also rejects the "suitable boy" they try to introduce to her — until she meets him again at a club. But the very things that now make him interesting are sure to make him unsuitable to her parents. This novel captures all the challenges of blending cultural identities, especially when love is involved.
Forever...
Teen love is also complicated by the knowledge that their paths in life could separate them. Katherine and Michael are in love, totally and completely. Katherine loves Michael so much that she decides to lose her virginity to him, sure that she will be with him forever. But when summer comes, and they are working in two different states, Katherine becomes attracted to another boy and also begins to realize the limitations of her relationship with Michael. Perhaps she and Michael are not "forever" after all. Forever was originally published in 1975, but its frank discussion of teenage sexuality and the decisions teenagers face about their first love is still valuable today.
Love Can last Forever
After reading about all the challenges of love and relationships, Mighty Girls might be wondering if love can ever go right. But when you do find the right partner — the one who truly loves, supports, and respects you — that experience is life-altering in the best possible way.
The Fault In Our Stars
If you know that your time is limited, does love still have value? Hazel is a terminal cancer patient: a new treatment has bought her a few years, but there is no question that the end of her life is coming, so love is not even on her mind. But when she meets Augustus at a kids-with-cancer support group, she starts to wonder what living she should do in the time she has. Should she pass up an opportunity for love, true as it seems, because she knows it will end? Or can love be forever even when life is limited? While few teens will be facing romance in an end-of-life situation, the meaning and purpose that love can provide is a powerful message.
Say What You Will
Even if love itself doesn't last forever, it can leave us changed for the better. Amy was born with cerebral palsy; at school she needs a walker, a voice box — and an adult aide. When she meets Matthew, a fellow high-school student who struggles with OCD, he argues that she's spent years keeping herself separate from her peers, and dares her to use a student aide instead. In return, she challenges him to be that aide — and to start working to overcome his obsession and compulsions. As they push one another, and their bond grows, they realize that their friendship is becoming something deeper. And whether or not their love is forever, the changes they're urging one another to make will be.
Fangirl
Cath Avery is another Mighty Girl whose life is changed forever by love. Cath and her twin sister Wren have devoted themselves to the Simon Snow fandom for years, and as MagiCath, she's a well-known fanfic author and convention-goer. But when Cath and Wren go to college, Wren drops a bomb: she's ready to move on with life, and she's leaving the fandom — and Cath — behind. Thrust outside of her comfort zone, Cath is left struggling to make friends, but when one boy, Levi, wants to pull her even further into the real world, Cath has to face the choice: stay buried in the world of Simon Snow, or dare to have her own life outside of fanfiction. This quirky story highlights the power of a romantic partner to open up new possibilities.
Annie On My Mind
Written in 1982, this book remains one of the most well-known books about teens finding love in a lesbian relationship. Liza has always been aware that she was different, but never knew why — so she is shocked by her developing attraction to another girl, Annie. Liza is fearful of what others will think, so the girls conceal their relationship, and when it is eventually discovered, her confusion leads her to break it off. Once the girls have gone their separate ways, though, Liza realizes what she has lost: a chance to be true to her own heart, and a young woman that she knows she loves. The book ends with Liza and Annie reconciling and agreeing to meet. The thought that, sometimes, love truly is forever is something most girls will treasure.
Eleanor and Park
It's 1986, and Eleanor is facing a challenging home life with a neglectful mother and an unpleasant stepfather, while Park feels out of place at home because of his lack of academic ambition and at school because of his race. After Park notices Eleanor reading his comic books over his shoulder, their friendship — and then love — slowly grows as they bond over mix tapes, X-Men, and their individual quests to find places where they feel like they belong. But first love rarely lasts, and when a crisis strikes, will Eleanor and Park have to give their love up to be safe? Or can love really overcome all obstacles?
When Love Goes Wrong
Unfortunately, no matter how many examples kids have of healthy relationships, it's still possible to end up in an unhealthy, controlling, or abusive one. If you're worried about your Mighty Girl's relationship — or your own — these resources can help.
Why Does He Do That?: Inside The Minds of Angry and Controlling Men
"He doesn't mean to hurt me -- he just loses control." "He can be sweet and gentle." "He's had a really hard life..." The alternation of sweet, gentle behavior and threatening, violent actions can be confusing and disorienting to many women. In this bestselling book, Lundy Bancroft, co-founder of a program designed to help abusive men change their ways, teaches girls and women the warning signs of abusive behavior; the different types of abusive men; what can and can't be fixed in a relationship; and how to leave an abusive or destructive relationship safely.
Stop Signs: Recognizing, Avoiding, and Escaping Abusive Relationships
Although people sometimes wonder how smart girls end up in bad relationships, Lynn Fairweather knows from personal experience that abusers are good at fooling everyone: the abuse survivor turned domestic violence expert has spent years training experts, and women, to identify the initial, subtle signs of future abuse and violence. This book, which focuses on heterosexual relationships, provides clear details about how to identify these warning signs, as well as what to do if you've missed them and need help getting out.
Saving Beauty From The Beast: How To Protect Your Daughter From An Unhealthy Relationship
After Vicki Crompton's daughter was killed by a boyfriend in 1986, she became determined to raise awareness about teen dating violence. In this book, Crompton and her co-author Ellen Zelda Kessner provide advice for parents about what to say to girls before they reach dating age about abusive relationships, and what warning signs to watch for if you think your daughter's relationship is becoming abusive. They also provide advice about how to communicate and intervene effectively at a time when girls are reluctant and embarrassed to recognize — or admit — the danger their partner poses.
But I Love Him: Protecting Your Teen Daughter From Controlling, Abusive Relationships
Dr. Jill Murray has a message for girls and their parents: "love is a behavior." In other words, what matters isn't whether someone says they love you; it's what they do. In her book, she shows how behavior that can be destructive, isolating, or manipulative can easily be misinterpreted as flattering or loving. Dr. Murray shows why these behaviors can be attractive at first, as well as how they can escalate into more serious forms of emotional, physical, and sexual abuse. Above all, she emphasizes that a respectful relationship allows — and encourages — you to respect yourself, too.
Love may not be simple, and tweens and teens may wonder what love will be like, but the books above will help them learn that it will be a great adventure: one full of twists, turns, challenges, and triumphs. At the same time, they will learn to avoid the biggest risks and pitfalls that false love has to offer. Give them crazy, complicated, powerful love stories to read, and they will know that love is a precious part of life — one worth welcoming.
Additional Recommended Resources