Our favorite books about Mighty Girls and their hair that encourage a healthy body image and celebrate the diversity of girls' hair!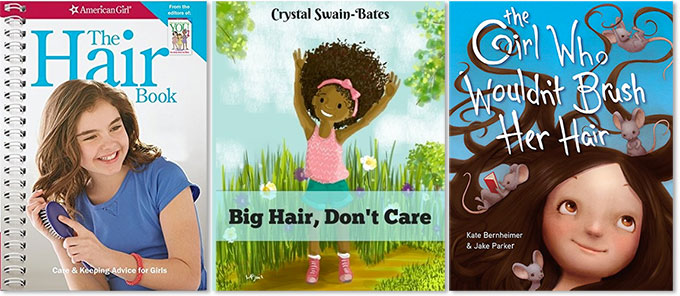 Long or short, straight or curly, in ponytails, locs, or a ballerina bun — there are so many wonderful ways Mighty Girls wear their hair! But hair can also be the source of body image insecurity for many girls as they wonder if their hair is too thick or too flat, the wrong color or the wrong texture. And, of course, even if she loves her hair, there's always the battle when it comes time to pull out the brush and comb.
In this blog post, we're showcasing stories for young readers about Mighty Girls and their hair. Whether they're celebrating their unique hair, wrestling to keep it under control, or donating it to a worthy cause, these Mighty Girls love their hair — even if they find it a little challenging at times. They also come to recognize that, in the end, it's not the hair that matters: it's the head underneath!
For more Mighty Girl books that explore body image issues, you can find recommendations for both children and teens in our blog post, Celebrating Every Body: 25 Body Image Positive Books for Mighty Girls.
Books About Mighty Girls and Their Hair
Hair
It's important to take care of your hair, even if you only have one! So when this toddler's lonely hair grows wild and unruly — despite careful brushing and washing — it's time for baby's first haircut. Fortunately, this confident baby knows that a haircut isn't scary; in fact, with the colorful cape and special seat, it's actually kind of fun. Author/illustrator Leslie Patricelli turns her knack for toddler-friendly text and her colorful illustrations to this cheerful and reassuring tale for very young children.
Brush Your Hair, Medusa!
Little Medusa refuses to take proper care of her long, curly hair, which gets knottier and dirtier with every moment. Her hair is so twisted and matted that, when her grandmother finally arrives, she's frozen in surprise! Grandma knows the solution, though, and after a hairdresser bravely does battle with her locks, Medusa is sporting a brand new — short and easy to maintain — hairstyle.
Big Hair, Don't Care
Lola's big poofy curls may stand out — and even make her lose a game of hide and seek — but that doesn't stop her from telling everyone how much she loves her hair! This cute story encourages children of African descent to feel good about their hair, no matter how different it may be from other kids.
Dalia's Wondrous Hair / El cabello maravilloso de Dalia
Most kids will be familiar with the story of Rapunzel, but that's not the only flight of fancy with amazing hair! In this story, Dalia wakes up one morning to discover that her hair has grown "tall and thick as a Cuban royal palm tree." When her mother wonders what Dalia will do with her wondrous hair, Dalia has an idea and starts plastering her hair with mud and leaves. The next morning, when she carefully unwraps her towering hair, it turns out that her hair has been protecting something very special! This imaginative bilingual picture book is sure to charm nature-loving Mighty Girls.
I Love My Hair!
Keyana finds it hard to love her hair — especially when it's time for the painful evening ritual of getting the many tangles combed out! But when her mother points out that the same hair that hurts to comb can be styled so many ways, Keyana's imagination takes flight. Soon, she's picturing her rows of braids as rows of plants in a garden, a soft bun being spun on a spinning wheel, and her favorite style, a pair of ponytails, as wings that let her soar.
Emi's Curly, Coily, Cotton Candy Hair
Emi has a big imagination, so she doesn't just see hair in the mirror: she sees curls like playground slides, coils like Slinky toys, and soft fluffy puffs like cotton candy! But her special hair requires special care, so on wash day, her mother gets together a variety of tools that all have to be used, step by step. This cheerful and positive book provides a hair-care routine for girls with naturally textured hair: adults, particularly those who aren't familiar with natural hair care, will pick up a few tips, while young readers will walk away with a new appreciation for their unique and beautiful locks!
Nappy Hair
At a family picnic, everyone is amazed by Brenda's nappy hair — hair that inspires her Uncle Mordecai to step up and tell a story, full of fascinating twists and turns, about why her hair is "the nappiest, the curliest, the twistiest hair in the family." When the story is done, it's clear that, however it came to be, Brenda's hair is very, very special! Told in a traditional call-and-response style, and full of vivid, colorful expressions, this excellent read-aloud that shows that hair can be a point of pride.
Hairs / Pelitos
It's amazing how hair can grow so differently, even on members of the same family! The little girl in this story marvels at how "Everybody in our family has different hair", from Papa's hair "like a broom, / all up in the air" to her mother's curls "like little rosettes" to Nettie's "slippery" hair. This bilingual book captures diversity within a family with poetic language, accented by vivid illustrations.
The Girl Who Wouldn't Brush Her Hair
Brushing and combing is an unpleasant task for many Mighty Girls — but what would happen if you stopped brushing altogether? When this little girl positively refuses to brush her long hair, it quickly starts matting and tangling. Then, one day, a little mouse comes to live in one of the tangles and soon there's a whole mouse palace on her head! At first she thinks this sounds just fine — the mice make good company for her and her doll — but soon they're keeping her out of the bathtub and making so much noise she can't sleep at night. After one final straw, the little girl gently evicts the mice, washes and brushes her hair — and finally gets a good rest.
Stephanie's Ponytail
What's a girl to do if her peers don't like her hairdo? Stephanie in this story wears it anyway! Stephanie is determined to be different, so she tries a ponytail in the back. Her class declares it "ugly, ugly, VERY ugly!" — but Stephanie likes it, and she likes being different. Then she comes back the next day to find many kids copying her new look! Stephanie tries stranger and stranger ponytails, and each time she finds many imitators -- until she comes up with a clever solution that points out the hazards of following the crowd. This funny book is a charming celebration of non-conformity.
Sophie's Lovely Locks
Sometimes, an easy-care hairstyle can also be used as a way to help others! Sophie loves her long hair, except when it tangles. Or knots. Or catches on things. In fact, sometimes long hair is no fun at all. But Sophie's still hesitant to cut her hair until she learns that her lovely locks can go to someone who really needs them. Notes at the end of the book provide contact information for hair donation organizations.
Melissa Parkington's Beautiful, Beautiful Hair
Melissa's hair is long, thick, and shiny, and as a result, that's all anyone ever talks about. She's love to be known for something else — instead of being known for spectacular hair, she wants to do something spectacular, but nothing she tries seems to work out. When she learns that she can donate her beautiful hair to make wigs for other kids, though, she's happy to find a way to let her kindness shine through, and become known for her beautiful heart instead.
The Hair of Zoe Fleefenbacher Goes To School
As a baby, Zoe needed two strollers and two cribs: one for her, and one for her unruly hair. By the time she's started school, her wild tresses are becoming a problem, deliberately flaunting the strict Ms. Trisk's first grade classroom rules. Determined to tame Zoe's hair, Ms. Trisk and Zoe's parents try barrettes, braids, even duct tape but the hair always springs free. It will take some clever thinking and a willingness to compromise for Zoe — and her hair — to find the right balance between individuality and following the rules.
The Lemonade Club
Miss Wichelman's fifth grade class is all about turning life's lemons into lemonade. But when Traci learns that her best friend Marilyn has leukemia, and will have to undergo chemotherapy, it's hard to see how to make the best of that. When Marilyn is ready to return to class, she's nervous about how everyone will react to her now-bald head — until she learns that Traci, and every other student in the class, have done something to make sure Marilyn won't stick out. This touching story will remind your Mighty Girl that, in the end, hair is just hair, but a friend is precious.
The Hair Book: Care and Keeping Advice for Girls
As girls get older, they can take pride in learning how to care for and style their hair — all by themselves! This book from the American Girl Library gives girls tips for proper care for all types of hair, whether straight, curly, thick, or textured. Individual sections talk about choosing haircuts you'll love and provide fifteen different styles you can try at home. The information in this book gives girls the skills they need to work with their particular hair, while the positive tone reminds them that all hair is beautiful.
For a musical reminder of this same message, check out India.arie's song I Am Not My Hair! Its message about the importance of looking beyond the superficial to the core of a person — and its references to how subjective "pretty hair" is — is sure to provide some great fodder for discussion with your Mighty Girl. This song, which is most understandable for ages 8 and up, will drive home that "I am not my hair / I am not this skin / I am a soul that lives within."
Additional Recommended Resources