A Mighty Girl's top picks of books about girls and their love of animals!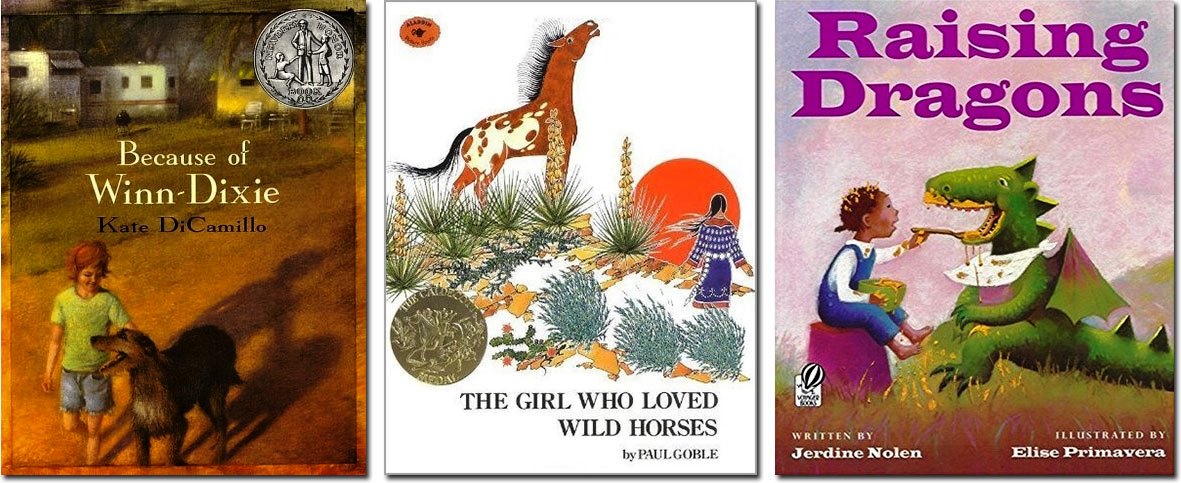 For many Mighty Girls, a beloved animal provides a treasured relationship. And whether an animal is large or small, wild or domesticated or maybe even imaginary, sometimes it's a Mighty Girl who cares for them or even comes to their rescue! If your Mighty Girl is an animal lover, she'll love these stories about fictional Mighty Girls who take care of the other creatures around them.
40 Animal-Loving Mighty Girl Books
Please, Puppy, Please
The irrepressible little girl from Please, Baby, Please is back, a little older and with a new responsibility — a puppy! But as anyone who's added a young puppy to their family knows, an undisciplined pup is hard to manage for an adult, let alone a pair of preschoolers. Adults will smile and young readers will laugh at this very loving and true-to-life depiction of the excitement of caring for a puppy.
Lola Gets A Cat
Book-loving Lola has a new challenge: convincing her mother to let the family get a cat! After diligent research about pet care — and lots of practice with her stuffed kitty — the family chooses their new friend at a pet shelter. And while some challenges inevitably arise, as both cat and Lola get used to the new routine, it's not long before they're the best of friends! This lovely story featuring the family from Lola At The Library, Lola Loves Stories, Lola Reads To Leo, and Lola Plants A Garden also provides a great reminder that choosing a pet is something that needs to be done with care.
Uni the Unicorn
In a magical forest lives a unicorn just like any other — except that Uni believes that little girls are real. Uni's friends laugh, and her parents smile knowingly, but she's sure that somewhere out there is a little girl just waiting to be her friend. Little does Uni know, but not too far away, there's a little girl dreaming of a unicorn... And while the story ends before they meet, the complementary dreams of these two "mythical" creatures prove they will be the best of friends! This charming and beautifully illustrated story will appeal to anyone who's waited to spot their own imaginary friend.
Love Is
When a little girl meets a lost duckling, it's love at first sight! The pair are soon inseparable, even when challenges come up — everything from midnight feedings to messes to resistance to bath time. But as both girl and duckling grow, they realize there's something even more important to learn about love: that love means holding tight sometimes, but also letting go. Parents and children alike will adore this sweet book about growing up and the joys of offering and returning love.
Bee & Me
When a large bee flies into a little girl's open apartment window, it's the start of an unexpected friendship. Although her initial inclination is to grab the flyswatter, the girl recognizes the bee as a sympathetic figure and instead helps him by feeding him sugar water. Soon, the bee has grown big enough for the girl to take a remarkable ride, far across the countryside to harvest seeds that the pair can sprinkle across her urban landscape. Nature-loving kids will be intrigued by this wordless picture book, both for its fantasy-tinged pictorial story about the relationship between bees and growing things and for its page of facts about bees.
Madame Martine
In Paris, a city full of things to explore and do, Madame Martine sticks to her daily routine and never deviates. She hasn't even seen the Eiffel Tower — "just for tourists," she sniffs. But when Madame Martine takes in a stray dog, her schedule is in for some changes! The puppy isn't content to follow along, and leads her on a wild chase — which ends at the top of the tower, with Madame Martine realizing how much beauty surrounds her. Before long, the new friends have a new routine: trying something different every week. This funny story about how pets can enrich (and shake up!) your life is sure to be a favorite.
The Princess and the Pony
Princess Pinecone wants to be a warrior princess, but every birthday, all she gets are fuzzy sweaters. So this year, she's completely clear about what she wants: a horse. A big, strong, ferocious war horse! Instead, she gets... a roly-poly pony that's more than a little smelly. While she's disappointed, there's one thing Pinecone knows — a true warrior can take advantage of any opportunity! This silly story from the author of Hark, A Vagrant! is not only fun but also sends the important message that gentleness can often have a greater impact than force.
Ella and Penguin Stick Together
Ella and Penguin have a new treat: glow in the dark stickers! But to see the stickers glow, you have to be in the dark and neither of them are very eager to turn out the lights. The dark is just so... DARK. Although the pair try different ideas first, they finally conclude that they're going to have to face their fear to see the stickers. Fortunately, with a caring friend by your side, it's a lot easier to do the things that frighten you! This cheerful story tackling a common childhood fear and featuring a devoted pair of friends will be a hit.
My Pony
This little girl wants a pony, one she can ride and who can be her best friend. Her parents, though, point out that ponies are expensive, and in any case, they don't have enough room. So instead, she draws pictures of her perfect pony companion, dappled grey, with a fast gallop that can take her to a magical world of forests and clouds. And while nobody else may be able to see her dream pony, she knows he's there, always outside her window when she's ready for another imaginary adventure. Inspired by the author's own wish for a pony as a child, this book will speak to any child who finds a creative way to celebrate the animals they love.
Raising Dragons
A little girl finds a mysterious egg on her Sunday walk — and hatches a dragon! Her new dragon, who she names Hank, needs lots of tender loving care if he's going to get big and strong, and training to be useful on her parents' farm. When Hank starts attracting a little too much attention, the little girl decides to return him to Dragon Island...but comes home with a wheelbarrow full of eggs to raise and train. This charming blend of realism and fantasy is sure to be a hit with your animal — or dragon — loving Mighty Girl.
My Dog's A Chicken
Lula Mae wants a puppy, but hard times mean that's out of the question. So, instead, she decides to make a pet out of one of her family's chickens! As far as Lula Mae is concerned, Pookie is very dog-like: she can be a show dog, a shepherd dog, even a guard dog. And when Lula Mae's baby brother wanders away, Pookie proves she can be a hero... even if she is a chicken. Kids will giggle at Lula Mae's optimism, her parents' confusion, and the inadvertent way that Pookie saves the day.
Charlie Anderson
One day, a fuzzy grey cat walks out of the woods and makes himself at home at Elizabeth and Sarah's house! Charlie stays all night, every night... but in the daytime, he disappears. When Charlie fails to show up the night after a storm, the worried girls go looking for him — and discover that Charlie has a second home. Just like Elizabeth and Sarah, Charlie has two houses, two beds, and two families that love him very much. This sweet story about life with a wandering pet is also a great conversation starter for discussing separation, divorce, and custody arrangements.
Madeline Finn and the Library Dog
Madeline really does not like to read — but she really wants a gold star from her teacher, and gold stars are only for kids who can read the words out loud. Then Madeline meets Bonnie, a library dog, who's patient and quiet and never minds if Madeline needs a few minutes to figure out a word. With Bonnie's help, Madeline realizes that she doesn't like reading because she finds it hard — but that with the right supportive friend, one who gives her the space to go slow when she needs to, she can develop both her reading skills and her love of the written word. It's a lovely reminder of the many ways that pets can help support us.
Sonya's Chickens
Sonya's father gives her three little chicks and tells her that taking care of them is her responsibility. And Sonya does her job well: soon, they're full-grown hens and she even finds an egg hiding in the straw! But one night, after she hears tremendous noise from the hen house, one of her chickens is gone, stolen by a fox. Fortunately, her caring father is there to show her how her own loss means growth and renewal for the fox and her kits. This thoughtful and gentle story teaches an important lesson about the interconnectedness of all living things.
The Old Woman Who Named Things
An old woman has outlived all of her friends, so to help herself feel less lonely, she names inanimate objects — but only the things that she knows will outlive her. Then a stray puppy makes his way into her life. She feeds the stray, but still refuses to name him. When the dog she still won't acknowledge as hers doesn't show up one day, she has a choice to make: let this new friendship disappear, or welcome a new friend into her life and finally give him a name. This touching story captures the value of animal friendship — in all stages of life.
Because of Thursday
Thursday has always been lucky for Annie Fetlock, but when the love of her life passes away, it seems like no amount of luck can help her get through her grief — or rediscover the love of cooking that turned her restaurant into the most popular one around. Then a lonely cat shows up and, naturally, Annie names it Thursday. Not only does Thursday help Annie return to her beloved restaurant, but a seeming catastrophe caused by his twists and twirls ends up inspiring the dish that becomes a national hit! This touching and funny story from beloved author / illustrator Patricia Polacco even includes a recipe for Thursday's Ugly Pasta.
Beatrice's Goat
In Beatrice's Ugandan village, few families have the money to send their children to school — until the day twelve donated goats arrive. Beatrice names her goat Mugisa, which means "lucky gift", and thanks to Beatrice's scrupulous care, Mugisa is soon giving enough milk that Beatrice can afford the school uniform she's been dreaming of. Based on a real story of a family helped by Heifer Project International, and with a portion of proceeds going to support the work of the charity, this book is also a great way to show your children the impact of charitable giving.
Sparky!
When this little girl's mother says she can only have a pet "that doesn't need to be walked or bathed or fed," she takes that as a challenge! After a little research, the girl settles on a sloth — after all, they sleep sixteen hours a day and they barely eat and drink. But when Sparky the sloth arrives, he doesn't do all the things she was imagining in a pet: no playing catch, no tricks, just sitting around and sleeping. But maybe the most important thing isn't what your pet can do; maybe it's just appreciating them for who they are. This quirky and funny story with an important message will delight all those who feel just a little bit different.
Lucy
Lucy is a small dog without a home, but who remembers what it was like to be loved and safe in her dreams. Eleanor is a compassionate little girl who feeds the stray dog she sees outside her window, and whose father is a juggler struggling with stage fright. When their three stories come together, a new chapter will start for all of them! Told in four acts with monochromatic artwork, the first three sections are each from a single character's perspective, each revealing a little more before a finale that will make young readers cheer.
The Girl Who Loved Wild Horses
In this Caldecott Medal-winning book, a young Native American girl has a special connection to horses. She speaks softly to the horses of her village and leads them all to the water to drink every morning. When a great thunderstorm causes the horses to stampede — with the girl still on one's back — she has confidence that her beloved horses will lead her down the right path. And when she meets a brave, beautiful stallion in a new land, her connection with the horses finally allows her to truly join them. This lovely story shows the joys of following your passion — and of communities that understand the special gifts of their members.
Follow The Moon Home: A Tale of One Idea, Twenty Kids, and a Hundred Sea Turtles
Viv has just moved to a new town by the sea, and she's still struggling to feel at home — "I always need help finding my way, especially in a new place," she thinks. On her first day at school, her teacher tells her that they're looking for a community action project to do, and urges Viv and her classmates to think of ideas. It's not until Viv learns about the sea turtle hatcheries nearby — and the way the hatchlings can get lost when they mistake artificial lights for the moon that normally guides their way — that the class finds the perfect project. This newly released picture book based on the real kids who helped save the South Carolina sea turtles is sure to inspire young animal lovers!
The Only Child
In this wordless picture book, a little girl, lost and alone, follows a mysterious stag deep into the woods, where she finds a strange and beautiful world. But after she enjoys the wonders and companionship that the animals of this new world have to offer her, she realizes that home and family are far away. How can she find her way back? This debut book, which is laid out in a hybrid of picture book and graphic novel, features elegant and expressive black and white pencil illustrations that will have kids returning to this story over and over.
Sister Bear: A Norse Tale
Halva, a young girl from Finnmark, finds a little white bear cub in the woods, and when she brings the cub home, Sister Bear soon becomes one of the family, hunting for them, protecting Halva, and even dancing while Halva plays the flute. Halva is so proud of Sister Bear that she takes her to the King of Denmark but on the way, an encounter with some big, ugly trolls will show Halva just how wonderful it is to have such a special sister! Based on a Norse folktale, and accompanied by beautiful, detailed illustrations, this exciting and sweet story is sure to be a favorite.
Hattie & Hudson
One morning, while Hattie is enjoying a canoe on the lake, her singing draws a remarkable creature out of the depths! Hattie quickly realizes that the curious, friendly creature is no monster, and names him Hudson. But when the townspeople find out about Hudson, how can she convince them that their fears and hostility aren't justified, and that Hudson is as sweet as can be? Author /illustrator Chris Van Dusen's expressive illustrations of the charming Hudson capture his enormous size, while his text communicates an important message about not judging animals or people by their exteriors alone.
Lost and Found Cat: The True Story of Kunkush's Incredible Journey
When an Iraqi family is forced to flee, they can't bear to leave their beloved cat, Kunkush, behind — so they secretly bring him with them all the way to Greece. But during the crowded boat crossing, Kunkush escapes; the family can't stay long enough to find him, and they leave brokenhearted. So when Greek aid workers find Kunkush several days later, the quest begins to get him back to his family! With the help of a worldwide online community, Kunkush's family is found and they are finally able to bring him to their new home. Told with the help of the people who helped reunite pet and people, and with the permission of Kunkush's family, this true story celebrates the importance of our animal friends in making a place feel like home.
King & Kayla and the Case of the Secret Code
King the dog helps his best friend Kayla solve a mysterious pair of coded letters! Kayla and Mason have both received letters. What Kayla knows is that the same person sent both of them — someone both she and Mason know — and that the two letters are the same except for the second word. What King knows is that Jillian is the one who left the letters. Can Kayla and King figure out what the letters say using these clues? This fun early chapter mystery story teaches young readers how to gather information and analyze clues. Fans of this title can also get the second volume, King & Kayla and the Case of the Missing Dog Treats.
Skunked! Calpurnia Tate, Girl Vet
Beloved characters Calpurnia and her family from the award-winning middle grade historical fiction novel The Evolution of Calpurnia Tate make an appearance in this new early chapter book series! When Calpurnia's little brother Travis rescues a baby skunk, he knows he'll have to keep Stinky secret. But then he finds Stinky's littermate, Winky, and things get even more complicated. Travis and Calpurnia want to help the skunks stay safe and get well, but Mama's nose for trouble is sure to twitch with two baby skunks around! This book includes the perfect combination of historical detail, scientific terminology, and engaging story and characters. Fans of this volume can also check out the second in the series, Counting Sheep.
A Symphony of Whales
It's the winter of 1984-1985, and the cold is so bitter that the Senyavina Strait ices over — trapping thousands of beluga whales near Glashka's village. A Russian icebreaker comes to help provide assistance but the terrified whales flee the noisy ship, instead of following to freedom. Even the whale calls the ship broadcasts don't reassure the frightened animals. Fortunately, young Glashka's connection to the whales gives her the solution: if whale song doesn't help, perhaps human music will. This fictionalization of a real whale rescue will remind your children of the importance of caring for wild animals and the world around us.
Lulu Walks The Dogs
Stubborn Lulu from Lulu and the Brontosaurus is back, this time looking to make a little extra cash by walking the neighborhood dogs. But Brutus, Cordelia, and Pookie don't make the walk a very easy one! Lulu's do-gooding neighbor Fleischman offers some help, which she reluctantly accepts but can two totally opposite personalities, and three not-very-cooperative dogs, ever work together? With a sarcastic, witty tone, Viorst's story captures how animals — even undisciplined ones — can bring people together.
Korgi
Ivy the girl and Scout the Korgi travel to Korgi Hollow, a world full of fairies, spiders, dinosaurs, and even a giant troll. The Mollies, little woodfolk, rely on the Korgis for protection from all of the dangers in their world. When Ivy and Scout find the Mollies' gathering, there's sure to be adventure ahead! A true graphic novel, with no text other than the brief introduction to the setting at the beginning, your Mighty Girl will love telling this story over and over... and maybe, if she has her own canine friend, a little of their partnership will sneak into this woodland fantasy.
Tua and the Elephant
Ten-year-old Tua lives in Chiang Mai, Thailand, and desperately wants a sister. Instead, she meets Pohn-Pohn, an elephant living in abusive captivity. Tua realizes that she is the only one who can help Pohn-Pohn — and smuggles her to freedom! Keeping Pohn-Pohn in her Auntie's backyard isn't a permanent solution, though, so when Tua hears about an elephant sanctuary close to Chiang Mai, it will be a race to see if Tua and Pohn-Pohn can make it there before Pohn-Pohn's owners show up to take her back. Full of fun adventures and touches of Thai language and culture, this book is sure to have your Mighty Girl imagining her own elephant sister.
Play Dead (A Dog And His Girl Mysteries, Book 1)
Cassie has a yen for detective work, passed down from her police chief mother and coroner father. Dodge, a police dog forced to retire after an accident leaves him deaf in one ear, adores her. And when the richest man in town goes missing, Cassie and Dodge are on the case! Sections from Dodge's perspective, plus scenes where Cassie volunteers at an animal shelter helping an abused dog, convey a powerful message of empathy and compassion towards animals, while Cassie and Dodge's adventures together celebrate the special relationship of a girl and her dog.
Paint The Wind
The death of Maya's controlling grandmother reveals a family she never knew, a horse-loving great-aunt and great-uncle living in Wyoming. Although she's hesitant at first, Maya's love of horses helps her find her place with her new kin. She also discovers the local wild mustangs, and when one mare, Artemisia, escapes a "gathering" with her colt — leaving them without the herd's protection against predators — Maya becomes determined to rescue them. Maya and Artemisia will have to learn to trust one another if either of them is going to make it safely home. With beautiful description and a vivid depiction of life through a horse's eyes, horse-loving kids will love this title.
Emmeline and The Bunny
Emmeline lives in the perfect, tidy town of Neatasapin, but Emmeline likes to hop and jump and yell and she desperately wants a bunny for a pet. Orson Oliphant, the town mayor, has outlawed all animals, including bunnies. But Emmeline finds a special place where wild things still live, including a wild rabbit. Can Emmeline finally have her bunny? And if she manages, will the other people in town realize that there should always be space for a little mess and noise? With lots of wordplay and Hannigan's own watercolor illustrations, this book is great for reading alone or aloud.
Moo
When Reena's family moves to Maine, she's expecting beaches, blueberries, and lobster — not being "volunteered" to work for Mrs. Falala on a farm with animals like Paulie the Pig, Edna the snake, China the cat, and a very stubborn cow named Zora. Even more unexpectedly, Reena discovers a surprising bond with the ornery but somehow lovable cow — and learns more about Mrs. Falala, which in turn affects her family in ways she'd never predicted. Told in a combination of prose and free verse poems, this book celebrates the power of being open to new experiences and the bonds we can form with the most unexpected people (and creatures.)
Wild Girl
Lidie lives in Brazil but dreams of joining her father and brother in New York City, where her father runs a stable at a race track. At twelve, Lidie finally begins her long journey, while simultaneously, a young filly named Wild Girl starts traveling towards the stable. The journey — and fitting in afterwards — isn't easy for either, and no one thinks that someone as young as Lidie can handle the challenging Wild Girl. But when Lidie finally gets to ride her, all the difficulties seem to fade away for both of them. With a nuanced story about family dynamics, immigration, and animal cruelty, your Mighty Girl will be rooting for both Lidie and Wild Girl to find their places — together.
Rain Reign
Rose Howard's Asperger's syndrome manifests in a love of homonyms and anxiety about changes to routine. When her struggling single father brings home a dog, though, it's a change Rose adores, and she quickly chooses the name Rain — which, since it has two homonyms (reign, rein) is one of the most special names of all. But when Rain goes missing in a storm, Rose has to break all of her familiar patterns to find her beloved pet...and when she learns that Rain may already have a home, Rose will face a very difficult decision. This heartfelt novel about justice, courage, and love is sure to touch your Mighty Girl's heart.
Unusual Chickens for the Exceptional Poultry Farmer
Sophie Brown feels totally out of place when her parents move her from big-city LA to the farm they've inherited from a great-uncle, especially when it becomes obvious that the townsfolk assume she and her Latino family are migrant workers rather than landowners. But the farm gets a little more interesting when Sophie discovers that one of the chickens can move things with her mind! Soon, more of her great-uncle's chickens — with even more unusual powers — are coming home to roost. And when a local farmer rival tries to steal the chickens, Sophie will have to find a way to keep her very special chickens safe. Told in a combinations of letters, quizzes, to-do lists, and sections of a correspondence course on chicken care, this fun and quirky story is sure to be a favorite.
Because of Winn-Dixie
Opal comes home from her local Winn-Dixie supermarket with something entirely unexpected — a stray dog! Soon she and the dog are best friends, and she's named him after the place where they met. Winn-Dixie's goofy, warm attitude become the conversation starter Opal needs to meet a wide variety of unexpected characters in her new town...and even prompts her sad, introverted father to open up about why Opal's mother left the family. This Newbery Honor book, which was also adapted into a live-action film, is a lovely story of friendship, acceptance, and love.
Wish
For years, 11-year-old Charlie Reese has collected ways to make wishes, from blowing off an eyelash to eating the pointed tip of a slice of pie last. She wishes for luck, to fit in, and for her mother to get off the couch and care for her so she doesn't have to go live with an aunt and uncle she doesn't even know. But while living with Aunt Bertha and Uncle Gus, Charlie stumbles across a stray dog she names Wishbone and a neighbor boy named Howard, both of whom threaten to break through her tough exterior. And when Wishbone goes missing, Charlie might find that there's a difference between what you wish for and what you actually want. This complex story about the true meaning of family will resonate with readers long after they're done.
The Curious World of Calpurnia Tate
Callie Vee is back in this sequel to The Evolution of Calpurnia Tate. Science-loving Callie has found a mentor in Dr. Pritzker, the town's veterinarian — but her contributions are still minimized and even ridiculed, while her brother Travis' smaller contributions are praised. Still, Callie tries to juggle her parents' expectations that she be a proper lady with her love of animals and her efforts to help her brother rescue adopted wild animals. Fans of the first novel will enjoy seeing Callie grow and discover a new passion for veterinary medicine.
Julie of the Wolves
When Julie flees her traditional Alaskan village to avoid an arranged marriage, she has to imitate a local pack of wolves if she's going to survive her journey through the wilderness. Over the course of the journey, Julie learns new respect for the creatures she previously feared. However, in the sequel, Julie Julie's father's newly modern lifestyle tending a herd of musk oxen threatens her beloved wolves, who he shoots on sight. Julie must find ways to balance old with new, and the safety of the wolves with the well-being of her human community. This pair of critically acclaimed novels provides a touching glimpse into the challenges of finding a balance with nature.
A Horse Of Her Own
Jane adores horseback riding, but her family doesn't have nearly the resources necessary for her to buy her own horse. For years, she's ridden Beau, a school horse, and ignored the jibes of the wealthy girls who ride with her. But when Beau is sold to another owner, Jane is heartbroken. Her trainer asks her to help with a new horse to the barn: Lancelot is beautiful and talented but unpredictable, even dangerous. If they can learn to trust one another, though, Jane can ride at the end-of-summer competition and maybe even finally have a horse of her own. With a beautiful depiction of the emotional connection between horse and rider, this is sure to be a favorite with equestrian Mighty Girls.
Endangered
Sophie wasn't crazy about joining her mother's work for a bonobo sanctuary in the Democratic Republic of Congo — until she met Otto, a young bonobo that she rescues. Sophie and Otto's bond is almost like that of parent and child, and when a civil war breaks out, the pair have to flee into the jungle and find a way to survive both the vicious revolutionaries and the difficulties of finding food and shelter in their environment. This thrilling adventure and survival story that tackles some difficult ethical questions is anchored by the deep, authentic relationship Sophie and Otto share and they seek a way to remain safe and together.
A relationship with an animal can be a very special one for any Mighty Girl! We hope these books will inspire your Mighty Girls — and encourage them to give some extra affection to their animal friends.
Additional Recommended Resources
For more books featuring animals, check out our Animals section, which includes books about Farm Animals, Wild Animals, and Pets.
For pretend play animal and farm toys featuring girls and women, visit our Animal & Farm toy section.
For Mighty Girl stories celebrating the relationship between a girl and her pet, visit our section about Pets in our Relationships section.