A Mighty Girl's recommended books and resources for preparing girls for their first periods.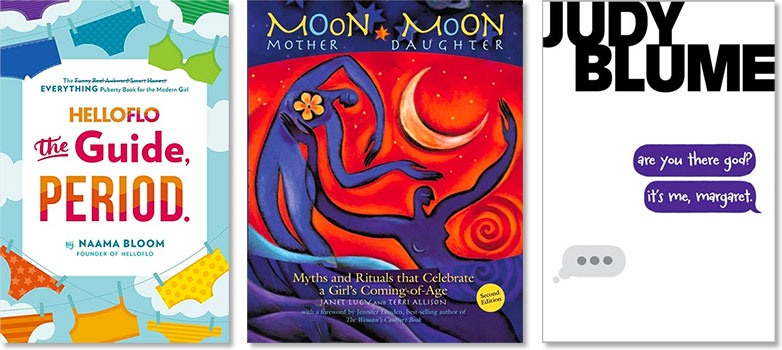 Do you remember having your period for the first time? Were you relieved, scared, or confused? Did you know what was happening, or were you told after the fact? Did you think you could bleed to death, or believe that you couldn't swim or go to gym class? Did you hear someone make joking references to women being "on the rag" and think, "I'll die of embarrassment if anyone knows?" Did you feel like you were prepared?
In a world that is increasingly public about all sorts of previously private topics, menstruation is often still a taboo subject. What information girls do hear around them is often negative or incorrect, and even school health classes that discuss the subject often focus on the "nuts and bolts" without ever touching on the real, practical experience of a monthly cycle. As a result menarche — a girl's first period — is still likely to be disconcerting for her.
But parents, mentors, and friends of Mighty Girls can turn this milestone of womanhood into a much more positive experience. By providing lots of accurate information, real-life experience, and practical advice, girls can learn to view their menstrual cycle in a totally different way: as an important element of their female nature and as a key sign of coming adulthood. In this blog post, we'll help you turn a girl's first period into an empowering experience.
If you're looking for more great material for teaching the Mighty Girls in your life about their bodies, make sure to check out our blogs Body Smart, Body Safe: Talking with Young Children about their Bodies and A Time of Change: Talking With Tweens and Teens About Their Bodies, as well as our Guides for Girls section which provides resources for Mighty Girls on all aspects of their physical and emotional developments.
How It All Works: Learning About The Menstrual Cycle
An important way to make girls more comfortable with menstruation is to make sure that they have accurate information, not just about how and why it works, but also on the day-to-day, real life business of managing hygiene. The more informed she is, the more comfortable she will be with how to handle both menarche and her ongoing experience.
Girls are starting their periods younger — sometimes as young as 9 or 10 — so it's a good idea to introduce the idea of menstruation to girls sooner than you might expect. It's So Amazing is about general sexuality education, but includes a discussion of the menstrual cycle and its role in a woman's body. If you want to introduce this idea early — and especially if your daughter seems to be an early developer — this is a great book to start talking more seriously about the changes that come with puberty. Author Robie H. Harris and illustrator Michael Emberley have collaborated on three books about sexuality education; in addition to this one, parents can check out the introductory-oriented It's NOT The Stork for ages 4 to 8 and the more advanced It's Perfectly Normal for age 10 and up.
Be Prepared: Ready For Menarche
If you ask women about the most disconcerting thing that happened in their early years menstruating, many of them will describe a time that their period started and they weren't ready: they didn't have the supplies they needed to hand, and didn't know how to get them. By providing your Mighty Girl with a kit of supplies, she'll be ready when the time comes!
In addition to the resources below, you can find a step-by-step guide to making a First Period Kit for your Mighty Girl in our blog post, DIY Period Power.
The Emotional Side
Of course, even if she is totally prepared in every way for her first period, a girl at this age has a lot of emotions that she needs to express: about her developing body, her complex moods, and her changing place in the world. Many girls this age find it helpful to keep a journal or diary where they can freely explore these feelings in a safe space. Blank journals are great, but sometimes it's helpful to have a guided journal with writing prompts and other material to help her sort out her complicated thoughts.
Read All About It: Books About Menarche
One of the reasons menstruation can seem so strange is that we just don't talk about it. Think of how many TV shows, movies, and books that feature characters in their tween and teen years never address the experience. Fortunately, there are some good books out there your Mighty Girl can read — or better yet, that you can read together — to introduce the idea that this is something that happens to every girl.
Celebrating Womanhood
Of course, there's another special way that mothers — as well as all the other people in a girl's life — can be a part of menarche: by celebrating it! Many cultures have a variety of rites and celebrations for a girl's first period, and marking the occasion in some way is a great way to welcome her into womanhood and make her feel like her cycle is a special part of her.
If menstruation wasn't something you discussed in your home, this can all feel a bit strange at first. But by making it an open topic for your Mighty Girl — something matter-of-fact, not mysterious, and maybe even a bit special — she will feel a new confidence about this very important transition.
Additional recommened Recommendations