Our top picks of books for children and teens about the fight for girls' right to attend school.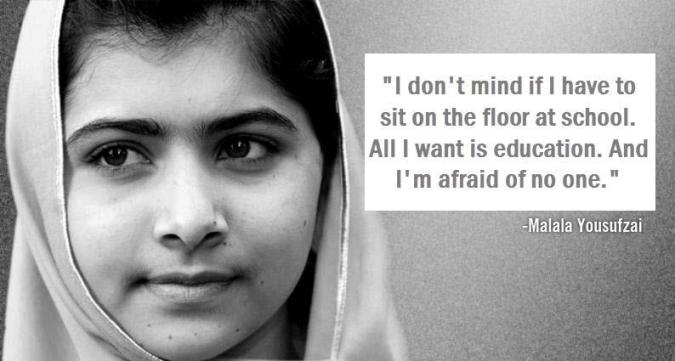 When you're a child in a developed nation today, you don't really think much about going to school — it's just what everyone does. And yet, according to A World At School, a non-profit organization dedicated to increasing educational access, there are an estimated 57 million children around the world who do not go to school, and another 250 million who attend school but never learn to read and write.
This is a problem that particularly affects girls: according to A World At School, "Girls represent 32 million of the out-of school children. They face discrimination, and are forced into marriage and even subjected to violence for wanting to learn. Every day, 25,000 girls are forced into marriage and out of school – the end of their only opportunity to learn."
Pakistani girls' education activist Malala Yousafzai, who became the youngest person ever to win the Nobel Peace Prize for her determination to ensure that all children have the opportunity to go to school, has brought this reality into focus for children and teens around the world. Her efforts to ensure educational access for all, even after the Taliban attempted to assassinate her at 15, continue to inspire people worldwide. Sharing Malala's story provides an excellent opportunity to introduce children to the shocking idea that, in many places, education is a rare commodity — one that children are willing to risk their lives to attain.
In this blog post, we introduce numerous books that address the challenging topic of educational access in a manner accessible for young readers. With that understanding in hand, they will look at school in a new way — and work to help other children, just like them, have the opportunity to see it too.
For more resources about the fight for the right to education, visit our Educational Access Collection.
A Girl With A Book: stories About Malala Yousafzai
Chances are good that your Mighty Girl has heard Malala's name, but she may not know the details of her story. These resources explain her struggles and triumphs in age-appropriate fashion for school-aged kids, tweens, and teens.
As a young girl in Pakistan, Malala spoke up about the importance of girls' education, via speeches and a blog, risking violence from the Taliban regime that was intent on denying girls an education and silencing anyone who disagreed with their laws. In age-appropriate fashion, this book talks about the assassination attempt against Malala and how she has continued to speak for the voiceless girls around the world who want to learn. This Step Into Reading level 4 biography of Malala Yousafzai will open young readers' eyes to important issues about discrimination and educational access.
A Place to learn: Access to Schools
Many children around the world lack access to school, and it wasn't so long ago that children in developed nations did, too. These stories will teach kids about the struggles millions of children face just to have the opportunity to sit at a classroom desk.
Worlds in their pages: Access to Books
It's also important that kids understand that books are also not something to take for granted — after all, it's difficult enough for many kids to imagine living without Internet access, let alone not being able to read a physical book! And yet there are many children who don't have the opportunity to read when they choose. The books below will help your Mighty Girl appreciate how special it is to be able to pick up a good book whenever she chooses!
Education for All
"I dream for all the children that they should go to their school because it's their right…their basic right." - Malala Yousafzai
When your children's eyes are opened to just how precious access to knowledge is, their world will be transformed: they will have a new perspective on the privileges they enjoy, and a new determination to help others have the opportunity to enjoy them too. You can show them one way they can help by going to A World at School's Stand with Malala petition; by adding their names to this international petition, they will become part of the chorus of young voices demanding that the leaders of the world take action to given educational access to all children.
Education is a powerful tool, and our Mighty Girls are fortunate enough to have easy access to it. Let's teach them how to use the tool they have been given to make the world a better place.
Additional Recommended Resources