A Mighty Girl's top picks of books and films starring heroic Irish girls and women.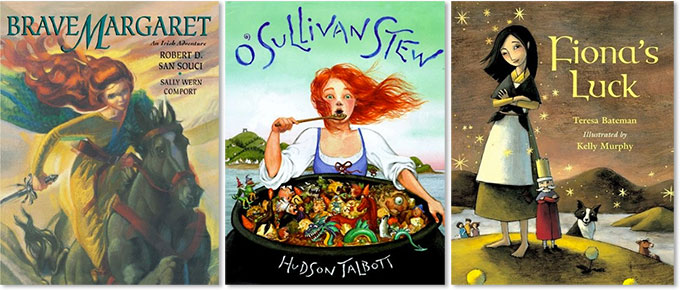 Happy Saint Patrick's Day! If you want to explore this celebration of all things Ireland more deeply than by wearing green, we invite you to peruse A Mighty Girl's selection of resources highlighting Irish culture and folklore. These books and films will give your children a girl-empowering introduction to the vibrant, deep culture that Ireland has to offer — and the place of Mighty women and girls within it.
Art, Music, and Dance
Ireland has a rich artistic and cultural life, most famously in music and dance. Irish stepdancing, in which the upper body is held stationary while the legs perform fast dance steps, has grown enormously popular in North America recently, but its elaborate steps and costumes have been a part of life in Ireland for decades.
Celtic Tin Whistle in D
If your Mighty Girl is musical, she can learn to play simple Irish tunes, perfect for dancing to, on a tin whistle — it is easy to play and perfect for carrying with her to catch moments of practice here and there. Clarke is one of the leading tin whistle makers; this one comes in a gift box that includes a fingering chart and five Celtic tunes, including two from Ireland. It's small enough for children as young as 3 to play, making it a terrific first musical instrument as well.
Celtic Mosaic Coloring Book
On all of the items mentioned above, you can see examples of Celtic mosaic art. Knotwork was found in many artistic styles in the third and fourth centuries, but today, interlaced knot patterns are part of Irish art's distinctive style. This beautiful coloring book includes 12 different mosaic patterns repeated on 23 pages to allow you to explore how the intricate details of this artistic style come together into a rich, vibrant whole. Kids as young as 6 can enjoy this book, but it's perfectly suited to anyone who loves Celtic art.
Kathleen: The Celtic Knot
12-year-old Kathleen is living through the consequences of the Irish Depression of the 1930s. Her father is out of work, and the family is struggling. She wishes she could live with her beloved Aunt Polly, whose life seems glamorous and carefree. After being late for school once too often, one of the nuns recommends dance lessons to give her focus — and Kathleen discovers to her delight that she is a natural, even being selected to participate in a feis (dance contest) at the end of the year. But how will her family ever afford the expensive costume necessary? This book, part of American Girl's Girls of Many Lands series, will have your Mighty Girl picturing herself in Kathleen's dancing shoes.
Tales of Mystery and Bravery
Of course, there's another art held dear in Ireland: the art of storytelling. The ability to tell a good tale is a treasured one in Ireland, and folk tales are still shared widely between family and friends. Irish folk tales often capture a sense of mystery and magic — think of the hidden leprechaun, waiting to make you rich if you can only find him, or the secretive selkie who can conceal herself as a human woman. But tales in Ireland also celebrate courage and quick thinking, especially in young heroes and heroines. Unsurprisingly, this means that there are some wonderful Mighty Girl tales inspired by Irish folklore!
Fiona's Luck
Set during the Irish potato famine — the terrible crisis that resulted in so many Irish immigrants in other nations of the world — this story adds a hint of magic and a clever Mighty Girl! Fiona discovers that the famine is the fault of the Leprechaun King, who has stolen all of Ireland's luck. So she decides that she will win it back — because, while she may not have magic, she has wit and cleverness enough to outsmart any foe! Young readers will love reading how Fiona thinks her way past the Leprechaun King and ensures that he gets his just desserts.
O'Sullivan Stew
Bold, brave Kate O'Sullivan is a heroine any Mighty Girl will cheer on! When Kate's village is threatened by an angry witch whose horse was stolen by tax collectors, she has to prod her father and brothers into action. But when they steal the horse back, they're caught by the king who threatens to hang them all! Kate's going to have to use all her inventiveness and courage to convince the king to let them go. Colorful illustrations capture Kate's confident spirit, and parents will love her response when the now-besotted king arrives at her doorstep to declare his love.
Fiona's Lace
For kids who prefer a true tale of Irish courage and ingenuity, check out this lovely story based on author Patricia Polacco's family history. Fiona and her family are seeking new opportunities in America since times are so hard in Ireland. To pay back the cost of passage, they work in domestic service during the day, but at night, Fiona practices the fine lacemaking that is her particular specialty, as well as her connection to traditions back home. But when the family is separated, the lace Fiona makes becomes more than a memory of a home she left behind: it also becomes a way to bring the people she loves back together.
Brave Margaret: An Irish Adventure
Margaret is a girl with a brave heart who leaps at the chance for adventure when she discovers that a ship in her town's harbor is heading for the Kingdoms of Cold; she's determined not to be left behind. But adventures are perilous things, and before her journey is done, Margaret faces a sea serpent, a giant, and a witch — and has to figure out how to rescue her true love, Prince Simon, and see him and herself safely home. Vivid pastel illustrations and intense writing make this a page-turning story of one girl's quest to be a hero.
Brigid's Cloak: An Ancient Irish Story
Saint Patrick is not the only Catholic tale to come from Ireland. This book introduces children to the story of Saint Brigid, born the slave daughter of a defeated warrior prince and declared by a Druid "mother to the new Ireland that is to come." At ten, Brigid is magically transported to a stable where she meets a mother, father, and new baby boy. After lending her cloak to keep the baby warm, and offering the family her blessing, she returns — only to discover that her blue cloak is covered with a field of stars. This fascinating tale of the fifth-century saint combines the appeal of a folk tale with a sense of spiritual wonder. An author's note at the end explains more about Brigid and other tales of her, her cloak, and her generous spirit.
The Secret of Roan Inish
If you'd like to share a film set in Ireland with your children for your next movie night, this is the perfect choice. When ten-year-old Fiona is sent to live with her grandparents, she soon hears tales about the family's flight from their old home on the island of Roan Inish... and about how her baby brother floated away in his cradle during the evacuation. Then she hears the legend that one of her ancestors was a selkie seal woman. So when she spots a naked little boy on the island, she becomes convinced that the seals are keeping her brother there. But convincing her grandparents that her family belongs on Roan Inish — together — will take some doing. This beautiful film takes a family story and infuses it with myth and magic, perfect for a movie night where you want to be swept away into a world that's a little more fantastical than our own.
The Hunger: An Irish Girl's Diary, 1845 - 1847
Phyllis' family struggles, but they're getting by on their rented sixteen-acre farm — until the blight kills off the potato crop, leaving Ireland starving. Phyllis works hard to help her family through, but when her mother falls ill, she has to do more. She decides to set out to find her older brother, Pat. But rebellious Pat has joined the fight for a free Ireland, and soon Phyllis finds herself caught up in it too. This vividly told story captures the brutal effects that the famine had on Ireland's people, as well as the spirit of hope and determination that so many Irish people had to draw upon — both to survive at home and to seek out new homes overseas.
The Radiant Road
After Clare's mother died, she and her father traveled the world, their grief preventing them from putting down roots for long. Now, they're returning to the home where Clare was born, a house carved into an ancient yew tree that Clare never forgot, even though she hasn't been back since she was a child. But there's mystery and magic in Clare's family, and when she meets Finn, a strange and familiar boy, Clare discovers that she may be the key to a struggle between good and evil that has the potential to rip the world of the mortals and the world of the fairies apart. This haunting and fantastical novel is sure to keep readers engrossed until the very end.
Brooklyn
Of course, part of the reason St. Patrick's Day has a presence in the US is because of Irish immigrants who came to America seeking a new life. Eilis Lacey comes to 1950s Brooklyn chasing the American dream: the chance for independence and freedom. Homesickness and loneliness threaten to overwhelm her at first, but soon, she's not only enjoying all the vivacity and excitement of her new country; she's also fallen in love with Tony, an Italian-American plumber. When a death in the family calls her home to support her mother, though, Eilis finds herself feeling trapped between two homes and two families, knowing that she can only live one life. This is an emotional story of immigration, independence, and finding home featuring a daring and dedicated Irish woman.
Slainte, Eire!
Hopefully this selection of items will help you and your children gain a new appreciation for the beauties and wonders of Ireland's vibrant culture and its Mighty girls and women. We'll end with a traditional Irish blessing — our wish for all A Mighty Girl's supporters:
May love and laughter light your days,
and warm your heart and home.
May good and faithful friends be yours,
wherever you may roam.
May peace and plenty bless your world
with joy that long endures.
May all life's passing seasons
bring the best to you and yours!
Finally, for more Mighty Girl stories from cultures around the world, please visit our Multicultural Fiction book section.