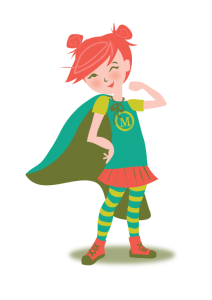 We're very excited to share news of a fantastic new feature on A Mighty Girl -- our Wishlist is now shareable! We've been receiving many requests for this capability and we hope this shareable wishlist will transform your holiday shopping by making it simple for you to share your Mighty Girl's favorite girl-empowering books, toys and movies with grandparents, aunts/uncles, and other relatives and friends.
In case you're not familiar with our Wishlist, it's a simple tool that allows you track items of interest as you browse the site. Each product page on A Mighty Girl has an "Add to Wishlist" button and, when you click this button, you are taken to your personal Wishlist page where you can add notes about the item.
With our new "Share Wishlist" button, found at the bottom of your personal wishlist page, you can share your wishlist with others along with a personal message. Our new shareable wishlist makes compiling gift buying lists simple and makes it easy to introduce others to girl-empowering gifts options that they might not otherwise encounter.
If you have an older Mighty Girl in your life, you can even ask your daughter or granddaughter to create her own wishlist to share with family or friends to make holiday and birthday shopping easier.
And, remember, the best way to discover what A Mighty Girl has to offer is by mousing over your area of interest such as 'Toys' or 'Books' on our main menu bar. By doing so, you'll open a directory that will allow you to see all of our toy and book categories in one place.
To share your Wishlist, simply log into your A Mighty Girl account and click 'Wishlist' on the account menu. The "Share Wishlist" button is located on the bottom of your personal wishlist page. Or, if you need to create an account, click here to get started.
The wishlist also makes it simple for you to support A Mighty Girl's girl empowerment mission. At no additional cost to you, A Mighty Girl receives a small commission from the sale of any item purchased via the 'Buy at Amazon' or "Buy at CafePress" link on your wishlist or on any A Mighty Girl product page. A Mighty Girl is run by a small husband/wife team and your support allows us to continue maintaining and expanding the site. Thank you for your support!