A Mighty Girl's top picks of books about girls and their teachers for Teacher Appreciation Week.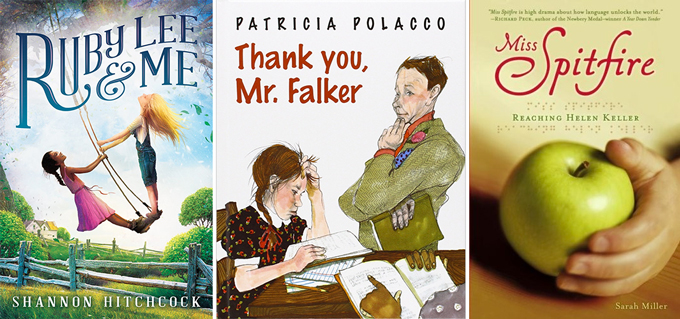 If you think back to your years in school, chances are there will be at least one teacher you will always remember. Maybe he was the one who sat with you and slowly helped you form separate letters into a word; or maybe she was the first one to hear a secret dream and, instead of laughing, started helping you make it a reality. She may have offered a shoulder to cry on when things were going wrong, or maybe he was the one who showed you that you had a talent you wouldn't even have guessed. No matter who it was or when it happened, without that teacher, you would be a different person.
This week's annual observance of Teacher Appreciation Week is a great time to thank the wonderful teachers everywhere who are working with students both young and old. To celebrate teachers, we've showcased twenty of our favorite books about Mighty Girls and the teachers that have such a meaningful impact on their lives. Whether you're sharing them with your Mighty Girl, or presenting an end-of-school gift copy to a special teacher, these books will remind every reader just how much a teacher can do to inspire, encourage, and support the students around them.
Teachers Rock!
Beloved artist and author Todd Parr celebrates all the wonderful things that teachers do in this colorful new release! From fostering creativity to caring for their students' needs to making everyone laugh, the teachers in this book make their classrooms a welcoming, friendly, fun place to learn. This fun look at the many special teachers in the world comes with a free back-to-school poster to encourage a positive attitude about school each and every day.
Chrysanthemum
As a preschooler, Chrysanthemum loved her beautiful, unique name — but once she starts school, her name only seems to cause trouble. Her classmates with "normal" names like Victoria, Sue, Max, and Bill, mock her for her "flower" name and make Chrysanthemum totally miserable. That is, until their music teacher, Miss Delphinium Twinkle, shows her and her classmates how varied the people in the world are, and that "normal" is just a word. Kevin Henkes' charming story about a little girl with a big name shows how a teacher's attitude to individuality can set the tone for a whole class.
Lilly's Purple Plastic Purse
Students don't always agree with their teachers! Lilly adores her new musical plastic purse, but when she brings it to school, she can't stop playing with it in class — until Mr. Slinger takes it away. Furious, she takes out her anger by drawing a picture of "Big Fat Mean Mr. Stealing Teacher." But when she gets her purse back at the end of the day, and finds a kind note from Mr. Slinger inside, she realizes that now she has something much bigger to make amends for! The gentle, humorous reminder that even "mean" teachers generally want the best for you is a great message to share with your Mighty Girl — whether she's run into a "mean" teacher yet or not.
Willow
Sometimes a student is the one to teach the teacher! Miss Hawthorn's class is neat as a pin, and she likes order: kids in her class paint trees that are green with apples that are red, just the way they are in real life. That is, until Willow arrives! Willow breaks crayons, she colors beyond the lines, and her trees are pink and her apples are blue. And, when the holidays roll around and Willow is the only one to give her a gift, an obviously beloved art book, the teacher has a transformation. When the kids come back in January — after Miss Hawthorn has had some time to discover the joy of doodles, smeared paint, and free expression — art class will never be the same! This colorful story shows the magic that can happen when a teacher decides to keep an open mind.
Ada's Violin: The Story of the Recycled Orchestra of Paraguay
Ada Rios grew up in Cateura, a small town in Paraguay built on a landfill. She dreamed of playing the violin, but with little money for anything but the bare essentials, it was never an option...until a music teacher named Favio Chavez arrived. He made the children of Cateura instruments out of materials found in the trash — a crazy idea, but one that would leave Ada, and her town, forever changed. Today, the Recycled Orchestra plays venues around the world, spreading their message of hope and innovation. This beautiful picture book tells the remarkable true story of the Recycled Orchestra and the dedicated music teacher who made it possible.
My Teacher
A young girl in an urban classroom has a very special teacher, who plays jazz music, talks about diverse families, and encourages her students to find and celebrate their own talents and ways of giving back to the community. Her students worry — will such a wonderful teacher want to stay in their old school, when she could teach at somewhere shiny and new? Fortunately, there's a very particular connection that binds her to their school — one that reassures her students that she'll be there for years to come. With a warm, welcoming story and colorful illustrations, this book conjures up a teacher that any child would treasure.
Thank You, Mr. Falker
Trisha's original enthusiasm for school dies when all of her fellow students race ahead with their lessons, while she struggles to understand the squiggles on the page. Her classmates — and soon, Trisha herself — assume that she is a "dummy", incapable of learning no matter how hard she tries. Fortunately, Mr. Falker, Trisha's kind and fun-loving teacher, not only spots the challenge that is holding back her reading, but also her remarkable artistic talent, and, with lots of gentle encouragement, helps her reach the magic moment where she can finally read. Beloved author Patricia Polacco beautifully captures how a dedicated teacher can change the way a student sees herself.
The Art of Miss Chew
In another of Patricia Polacco's stories about the teachers who shaped her life, Trisha has spent the summer with her artist grandmother, and comes back to school with dreams of being an artist too! Her portfolio of sketches gets her entry into a special art program: Miss Chew, the high school art teacher, teaches talented younger students twice a week. But Trisha's confidence is shaken when a substitute teacher, who doesn't know about Trisha's dyslexia, claims that Trisha is wasting her time on art when she should be studying for better grades instead. Fortunately, Miss Chew is at Trisha's side, ready to help advocate for her and show the other teachers why Trisha's art is so important.
An A From Miss Keller
In this touching picture book, Patricia Polacco shows how a good teacher can push you to achieve more than you had ever thought possible. Trisha is excited but nervous about being selected for Miss Keller's special writing class — "Killer Keller" is infamously demanding and never gives out As. To her dismay, Trisha discovers that the rumors are true, and despairs of ever making Miss Keller happy with her work. But when Trisha struggles with an unexpected loss and pours her heart out onto the page — without worrying about her grade — she's shocked when Miss Keller praises her, saying "You've given your words wings." Polacco's story teaches kids a valuable lesson about perseverance and the power of a teacher's high standards to drive their students' success.
The Schoolchildren's Blizzard
In 1888, a sudden blizzard trapped hundreds of children in one-room schoolhouses across the US, where life or death would depend on the actions of quick-thinking schoolteachers. This story, based on the real story of Minnie Freeman in Nebraska, is told through the eyes of 9-year-old Sarah, who goes to school with her younger sister on what seems to be a warm, safe winter day. But when the blizzard strikes, and the roof is torn off the little sod schoolhouse, Miss Freeman has to find a safe place for her charges. By tying her students together with a long rope, Miss Freeman is able to lead all of them to safety through the storm. This exciting story, perfect for early readers, shows just how determined teachers are to take care of the children entrusted to their care.
Helen Keller: Courage in the Dark
When a childhood illness leaves her blind and deaf, Helen Keller's life seems hopeless indeed. But her indomitable will and the help of a devoted teacher, Annie Sullivan, empower Helen to triumph over incredible adversity. Keller would go on to become a best-selling author, public speaker, and advocate for the rights of disabled people. The amazing true story of how Sullivan taught Keller how to communicate after years of silence and darkness is finally brought to the beginner reader level with this Step Into Reading level 4 title. For more books for all ages about Helen Keller and Annie Sullivan, visit our Helen Keller Collection.
Junkyard Wonders
When kids are already struggling with self-esteem, their teacher plays a key role in reminding them of their value. In this autobiographical picture book, author Patricia Polacco shares a story of one of her childhood special education classrooms — one that she's horrified to learn is called the Junkyard by other kids. But Mrs. Peterson, the class' quirky teacher, is determined to show her students that, for all of their struggles, each of them also has a remarkable talent. To reinforce the lesson, the class visits an actual junkyard, where they discover that much of what others consider trash is capable of soaring to remarkable heights. Any student who has been lifted up by a remarkable teacher like Mrs. Peterson will love this book, which also provides an excellent lesson about accepting differences.
The Year of Miss Agnes
10-year-old Fred is used to teachers coming and, just as quickly, going — they see the one-room rural Alaskan schoolhouse and catch a whiff of fish, and soon declare the job too hard. To her surprise, though, the unexpected Miss Agnes — who wears pants and has a strange accent — doesn't seem bothered by any of that. And she's different in other ways too: she doesn't get frustrated with her students and instead of reading out of old textbooks she's pulled out a copy of Robin Hood to read to the class. She even learns sign language so that Fred's sister, who is deaf, can attend school too. But while the kids are finally actually learning to read and write, Fred can't help but worry — when Miss Agnes' year long contract is over, is she going to lose the best teacher she's ever known? This sweet story captures how a good teacher can make a whole community look at themselves in a different way.
Ms. Rapscott's Girls
Sometimes a teacher provides the love and attention that kids didn't know they were missing. At the Great Rapscott School for the Daughters of Busy Parents, the headmistress receives her students shipped in boxes from parents who are too busy to teach them the joys of adventure — or birthday cake. And while the girls are understandably unhappy at first, they soon realize that Ms. Rapscott is going to take them on exciting journeys, show them amazing things... and care about each and every one of them. This whimsical story of an inspiring teacher who shares her joy in the less traveled road is sure to delight middle readers.
Ruby Lee and Me
It's 1969, and for Sarah Beth Willis, everything is changing. Her sister Robin has had a terrible accident, forcing Sarah to go live with her grandparents. Everyone in town seems upset about the new teacher, Mrs. Smyre, just because she's African American. And Sarah still doesn't understand why people think she shouldn't be friends with Ruby Lee just because their skin colors aren't the same. Fortunately, Mrs. Smyre is able to help Sarah understand this strange world of Freedom Riders and family struggles — and to get the whole community thinking about things in a new way. This tender story, with its perfect balance of history and Southern charm, is sure to become a favorite.
Words With Wings
To escape her parents' arguments — and later the difficult emotions she feels about their separation and her move to a new school — Gabby has retreated into daydreams. In the new worlds of her imagination, anything can happen, and it can all be wonderful. But when her daydreams start intruding on her schoolwork, she thinks she'll have to give up the joys of playing with words in her head. Fortunately, a teacher at her new school knows just how to direct Gabby: her vivid imagination and her love of words are the perfect ingredients for a successful author. This emotional novel in verse shows how an intuitive teacher can set a student on a new path.
Minnie McClary Speaks Her Mind
Minnie is having trouble fitting in: her family had to move after her father blew the whistle on his previous job, her uncle Bill is dealing with a return from combat duty, and nothing seems right in her life. Then Miss Marks arrives to take over Minnie's language arts class. Miss Marks is unconventional, from her wardrobe to her tattoo to her insistence that her students speak their minds and think for themselves. With Miss Marks' guidance, Minnie starts to grow in confidence, defending her new friend Amira from prejudice. And when a group of parents calls for Miss Marks' suspension for her unorthodox teaching methods, it's that new confidence that lets Minnie defend her beloved teacher. This inspiring story not only captures the power a teacher can have to inspire a student, but also communicates an important lesson about standing up for what you believe.
My Face To The Wind: The Diary of Sarah Jane Price, a Prairie Teacher, Broken Bow, Nebraska, 1881
The Dear America series shines a light on the day-to-day experiences of men and women throughout history. In this volume, Sarah Jane Price joins the many young teachers traveling to the newly settled west of the United States, looking for opportunities for good pay and a new life. Not all of them, though, could handle the hardships of prairie life or the inadequate schools they had to work in. Price's fictional diary highlights the struggles many of these teachers faced, including unruly students who didn't see the value in education and adults who didn't respect these young, untested Easterners. Nevertheless, Price, like so many other teachers, is able to prove herself and show those around her the value of having a good teacher in town.
Miss Spitfire: Reaching Helen Keller
Few who knew Anne Sullivan, the abandoned, half-blind girl with a temper and sharp tongue, would have guessed that she would eventually become the dedicated teacher that accomplished the seemingly impossible: teaching blind and deaf Helen Keller to communicate with the world. Miss Spitfire tells Sullivan's story in a fictionalized first-person account, and captures the determination — or some would say, stubbornness — and faith that it took to bring Keller's world into the light. Her work with this seemingly unreachable child would become an inspiration to the world and a revolution for the perception of people with all sorts of disabilities, all thanks to a teacher who refused to give up.
For more books for all ages about Anne Sullivan and Helen Keller, visit our Helen Keller Collection.
Wise Child
In a poor village in Scotland, 9-year-old Wise Child is left without anyone to care for her when her grandmother dies. Then Juniper, a healer and sorceress, takes her on as a student and assistant. Juniper's view of the world is shockingly different from the other people Wise Child knows, and her cheerful and patient teaching reveals a new world of possibilities. But when Wise Child's biological mother, a black witch, returns, she will have to choose between her mother and her beloved teacher. This well-crafted fantasy is the backdrop for a captivating tale about how a teacher shapes our view of the world. And when Wise Child's eyes are opened, she discovers a certainty and a power all her own.
Fish In A Tree
Ally is smart — smart enough to know that, if she disrupts and distracts her teachers, they'll give up on her achieving anything. But she knows she can't actually be smart, or she wouldn't still be struggling to read in the sixth grade. And she'll do anything to keep people from learning her secret, even if it means a reputation as a troublemaker. But when a new teacher, Mr. Daniels, insists on looking past Ally's disruptions to the creative kid underneath — and finally puts the name "dyslexia" to Ally's reading troubles — Ally realizes that she might just be smart after all. This touching story about an educator's power not just to teach, but to change the way a child sees herself, is also an excellent way to foster a discussion about learning disabilities.
The Skin I'm In
Maleeka endures taunts from her peers every day: her good grades aren't nearly as important to the popular kids as her home-made clothes, her high grades, and her dark black skin. All she wants is to blend in, to live one day without standing out like a sore thumb. When Miss Saunders arrives, standing confidently at the front of the class despite the white blotch on her face, Maleeka figures the giggles and mockery will tear the new teacher apart. But when Miss Saunders reveals that the comments don't bother her — that she truly loves herself as she is — it's the beginning of a complete change for Maleeka. Maybe standing out isn't such a bad thing after all. This Coretta Scott King Award winner shows how a teacher's example can be as important as a teacher's words and how a single supportive voice at the right time can counter all the negativity a child has to face.
Every day, teachers around the world stand in front of dozens of students, determined to make a difference. Today, let's make an extra effort to let them know just how much of a difference they make.
ADDITIONAL RECOMMENDED RESOURCES