12 Books & Films for Children, Teens, & Adults about Anne Frank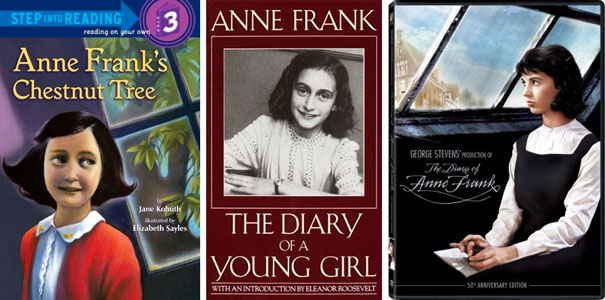 "Think of all the beauty still left around you and be happy." — Anne Frank
Stories about the Holocaust can seem very distant to a child today: decades of time and, more importantly, vast differences in life experiences separate them from the life of a persecuted girl suffering from the Nazi regime. And then, at some point, she will read Anne Frank's Diary of a Young Girl (which we recommend for ages 11 and up) and, suddenly, there is a face to this painful history: the face of a girl her age, whose dreams, thoughts, and emotions are like her own.
When the facts and figures of Holocaust history — the vast numbers of displaced or dead — are inconceivable, the life of this one girl, hiding with her family in a desperate effort to save themselves, is strikingly real.
And yet the inspiring thing about Anne Frank's life and writing is that she was never beaten down by the hatred directed at her. Instead, she continued to see the best of humanity. As she wrote, "It's really a wonder that I haven't dropped all my ideals, because they seem so absurd and impossible to carry out. Yet I keep them, because in spite of everything I still believe that people are really good at heart." Her astounding optimism and resiliency have inspired children — and the world — for generations, ever since the loose pages of her diary left Otto Frank's hands to be published in 1947.
To honor this amazing spirit, A Mighty Girl has put together this collection of our favorite resources for young people about Anne Frank. This selection features books, movies, and even a poster that make tribute to the girl whose optimism and hope lasted through it all.
Of course, in addition to reading about Anne Frank, it is important that your child has an understanding of the Holocaust as a whole. You can find reading recommendations for children and teens about other aspects of Holocaust history in our first Holocaust Remembrance Week blog post, Yom HaShoah: A Mighty Girl Recognizes Holocaust Remembrance Week, and in our World War II & Holocaust section.
BOOKS ABOUT ANNE FRANK
The Diary of a Young Girl
Discovered in the attic in which she spent the last years of her life, Anne Frank's remarkable diary has since become a world classic -- a powerful reminder of the horrors of war and an eloquent testament to the human spirit. In 1942, with Nazis occupying Holland, a thirteen-year-old Jewish girl and her family fled their home in Amsterdam and went into hiding. For the next two years, until their whereabouts were betrayed to the Gestapo, they and another family lived cloistered in the "Secret Annex" of an old office building. In her diary Anne Frank recorded vivid impressions of her experiences during this period. By turns thoughtful, moving, and amusing, her account offers a fascinating commentary on human courage and frailty and a compelling self-portrait of a sensitive and spirited young woman whose promise was tragically cut short.
Anne Frank and the Remembering Tree
Sandy Eisenberg Sasso takes an outside perspective on Anne's life in this picture book: the story is from the point of view of the tree that grows outside the window of Otto Frank's business offices — the one that is visible from the Secret Annex. While the story includes references to the soldiers during the Nazi occupation, and to Anne's removal from the Annex, the tree — which still exists today — serves as a reminder of Anne's legacy of hope.
The Tree In The Courtyard: Looking Through Anne Frank's Window
This powerful picture book, illustrated by Caldecott Honor artist Peter McCarty, uses the chestnut tree outside the Secret Annex as an elegant approach to talking about Anne and Holocaust history. The tree not only provides a view of Anne and her family as they hide and are captured, but also witnesses Otto Frank, the only person to return. Jeff Gottesfeld also tells the story of how seeds and saplings from the tree have been planted around the world as a symbol of peace and remembrance. This compassionate and heartfelt telling provides an excellent addition to the resources about Anne Frank for younger children.
Anne Frank's Chestnut Tree
This book from the Step Into Reading series also shows the influence of one beautiful tree on Anne's outlook and writings. This level 3 reader captures how, when she and her family were closed in the Annex for years and unable to see even the blue sky above, the chestnut tree outside the window provided a hint of natural beauty to sustain Anne's courage and optimism. This early reader biography also provides a great opportunity for newly independent readers to learn about Anne's remarkable life and writing.
A Picture Book of Anne Frank
This unique picture book provides an excellent introduction to who Anne was and the circumstances that led to this seemingly ordinary girl becoming a figure recognized around the world. David A. Adler's work "balances candor with discretion" (Publishers Weekly) as it chronicles her earliest years, the time hiding in the Annex, and the months following her arrest and deportation. Ritz's watercolors capture the life and hope of Anne, even in her depictions of Anne and Margot at the Bergen-Belsen camp. This portrait is respectful of the subject matter, but very age appropriate.
Who Was Anne Frank?
The Who Was? provides an accessible introduction to Anne Frank for middle grade readers. This easy to read biography talks about Anne's life, both before and during the time hidden in the Annex, and also examines the legacy of her diary. Black and white illustrations include maps and diagrams to provide additional context. This title provides a great introductory biography for kids who aren't ready for full chapter book biographies.
Anne Frank
This picture book aimed at older readers provides a perspective more focused on Anne's almost ordinary nature — a girl who would be like many others, except for the extraordinary time in which she lived. Josephine Poole strives to create a context for the famous diary and time in the hidden rooms, and Angela Barrett's realistic paintings do the same, showing hints of the times like looming posters of Hitler's face and broken glass in a Jewish-owned shop. The book concludes with a detailed chronology, making it suitable whether or not the reader is familiar with Anne's diary.
Anne Frank and the Children of the Holocaust
This book combines Anne's story with that of the millions of other children whose lives were touched by the Holocaust. Carol Ann Lee includes personal accounts from other survivors, excerpts from writings by other victims, and black and white photos of both the Franks and other families. The book captures the shocking spiral of the Frank family from productive, proud German citizens to concentration camp residents, as well as the many remarkable ways in which children throughout Europe coped with these difficult times.
Anne Frank: The Anne Frank House Authorized Graphic Biography
For a different way of presenting Anne Frank's history, consider this graphic novel biography. With strong visuals and a tightly written story, this authorized graphic biography tells the Frank family's whole story, as well as providing snapshots of critical moments separate from the Frank family's experience, such as the Nuremberg Laws and Kristallnacht. While no less detailed or accurate than chapter book histories, this book makes reading about Anne Frank more accessible to many kids and adults.
Anne Frank: Her Life in Words and Pictures
This book provides a new look at Anne with dozens of never-before-published photographs. Produced in conjunction with the Anne Frank House, Menno Metselaar and Ruud van der Rol received access to material like school pictures, family snapshots, and photos of the diary's pages and the Annex. Now translated from the original Dutch, this book can work either as a stand-alone introduction to Anne's life or as a companion to her diary. This elegant, small volume includes interspersed quotes from the diary, but focuses on the narrative of both World War II history and the Frank family.
Anne Frank Remembered: The Story of the Woman Who Helped to Hide the Frank Family
For more than two years, Miep Gies and her husband risked their own lives to hide Otto Frank and his family — including Frank's daughter, the intelligent and optimistic Anne. Every day became a risk as they smuggled in food and news, and perhaps most importantly, provided friendship to the people concealed in the Secret Annex. And when the Franks were betrayed, discovered, and arrested, it was Gies who found and kept the pages of Anne's diary. After the war's end, Gies gave the diary to Otto Frank, who had it published as The Diary of a Young Girl. In this story of courage, a humble Gies tells Anne's story — and her own — with honesty, emotion, and love.
Anne Frank: The Biography
This definitive biography of Anne Frank provides an adult perspective on Anne's influential life and writing. Melissa Müller drew on exclusive interviews with family and friends as well as on previously unavailable correspondence, and even discovered five missing diary pages as she researched this work. Originally published in 1998, Müller revised and expanded it in 2013, adding almost 30% new material, including letters sent by Otto Frank to relatives in America as he sought to emigrate with his family, the identity of other suspects involved in the betrayal of the Franks, and important details about the family's arrest and subsequent fate. For any older teen or adult reader looking for a deeper understanding of Anne and her times, this volume is not to be missed.
MOVIES ABOUT ANNE FRANK
In addition to the stage adaptation of The Diary of a Young Girl, there are a few high-quality movie adaptations that tell the story of Anne Frank's life. These make excellent companions to reading her diary or to any exploration of the experiences of Jewish people during the Holocaust.
The Diary of Anne Frank
One of the first acclaimed movie versions of Anne's life was this 1959 film, which starred Millie Perkins as Anne. The movie took the world by storm on its release; it was nominated for eight Oscars and won three, including Best Supporting Actress for Shelley Winters' depiction of Petronella van Daan (the pseudonym Anne gave to August van Pels in her diary.) The movie was re-released in this excellent special edition DVD for its 50th anniversary in 2009; the DVD includes several featurettes, including cast interviews and discussions about the history of Anne's diary.
Anne Frank: The Whole Story
This more recent film version of Anne's life strives to provide a more historically accurate and less dramatized depiction of the events in the Secret Annex. The movie, which stars Hannah Taylor Gordon as Anne and Ben Kingsley as Otto Frank, depicts Anne's whole life: her happy, spirited life before the war, her time in the Annex and writing her diary, and her experiences once her family was betrayed and shipped to the concentration camps. Taylor Gordon captures all the contradictions of a girl Anne's age, at times intelligent, creative, and joyful, but, at others, spoiled and petulant, making her a relatable and real character. Sections of the film are painful to watch — especially in the conclusion, where it pulls no punches about the reality of Auschwitz and Birkenau — but this excellent adaptation is well worth watching for anyone interested in Anne, her diary, or Holocaust history.
Masterpiece Theatre's The Diary of Anne Frank
This recent production of Anne's amazing story was created with Masterpiece Theatre's distinctive attention to detail. First aired in 2010, this film was produced by the BBC, which worked with the Anne Frank Fonds organization to ensure the authenticity of the work. Sets are highly-detailed reconstructions of the Frank family's home and hiding place, and great care was put into the actors' performances. This production channels all the real emotions of the diary's narrative — the tension is there throughout, but there are also moments of laughter and tenderness. Above all, it reminds the viewer that the story of Anne and her family is the story of a family — one like any other — under extraordinary circumstances.
A SPIRIT OF HOPE AND OPTIMISM
"How wonderful it is that nobody need wait a single moment before starting to improve the world." — Anne Frank
Anne Frank has inspired people around the world for decades — and will continue to do so for decades more — because even in a time of such horror and tragedy, she maintained her belief that the world was a beautiful place. Quotation after quotation from her diary reiterates that people are good; that the world will be happy again; and, as she says above, that anyone can choose, now, to make the world a better place to live.
Anne Frank poster
Whether on a classroom wall or at home, this poster of one of Anne's most famous quotes is sure to inspire. At 12 by 18 inches, it is perfect for framing. This touching image will remind everyone who sees it of the power that even the seemingly insignificant have to produce change. After all, who would have guessed that the diary of one girl would become a classic of modern literature — one which encourages us all to work for positive change in our world.
ADDITIONAL RESOURCES