The best books for children, teens, & adults about Anne Frank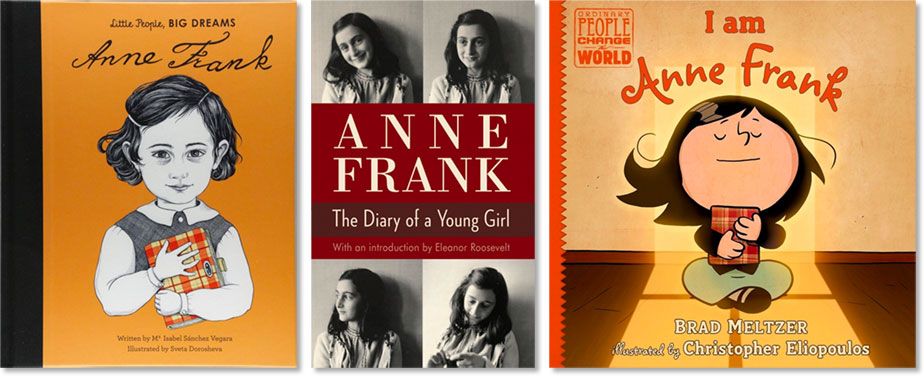 "Think of all the beauty still left around you and be happy." — Anne Frank
Stories about the Holocaust can seem very distant to a child today: decades of time and, more importantly, vast differences in life experiences separate them from the life of a persecuted girl suffering from the Nazi regime. And then, at some point, she will read Anne Frank's Diary of a Young Girl and, suddenly, there is a face to this painful history: the face of a girl her age, whose dreams, thoughts, and emotions are like her own.
When the facts and figures of Holocaust history — the vast numbers of displaced or dead — are inconceivable, the life of this one girl, hiding with her family in a desperate effort to save themselves, is strikingly real. And yet one of the most inspiring aspects of Anne Frank's life and writing is that she was never beaten down by the hatred directed at her. Instead, she continued to see the best of humanity. As she wrote, "It's really a wonder that I haven't dropped all my ideals, because they seem so absurd and impossible to carry out. Yet I keep them, because in spite of everything I still believe that people are really good at heart."
Her astounding optimism and resiliency have inspired children — and the world — for generations, ever since the loose pages of her diary left Otto Frank's hands to be published in 1947. To honor this amazing spirit, A Mighty Girl is showcasing our favorite books and films about Anne Frank, as well as several books about the courageous individuals, such as Miep Gies, who helped to hide and protect her during her two years in the Secret Annex. This selection features books, movies, and even a poster that make tribute to the girl whose optimism and hope lasted through it all.
Of course, in addition to reading about Anne Frank, it is important that your child has an understanding of the Holocaust as a whole. You can find reading recommendations for children and teens about other aspects of Holocaust history in our first Holocaust Remembrance Week blog post, Yom HaShoah: A Mighty Girl Recognizes Holocaust Remembrance Week, and in our World War II & Holocaust section.
BOOKS ABOUT ANNE FRANK
Recommended Age: 11 and up
Discovered in the attic in which she spent the last years of her life, Anne Frank's remarkable diary has since become a world classic -- a powerful reminder of the horrors of war and an eloquent testament to the human spirit. In 1942, with Nazis occupying Holland, a thirteen-year-old Jewish girl and her family fled their home in Amsterdam and went into hiding. For the next two years, until their whereabouts were betrayed to the Gestapo, they and another family lived cloistered in the "Secret Annex" of an old office building. In her diary Anne Frank recorded vivid impressions of her experiences during this period. By turns thoughtful, moving, and amusing, her account offers a fascinating commentary on human courage and frailty and a compelling self-portrait of a sensitive and spirited young woman whose promise was tragically cut short.
MOVIES ABOUT ANNE FRANK
In addition to the stage adaptation of The Diary of a Young Girl, there are a few high-quality movie adaptations that tell the story of Anne Frank's life. These make excellent companions to reading her diary or to any exploration of the experiences of Jewish people during the Holocaust.
A SPIRIT OF HOPE AND OPTIMISM
"How wonderful it is that nobody need wait a single moment before starting to improve the world." — Anne Frank
Anne Frank has inspired people around the world for decades — and will continue to do so for decades more — because even in a time of such horror and tragedy, she maintained her belief that the world was a beautiful place. Quotation after quotation from her diary reiterates that people are good; that the world will be happy again; and, as she says above, that anyone can choose, now, to make the world a better place to live.
ADDITIONAL RESOURCES