Whether your Mighty Girl is a member of the LGBTQ community, or an LGBTQ ally, these books will show her that her experience is not unique: millions of people stand with her.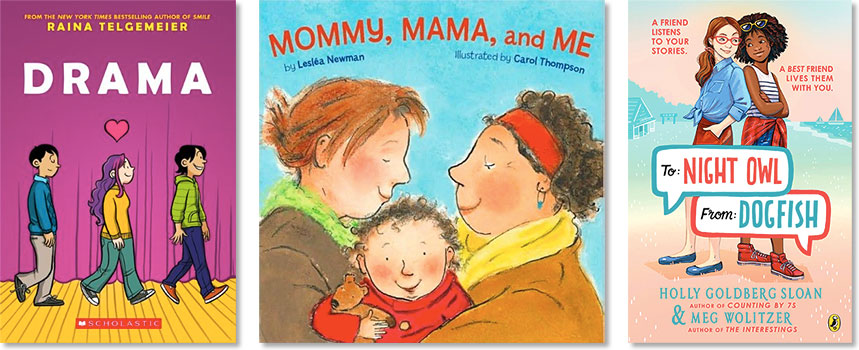 "I stand for honesty, equality, kindness, compassion, treating people the way you want to be treated, and helping those in need. To me, those are traditional values." — Ellen Degeneres
One of the founding principles of A Mighty Girl is that girls of all ages should be able to find books that reflect who they are: their background, their interests, and their dreams. But when a girl identifies as lesbian, bisexual, transgender, or queer/questioning — or someone in her life does — it can be challenging to find stories that reflect her experience.
With that in mind — and in celebration of June's Pride Month — we're sharing our favorite books featuring lesbian, gay, bisexual, transgender, and queer/questioning (LGBTQ) characters. Whether your Mighty Girl is a member of the LGBTQ community, or an LGBTQ ally, these books will show her that her experience is not unique: millions of people stand with her.
To show kids the meaning and history behind the Pride month celebrations they see around them today, we recommend the books Gay & Lesbian History for Kids: The Century-Long Struggle for LGBT Rights, with 21 Activities for ages 10 and up and Pride: Celebrating Diversity and Community for ages 14 and up.
Mighty Girl Books Featuring LGBTQ Characters
These books featuring positive portrayals of LGBTQ characters and families, and show that sexual identity and orientation are only a part of the whole of any person.
Written by the same author as the groundbreaking Heather Has Two Mommies, this book reminds the reader that a day with a toddler and caring parents is much the same for every family. Whether at play with hide-and-seek and dress-up, splashing in the bath, or getting a kiss at bedtime, these books show the deep, loving bond between a lesbian couple and their treasured child. The same author/illustrator pair has written Daddy, Papa, and Me, also for age 0 - 3, which depicts a gay couple and their toddler in the same way.
Guidance for LGBTQ Girls
If your Mighty Girl is lesbian, bisexual, transgender, or questioning — or she knows someone who is — these books provide guidance, support, and encouragement as she navigates her way to a confident sense of self.
Parenting an LGBTQ Child
Parents often aren't sure how to respond to their child's orientation — it can be hard enough to see your child becoming a sexual being, let alone realizing that their orientation may be different than your own. Parents may wrestle with their own feelings when their child comes out, or worry about how to make sure their child receives the support she needs if she faces discrimination, bullying, or even violence. These books for parents will help guide you in being your child's best ally.
Raising An Ally: Inclusive Books About Family and Sexuality
Parents who want to raise children as LGBTQ allies often look for books that incorporate LGBTQ people into a general discussion of sexuality, family, and love. By including LGBTQ characters — without the story treating them as anything unusual — these books normalize LGBTQ issues and provide inclusive definitions of love, both romantic and family.
With the struggle for LGBTQ rights and acceptance so prominent right now, it has never been more important to present our kids with books that show LGBTQ characters, not just as representatives of a community, but as people with their own lives, struggles, and triumphs. By introducing your Mighty Girl — whether she is LGBTQ or not — these books, you're doing more than encouraging her to accept the LGBTQ community: you're working towards a day when acceptance will just be understood, and every person can feel free to express their identity with pride.
Additional Recommended Resources