A Mighty Girl's top picks of girl-empowering new releases for early spring for children, teens, and adults.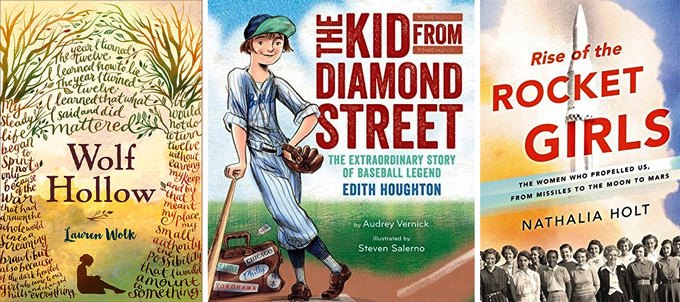 With spring has come a great batch of new Mighty Girl books! From picture books and young adult literature to parenting guides and biographies for adult readers, there have many excellent girl-empowering new releases over the past few weeks. In our new blog post, we've showcased 25 of our favorite newly released Mighty Girl titles. From intriguing biographies — for both kids and adults — to thoughtful realistic fiction to some remarkable flights of fancy, there's something here to please readers of all ages!
Early Spring 2016 Releases Starring Mighty Girls
Star Wars: The Force Awakens Little Golden Book
The epic space saga Star Wars: The Force Awakens is retold for young children in this new Little Golden Book! When the resilient scavenger Rey meets a lost droid named BB-8, her life will change forever. Soon, she's meeting new friends and allies, facing off against dangerous enemies — and discovering unexpected power within herself. Featuring stunning retro illustrations, this book is perfect for Star Wars — and Little Golden Book — fans of all ages! For more books, toys and posters featuring this new Star Wars hero, visit our Rey Collection.
Flora and the Peacocks
The dancing little girl from Flora and the Flamingo is back in another wordless picture book, and this time she's found two new friends: a pair of peacocks! But amidst the fanning feathers and mirrored movements, Flora realizes that the push and pull between three friends can be a delicate dance. Will this trio find a way to get back in step? In the third book featuring Flora and her feathered friends, Molly Idle's gorgeous art combines with clever flaps to reveal that no matter the challenges, true friends will always find a way to dance, leap, and soar — together.
Ada's Violin: The Story of the Recycled Orchestra of Paraguay
Ada Rios grew up in Cateura, a small town in Paraguay built on a landfill. She dreamed of playing the violin, but with little money for anything but the bare essentials, it was never an option.. .until a music teacher named Favio Chavez arrived. He made the children of Cateura instruments out of materials found in the trash — a crazy idea, but one that would leave Ada, and her town, forever changed. Today, the Recycled Orchestra plays venues around the world, spreading their message of hope and innovation. This beautiful picture book tells the remarkable true story of the Recycled Orchestra through the eyes of one girl who dreamed of music.
The Kid From Diamond Street: The Extraordinary Story of Baseball Legend Edith Houghton
Edith Houghton was only ten years old in 1922, but that didn't stop her from trying out for a women's professional baseball team, the Philadelphia Bobbies! Though she was the smallest on the field, soon reporters were talking about "The Kid" and her incredible skill, and crowds were packing the stands to see her play. Her baseball career would take her far from home — even as far away as Japan — and lead her to become the first woman hired as a scout for a professional baseball team. Audrey Vernick and Steven Salerno have collaborated to bring us a captivating picture book biography about a remarkable woman and a compelling but little-known piece of baseball history.
Anything but Ordinary Addie: The True Story of Adelaide Hermann, Queen of Magic
Some girls are perfectly happy never doing anything out of the ordinary, but not Addie! At a time when a young lady appearing onstage was considered most unusual, Addie defied convention and became a dancer — and when she married the world-famous magician Herrmann the Great, she became part of his show, even agreeing to be shot out of a cannon. But when Herrmann the Great died, Addie couldn't disappoint her loyal fans; she decided she would perform the show all by herself! This true story of one of the first female conjurers in show business includes extensive back matter, including instructions for performing one of Addie's original tricks.
Star Wars: The Force Awakens Storybook
Many years have passed since the Rebel Alliance was victorious over the evil Empire, and the galaxy has been at peace. But a new darkness is rising, and now the brave men and women of the Resistance must stand against Kylo Ren and the villainous First Order. And they will have an unexpected ally: a young scavenger named Rey, with a mysterious past and an awakening power that will be critical to their victory. This retelling of the movie, perfect for newly independent readers, is sure to be a hit with young Star Wars fans. For more books, toys and posters featuring the hero of Star Wars: The Force Awakens, visit our Rey Collection.
The Wild Robot
Roz the robot opens her eyes for the first time to find herself alone on a remote island, full of nothing but wilderness. There's no time to wonder how she got there — or why she's exists — before she's already facing danger. A fierce storm and a vicious bear attack convince Roz that the best way to make it is to adapt, observe, and learn from the island's animals. Slowly, the animals adapt to Roz too, and before long, the island is feeling like home. But can Roz really live a wild, free life — even when her creators finally come looking for her? Author/illustrator Peter Brown tells an exciting and touching story about nature, technology, and what it means to belong.
A Smart Girl's Guide: Worry
Everyone worries sometimes, but whether big or small, if worries start taking over your life, they're a problem! This book will help tweens take charge of their worries and learn strategies to help them manage anxiety and build confidence. Quizzes will help girls figure out what sorts of situations are most likely to spark her worries, while tried-and-true techniques for overcoming fears and calming emotions will give her strategies to use no matter what's bothering her. Plus, real-life stories about everything from big tests to conflicts with friends to major life changes like a move or divorce in the family help her learn what worked for girls just like her. This valuable addition to the American Girl Library belongs on every tween's bookshelf.
Isabel Feeney, Star Reporter
In 1920s Chicago, 10-year-old Isabel is already the only girl who sells the Tribune on the street corner, but she has even bigger ambitions: she dreams of being a real news reporter. So when she stumbles onto a real live murder scene — and bumps into her hero, the famous journalist Maude Collier — she's determined to take advantage of this big chance. But her friend ends up falsely accused of the crime, and soon Isabel is chasing clues around town on her quest to find the real killer. With twists, turns, and multiple suspects set in a thrilling environment of guns, gangsters, and 1920s glamour, this middle grade novel will delight young mystery fans.
Sophie Quire and the Last Storyguard
12-year-old Sophie knows little beyond the four walls of her father's bookshop, where she repairs old books and dreams of escaping the confines of her dull life. But when a strange boy, Peter Nimble, and his talking cat/horse companion show up with a rare and mysterious book, she finds herself pulled into a real-life adventure beyond anything she has ever read! This companion to Peter Nimble and His Fantastic Eyes introduces an intriguing new Mighty Girl character to Jonathan Auxier's fascinating world of magic and mystery.
It Ain't So Awful, Falafel
Zomorod Yousefzadeh is the new kid — again. Her family's most recent home is California's Newport Beach, where she's going to start fresh and establish herself as something other than the brainy loner. She's even picked her perfect new, and very American, name, Cindy. But in the late 1970s, with Iran making headlines in the U.S. with protests, revolution, and finally the taking of American hostages, even mood rings and puka shell necklaces can't protect Cindy from anti-Iran sentiments that are way too close to home. The first middle grade novel by the author of the best-selling adult memoir Funny in Farsi, this story tackles the challenge of holding on to beloved traditions — even in the face of racism and fear — while also adopting new customs and friendships.
Once Was A Time
Charlotte Bromley's life in war-torn 1940 England feels desperately uncertain: the only thing she knows for sure is that her best friend, Kitty, will always be there for her. But when Charlotte's scientist father makes a shocking discovery — real time travel — Charlotte finds herself making a split second decision between staying where and when she is, despite the danger, or fleeing to safety across the years. Instinctively, she chooses safety, but while life in 2013 Wisconsin may be safe, it's totally foreign and missing the one person she's always leaned on. As determined as Charlotte may be, will she ever find her way back to Kitty? This imaginative story pays tribute to the power of friendship in our most difficult times.
Raymie Nightingale
Raymie has a plan: she'll win the Little Miss Central Florida Tire competition, her father will see her picture in the paper, and he'll forget all about the dental hygienist he ran away with and come home. Winning the competition requires new skills, from baton twirling to dealing with her fellow competitors — including Louisiana Elefante, who has a show business background but faints constantly, and Beverly Tapinski, who's determined to sabotage the whole thing. But as the competition approaches, the three girls develop an unexpected bond based on loneliness, grief, and a series of adventures in which each girl gets a chance to come to the rescue. Two-time Newbery Award-winning author Kate DiCamillo has crafted a unique and deeply appealing character in Raymie, and young readers will love watching her struggle with the world around her and finally find a degree of peace.
Wolf Hollow
Even Annabelle's small Pennsylvania town has been touched by the two world wars that ravaged the world, but day to day life there has been quiet until the day a new student, Betty Glengarry, comes to her school. Betty is cruel and delights in bullying the vulnerable people around her — including reclusive World War I veteran Toby. Annabelle knows that Toby is kind, but the other people in town see nothing but his odd behavior. As Betty agitates the town against Toby, Annabelle will have to find the courage to be a voice of justice... even if she's standing alone. This haunting novel raises questions about right and wrong — and what marks the dark parts of history leave on all of us.
Summerlost
It's the first summer since Cedar's father and brother were killed in an accident, and Cedar and what's left of our family are returning to the town of Iron Creek. Cedar's mom sets herself to fixing up the house, leaving Cedar and her younger brother to explore on their own. When Cedar sees a boy in a costume ride by on a bike, she's curious enough to follow him — and discovers the renowned local theater festival. With a new friend, a job at the festival, and a mystery to occupy her mind, Cedar might find the most valuable thing of all: healing. This touching and tender novel uses lyrical language and vibrant characters to tell a heartfelt story about grief and resilience.
Counting Thyme
If Thyme's little brother Val is going to get an experimental new cancer therapy that may save his life, it means moving thousands of miles away, to New York. Thyme consoles herself by treating the move as temporary, but when Val shows real improvement and their father accepts a full-time position, she realizes that she might have to start thinking of New York as home. As she wrestles with the guilt of wanting to leave, Thyme also faces new friends, a first crush, a crotchety neighbor and his sweet whistling bird, and perhaps the biggest challenge of all: learning that it's okay for her to have her own needs and how to tell the people who love her that she does. This contemplative, touching book with an appealing, believable protagonist is sure to tug at the heartstrings.
A Girl Called Vincent: The Life of Poet Edna St. Vincent Millay
From a childhood in poverty in rural Maine, the rebellious, creative Edna — known as Vincent — became an acclaimed poet and the embodiment of the liberated Jazz Age woman. By young adulthood, she was bewitching audiences with her performances and dreaming of life beyond her small community. Despite the challenges of a life in the public eye in both New York and Paris, she still wrote bestselling volumes of poetry, plays, translations, and even antiwar propaganda and an opera. This fascinating biography of Edna St. Vincent Millay, packed with photos, poems, letter and diary excerpts, a time line, and bibliographic notes, perfectly captures this remarkable, Pulitzer Prize-winning author's dedication, creativity, and passion.
Women In Blue: 16 Brave Officers, Forensics Experts, Police Chiefs, and More
Sleuths in skirts, guardian mothers, copettes, and police in petticoats... it took over 150 years before women in police forces were known simply as police officers, and even today, girls interested in a career in law enforcement know very few role models to look up to. This book will change that! With sixteen stories ranging from trailblazers of the past to the officers tackling today's challenges, this excellent introduction to women in policing is intriguing, inspiring, and detailed. Young adult readers will particularly enjoy the colorful anecdotes that show what life as a real police officer is actually about. This new entry in the popular Women of Action biography series will delight aspiring officers, detectives, and forensic scientists.
How To Like Yourself: A Teen's Guide to Quieting Your Inner Critic and Building Lasting Self-Esteem
Teens are particularly vulnerable to low self-esteem: between the increasing demands of school, friends, and dating and the many physical and emotional changes they're experiencing, it can easily feel like they're strangers in their own skin. And often, their biggest critic is themselves! This useful guide provides tips and strategies for teenagers to help them silence their inner critic, accept their faults, and celebrate their gifts and skills — all while developing a new, gentler inner voice that can support and sustain them throughout the rest of their lives. This new entry in the Instant Help Solutions series offers valuable advice that can benefit any teen.
Tell Me Three Things
Jessie's mother died less than two years ago, and she's still grieving, but her father has married a woman he met online, forcing Jessie to move across the country to live with her new stepmother and her pretentious son. Her new prep school — demanding, cliquish, and intimidating — doesn't make things easier. Just when Jessie is ready to give up, she gets a mysterious e-mail from Somebody/Nobody (SN for short.) SN says they want to help her navigate the social wilds of her new school, and although she's hesitant at first, Jessie soon starts leaning on SN as a friend and ally. But when Jessie decides she wants to meet SN, will she discover that some mysteries are best left undiscovered? This touching debut novel about grief, hope, and becoming comfortable in your own identity is sure to speak to teens.
The Way I Used To Be
Eden has always been the good girl, but when her brother's best friend rapes her, her world is turned upside down. She knows she should tell someone what happened, but she doesn't know how, so she buries it instead... along with the person she used to be. The new Eden doesn't know how to manage the trauma she's suffered, and the aftereffects damage both her own mental health and her friendship. But as she continues her journey through high school, can Eden find a way to make peace with the new her — and see the possibility of a happy future? Told in four parts — freshman, sophomore, junior, and senior year — this heartbreaking story of surviving sexual assault and embracing your own strength will be a thought provoking read for older teens.
Balanced and Barefoot: How Unrestricted Outdoor Play Makes For Strong, Confident, and Capable Children
Sometimes it seems like kids can learn all they need indoors, but studies show that rough and tumble outdoor play — the kind that's directed by kids rather than by parents or teachers — is critical to develop sensory, motor, and executive functions. In fact, there's even evidence to suggest that a lack of movement contributes to ADHD, sensory processing issues, emotional regulation problems, and aggressiveness with peers. Using the philosophy of her popular TimberNook program, author Angela Hanscom provides ideas and strategies for parents and educators to ensure that kids get the play they need, whether they live in the country or in an urban environment. You'll be amazed at how a few simple changes can make your child happier — in mind, body, and spirit.
Girls & Sex: Navigating the Complicated New Landscape
There's a big generation gap between parents and today's girls, and few mothers and fathers really know what their daughters understand and feel about sexuality — or what they're doing about it. Using in depth interviews with 70 girls and young women, as well as discussions with psychologists, academics, and other experts, Peggy Orenstein — author of the bestselling book Cinderella Ate My Daughter — tackles how changes in society are affecting girls. Rather than laying out "truths" about the current complicated landscape, though, Orenstein focuses on starting a conversation about how today's girls really feel about their lives in today's culture. Empathetic and direct, this is a must read for anyone concerned about the effects of society on our girls.
Braving It: A Father, A Daughter, and an Unforgettable Journey into the Alaskan Wild
When James Campbell's cousin invited him to spend a summer helping build a cabin in Alaska's Arctic National Wildlife Refuge, he was hesitant to bring his fifteen-year-old daughter, Aidan, along: would she be up for mosquitoes, grizzly bears, bathing in frigid water, and hours of hard labor peeling and hauling logs? To his surprise, though, Aidan thrived on the challenge, and quickly fell in love with the Alaskan wild. So as a special rite of passage, father and daughter returned to Alaska for one final, ambitious trip: backpacking across the Brooks Range to the Hulahula River, building a folding canoe, and paddling to the Arctic Ocean. This memoir of a challenging but rewarding father-daughter adventure is both touching and funny in turns, and beautifully captures the experience of watching — and letting — a child truly grow up.
Rise of the Rocket Girls: The Women Who Propelled Us, from Missiles to the Moon to Mars
When the Jet Propulsion Laboratory, founded in the 1940s, needed clever mathematicians for calculations, they recruited a group of young women whose penciled equations about velocities and plot trajectories would propel the science of space exploration. Over two decades, these dedicated women would transform rocket design, allow the creation of the first American satellites, and eventually, make it possible to explore our solar system — and yet few people know their story. Nathalia Holt tells the story of these groundbreaking "human computers" who broke new ground for both women and science in a compelling and exciting way. Inspiring and thought-provoking, this book will change the way you look at the history of space travel — as well as its future.
Lab Girl
Hope Jahren is an acclaimed geobiologist, but her first book is much more than a textbook on plants and dirt: it's also a story of work, love, and the way a partnership can transform both. It begins with a childhood in Minnesota with an uncompromising mother and a father who encouraged "play" in his classroom's labs. Then, as an adult, she meets Bill, a brilliant but wounded person who becomes her lab partner and her best friend. Their adventures would take them to the North Pole, Hawaii, and across the North American continent on a quest for knowledge about the remarkable details and processes that lurk within the simplest of things. Full of a love of science and discovery, Jahren's book also captures the passion and tenacity it takes to make a career and a life out of what you love.
First Ladies of Running: 22 Inspiring Profiles of the Rebels, Rule Breakers, and Visionaries Who Changed the Sport Forever
Can you imagine a time when officials tried to push a woman off course at a race, or when trainers who tell women that long-distance running could damage their reproductive organs? Or even a time when women would pretend to pick flowers to avoid the embarrassment of being caught running for exercise? Amazingly, these stories are only half a century old — and without the women who defied these ideas, women's sports would be drastically different! Longtime Runner's World editor Amby Burfoot chronicles 22 of the inspiring women runners both past and present who smashed through the cultural barriers in their way — as well as those who are still tackling them today. Empowering and thought-provoking, this tribute to women running pioneers is long overdue!
Additional Recommended Resources