A Mighty Girl's top picks of mysteries for children and teens starring Mighty Girl detectives!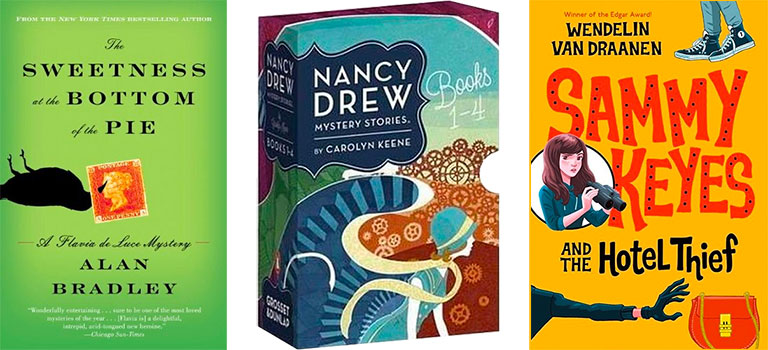 From uncovering a mystery to the hunt for clues, from mistaken conclusions to the big reveal, many Mighty Girls love detective stories! And, while many of the most favorite fictional detectives, from Sherlock Holmes to Hercule Poirot, are male, there are many excellent mysteries starring female detectives who lead investigations, study the evidence, and solve the mystery — all perfect for inspiring the would-be detectives of tomorrow!
If your kids love mystery stories — or dream of being detectives themselves one day — then you're sure to find a book they'll love in our new collection of the best in Mighty Girl detective stories! These books are full of curious, determined, and clever female characters who refuse to let things go until they find the truth. We've even included a few stories featuring one of the first real-life woman detectives!
For more mysteries starring Mighty Girls, visit our Mystery & Suspense Collection. Would-be detectives can also hone their skills with A Year of Mini Mysteries: 29 Tricky Tales to Untangle for ages 8 to 11 and Bella's Mystery Deck for ages 9 to 12.
Mighty Girl Detective Stories
There's been a break-in on Orange Street, where Hilde Lysiak, 9-year-old reporter, lives: first some cupcakes are stolen, then a pie follows suit. Never one to back down from a challenge — or a story — Hilde sets out to crack the case. She'll interview witnesses and look for clues... but can Hilde get the job done in time for her online deadline for the Orange Street News? This first volume of an early reader series based on real stories that Hilde has covered in her work as the country's youngest crime reporter features easy text and illustrations on every page. With new vocabulary and high-interest stories, they're sure to be favorites with young mystery fans! Fans of Hilde can check out the second book, Bear on the Loose!.
Additional Recommended Resources