A Mighty Girl's favorite stories focused on helping young children prepare for school and celebrating back-to-school time!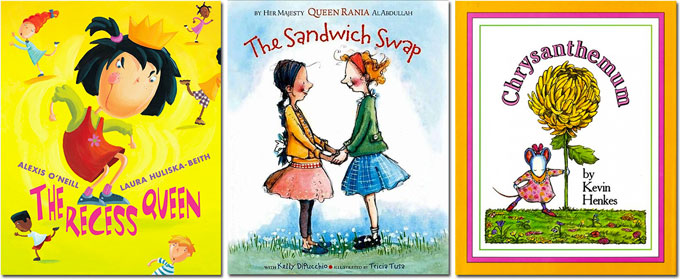 It can be easy for adults to forget that, for kids, school is an adventure: sometimes exhilarating, sometimes nerve-wracking, and always full of new experiences! Each year at school, kids face new challenges like building relationships with peers, meeting new expectations from teachers, and discovering their own talents and gifts. And, like any time you start an adventure, it helps to be prepared — with a few good books to reassure Mighty Girls that they're ready to take on whatever comes their way!
Whether your Mighty Girl is starting school for the first time, moving to a new school, or just anticipating the start of a new year, these books will help her feel prepared. By answering some of her questions about what it will be like — and reassuring her that there are wonderful things to learn and do there — you can help your Mighty Girl get excited about her first day.
If you have a young child who is just starting school for the first time, you can also find girl-empowering books focused on calming first day jitters in our blog post, The Big Day: 15 Picture Books About Mighty Girls Starting School.

School Is An Adventure!
Kids may not always think of it this way, but school is an adventure! From meeting new friends to discovering unexpected interests to finding your place among your peers, school is full of experiences that will get your Mighty Girl heading in new directions. These books will help kids look forward to the exciting new adventures they'll find at school.
Kids sometimes struggle to find out where they fit in among the wider world of their peers. Peppa's school day is full of fun, but she's most excited for Special Talent Time, when each member of the class will get to show off something amazing they can do. But Peppa's excitement turns to worry when, one after another, other students pick her talents to demonstrate! Fortunately, with a little help from her sympathetic teacher, Peppa realizes that everyone has special gifts — and that even seemingly simple things like hopping in puddles can make for a special day at school.
Celebrating Differences
One of the great things about school is that it introduces kids to the many different people around them! The Mighty Girls in these books demonstrate how school can broaden their own — or others' — view of the world.
Valuing Education
One of the most important things we can communicate to our Mighty Girls, though, is how special it is to be going to school. Whether you're celebrating the value of a great teacher, a dedicated librarian, or simply education itself, these books will help you encourage your daughter to treasure her opportunity to learn. For more books about girls who will do anything to learn, check out our blog Honoring Malala: Mighty Girl Books on Children's Fight for Education.
School is the beginning of an amazing, life-long journey of learning. Hopefully, with a few good books — and supportive friends and family — she'll feel ready to take her first big steps into the wider world!
Additional Recommended Resources