A Mighty Girl's favorite stories focused on helping young children prepare for school and celebrating back-to-school time!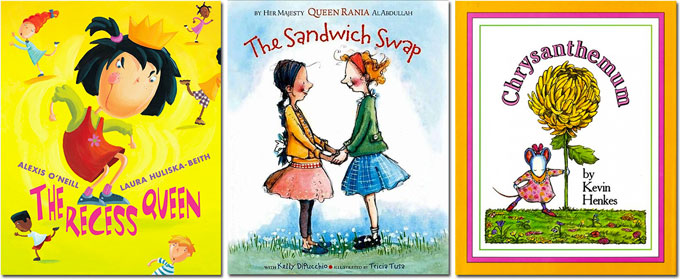 It can be easy for adults to forget that, for kids, school is an adventure: sometimes exhilarating, sometimes nerve-wracking, and always full of new experiences! Each year at school, kids face new challenges like building relationships with peers, meeting new expectations from teachers, and discovering their own talents and gifts. And, like any time you start an adventure, it helps to be prepared — with a few good books to reassure Mighty Girls that they're ready to take on whatever comes their way!
Whether your Mighty Girl is starting school for the first time, moving to a new school, or just anticipating the start of a new year, these books will help her feel prepared. By answering some of her questions about what it will be like — and reassuring her that there are wonderful things to learn and do there — you can help your Mighty Girl get excited about her first day.
If you have a young child who is just starting school for the first time, you can also find girl-empowering books focused on calming first day jitters in our blog post, The Big Day: 15 Picture Books About Mighty Girls Starting School.

School Is An Adventure!
Kids may not always think of it this way, but school is an adventure! From meeting new friends to discovering unexpected interests to finding your place among your peers, school is full of experiences that will get your Mighty Girl heading in new directions. These books will help kids look forward to the exciting new adventures they'll find at school.
Peppa Pig and the Busy Day at School
Kids sometimes struggle to find out where they fit in among the wider world of their peers. Peppa's school day is full of fun, but she's most excited for Special Talent Time, when each member of the class will get to show off something amazing they can do. But Peppa's excitement turns to worry when, one after another, other students pick her talents to demonstrate! Fortunately, with a little help from her sympathetic teacher, Peppa realizes that everyone has special gifts — and that even seemingly simple things like hopping in puddles can make for a special day at school.
The Night Before Kindergarten
In this clever story based on the poem "The Night Before Christmas", the soon-to-be kindergarten students are full of excitement, anticipation... and a few worries. But on the morning that school comes, the kids are ready to face a day full of adventure — it's the parents who shed a few tears! Fortunately, they're mostly tears of joy at watching their big girls and boys head in through the classroom doors set out on their school adventure!
On My Way To School
Even getting to school on time can be an adventure — sometimes there are just too many distractions on the way! This creative little girl finds it hard to hustle along when she could be an elephant at the waterhole, a climber reaching the summit of Mount Everest, or a celebrity posing for photos! This cheerful and funny book is sure to be a hit with any child who wants just one more minute for her games.
How to Get Your Teacher Ready
There's lots to do if you're going to help your teacher be ready for the first day of school — let alone all the other big days of the school year, from picture day to concerts to the 100th day of school! In this hilarious book by the author of the bestselling How To Babysit A Grandma, a diverse class of kids do their best to help their teacher make it through a busy year — and along the way, they feel more prepared too. Full of role-reversal humor and detailed illustrations that will get kids laughing, this book is sure to be a hit.
Edda: A Little Valkyrie's First Day of School
Even the bravest of kids might feel some anxiety about their first day. Edda the Valkyrie has everything she's ever wanted in her exciting home of Asgard except a friend her own age. Her father tells her that there's a place on Earth called "school" where she could seek out her peers...if she dares. School is very different from Asgard, but thanks to a little Valkyrie courage and determination, it's not long before Edda feels right at home.
Lilly's Purple Plastic Purse
Lilly loves school, and her teacher Mr. Slinger — until he confiscates her wonderful, musical purse because she's interrupting the lessons. Furious, Lilly channels her outrage into an elaborate drawing of "Big Fat Mean Mr. Stealing Teacher" that she slips into Mr. Slinger's bookbag. But when she gets her purse back at the end of the day — with a kind note from Mr. Slinger tucked inside — Lilly has to figure out a way to make up for her impulsive act of revenge. This book is a great way to remind kids that mistakes can be forgiven if you're willing to make amends.
Adventure Annie Goes To Kindergarten
An adventurous spirit is welcome at school — as long as you still know when to follow the rules. Annie is sure she'll have some tremendous stories to tell about kindergarten — she even comes prepared with her Adventure Annie cape! But Mr. Todd's Gold Star Rules are hard to follow when you're seeking a grand adventure. Annie wants to be that day's Gold Star Deputy, but it looks like the chances of that are slim — until two helpers get lost, and Annie gets to have her adventure and follow the Gold Star Rules.
The Night Before First Grade
Sometimes, your school adventure has to happen without familiar friends by your side! Penny is excited for the first day of grade one — until she discovers that her best friend has been assigned to the other class. Although she's temporarily upset and anxious, soon Penny is exploring everything her new classroom has to offer and making some new connections with other classmates. Imagine the fun stories she and her best friend can share when the school day is done!
The Bear Report
One of the big revelations at school is discovering that "boring" topics are actually amazing! Sophie doesn't want to write a research report on polar bears: they're big, they're mean, they eat things — what more is there to say? Then polar bear named Olafur swoops her away to the Arctic, where she learns all about the playful bear's habits and habitat, from glacier mice to the northern lights. It turns out that polar bears and the Arctic are pretty interesting after all! This book captures the power of curiosity and imagination to make the whole world interesting.
Velma Gratch and the Way Cool Butterfly
Few things are as exciting as when a child discovers a special interest or talent! Velma doesn't think anyone will ever notice her — her two older sisters were perfect, and Velma can't possibly compete with that. So if she can't compete by being the best, she decides she'll compete by being the worst. But when her class goes to the butterfly conservatory and a monarch decides that Velma's finger is the perfect place to perch, Velma discovers her own way to stand out. A great way to reassure kids that everyone has talents — and to foster an interest in science and bugs — this book will get your Mighty Girl thinking about what new interests she'll discover once she starts school.
Stand Tall, Molly Lou Melon
Little Molly Lou has always been proud of who she is...even if she is tiny, buck-toothed, and clumsy. Even her singing voice is like nothing anyone's heard before! When Molly Lou moves to a new school and has to face a bully's jeers, she remembers her grandmother's advice and turns every "disadvantage" to good use. Soon, everyone at school has learned that you should never underestimate Molly Lou Melon! Kids will love feisty, funny, and completely confident Molly Lou and will enjoy figuring out their own ways that they can "sing out clear and strong." Fans of Molly Lou can also check out the sequel, Have Fun, Molly Lou Melon.
The Recess Queen
A common challenge kids face at school is deciding what to do about a bully — whether they're the target or a bystander. Mary Jean is the Recess Queen at her school, bossing everyone around under threat of temper tantrums and worse. Then a new girl comes to school...a girl who doesn't know that Mary Jean is Recess Queen. After innocently doing all the things that are forbidden under Mary Jean's rule, Katie Sue halts the coming meltdown in its tracks with an invitation to play. This funny book is a great way to talk to kids about bullying tactics — and how a courageous kid can short-circuit them.
Cowgirl Kate and Cocoa: School Days
Cowgirl Kate is finally off to school — but horses aren't allowed, which means that Cocoa has to stay at home. Cocoa is lonely, and follows Kate's bus to the school; he's also a bit jealous when he sees her making a new friend. And it's exasperating that she has to do homework when Cocoa just wants to ride! Fortunately, Kate is able to reassure Cocoa that he's always her partner...and when schoolwork is done, there's still plenty of time for them to adventure together! Fans of Cowgirl Kate and Cocoa will love this story, with short illustrated chapters that independent readers can even enjoy on their own!
The Hair of Zoe Fleefenbacher Goes To School
Expectations get tougher when you move into first grade, which can cause conflicts between students and teachers. Zoe's wild hair, which can pet the cat and play on the computer, was acceptable for kindergarten — but her new first grade teacher, Ms. Trisk, declares, "No wild hair in my class!" Zoe's hair gets subdued — along with her spirits. However, when Zoe's sentient hair breaks free just in time to help with a lesson, Ms. Trisk has to admit that there's a place for Zoe's hair in her class after all. In addition to providing a look at the transition between kindergarten and grade one, this book provides a funny reminder that teachers learn from their students too.
Smashie McPerter and the Mystery of Room 11
Sometimes, school provides unexpected opportunities for adventure — like a mystery to solve! Smashie McPerter's class is not only facing the worst substitute in the world, Mr. Carper, but also dealing with the unexpected disappearance of the class hamster. As the students of Room 11 start peering suspiciously at one another, Smashie and her friend Dontel have to start puzzling out motivations, establishing alibis, and looking beyond immediate suspects if they want to solve this mystery! Fans of this book can pre-order the sequel, Smashie McPerter and the Mystery of the Missing Goop, which releases this fall.
Gooney Bird Greene
When kids move into a new school, they have to find their place in a group that's already established. Watertower Elementary School isn't sure what to make of newly-arrived second grader Gooney Bird Greene: her wild outfits — never the same twice — make her stand out wherever she goes. But once she starts telling her "absolutely true" stories, her peers are fascinated. Most importantly, though, Gooney Bird's new perspective allows all of her classmates to see new potential in themselves.
Ramona the Pest
Remembering all the rules of school — and following them — is another challenge for many Mighty Girls! Beverly Cleary's irrepressible Ramona Quimby is excited to learn all the important things school has to teach her, but how can she resist the many temptations in front of her — like writing the letter Q instead of turning it into a cat, or resisting the urge to pull on a classmate's "boing-boing" curls. Cleary depicts Ramona's struggles with compassion and optimism, and in the end, even exuberant Ramona finds her place. This book is great as a read-aloud for younger girls — and you can tell your Mighty Girl that someday soon, she can read it to you!
Izzy Kline Has Butterflies
A class musical, a new girl in class (maybe a new friend?), changes at home...there's a lot going on in Izzy's life this year. No wonder she has butterflies! In a series of poems, Izzy wonders how many of these butterfly problems she can take, and contemplates how things are changing as she gets older and life inevitably gets more complicated. Thoughtful and gentle, this novel in verse explores all of the big and small moments that make up a school year — and celebrates the determination and resilience of kids who face their butterflies every day.
Celebrating Differences
One of the great things about school is that it introduces kids to the many different people around them! The Mighty Girls in these books demonstrate how school can broaden their own — or others' — view of the world.
The Sandwich Swap
Culture clashes can appear in surprising places — even inside a lunch box! Salma and Lily are best friends until they get into a fight over whose lunch is better, Salma's hummus or Lily's peanut butter and jelly. Soon, their argument has polarized the school and resulted in a very messy food fight! Fortunately Lily and Salma realize that their friendship can overcome such minor differences and, before long, they're helping organize a multicultural lunch swap that celebrates everyone.
Chrysanthemum
Even something as simple as a name can be a point of pride — or contention. Chrysanthemum loves her unique, fancy name, but when she gets to school, her classmates make her question if it's "normal" to be named after a flower. And even that small difference is enough to get Chrysanthemum singled out on the playground, making her normally secure self-esteem wilt like a plucked blossom. Fortunately, it's not long before the class is introduced to their music teacher, Mrs. Delphinium Twinkle, and Chrysanthemum realizes that her long and unusual name is still something she can be proud of.
My Name Is Yoon
Yoon is a recent immigrant from Korea, and just wishes she could go back. Her name means Shining Wisdom, and written in Korean characters, it's beautiful — but in English, YOON is just all sticks and circles. So at school, she tries other names like BIRD, CAT, and CUPCAKE. But Yoon realizes that, whether it's written in English or Korean, Yoon is still Yoon — and that she can belong here just as she did in her previous home. For another book with a similar theme about appreciating your heritage in a new country or culture, check out The Name Jar by Yangsook Choi (age 4 - 8).
Willow's Whispers
If your child is shy or struggles with a speech disorder, she may want a book that features a Mighty Girl like her — or, for kids who don't wrestle with these issues, that same book can help build empathy for the challenges other children face. Willow's voice is so quiet that she's bared heard at home; in a busy, loud classroom, Willow gets drowned out completely. Her father reassures her that there's a big voice inside her, and that she'll find a way to let it out...so at craft time, Willow makes herself a magic megaphone that gives her the volume she needs. But when she breaks the megaphone, will Willow still have her voice? This book reminds kids that everyone deserves the chance to make themselves heard.
Dotty
It's important for Mighty Girls to know that there's nothing wrong with being different from their peers — even if classmates joke about it. Ida shows up for her first day of school with her imaginary friend Dotty, and is delighted to discover that lots of other kids have brought their own imaginary friends. But as the year goes on, fewer and fewer special friends come to school, and soon, Katya's jeers about Dotty make Ida furious. Ida's fit of temper results in having to stay after school, where her teacher introduces her and Dotty to her own imaginary friend, still by her side. This a charming story that reminds kids that it's okay to grow at your own pace.
Stella Brings The Family
Everyone in class is excited about the big Mother's Day party... except Stella. She has two daddies who make her feel more loved than anyone else could. She also has lots of other people who love her: a large extended family who support her and encourage her in everything she does. But she doesn't have a mom to bring to the party. In the end, though, thanks to that same supportive crowd — and a little inspiration from a classmate — Stella finds the perfect solution to celebrate her very special family. This book provides a good reminder that there are all sorts of families behind the kids you meet at school.
Stephanie's Ponytail
School-aged kids start thinking more and more about whether or not they "fit" with their peers — but not everyone wants to be part of a crowd! Stephanie is determined to stand out by wearing her hair in a way that nobody else does. Every time she arrives at school with a new hairstyle — which is always proclaimed, "ugly, ugly, very ugly!" by her classmates — she returns the next day to find nothing but copycats. Her frustration grows as more and more people copy each new style she tries — until she thinks of the perfect way to show everyone the value of individuality and independent thought. The end of this book will have your Mighty Girl laughing, and it's a great way to start conversations about peer pressure and personal style.
My Three Best Friends and Me, Zulay
An important part of celebrating differences is making sure that everyone can participate in special events. Zulay is blind, but she can do everything her three best friends and classmates do, even though she feels a bit self-conscious about learning to use a cane in front of her peers. When their teacher starts talking about Field Day, Zulay decides she wants to run a race, but her classmates fall silent at the suggestion: how can she possibly do it? Fortunately, their teacher is confident that Zulay can find a way -- and with a little help, Zulay gets to cross the finish line to her friends' cheers! This joyful story is a great way to show how a little ingenuity can allow kids of all abilities to join activities.
One Green Apple
A student in a new country might not be dealing with just a new school — they may also be wrestling with language and cultural differences. Farah is a Muslim girl, recently immigrated to America, whose dupatta and minimal English make her feel like she'll never belong. But when her class takes a field trip to an apple orchard, Farah discovers that many things are familiar in her new country. And when Farah selects a green apple to go in the cider press, instead of red apples like all the other children choose, she teaches her classmates that there is great value in intermingling different things.
Suki's Kimono
Some children love showing off their family's culture, even if it's different from the rest of their peers. Suki's obachan brought a beautiful blue cotton kimono when she visited over the summer, and Suki is determined to wear it to her first day of first grade, despite her sisters' protests and her schoolmates' laughter on the playground. But when the kids in class get to talk about favorite moments from the summer, the kimono is the perfect thing to wear as Suki energetically demonstrates a traditional dance! This book celebrates multiculturalism and pride in heritage, as well as all girls who dance to the beat of their own drummer.
Amazing Grace
When other kids tell you that your interests aren't valid, it can be hard to know what to do. Grace loves acting out stories from books, so when the school decides to perform Peter Pan, she's determined to be Peter. Her classmates protest: Peter is a boy, and he's not black! Fortunately, with the support of her Ma and Nana — who take her to see a famous black ballerina and tell her she can be anything she wants if she puts her mind to it — Grace returns to school determined to fight for the role. It turns out that a black, female Peter Pan is just right!
The Pirate of Kindergarten
Sometimes a little creativity can make a difference into something fun! Ginny can't figure out why she sees two of everything until vision screening day at school, when the nurse diagnoses her with double vision. An eye patch solves the vision problem, making reading, running, and scissor-snipping much easier, but Ginny wonders at first how her classmates will react. Soon, though, she comes up with a creative new identity: the Pirate of Kindergarten! This story provides encouragement for kids who are worried about how peers will react to their own difference.
Each Kindness
School may also be the first time children are exposed to people from different economic circumstances. In this book, Chloe and her friends refuse to play with the new girl, Maya, when they see her hand-me-down clothes and old toys. Every time Maya tries to join in, they reject her; soon, Maya doesn't even try, and eventually she stops coming to school altogether. However, a lesson from Chloe's teacher about the effects of small actions strikes home, and suddenly Chloe realizes what a kindness the simple act of playing with another child would have been. This stunning book is an excellent lesson in empathy, as well as a reminder to Mighty Girls that there are some actions you don't get the chance to take back.
The Junkyard Wonders
Kids need to know that differences in ability don't change the value of a person. Tricia, who has dyslexia, is horrified to discover that the special education classroom at her new school is called "the Junkyard" — the kids, including a student with Tourette's Syndrome, a mute girl, and a boy with a visual impairment, are the misfits of the school. But their teacher, Mrs. Peterson, teaches them to adopt the name with pride, taking them to an actual junkyard and showing them the potential that lies within it — and them. And when one of their classmates dies, the Junkyard Wonders pay special tribute to him with something that most people would write off as trash. This heartfelt book will teach readers to seek the unique talents in every person.
My Name is Maria Isabel
Maria's name is long and important — Maria Isabel Salazar Lopez, from both her grandmothers, her grandfather, and her father. But when she arrives in her new class after moving from Puerto Rico, her teacher declares that there are too many Marias, so she'll be called Mary. How can Maria explain to her teacher that her special name is a reminder of where she came from? Fortunately, when the class is assigned a paper titled "My Greatest Wish," Maria finally finds the words to tell everyone how special her name is — and why she will always be Maria Isabel. Spanish-speaking Mighty Girl fans can read the Spanish-language version of the book, Me Llamo Maria Isabel.
Valuing Education
One of the most important things we can communicate to our Mighty Girls, though, is how special it is to be going to school. Whether you're celebrating the value of a great teacher, a dedicated librarian, or simply education itself, these books will help you encourage your daughter to treasure her opportunity to learn. For more books about girls who will do anything to learn, check out our blog Honoring Malala: Mighty Girl Books on Children's Fight for Education.
Teachers Rock!
Teachers are amazing! They teach you new things, make you laugh, and help you meet new friends. They always encourage you to do your best. They make the classroom a great place to be! Beloved author/illustrator Todd Parr's new book is bursting with positivity about school and the people who make it special. It even includes a free pull-out poster that's perfect for making either your home or classroom a celebration of the special teachers in the world.
My Teacher
In this sweet book, a little girl thinks about the amazing things she learns from her teacher as the class listens to jazz music, writes their own stories, contributes to their community, and celebrates their differences. She knows that her teacher could easily get a job at any school she wants — maybe at a bigger one, in a better neighborhood, or with more funding. But her teacher reveals that she was a student at this very school as a child, and now that she has achieved her own dream, she intends to make sure the other children here can do the same. It's a wonderful testament to the fact that a good teacher is the best gift a child can receive.
Thank You, Mr. Falker
A great teacher is even more important when a child is struggling. Trisha is excited to go to school and learn to read — until she discovers that all the letters in her books are just a jumbled mess, no matter how hard she tries. Her classmates don't understand and think she's stupid, and soon, she starts to agree with them. Fortunately, Mr. Falker, a new teacher at the school, is able to recognize what's keeping Trisha from being able to read — and to identify her remarkable artistic talent. Based on author Patricia Polacco's real experiences as a child with dyslexia, this book will teach kids that determination — plus support from a great teacher — can help anyone learn.
The Art of Miss Chew
Trisha's story continues in this book that highlights how teachers can advocate for their students. Now that Trisha has discovered a passion for art, she's thrilled when she gets into Miss Chew's exclusive art class at the high school, where she learns to see art in a whole new way. But a substitute teacher chides Trisha for wasting her time on art when her schoolwork is so poor, and refuses to give her the extra time she needs to write her tests. Fortunately, Miss Chew is ready to help her student fight for what she needs to thrive — both the extra time and the art she loves.
Mr. Wayne's Masterpiece
A good teacher can help kids test their limits and move out of their comfort zones! Trisha is dismayed when she ends up in drama class because she hates speaking in front of people. Mr. Wayne gives her a backstage job painting scenery, and she cheerfully works away while the actors rehearse — all the while unintentionally memorizing the lines. But a few days before opening night, the girl playing the lead suddenly moves away. Can Mr. Wayne help Trisha overcome her stage fright so that the show can still go on? It's a beautiful story for capturing a teacher's power to help kids build confidence.
An A From Miss Keller
A demanding teacher can push you to achieve more than you had ever thought possible. In Patricia Polacco's most recent book, Trisha is excited but nervous about being selected for Miss Keller's special writing class — "Killer Keller" is infamously picky and never gives out As. To her dismay, Trisha discovers that the rumors are true, and despairs of ever making Miss Keller happy with her work. But when Trisha struggles with an unexpected loss and pours her heart out onto the page — without worrying about her grade — she's shocked when Miss Keller praises her, saying "You've given your words wings." Polacco's story teaches kids a valuable lesson about perseverance and the power of a teacher's high standards to drive their students' success.
The Story-Teller's Candle/La velita de los cuentos
Librarians also play a special part in children's lives at school. Hildamar is experiencing her first chilly New York winter after moving from Puerto Rico in 1929. She wonders how she can celebrate her beloved Three Kings Day in this strange, cold new home. But when librarian Pura Belpre, the first Puerto Rican librarian hired by the New York Public Library system, comes to Hildamar's classroom, Belpre tells her that not only is the library open to children and non-English speakers, but also that it can be a place for everyone to learn about the heritage of their friends and neighbors. Soon, the whole class is helping with the Three Kings Day celebration at the library.
The Hard-Times Jar
For kids from struggling families, teachers and librarians can provide a world of opportunities they might not have otherwise. Emma loves books, but her migrant family doesn't have the money to buy any for her. She comes up with a plan: if she saves all the money she makes picking apples and puts it in Mama's hard times jar, surely there will be enough extra to buy at least one book. But when Mama tells Emma that she has to go to school instead of working, Emma thinks her plans are ruined. Fortunately, the school library is a revelation, and even when she breaks a rule, she learns that there are people out there who understand and appreciate her hunger for the written word.
The Secret School
Once kids realize the value of education, they will do almost anything to get it — but fortunately, most children today don't have to teach themselves! Ida wants to be a teacher — which means finishing 8th grade and going on to high school. So when her one-room schoolhouse in her remote Colorado town is closed, Ida figures there's only one solution: keep the school open, even if it means keeping it secret. And since a school needs a teacher, Ida has to step in. But when the county administrator finds out, he gives her an ultimatum: he'll keep their secret — but only if every student passes a final exam. If your Mighty Girl enjoys playing school, she'll love reading about a girl learning just how hard it is to be a real-life teacher.
School is the beginning of an amazing, life-long journey of learning. Hopefully, with a few good books — and supportive friends and family — she'll feel ready to take her first big steps into the wider world!
Additional Recommended Resources