A Mighty Girl's top picks of guides for girls in middle & high school -- and their parents!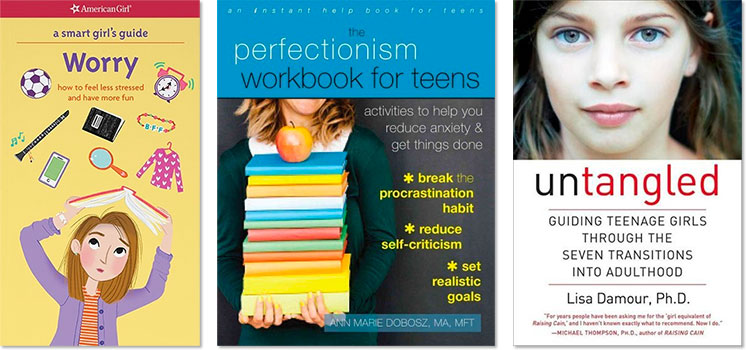 Parents of younger Mighty Girls looking for books about school can find recommendations in our first post in the series: Back-to-School Books About Mighty Girls' Adventures at Elementary School.
Tweens and teens have a lot on their plates: more academic material to learn, increasingly complicated social relationships, busy extracurriculars, and more. On top of that, they have to adjust to their increasing independence and even start thinking about the career direction they'd like to take. Put it all together and it's no wonder that tweens and teens report being stressed out by school!
Fortunately, there are some great books out there to help tweens, teens, and their parents to work through these stresses and make their middle school, high school, or college experience positive and empowering. In this blog post, we're showcasing our favorite guides for tween and teen Mighty Girls, tackling everything from standing up against bullying to building confidence to learning important skills like perseverance and self-direction. We even include some great resources to help your Mighty Girl learn about a wide variety of fascinating careers — maybe one will be the job of her dreams! And for parents, we include a selection of books to help you understand how your relationship dynamic will likely change as she goes from a girl to a grown woman, as well as what she's going through behind her school and bedroom doors.
These years may be a tumultuous time, but they're also an exciting one! We're hoping that these resources will help you and your girls get the most out of the tween and teen years.

And, to help your kids feel prepared for school -- whether they are just starting out or are heading back to middle or high school -- you can also find many encouraging books, as well as girl-empowering school supplies, in our Girl Empowerment Back to School Guide
Guides for Tweens and Teens
Tween and teen girls are faced with a bigger, more complicated, and more demanding school day than they ever experienced at elementary school. These books will help them figure out how to hand the new expectations and feel comfortable with their increasing independence.
Older girls need more complex techniques for handling relational aggression, from bossy friends to outright bullying. Stand Up For Yourself and Your Friends helps Mighty Girls differentiate friends who step over the line from deliberate bullying, provides anti-bullying strategies for both bullying victims and bystanders, and includes "what would you do?" scenarios to help girls figure out effective techniques — as well as when it's appropriate to seek out adult help. With a few helpful tips in hand, she'll feel more confident when it's time to handle one of these conflicts.
Planning for the Future
Of course, aside from school, Mighty Girls in their tweens and teens have another big challenge: "what do I want to be when I grow up?" is becoming a much less theoretical question! By the time a girl is reaching high school, she'll need to start selecting courses based on what she hopes to study in future — which is hard when you don't know what that will be. By giving her some great books about the potential careers that await her, you can help her figure out which of her dreams are the best fit.
Your Not-So-Little Girl
The tween and teen years mean a big adjustment for parents as well, as their daughters become more independent — which means a lot of wrestling about how much freedom is enough without being too much. These books for parents will help you figure out the right balance between your old parenting responsibilities and the new parental relationship that is growing between the two of you.
There are great things on the horizon for your Mighty Girl, whether she's a tween or a teen, starting middle school or starting college. With these books in hand, she'll feel ready to tackle them all!
Additional Recommended Resources