A Mighty Girl's top picks of girl-empowering books for celebrating Hispanic Heritage Month!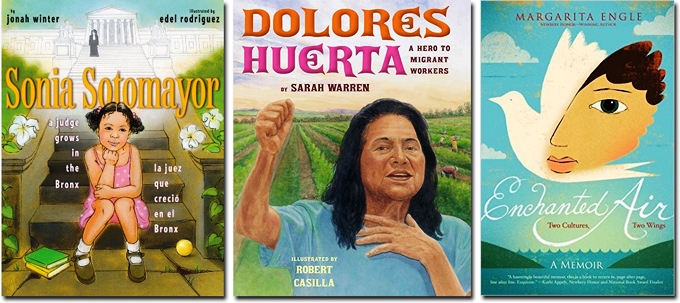 "The Latina in me is an ember that blazes forever." — Sonia Sotomayor, first United States Supreme Court Justice of Hispanic heritage
Happy Hispanic Heritage Month! Every year, from September 15 to October 15, Americans celebrate the histories, cultures and contributions of American citizens whose ancestors came from Spain, Mexico, the Caribbean and Central and South America. To recognize this special month, we've put together a selection of our favorite books for children and teens starring Latina Mighty Girls!
In the first section of this blog post, we share books about real-life Latina role models throughout history, while in the second part, we feature fictional stories about Latina girls and women. For more reading recommendations for this month, you can also discover many bilingual Spanish/English books for young readers in our blog post, 25 Bilingual Spanish/English Picture Books Starring Mighty Girls. We hope these empowering titles will help all kids learn more about the diverse contributions and rich cultural traditions of Hispanic Mighty Girls!
For more books about diverse Mighty Girl from around the world, visit our extensive Multicultural Fiction Collection.
Books About Real-Life Latina role models
Sonia Sotomayor: A  Judge Grows in the Bronx / La juez que creció en el Bronx
From a young age, Sonia Sotomayor wanted to be a lawyer... but that was a big dream for a young girl in the Bronx. In this bilingual picture book, kids follow her as her mother's love, a desire to learn, and the willpower and bravery to defy all the naysayers, led Sotomayor to overcome obstacles like poverty, juvenile diabetes, and the death of her father in order to achieve a seat on the Supreme Court of the United States. Vibrant artwork makes Sotomayor's childhood come alive, while a detailed author's note provides plenty of additional information about her life and career. For another book for young readers about Sotomayor, check out the early chapter book When I Grow Up: Sonia Sotomayor, for ages 6 to 8.
The Storyteller's Candle / La velita de los cuentos
Cousins Hildamar and Santiago are having trouble adjusting to their new home in New York City: the winter of 1929 is cold and harsh, not at all like Puerto Rico. Worst of all, Three King's Day is approaching, and Hildamar is worried about how they can have this special holiday in their new country. Fortunately, a storyteller and librarian named Pura Belpré comes to their classroom and teaches them — and their classmates — about the value of celebrating many different holidays in their diverse community. This lovely introduction to the life of groundbreaking librarian Pura Belpre captures the lasting influence of this advocate for New York's Spanish-speaking communities.
My Name Is Celia: The Life of Celia Cruz / Me llamo Celia: La vida de Celia Cruz
Celia grew up in Havana, Cuba; she loved to sing and she loved to dance. She built a career, entering every competition she could — even though she was barred from many because of her racial heritage. When Fidel Castro's regime drove her into exile, she moved to Miami and New York City, where she kept singing and dancing... and where she and other musicians like her created a new form of music called salsa. This lyrical bilingual picture book dances through Cruz's story with the same enthusiasm and joy that she displayed on stage.
Dolores Huerta: A Hero to Migrant Workers
Dolores Huerta was a dedicated teacher who found that too many of  her students were going without food or shoes. When she investigated, she discovered that their parents were migrant workers, picking grapes for unlivable wages — but when she confronted their bosses about their employees' poverty, they ignored her. So Dolores encouraged the workers to strike, and rallied customers to boycott grapes, to force employers to treat their workers fairly. This inspiring picture book biography captures the determination and courage of this remarkable activist and role model. For another excellent picture book about Huerta, check out Side By Side / Lado a lado: The Story of Dolores Huerta and Cesar Chavez / La historia de Dolores Huerta y Cesar Chavez for ages 4 to 8.
Separate Is Never Equal: Sylvia Mendez and Her Family's Fight for Desegregation
Almost 10 years before the historic civil rights decision Brown vs. Board of Education, Sylvia Mendez and her parents helped end school segregation in California. In the 1940s, Sylvia Mendez, an American citizen of Mexican and Puerto Rican background — who spoke and wrote perfect English — was denied enrollment in an all-white Orange County grade school. Her parents took action by organizing the Hispanic community and filing a lawsuit in federal district court. Their success eventually brought an end to the era of segregated education in California.
That's Not Fair: Emma Tenayuca's Struggle for Justice / No es justo!: La lucha de Emma Tenayuca por la justicia
Emma Tenayuca grew up in a comfortable life in 1920s San Antonio. But she saw first-hand that others were not so fortunate and the degree of poverty experienced by those working for slave wages at the local pecan-shelling factories. As she grew up, she remained deeply aware of the injustice others suffered, and as a teenager, she spoke movingly on their behalf. When she was 21, the pecan shellers wages were cut even further — from six cents an hour to only three cents an hour — and she decided she had to do more: Tenayuca ended up leading a successful strike by 12,000 pecan shellers. This compelling English and Spanish telling of Tenayuca's story will encourage kids to speak up when they see injustice in their own community.
Sonia Sotomayor: I'll Be The Judge of That!
Sometimes, rules are meant for breaking! Sonia Sotomayor grew up in a world where girls were supposed to dream of being housewives and where poor Hispanic girls in particular should aspire to menial jobs. Instead, she dreamed of a legal career, and after graduating at the top of her class in both high school and university, she eventually became the first Latina justice and third woman justice to serve on the U.S. Supreme Court. This book from the Women Who Broke The Rules series is perfect for newly independent readers to learn more about Sotomayor's story.
I Got This: To Gold and Beyond
Laurie Hernandez always wanted to fly, so when she was six years old, she took her first gymnastics class. It quickly became obvious that she was a natural, and in 2016, America thrilled to see her performances in both the team and individual beam competitions at the Rio Olympics. But you don't get to be a 16-year-old Olympic medalist without some bumps along the way! In this poignant and funny memoir, Hernandez talks about Olympic dreams, family sacrifices, intense training, and the fear that she would lose it all when her progress stalled due to multiple injuries. It all paid off, though, when she got to display her artistry — and energy! — for the world in Rio. This fascinating memoir includes never-before-seen photos and beautifully captures Hernandez's enthusiasm and joy in her sport.
Who Is Sonia Sotomayor?
As a child in the Bronx, living with her immigrant parents, Sonia Sotomayor settled on a seemingly improbable dream: she wanted to be a judge. It seemed ridiculous, especially after she was diagnosed with diabetes at the age of 9, at a time when the disease was more difficult to manage than it is today. But the determined girl learned how to give herself insulin injections, studied hard, and achieved her dream when she was appointed as a federal district judge in 1991. But she continued to work and to climb, and in 2009, President Barack Obama made her a Justice for the U.S. Supreme Court — the first Hispanic judge in the court's history. This book from the popular Who Was...? biography series captures Sotomayor's determination and pride in her heritage.
Sylvia and Aki
Sylvia Mendez just wanted to attend her local Orange County school, but she was refused enrollment and directed to a Mexican school instead. Aki Munemitsu just wanted to be back in her own home, instead of being shipped to a Japanese internment camp. These two girls both had a story to tell about what it meant to be different in 1940s America, and they had an unexpected connection: the Mendez family rented the vacant Munemitsu farm, and the girls met and became friends after the war. Author Winifred Conkling used interviews with both Sylvia and Aki to write this historical fiction novel about the landmark education desegregation case Mendez v. Westerminster School District.
The Distance Between Us: Young Readers Edition
Reyna's parents have made the dangerous and illegal trip across the US-Mexican border in hopes of a better life for the whole family. Meanwhile, she and her siblings are forced to live with their strict grandmother — until plans have to change and Reyna has to make the journey, alone, with a long-absent father she barely knows on the other side. Then, she struggles with identity and a desperate desire to succeed, as well as dealing with poverty, domestic violence, and life as an undocumented immigrant. Based on Grande's adult memoir of the same name, this story is gently funny and deeply touching, and captures a little-discussed element of immigration: the challenges facing children left behind.
Enchanted Air: Two Cultures, Two Wings
Margarita feels caught between two cultures and two countries: her mother's homeland, Cuba, which she visits every summer, and the bustling, busy world of Los Angeles, where words and images provide better companionship than her classmates. Slowly, though, she comes to love her own country as much as her old one, if in a different way. As tensions rise in the late 1950s and early 1960s, being caught between these two homes is not easy, and when the Cuban Missile Crisis breaks out, Margarita is afraid for her Cuban family and confused by how two places she loves can hate one another so much. This evocative and heartfelt memoir in verse depicts how Engle's sense of conflicting allegiances shaped her childhood — and her award-winning writing career.
In The Country We Love: My Family Divided
Today, Diane Guerrero is the star of hit shows like Orange is the New Black and Jane the Virgin, but before she got there, she was a fourteen year old girl who came home from school to discover that her parents had been deported while she was in class. Since she had been born in the US, Guerrero could stay — but to continue her education, she had to depend on the kindness of friends to take her in and help her build a life for herself. In this gripping and ultimately triumphant memoir, Guerrero offers a personal take on the struggles of the millions of undocumented immigrants and their citizen children — and casts a much-needed light on the fears that haunt the daily existence of families like hers.
Fictional Stories About Hispanic Mighty Girls
Kitchen Dance
When this little girl wakes up at night, she hears enticing noises from downstairs. Soon, she and her brother are sneaking downstairs, only to spot their mother and father singing and dancing as they clean up the kitchen: "¡Como te quiero! Oh, how I love you!" When the parents spot their children, they quickly sweep both kids up into a joyous, loving dance... one that slowly changes into a lullaby that rocks both children to sleep. This exuberant celebration of a loving family is also a terrific bedtime book.
Abuela
Rosalba and her Abuela are always going to new places together, but one day, after feeding the birds at the park, Rosalba sits on the bus and dreams about what it would be like if she could fly. Soon, she's soaring through the sky with Abuela floating beside her, observing the streets and buses, docks and buildings, and even her father's office, all from high above. Each sight represents an important moment in Abuela's life,  as she tells Rosalba the story of finding her home... the country where Rosalba is growing up. With its colorful illustrations and mix of Spanish and English, this book is a tribute to the love between a grandmother and granddaughter, a celebration of a diverse community, and a poignant immigrant tale of finding a new home.
A Chair For My Mother
When a fire destroys all of their possessions, Rosa, her mother, and grandmother are able to scrape together most of what they need — but what they're missing is a chair, a big comfortable chair for cuddles, reading stories, and to let her mother rest her feet after a long, hard day. Together, they start saving coins in a jar — Mama's tips, Grandma's grocery savings, even Rosa's coins she earns doing odd jobs — so that they can buy the perfect chair of their dreams. This charming, sweet story, a Caldecott Honor winner, is full of warmth and love.
Margaret and Margarita / Margarita y Margaret
Margaret speaks only English, and Margarita speaks only Spanish. When their mothers take them each to the park, both complain (in their respective languages) that there's nobody to play with — until each spots the other. Their mothers assume that their lack of a common language will be a barrier, but as far as the girls are concerned, that just means they have to get a little more creative! By the time playtime is over, each girl knows a few words in the other's language and their mothers are smiling at the realization that friendship can go beyond words. This clever bilingual picture book celebrates multilingual friendships.
Growing Up With Tamales / Los tamales de Ana
Every year, Ana's family makes tamales for Christmas... and every year, it seems like her older sister, Lidia, is so far ahead of her that she'll never catch up. When Ana is six, she can mix the dough, but Lidia is old enough to spread it in the corn husks; and as the years go on, every time Ana is allowed to try a new step, Lidia is already learning the next one. Finally, though, when Ana is eighteen, she's old enough to do it all — and old enough to be planning her own business, which will deliver her tamales to people around the world. And maybe she'll even let Lidia work for her!
What Can You Do With A Rebozo?
This little girl's family has a rebozo, a traditional woven Mexican shawl. What can you do with a rebozo? Well, Mama can wrap it around herself to make her dress a little fancier, or fold it up and use it to carry her little brother. They keep you warm when you cuddle up with your grandmother, or keep your eyes covered when it's time for a birthday piñata. They can be capes and tunnels and most importantly, the perfect accessory for a swirling dance! This celebration of culture and imagination is sure to delight young readers. There is also a bilingual version of this lively picture book.
Mango, Abuela, and Me
Mia's abuela is moving in, leaving her sunny home surrounded by parrots and palm trees, and Mia is a mix of excited and uncertain... especially once she discovers that Abuela can't speak or read much English. Even though grandmother and granddaughter work to teach Abuela English — and Mia Spanish — they still don't have enough words in common to share stories, hopes, and dreams. Then Mia sees a beautiful parrot in the pet-shop window. Maybe a new friend can help her and Abuela communicate a little better. This charming story combines Spanish and English text beautifully, and kids will love the vibrant, colorful illustrations.
The Quiet Place
Isabel misses many things about her old home in Mexico, including her Aunt Lupita and the comfort of hearing Spanish spoken all around her. At the same time, there are wonderful new experiences in her American home, including a teacher with a wide, friendly smile and her very first snow storm! To help her adjust to all the changes, Papa and her brother Chavo use a big box to make Isabel a "quiet place," where she can keep her books and toys and write letters to her aunt. In fact, the place Isabel feels most at home might just be in her quiet place. Set in the 1950s, this contemplative book captures the slow process of adjusting to a new country and fitting in with new friends.
Maya's Blanket / La Manta de Maya
When Maya was very, very little, Grandma stitched her a blanket with her own two hands. But as Maya grows, the blanket gets frayed. Fortunately, Grandma is able to rework it each time: into a shirt, a shawl, a scarf, a hair ribbon, and finally, a bookmark. But what will Maya do when she loses her bookmark and the last precious scrap of her blanket is gone? Well... why not write a book about her special blanket — one that preserves its memory and shares it with lots of other little boys and girls — including Maya's own daughter! Inspired by the traditional Yiddish folk song Hob Ikh Mir a Mantl (I Had a Little Coat), this sweet story recognizes the power of creativity and family love.
I Love Saturdays y domingos
Weekends are a very special time for this little girl! On Saturdays, she visits Grandma and Grandpa, her European-American family, and on Sundays — los domingos — she visits Abuelito y Abuelita, her Mexican-American grandparents. Each pair of grandparents has their special rituals and treats, and they are different in many ways, but they are the same in one very important respect: they adore their granddaughter and the rest of her loving family. Instead of presenting a family with dual cultures as competing, this family complements and celebrates one another, creating a unique and special atmosphere.
Mamá The Alien / Mamá la Extraterrestre
When Mamá's purse spills one day, Sofia sees a card that describes her mother as a Resident Alien. An alien?! But Mamá looks like a human mother! Sofia is still trying to figure out this mystery when she stumbles upon her mother one night looking like an actual alien... but it turn out that Mamá is just doing a beauty treatment, getting ready for a special day: her citizenship ceremony. That's when Sofia learns that, in English, alien can also mean someone born in a different country. How funny to think that her Mamá really is an alien! This lighthearted book celebrates the milestones of immigration and the importance of family — no matter where that family comes from.
Doña Flor: A Tall Tale About A Giant Woman with a Great Big Heart
In a tiny village in the American Southwest, Doña Flor is a beloved neighbor: the giant woman lets children use her flowers as trumpets and her leftover tortillas as rafts! She also loves to read, and often gathers the children around for a story. When a terrible noise like a bellowing animal scares the villagers, Doña Flor is determined to protect her friends — so with the help of her animal companions, she sets off to solve the mystery of the terrifying sound. This original tall tale, full of beautiful watercolor illustrations, ends with a surprise that will get kids giggling!
I Pledge Allegiance
Libby's Great Aunt Lobo has lived in America for years, but now she's taking a big step and becoming a citizen! She has passed her citizenship test; now all that remains is the ceremony, where she'll say the Pledge of Allegiance. Libby's class has also been practicing the Pledge — and the same day that Lobo swears her oath, Libby will be leading the Pledge at school. Together, Libby and Lobo practice, talking about the historical and personal meaning of each line, until each of them gets to say it with hand on heart. This sweet story will give kids new perspective on what it means to say the pledge, as well as celebrating this special relationship between a niece and aunt.
In My Family / En mi familia
Author Carmen Lomas Garza recounts her fondest childhood memories growing up in a Mexican-American family in Texas. She remembers special holidays and family dinners; music and dancing at a local restaurant; and even seemingly simple moments like a visit to her grandmother's house. Each scene is illustrated in vivid color and accompanied by a text description of the event in both English and Spanish. Gentle and welcoming, this book captures the extraordinary and everyday moments that make up the stories of a cherished family.
The Ghosts of Luckless Gulch
Estrella is faster than fast — she leaves trails of fire in the air when she runs! She shares her days in the wilds of California with her unusual (and not particularly tame) pets: Kickle Snifter, a lamb as strong as an elephant; Sidehill Wowser, a horse-like creature with downhill legs that are longer than his uphill ones; and Comet, a Rubberado puppy. But when the ghosts of greedy gold miners steal her pets, Estrella isn't going to take it sitting down! This tall tale full of humor and slapstick will have kids guessing how the clever Estrella is going to deal with those troublesome ghosts.
Finding the Music: En pos de la música
Reyna loves spending time at her mom's restaurant, the hub for a diverse group of customers from her local community. So when she accidentally breaks her abuelito's vihuela, a small guitar-like instrument that has always hung on the wall, Reyna figures one of them can help her fix it. The first few she asks can't help, but they tell her fascinating stories about her abuelito's music...and when she finally talks to the owner of the music store, he not only promises they can fix the vihuela together, he also gives her something precious: a recording of her abuelito, playing the music that brought a community together. This poignant and heartwarming story about a girl learning her family's story is sure to delight young readers.
My Diary from Here to There / Mi diario de aquí hasta allá
Amada hears her parents whispers, debating whether to move to Los Angeles, where there should be better opportunities for the family. She wants to be hopeful, but secretly, she can't stop thinking about how she'll miss the best friend she's leaving behind, her worry that she'll struggle to learn English, and her fear that they'll never return to Mexico. In her diary, she writes about both her travels and her thoughts about the family's journey, until finally, in their new home, Amada realizes that with the love of her family, there's no change she can't weather. Thoughtful and poignant, this English / Spanish telling of one family's immigration is based on author Amada Irma Perez's own experiences.
My Name Is Maria Isabel
Maria's name is long and important — Maria Isabel Salazar Lopez, from both her grandmothers, her grandfather, and her father. But when she arrives in her new class after moving from Puerto Rico, her teacher declares that there are too many Marias, so she'll be called Mary. How can Maria explain to her teacher that her special name is a reminder of where she came from? Fortunately, when the class is assigned a paper titled "My Greatest Wish," Maria finally finds the words to tell everyone how special her name is — and why she will always be Maria Isabel. Spanish-speaking Mighty Girl fans can read the Spanish-language version of the book, Me llamo Maria Isabel.
Stef Soto, Taco Queen
All Stef wants is to fit in, and to have a little bit of independence from her overprotective parents — especially if it means she can ride a school bus instead of getting picked up by Tia Perla, her family's taco truck. She's tired of being called "Taco Queen" and she dreams of being able to attend the Vivian Vega concert like her (former) friend Julia. But when her family's livelihood is threatened, Stef surprises herself by becoming Tia Perla's biggest advocate. In the end, Stef discovers her own identity: one that takes pride in her newfound love of art, her ability to help her community, and, yes, even in her parents and Tia Perla itself. Heartfelt and funny, with a narrator you'll root for, this is a charming story celebrating family, friends, and delicious food.
Unusual Chickens for the Exceptional Poultry Farmer
Sophie Brown feels totally out of place when her parents move her from big-city LA to the farm they've inherited from a great-uncle, especially when it becomes obvious that the townsfolk assume she and her Latino family are migrant workers rather than landowners. But the farm gets a little more interesting when Sophie discovers that one of the chickens can move things with her mind! Soon, more of her great-uncle's chickens — with even more unusual powers — are coming home to roost. And when a local farmer rival tries to steal the chickens, Sophie will have to find a way to keep her very special chickens safe. Told in a combinations of letters, quizzes, to-do lists, and sections of a correspondence course on chicken care, this fun and quirky story is sure to be a favorite.
The First Rule of Punk
Twelve-year-old Malú is struggling with the aftermath of her parents' divorce: she misses her laid-back, artsy, white father, and feels pressured by her academic mother, who she calls "SuperMexican." And on the first day at her new school, Chuck Taylor-wearing, punk-loving Malú violates the school dress code and angers the school's queen bee, who calls her a "coconut": brown on the outside, white on the inside. But when Malú gets a band started with some fellow misfits, she'll do anything to keep it together — even if it means standing up to her mother, the school administration, and the world! This exploration of friendship, identity, and the joy of rocking out to your own beat is sure to inspire your Mighty Girl to stand up for what she believes in!
Tortilla Sun
Twelve-year-old Izzy is helping unpack after yet another move when she discovers a baseball marked with the words: "Because... magic." Her curiosity is piqued, but she knows her mother won't satisfy it — her mother never answers any questions about her father, who died before she was born. But when her mother declares that she's finishing her studies in Costa Rica that summer — and that Izzy will be saying with her Nana in New Mexico — perhaps Izzy has a chance to learn more. Nana and her community welcome Izzy with open arms, and soon she's making tortillas, watching her grandmother's work as a curandera providing folk remedies, and even uncovering a few of those family mysteries she's always wanted to know. This gentle story full of appealing characters feels warm, cozy, and eminently satisfying.
Dancing Home
Although she was born there, Margie doesn't consider herself Mexican, and she's devoted years of work to ensuring her classmates don't see her that way, either. Then her cousin Lupe moves from Mexico, hoping to see her father, who went north to find work — and to Margie's horror, Lupe is assigned to her class. Now Lupe's frilly clothes and struggles with English are challenging Margie's carefully crafted identity, especially when she's told to translate the teacher's lessons despite not speaking much Spanish. Slowly, though, both Lupe and Margie fall into step with one another, and together they discover how to create new selves that acknowledge both their Mexican heritage and their American home. This beautiful novel, which was also published in a Spanish edition, Nacer bailando, tackles important issues about bullying, cultural identity, and family.
Ghosts
Catrina's family is moving to Bahia de la Luna, where the coastal air will help Maya's cystic fibrosis symptoms. Cat misses her friends and resents being forced to move, but she loves her sister and is terrified of Maya getting sick. So when their neighbor tells them that Bahia de la Luna is home to ghosts — spirits of ancestors who watch over them — Cat wants nothing to do with them... and is horrified to discover that Maya seems fascinated by the ghosts. As the Day of the Dead approaches, and Cat meets the ghosts face to face, she'll learn more about the Mexican side of her heritage — and learn to set her fears aside, for both Maya's sake and her own. This original graphic novel by the author / illustrator of best-selling graphic novels Smile, Sisters, and Drama is sure to delight your Raina Telgemeier fan!
Becoming Naomi León
It's hard going through school as Naomi Soledad León Outlaw — between her long name and the hand-made clothes, she's never been one of the popular kids. But her grandmother is a loving guardian for her and her brother, whose physical deformities make him stand out, and tries her best to teach them both about their Mexican heritage. When Naomi's mother finally shows back up after seven years, with a scary boyfriend in tow, it soon becomes obvious that her motivations are more about profit and convenience than about reconnecting with her children. Fortunately, Gram and their Mexican neighbors work together so that Naomi can finally have the security she desperately needs. Touching and inspiring, this book asks important questions about what it really means to be family.
Lucky Broken Girl
Ruthie is just beginning to regain some confidence after immigrating from Castro's Cuba to New York City: she's slowly learning English, and she's earned her place as the neighborhood's hopscotch queen. Then the unthinkable happens: a car accident leaves her in a body cast, restricted to bed for a year. Ruthie's world has shrunk, but the time gives her the opportunity to consider many things, from her feelings about the boys whose car hit her to the kindness of those around her to her own budding joy in writing and art. Inspired by her real-life experience in the 1960s — both immigrating and suffering injuries that required a long recovery — this book is inspiring, vulnerable, and real.
Return to Sender
Tyler's father was injured in a tractor accident, and they're facing foreclosure on their Vermont family farm if they can't get the harvest in. His parents hire a family of migrant workers, but Tyler finds himself wondering if hiring undocumented workers is the right decision. Meanwhile Mari, the family's oldest daughter, challenges his preconceptions with her combination of pride in her Mexican heritage and connection to her American life. As Tyler and Mari become friends, she tells him more about her family's struggles: the poverty they left behind, their fear being deported, and her desperate desire to know if her missing mother is safe. Told in alternating chapters of Tyler's third-person perspective and Mari's diary entries and unsent letters to Mami, this novel tackles the complexity of the issues around undocumented migrant workers in a way that's easily understandable for tweens and teens.
The Revolution of Evelyn Serrano
Evelyn — who changed her name from Rosa to sound more "mainstream" — starts developing a new view on her heritage when her sassy Abuela, newly arrived from Puerto Rico, helps her see the many problems with their Spanish Harlem neighborhood. When Puerto Rican activist group the Young Lords start protesting, and Abuela steps in to take charge, Evelyn finds herself thrust into the action... and discovers that she feels like she belongs there. Sonia Manzano, who grew up to play Maria on Sesame Street, based this novel on real events from her childhood in El Barrio, and includes an appendix with reports from the New York Times about the real-life protests. A powerful story of identity and family drama, this novel is sure to generate discussion.
Under the Mesquite
Lupita's Mami has been diagnosed with cancer, and suddenly worries about high school, her role in a play, and her friends seem unimportant. While her father takes Mami to a clinic out of town, Lupita has to care for her younger siblings — and struggles to keep the family going. Her only refuge is the shadow of a mesquite tree, where she can retreat to write. In the midst of the chaos and fears about Mami's health, though, Lupita might discover her voice. This evocative novel in verse captures the power of the written word — whatever the language — as well as the importance of family when people are in crisis.
The Tequila Worm
Sofia comes from a family of storytellers in a small Texas town. Each chapter in this book are Sofia's stories of growing up in the barrio, full of the mystery and magic of family traditions. Until finally she reaches a turning point: a scholarship to an elite boarding school that will take her far from home. But as she faces this new experience, she realizes how much these traditions matter to her — and how to combine her childhood dreams of being a comadre with the skills she's learned in her new world. This warm novel, full of details about Mexican-American traditions, is sure to delight young adult readers searching for their own place in the world.
Yaqui Delgado Wants To Kick Your Ass
One day, a girl Piddy Sanchez barely knows tell her that Yaqui Delgado, head of a gang of girls at school, hates her. Piddy doesn't even know who Yaqui is, but it turns out that Yaqui thinks that Piddy isn't "Latin enough" — white skin, good grades, and no accent — which makes her "stuck-up attitude" even worse in Yaqui's eyes. Piddy tries to focus on finding the father she's never met, and balancing schoolwork and a weekend job, but as the harassment ramps up, Piddy starts to wonder if she can survive without running away or giving up who she is. The sense of claustrophobia and fear in this title, and the lack of easy solutions despite many caring adults, makes this a realistic and emotional look at bullying, class conflict, and ethnic identity.
The House On Mango Street
Esperanza Cordero is a Latina girl coming of age in a world that's full of joy and laughter, but also oppression and struggle. In a series of vignettes, many in free verse, she decides that the house on Mango Street is only temporary, a place she must stay until she can find a better life, away from the poor neighborhood where she grew up. At the same time, she is determined not to forget those who she leaves behind, but to come back and help lift them out of poverty as well. Full of clever, funny observations and insightful views of gender roles and culture, this modern classic is perfect for thoughtful teen readers.
Additional Recommended Resources