A Mighty Girl's top picks of girl-empowering graphic novels for children.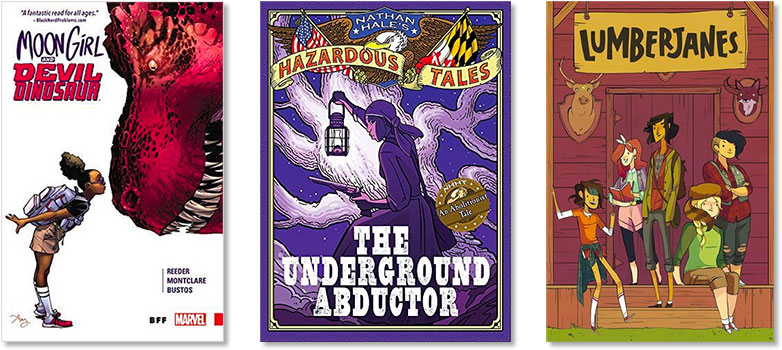 While many people think of graphic novels as "just comic books", the truth is that a good graphic novel doesn't simplify a story: instead, it amplifies it, drawing out details and adding emotional weight. For young or reluctant readers, in particular, a graphic novel format makes it easier to understand more complex stories. In fact, we'd argue that high-quality graphic novels are a key part of any library!
With the growing popularity of this literary form, there's been a tremendous increase in the number of graphic novels published in recent years, including ones for children. To help you discover the best girl-empowering titles, we've showcased 50 of our favorite Mighty Girl graphic novels in this blog post. The first half focuses on graphic novels that are fantasy driven, while the second half highlights ones that are grounded in real-life — but no matter the theme, all of the graphic novels featured tell the stories of smart, confident, and courageous Mighty Girls!
For girl-empowering graphic novels for teen and adult readers, check out our blog post, Expanding the Story: Mighty Girl Graphic Novels for Teens. You can also browse our entire collection of over 150 graphic novels for all ages starring girls and women in our special feature on the Top Graphic Novels Starring Mighty Girls.
Fantasy-Filled Mighty Girl Graphic Novels
Recommended Age: 4 and up
Gator's habit of snapping at other neighborhood pets has left him lonely in the sewers, while Gabby's preference for tuba playing over poolside gossip has isolated her from the girls on the street. When the unlikely pair meet, though, they discover that friends can sometimes be very different from one another! There are a few challenges to face but, in the end, they both learn and important lesson: true friends will appreciate you for exactly who you are. This charming and funny graphic novel for young readers is a great reminder that it's good to march to the beat of your own drummer.
Mighty Girl Graphic Novels about Real Life
Additional Recommended Resources