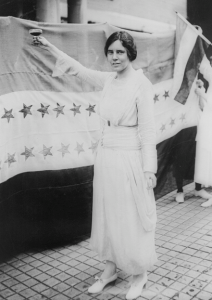 By Carolyn Danckaert, A Mighty Girl Co-Founder
Today in Mighty Girl history, Alice Stokes Paul, an American suffragist and women's rights activist, was born in 1885. Paul, along with her friend Lucy Burns, was a driving force behind the passage of the 19th Amendment, which won the right for women to vote.
Paul, who was famously depicted by Hilary Swank in the film Iron Jawed Angels, was raised as a Quaker, a religious sect in which gender equality is a central tenant. As Paul said, "one of their principles was and is equality of the sexes. So I never had any other idea...the principle was always there." This uncompromising core supported her through the long fight to resurrect the suffrage movement, which had been stalled for many years.
Paul organized protests and rallies, including in January of 1917, the first political protest to ever picket the White House. In July 1917, Paul and many other protesters were arrested for "obstructing traffic" and incarcerated at the Occoquan Workhouse. To protest the poor conditions of the women held there, Paul led a hunger strike which resulted in her being force-fed. Press coverage of these abuses, along with on-going protests, strongly influenced the Wilson Administration who declared, in January 1918, that women's suffrage was urgently needed as a "war measure" and asked Congress to act.
Together with Burns and others in the National Women's Party, Paul's dramatic efforts brought the attention of the world to the struggle for women's rights in America, and led to the ratification of the 19th amendment in 1920. Its passage marked the victorious end of a 72-year long struggle to achieve equal voting rights for women which had begun at the first women's right conference organized by Elizabeth Cady Stanton in Seneca Falls, New York in 1848.
Paul was also the original author of the Equal Rights Amendment, which passed both Houses of Congress in 1972; though it never received sufficient support to become adopted nationally, nearly half of U.S. states have adopted the ERA into their state constitutions. Two years after her death in 1977, she was inducted posthumously into the National Women's Hall of fame.
To learn more about Paul's fascinating story and her important legacy in securing women's right to vote, the film Iron Jawed Angels is highly recommended for viewers 13 and up.
Paul's story is also well-documented in the award-winning history book for young readers, With Courage and cloth: Winning the Fight for a Woman's Right to Vote" for readers 10 and up.
The fantastic One Woman, One Vote documentary also tells Paul's story, along with that of the Suffrage Movement's other key leaders such as Susan B. Anthony and Elizabeth Cady Stanton -- for viewers 10 and up.
For more stories about the women's suffrage movement, visit our Women's History section.