The best girl-empowering books from February 2017 for kids, teens, & adults.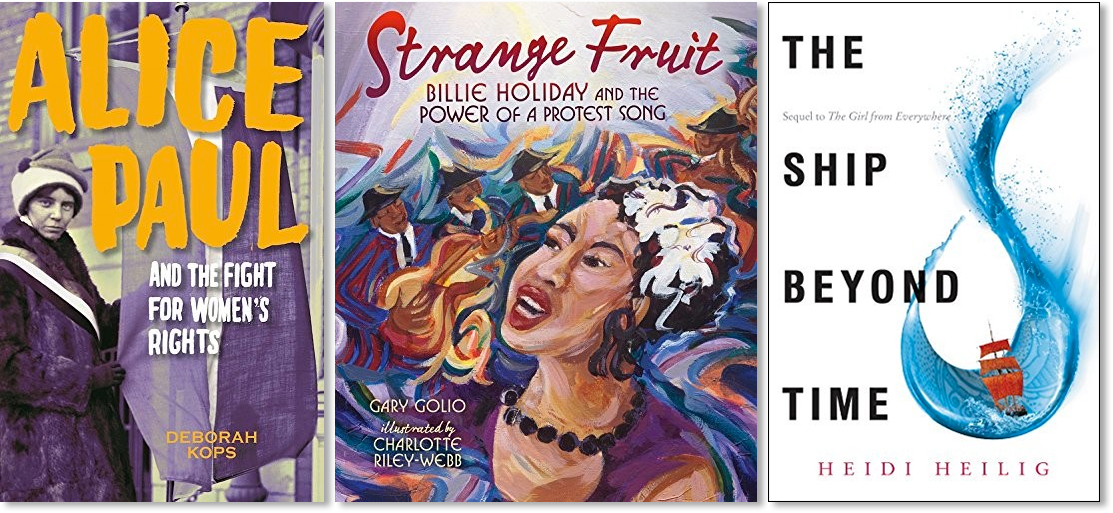 With so many new books constantly being released, it can be challenging to stay up on all of the great new titles for you and your Mighty Girl! After all, we add dozens of new releases to A Mighty Girl's vast collection of girl-empowering books every month. To help make it easier for you to discover new favorites, we've showcased our top new releases from February 2017 in a new blog post. With 20 books for all ages, from young children through adults, there's something for everyone looking for a new book to dive into!

February 2017 Mighty Girl Book Releases
Lola Gets A Cat
Beloved character Lola from Lola at the Library is back, and this time she's using her research skills to prepare for the arrival of a new pet! Mommy says that caring for an animal is a lot of work, so Lola finds books about cats and pet care to learn more about it to show her mother that she's ready for the task. After the family is properly prepared, Lola gets to pick her new friend from an animal shelter, and uses her new-found knowledge (and a lot of patience) to help her new kitten settle in. Fans of the first book, as well as the other sequels Lola Loves Stories, Lola Reads To Leo, and Lola Plants A Garden, will be delighted to follow Lola as she welcomes a new member to the family.
Ready, Set...Baby!
Siblings Anna and Oliver give kids the real scoop on what it's like when you're waiting for a new baby to join the family! In this cheerful and reassuring peek into pregnancy, birth, and adjusting to a new sibling, Anna provides the factual details — like where the baby is during the pregnancy — while Oliver tackles the emotional side — including the frustration of feeling like it's taking forever for the baby to get there. Guidance on important details like what a baby is really like, including that they're not ready to play as soon as they come home, will help kids know what to expect, and the book even includes a few tips for parents to help kids adjust. This charming and funny book is the perfect choice for a soon-to-be big sister or brother.
Dorothea Lange: The Photographer Who Found the Faces of the Depression
Dorothea Lange had an eye for photography and a gift of compassion for those less fortunate: after a childhood case of polio, she knew what it was like to struggle. So when the Great Depression hit, and all around her were hard-working people who found themselves in desperate need, she knew that she had to share their stories with the world. Lange's photographs of the faces behind the statistics of the Great Depression remain deeply affecting today, and this new picture book biography will help kids understand why this influential photographer dedicated her life to this important work. For two more books about Lange for young readers, check out Dorothea's Eyes: Dorothea Lange Photographs the Truth for ages 6 to 10 and Restless Spirit: The Life and Work of Dorothea Lange for ages 10 and up.
Mae and June and the Wonder Wheel
June has a secret: her dog Sammy can talk, but only she can hear him. Her older sister is too big to play with them now, so June and Sammy decide to set out to make a new friend — one who can appreciate them both. A girl named Mae has just moved into the neighborhood, so June uses the Wonder Wheel, a game sent by her grandma Penny, to help them pick a new adventure to have each day. But is Mae the kind of friend who will believe June when she tells her about Sammy? This charming early chapter book celebrates friendship and the adventures to be had right outside your door.
Malala: Activist for Girls' Education
When Malala was born, her father Ziauddin defied local traditions and celebrated her birth as he would the birth of a boy. With the support of her parents, she grew into a fiercely intelligent and ferociously determined young woman, who defied the rule of the Taliban by arguing for the right of girls to go to school. And even when a Taliban assassin nearly killed her, she refused to give up her fight to ensure that every girl in the world had access to education, eventually becoming the youngest person ever to receive the Nobel Peace Prize. This beautifully illustrated picture book biography provides an excellent introduction to the life of this young activist. For more books for all ages about Malala, visit our Malala Yousafzai Collection.
Strange Fruit: Billie Holiday and the Power of a Protest Song
The first time that Billie Holiday performed "Strange Fruit," the audience was silent — but the song would help pave the way for the Civil Rights Movement. In this in-depth picture book, author Gary Golio explores a challenging topic — a protest song against lynching, sung by a complex artist — and teaches young readers the power of the arts to transform the world around us. Golio follows Holiday's own experiences with discrimination, as well as Jewish songwriter Abel Meeropol's motivations for writing the song. Powerful and poignant, this book provides a unique look at an influential artist and an unforgettable song that helped pave the way for the Civil Rights Movement.
Who Is Sonia Sotomayor?
When Sonia Sotomayor was growing up in the Bronx, a Latina girl couldn't expect to be a judge, could she? But after being inspired by an episode of Perry Mason on TV, nothing would stop her — not even a diagnosis of diabetes that required her to give herself daily insulin shots. Optimistic and determined, Sotomayor went to law school, became a judge, and, in 2009, became the third woman and first Hispanic justice nominated to the US Supreme Court. This title from the Who Was? biography series celebrates a woman determined to get the most out of life. Younger readers can learn about her in Sonia Sotomayor: A Judge Grows in the Bronx / la juez que creció en el Bronx for ages 4 to 8 and Sonia Sotomayor: I'll Be The Judge of That! for ages 7 to 10.
Frogkisser!
Princess Anya has a remarkable gift: she break any curse with a kiss (and a little magic). But when her evil stepmother's new husband — her stepstepfather — decides to take over the kingdom, Anya has to make a run for it to escape death and get supplies for more Transmogrification Reversal Lip Balm to un-transform her older sister's latest love. With the help of her talking dog and the transformed prince, Anya sets out to find allies in her quest to restore her kingdom... but doing so brings her face to face with her own princess privilege. If she can learn from the experience, though, she may yet win the day! This twisted fairy tale with no romance plot is full of adventure, humor, and delightful characters that tweens will love. Teens ready for a more serious Mighty Girl fantasy adventure should check out Nix's beloved The Abhorsen Trilogy for ages 13 and up.
Who Was Lucille Ball?
In the 1950s, all of America really did love Lucy! Lucille Ball was a natural performer who had been appearing on stage and in bit parts in movies for years when she created her hilarious sitcom — which is still a beloved favorite for many 60 years after it aired. But Ball also broke new ground as the first woman to run a major television studio, where her forward-thinking mindset encouraged her executives to develop original and creative series, including Star Trek and The Untouchables. This book celebrates the funny, savvy, and determined Ball and her many contributions to American culture. To introduce younger children to this trailblazer, check out I Am Lucille Ball for ages 4 to 8.
A Rambler Steals Home
For Derby's dad Garland, a life homeschooling while the family meanders the highways means freedom and family fun — but for Derby, it means loneliness, especially since she's still wrestling with the disappearance of her mother. Summers are her favorite time of year, when they settle in Ridge Creek, Virginia and sell burgers and fries out of Garland's Grill near the minor-league baseball stadium. But this summer, things are different: her relationship with her best friend, Marcus, and her nemesis, Betsy, are changing, and her beloved neighbor June is grieving the loss of her husband. One thing is certain: the summer will reveal both surprises and secrets... and it might just be the key to finding "home" for Derby. This charming story with an unforgettable main character celebrates the many ways we find our home and family.
The Time Museum
Delia Bean thinks the summer at her uncle's estate will be a bore until she discovers the Time Museum's summer internship program. It turns out that the Time Museum accepts interns as young as 12 — from every time period in history! Delia is accepted and finds herself training alongside a girl from 23rd century Japan and boys from prehistory and the Roman era. But can these unexpected friendships survive both the intense competition and a mysterious threat to the Time Museum itself?  With vibrant colors and expressive character design, author/illustrator Matthew Loux has created an appealing and exciting cast of characters. This adventure-filled graphic novel is the beginning of a new series that will captivate tween readers.
The Unbeatable Squirrel Girl: Squirrel Meets World
14-year-old Doreen Green is facing a few more challenges than the typical teenager who's just completed a cross-country move — after all, most don't have to find a way to hide their tails! Doreen has the powers of a squirrel but feels like a caged animal in her new home. After she stops a group of troublemakers in her neighborhood — and becomes the talk of the school — Doreen decides to embrace her powers and become a full-fledged Super Hero. But when a real-life Super Villain appears, is the newly minted Squirrel Girl ready for the major leagues? This fun new novel, a prequel to the current Squirrel Girl comic line, features a hero with infectious optimism and enthusiasm, a blend of real-life teen problems and superhero challenges, and even a few cameos by the Avengers.
Alice Paul and the Fight for Women's Rights
Alice Paul not only helped win the battle for women's suffrage in the US, she remained active as a women's rights activist during the "second wave" of feminism as women fought for full equality with men across society. At the beginning of the 20th century, Paul reignited the Women's Suffrage Movement with dramatic new protests, finally bringing sufficient pressure on elected officials that the 19th Amendment was passed in 1920. Then, she set her sights on other laws that discriminated against women. Her proposed Equal Rights Amendment may not have been passed — yet — but her continued fight for equality for women has inspired the generations after her to take up the banner. This compelling biography provides an excellent introduction for tweens and teens to the life and work of one of the greatest champions of women's right in U.S. history.
Girl Rising: Changing the World One Girl at a Time
In 2013, the groundbreaking film Girl Rising showed the world not just the plight of the 62 million girls around the world who don't get to go to school, but also the incredible way that educating girls could transform communities. Now, award-winning author Tanya Lee Stone deftly uses new research to illuminate the dramatic facts behind the film, focusing both on the girls captured on camera and many others. She examines barriers to education in depth -- early child marriage and childbearing, slavery, sexual trafficking, gender discrimination, and poverty -- and shows how removing these barriers means not only a better life for girls, but safer, healthier, and more prosperous communities. This inspiring photo-filled book will encourage teens to help change the world for girls who will then change the world in their turn.
The Wish Granter
Ari and her twin brother Thad are illegitimate children of the king, and grew up ignored by the nobility. Then, suddenly, the royal family is dead, and Thad is on the throne — but the kingdom is overcome with violence. Ari learns that Thad's sudden ascension is thanks to a fae Wish Granter who calls himself Alistair Teague, and that a condition of the wish is that Thad can't stop Teague's criminal activities. Ari turns to Sebastian Vaughn, Thad's new weapons master, hoping they can find a way to save Thad, herself, and the kingdom. But as Teague starts to target Ari, her life could be forfeit unless she manages to outwit the Wish Granter. Readers will be delighted by Ari, the princess who proves herself to be a determined, resourceful young woman who is thrust into the role of hero, and handles it deftly.
The Valiant
Fallon is the daughter of a Celtic king, but her father was killed years ago by Julius Caesar's armies. She's grown up eagerly waiting for her seventeenth birthday, when she can join her legendary sister Sorcha's warband. But before she can, Fallon is captured, sold to a training school for female gladiators — one owned by Caesar himself. If she can learn the skills she needs and overcome deadly rivalries, brutal fights both in and out of the arena, and her increasingly powerful feelings for a Roman soldier who should be her sworn enemy, the man who destroyed her family could be the key to saving her life. Full of stunning action scenes and fierce emotions, this historical fiction novel will captivate teen readers.
The Ship Beyond Time
Nix is finally at the helm of her father's time traveling ship, and now she can sail boldly into the future... until she learns that she is destined to lose the one she loves. Who else could that mean but Kash, the charming thief who is much more than her best friend? Frantic to find a way to change fate, she meets with another Navigator who claims to be able to teach her how to manipulate time. But while she's learning, she and her crew must stay in a mythical utopia where everything is constantly changing — including her relationship with Kash. This sequel to 2016's best-selling The Girl From Everywhere explores questions of free will and fate and asks readers what it really means to love someone.
Daughter of the Pirate King
17-year-old Alosa is a swaggering captain of her own, mostly female, pirate crew, with the courage and cleverness to take on any pirate... and a magical ability to subdue any man to draw on when she needs. But when her father, the Pirate King, charges her with fetching a map from another ship, she allows herself to be captured only to find that she may have met her match: the first mate, Riden, who is more than able to hold his own in a game of wits. Their constant parry and riposte slowly develops into attraction, leaving the rivals feeling increasingly drawn to one another — but that leaves Alosa with a difficult decision to make. Full of adventure, humor, and romance, this book will leave teen readers eager for the swashbuckling sequel.
We Are Okay
It's the end of Marin's first semester of college in New York, and rather than flying home to visit family, she's spending winter break in a dorm. Instead, her friend Mabel — the friend she hasn't spoken to since she left San Fransisco abruptly — is coming to stay with her. Gradually, Marin reveals more about the surfer mother who died when she was a child, the loving but distant grandfather who raised them, and the moments that drove her to leave behind everyone she knew... as well as about her complex friendship with Mabel. But difficult as the winter break may be, it's possible that, with Mabel's help, Marin will be able to break through her loneliness and grief. Painfully beautiful, this novel is full of heartbreaking moments, yet still ends with a sense of hope.
The Hate U Give
Starr Carter already feels trapped between two worlds, her poor and crime-ridden neighborhood on one hand, her wealthy prep school on the other. Then, when her friend Khalil gives her a ride home, Starr witnesses his death at the hands of a police officer. Khalil's death becomes a national headline, with some calling him a thug and others calling him an innocent, and only Starr knows exactly what happened. But with both cops and drug lords exerting influence on her to tell the story as they want it told, Starr realizes that both her own life and the comparative peace of her community are at risk — all depending on what she does or doesn't say. Powerful and poignant, this book explores a teenager girl's struggles to understand why her society undervalues her life and the lives of those she loves.
American Street
Fabiola Toussaint was born in America and grew up in Port-aux-Princes, Haiti, but she believes in the American dream and the possibility of finding une belle vie — a good life — in Detroit. But when her mother is detained by INS, Fabiola is on her own, negotiating her loud American cousins and her aunt, Matante Jo, who fines her for speaking Creole. Her faith in the Iwas of Haitian voudou helps keep her steady, even as she navigates a new country, a new home, a new school, and even an unexpected romance. But then a girl overdoses at a party, and Fabiola is presented with a tempting but dangerous possibility: if she helps the police catch the dealer, perhaps Manman will be allowed into the country. The reward is worth it to Fabiola, but does she truly know the cost? Powerful, lyrical, and complex, this novel will linger with teens long after they're done reading.
Elizabeth Bishop: A Miracle for Breakfast
During her lifetime, Elizabeth Bishop published only a hundred poems, but after her death in 1979, she became one of America's best-loved poets. Until recently, little was known about the shy and reclusive writer. In this new book, author Megan Marshall draws on recently discovered letters that Bishop wrote to her psychiatrist and to several of her lovers to paint a portrait of a dark childhood, a secret affair, and the end of her romance with Brazilian modernist designer Lota de Macedo Soares. Marshall writes with a novelistic flair, showing how real life and poetry are intertwined in Bishop's life. This is a remarkable and personal depiction of a woman whose art both defined and saved her life.
February 2017 Mighty Girl Film Releases
Loving
When Richard and Mildred fell in love, a white man marrying a black woman wasn't just a social violation: it was a legal one. In 1958 Virginia, "miscegenation" was a crime. Richard and Mildred didn't care, though, and traveled to another state to marry — only to be arrested when they returned home. They refused to accept the law, though, and with the help of two young lawyers, they challenged the case... all the way to the Supreme Court of the United States. This powerful and poignant dramatization of the case for interracial marriage includes a stunning performance from Ruth Negga as Mildred Loving, beautifully capturing the quiet determination of a woman who had to make her private life public in order to fight for what was right. For a documentary about the Lovings' case, check out The Loving Story for ages 10 and up.
Additional Recommended Resources