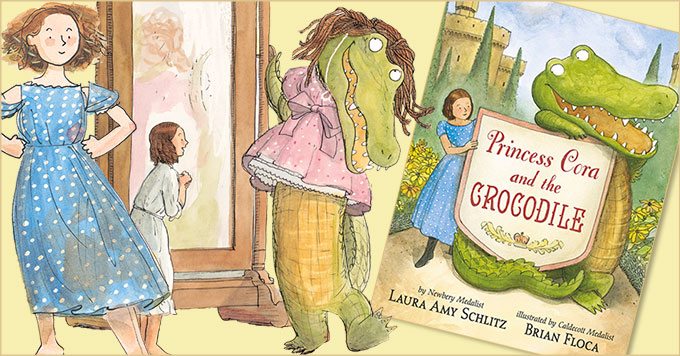 For A Mighty Girl's latest book giveaway, we're thrilled to present Princess Cora and the Crocodile, a soon-to-be-released book by Newbery Medalist Laura Amy Schlitz and Caldecott Medalist Brian Floca! In this lighthearted original fairy tale, Princess Cora is sick of being a proper princess. Longing for the freedom to play and explore, she appeals to her fairy godmother for help -- and, it arrives in the form of a decidingly improper crocodile. With the crocodile disguised as the princess, Cora is free to go on an adventure, exploring the fields and forests nearby – little does she know that her alter ego is wreaking havoc inside the castle! Filled with Schlitz's signature wit, Floca's charming artwork, and starring a young princess who learns the importance of standing up for herself, this delightful illustrated chapter book, recommended for ages 5 to 9, will be a hit with young readers!
Thanks to its publisher, Candlewick Press, we have three pre-release copies of Princess Cora and the Crocodile autographed by author Laura Amy Schlitz to give away to A Mighty Girl supporters. The giveaway is free to enter and the three winners will be randomly selected. With apologies to our many non-US-based supporters, due to legal restrictions, the giveaway is only open to US residents. The last day to enter is Sunday, March 19.
To participate, you can sign up on our Giveaway Entry Site.
On A Mighty Girl, you can also pre-order copies of Princess Cora and the Crocodile.
This post was posted in Misc