A Mighty Girl's top picks of books starring autistic girls and guides for autistic girls and their parents.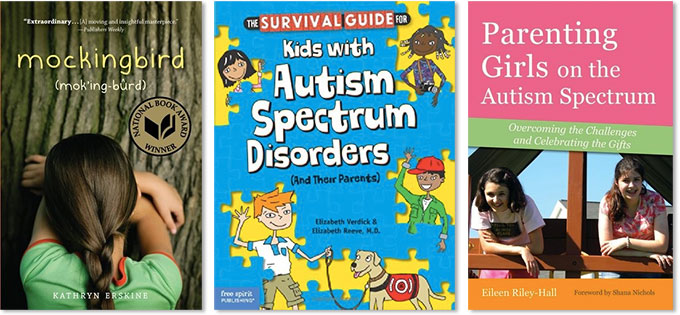 If you've been following the news, you've probably heard about Sesame Street's new character: an autistic Muppet named Julia. Even five years ago, it would have been almost unthinkable for a character with autism to appear on a mainstream children's television show, especially with the goal of inclusion and acceptance. But while Julia and other characters like her represent a major step forward, autism is still the subject of significant misunderstanding and prejudice. And the problems caused by lack of awareness are often magnified for girls, who are less frequently diagnosed and often show a different pattern of behaviors than autistic boys.
Recent books like In A Different Key: The Story of Autism and NeuroTribes: The Legacy of Autism and the Future of Neurodiversity are helping adults understand that autism represents not just a set of problems to overcome, but a different way of thinking and experiencing the world. But kids, tweens, and teens, who will almost certainly encounter autistic peers during their lives, need to learn the same — so it's particularly important to share stories and resources about girls on the autism spectrum with autistic and neurotypical kids alike!
In this blog post, we've showcased a variety of resources to foster not just awareness, but acceptance of people with autism. From fiction starring autistic characters, to guides for autistic girls, to books that can help parents and educators support and encourage autistic kids to achieve their full potential, these books serve as a reminder that, while autism may be an important part of a person's story, what's more important is for all of us to recognize them as talented, interesting, and unique individuals.
Dr. Temple Grandin: GroundBreaker and Role Model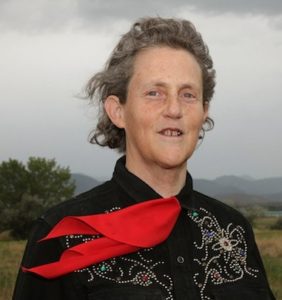 When Temple Grandin was born, autistic children were often blamed on "refrigerator mothers" who supposedly denied their children affection and doctors regularly recommended a lifetime in an institution. But Grandin's mother not only didn't believe that she had caused her daughter's condition: she refused to believe that Temple had no potential for growth and learning. Over years of dedicated work, Grandin learned to speak, attended school, and discovered a passion for science and a remarkable gift: an astounding visual mind that allowed her to design and draft complex structures with ease, and a unique perspective that helped her understand the ways animals think and behave like no one around her could.
Dr. Grandin's success was more than personal, though: she had proven that autistic children could accomplish far more than anyone had previously thought possible. After being featured in a book by neurologist Oliver Sacks, Grandin became a public advocate for people with autism, teaching people about the way that she saw the world and the need for understanding and accommodation so that other autistic people, both children and adults, could achieve their potential, too. She provides a powerful role model for autistic children, and for autistic girls in particular, but her journey from a non-verbal toddler to a world famous public speaker is inspiring to all.
Grandin is also the author and co-author of multiple books about autism, including The Autistic Brain: Helping Different Kinds of Minds Succeed and the newly updated Unwritten Rules of Social Relationships: Decoding Social Mysteries Through Autism's Unique Perspectives.
The Girl Who Thought In Pictures: The Story of Dr. Temple Grandin
Temple Grandin was considered a strange girl, and doctors told her mother she'd never speak, let alone have a productive life. But her mother refused to believe it: she saw potential in her observant and creative child. As Temple grew, she started learning how to articulate the different way that her mind worked: her astounding visual memory allowed her to draw whole blueprints just from one tour through a facility, and her empathy with animals helped her design spaces that helped them stay calm. Today, she is a powerful voice in science, advocating for autistic people like herself. This picture book biography told in rhyming text is an inspiring introduction to an important figure in scientific history.
Temple Grandin: How The Girl Who Loved Cows Embraced Autism and Changed the World
When Temple Grandin was born, autism was newly described — and a diagnosis meant a life in an institution. But her mother refused to believe that her daughter was incapable of learning, and to everyone's amazement, Grandin learned to speak and attended a regular school. As a teen, a love of science and an empathy with animals around her, who also found themselves overwhelmed and frightened by sensory stimuli, led her to a career in the animal sciences, where she has revolutionized the livestock industry and provided a role model for autistic people around the world. This compelling biography shows readers that a different way of seeing the world can be of tremendous value in scientific discovery.
Temple Grandin
When Temple Grandin's mother (Julia Ormond) was told she would never speak and should be institutionalized, she was determined to give her daughter every chance to live whatever life she chose. The film follows Grandin (Claire Danes) as she not only goes to school, college, and grad school — despite the cruelty of her peers at her odd behavior and the resistance of adults who believed she could not succeed — but eventually discovers that her own experiences give her a unique insight into the daily lives of animals. Eventually, she turns that insight into the driving force behind a powerful movement for compassionate treatment of stock in slaughterhouses, and animal welfare in general. Danes captures Grandin's behavior patterns, including modes of speech, difficulty with social skills, and sometimes violent reactions to overstimulation, without exaggerating them into caricature. This multi-award-winning film perfectly depicts that different from neurotypical people is not the same as less.
Thinking In Pictures: My Life With Autism
Imagine if your mind worked differently than anyone else you ever met — how would you describe what it is like to think in a unique way? In this groundbreaking book, Temple Grandin used her two unique perspectives, that of a scientist and that of an autistic person, to capture what it's like to live in an autistic world. From explaining what it's like to "think in pictures" to describing how her own sensory challenges helped her understand the behavior of animals in stockyards and slaughterhouses, Grandin takes readers on an insightful tour through the eyes and mind of a person with autism. Frank, fascinating, and full of intriguing explorations of the benefits that come from autism's alternative look at the world, this book will help neurotypical readers understand what autistic people may be experiencing, and will provide autistic readers with reassurance that they are not alone.
Uniquely Me: Books about kids with Autism
We're Amazing 1, 2, 3
When Elmo introduces his friend Julia to Abby Cadabby, Abby is confused: Julia doesn't say hello or look at her. Did she do something wrong? Elmo explains that Julia is autistic, and that she does things a little differently — but that doesn't mean they don't have lots in common. In fact, if Abby lets Julia be herself, it's easy for them to find fun games to play! This book introduces common differences between neurotypical and autistic kids — including mentions of stimming and sensory sensitivity — in a nonjudgmental way, allowing autistic kids to see themselves in a storybook and giving neurotypical kids a framework for understanding and accepting their autistic peers.
My Brother Charlie
Siblings of autistic kids can provide an understanding explanation of autism for other children. This little girl explains that her brother's diagnosis means that "his brain works in a special way. It's harder for him to make friends. Or show his true feelings. Or stay safe." Sometimes that makes things difficult, but she also knows that there are many things that Charlie is very good at: he plays the piano, he knows all the American presidents, and he can tell you more about airplanes than anyone! Holly Robinson Peete was inspired to write this story by her son with autism, and collaborated with her daughter Ryan Elizabeth Peete to capture the real-life experiences of a sibling of an autistic child and a simple explanation of autism spectrum disorder for children who aren't familiar with it.
Rain Reign
12-year-old Rose is autistic and has a particular obsession with homophones — so when her father brings her home a dog, she names him Rain, a word with three homophones (rein, reign) that makes him extra special. When a storm causes flooding and Rain goes missing, she is determined to find her beloved dog, but when Rose discovers that Rain may belong to someone else, she faces a seemingly insurmountable challenge: breaking out of her routine and comfort zone to find Rain's owners, and maybe even losing her beloved friend. Rose's authentic voice in this book captures her struggles with a life full of rules that are critical to her but unimportant or incomprehensible to those around her, but also reveals an observant, loving, and funny girl who finds empowerment by learning how to let go of some of her need for control.
Mockingbird
Caitlin has always depended on her older brother, Devon, to help comfort her: her diagnosis of Asperger's syndrome means that anything other than black and white is confusing and upsetting. But when Devon is killed in a school shooting, her world is truly turned upside down, and her widower father is too deep in his own grief to help. When Caitlin hears the word closure, she turns to her trusty dictionary and determines that's exactly what she needs — but how is she going to find it? With the help of the school's counselor, maybe Caitlin can also learn to find the friendship she desperately wants. This National Book Award winner beautifully captures Caitlin's thought process, which may seem "weird" to others but makes total sense through her eyes.
M is for Autism
M's world is a little different than that of her classmates, and she just wants to be like them — the ones who don't have to fight their anxiety at every classroom door, or who see the world in a way that everyone seems to understand. Just when she thinks her life couldn't be more upside-down, she gets a diagnosis: autism spectrum disorder. Suddenly her life is full of terms like "stims" and "sensory issues," "coping strategies" and "therapy." But by understanding who she is — and that she's not alone in her view of the world — M might just find her own kind of normal. Written by students at Limpsfield Grange, a school for girls with Autism Spectrum Disorder with communication and interaction difficulties, this book provides an inside look at what it's like to find your identity and understand yourself in a new way.
Rules
When a brother has a disability, it can be hard for a sister to combine her love for her sibling with her desire to fit in. 12-year-old Catherine thinks her autistic younger brother David is keeping her from a normal life. She's spent his whole life trying to teach him the rules to being normal: don't hug clerks at the store, don't put toys in the fish tank, don't yell at the dinner table. But when Catherine meets some new friends, including Jason, a nonverbal paraplegic boy, she starts to realize that maybe "normal" isn't something that's so easily defined — and that maybe David has a few lessons to teach her, too.
How To Speak Dolphin
Lily adores her autistic half-brother, Adam, but she's also frustrated by how his needs have taken over her life: her stepfather, Don, refuses to see Adam's needs, forcing Lily to be more caretaker than sister. When Adam bonds with a captive dolphin, Nori, Don thinks it's the solution to the family's problems — but a new friend has Lily questioning if it's fair to keep a dolphin away from the ocean to benefit her brother. What she really wants is to help Nori find her freedom — while also ensuring that both she and Adam have the opportunity to find happiness. This complex novel explores the challenges that family's face finding the solutions that fit autistic children's unique situations.
Understanding Myself: Guides for Autistic Girls
The Survival Guide for Kids with Autism Spectrum Disorders (and Their Parents)
Tweens on the autism spectrum disorder often have a lot of questions: what does ASD actually mean? How does their diagnosis make them different from their peers? And how can they manage social situations, personal care, intense emotions, and more as they get older and need to develop more independence? With an encouraging, straightforward tone, this book helps tweens with ASD understand the way their condition affects them and how they can develop strategies that work for them. Individual chapters tackle particular areas like hygiene and toileting, dealing with anxiety, and building healthy diet, exercise, and sleep habits. Tweens will love reading the stories from other real-life kids that reassure them that they can achieve their goals.
The AsperKids' (Secret) Book of Social Rules: The Handbook of Not-So-Obvious Social Guidelines for Tween and Teens with Asperger Syndrome
Kids on the autism spectrum often find it particularly challenging to learn the "unwritten rules" of social interaction — so mother and fellow Aspie Jennier Cook O'Toole wrote them down! In this handy guide, O'Toole, who is the mother of three kids with ASD and was diagnosed herself in adulthood, covers everything from understanding the difference between lying and being tactful, to giving a good compliment, to recognizing when someone is laughing with you rather than at you. She also provides strategies for handling impulsivity and for practicing your newfound social skills so that you're ready to take on the world! This helpful handbook spells out the things kids may have missed in the social whirl, so that they feel ready to jump in when they want to.
The Social Success Workbook for Teens: Skill-Building Activities for Teens with Non-Verbal Learning Disorder, Asperger's Disorder, and Other Social-Skill Problems
Sometimes it seems like neurotypical kids just KNOW how to make friends — but the truth is that socializing is a skill, and like any other skill, you can learn it, practice it, and improve! In this easy-to-use workbook from the Instant Help Solutions series, teens go through forty activities that help them recognize their unique strengths, identify the unspoken rules of interaction, and develop their social skills, whether they're speaking to a cashier at a store, meeting a new teacher, or deepening a friendship. Individual activities tackle common challenges like struggles with flexibility, cooling down when you get upset, and negative self-talk. For teens who are feeling frustrated with social interaction, this is a great option to work on either independently or with guidance. Teens can also check out Communications Skills for Teens: How to Listen, Express, and Connect for Success from the same series.
The Autism Playbook for Teens: Imagination-Based Mindfulness Activities to Calm Yourself, Build Independence, and Connect With Others
Teens with autism spectrum disorder will find plenty of useful information in this guide from the Instant Help Solutions series! While some guides focus on the negative, this book begins by helping autistic teens find their strengths, and then discover how they can use those strengths to improve social skills, manage anxiety, and become more independent. Mindfulness activities and role-playing scripts help kids practice and prepare for situations that they find challenging, while the empowering emphasis on the strengths teens already possess — and how they can use them to achieve their goals -- builds self-esteem and helps teens see that their differences can be a source of confidence and pride.
Supporting Autistic Girls: Books for Parents and Educators
A Parent's Guide to High-Functioning Autism Spectrum Disorder: How to Meet the Challenges and Help Your Child Thrive
If your child has been described as "high functioning," you may wonder what exactly that means for both her present and her future — or, if she has significant struggles with academics, sensory issues, or other areas of life, you may question if the label is helpful at all. This book will help you understand what the description means and how you can support your autistic child. This accessible guide helps parents understand what a high-functioning autism diagnosis means (and how the diagnostic process works) as well as what supports are available, how their child's diagnosis may affect her life at home and at school, and how to help autistic kids prepare for independent life in the future. Now in its second edition, this encouraging and empowering book is an excellent resource for any parent of an autistic child.
Parenting Girls on the Autism Spectrum: Overcoming the Challenges and Celebrating the Gifts
While many books discuss the experience of raising autistic boys, there are many parents of autistic girls who are searching for something that describes their own children. This friendly book by Eileen Riley-Hall, the parent of two girls on the autism spectrum, is the perfect choice for parents looking for more information. Because her daughters, Lizzie and Caroline, have different gifts and challenges, she is also able to bring a broader perspective on what it's like to parent autistic children to the table. In frank but encouraging tones she discusses educational choices, friendship challenges, and teaching autistic girls to manage responsibilities and day-to-day skills; she also addresses parent self-care and the mis-steps and stumbles that may come along the way. Hopeful and loving, this book is a reminder that the diagnosis is just the beginning of a journey.
Girls Growing Up on the Autism Spectrum: What Parents and Professionals Should Know about the Preteen and Teen Years
Puberty is challenging for any teen, but a teen with autism spectrum disorder may face additional problems, from sensory issues that make bras and pads uncomfortable to difficulty reading increasingly complex social cues. This book for parents, educators, and other professionals looks at what the research says about girls with ASD during the preteen and teen years, and provides knowledge and advice to help girls prepare for and manage their newly more adult body and life. Individual sections talk about how to discuss sex and sexuality, personal safety, and self-esteem with autistic girls, and provide guidance for helping them embrace their changing body, mind, and world — and the coming adulthood that those changes signify.
Aspergirls: Empowering Females with Asperger Syndrome
Girls with autism are less frequently diagnosed than boys, often because they're able to wear a mask that makes them look like they're coping — but that doesn't mean they aren't facing their own challenges. This book, written by an Aspie for Aspergirls and the adults in their lives, guides you through the difficulties autistic girls may face in their personal and professional lives. Author Rudy Simone's book speaks directly to older autistic teens and autistic adults, but it also provides valuable advice for neurotypical parents and teachers on how to encourage and support younger Aspergirls.
Additional Recommended Resources