A Mighty Girl's top picks of books starring autistic girls and guides for autistic girls and their parents.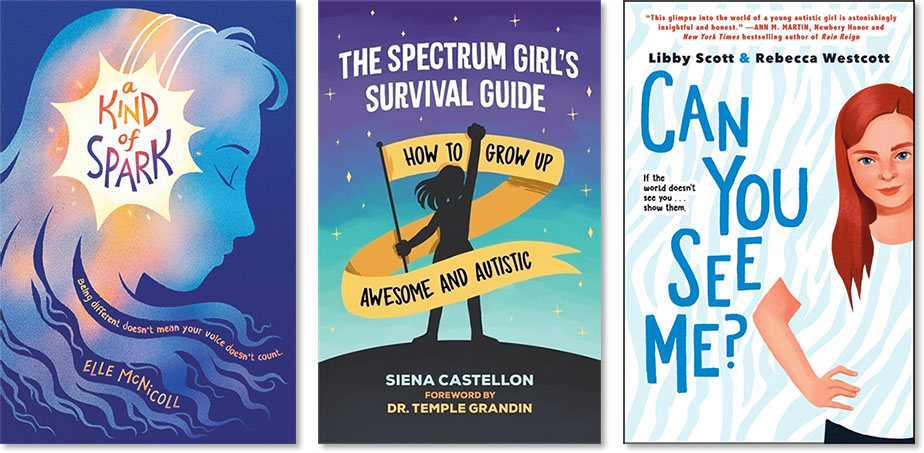 Every April people around the world recognize World Autism Month: a time to learn more about this common neurodivergence, build understanding and acceptable of autistic people, and celebrate how different perspectives can bring much needed variety and innovation to our world! Despite ongoing efforts by both autistic people and their allies, autism remains a subject of significant misunderstanding and prejudice. For girls, the problems caused by lack of awareness are often magnified: they are less frequently diagnosed, often show a different pattern of behaviors than autistic boys, and struggle with the burden of gendered expectations that make it more difficult for them to get the support they need.
Books like In A Different Key: The Story of Autism and NeuroTribes: The Legacy of Autism and the Future of Neurodiversity have helped adults understand that autism represents not just a set of problems to overcome, but a different way of thinking and experiencing the world. And for kids, tweens, and teens, who will almost certainly encounter autistic peers during their lives, there is a growing library of stories and resources about girls on the autism spectrum, perfect to share with autistic and neurotypical kids alike!
In this blog post, we've showcased a variety of resources to foster not just awareness, but acceptance of people with autism. From fiction starring autistic characters, to guides for autistic girls, to books that can help parents and educators support and encourage autistic kids to achieve their full potential, these books serve as a reminder that, while autism may be an important part of a person's story, what's more important is for all of us to recognize them as talented, interesting, and unique individuals.
Dr. Temple Grandin: GroundBreaker and Role Model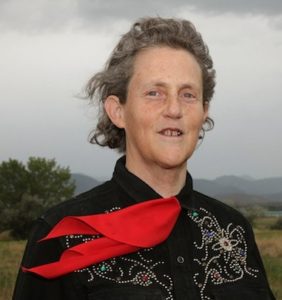 When Temple Grandin was born, autistic children were often blamed on "refrigerator mothers" who supposedly denied their children affection and doctors regularly recommended a lifetime in an institution. But Grandin's mother not only refused to believe that she had caused her daughter's condition: she was sure that Temple had potential for growth and learning. With years of dedicated work, Grandin learned to speak, attended school, and discovered a passion for science. She also displayed a remarkable gift: an astounding visual mind that allowed her to design and draft complex structures with ease, and a unique perspective that helped her understand the ways animals think and behave like no one around her could.
Dr. Grandin's success was more than personal, though: she had proven that autistic children could accomplish far more than anyone had previously thought possible. After being featured in a book by neurologist Oliver Sacks, Grandin became a public advocate for people with autism, teaching people about the way that she saw the world and the need for understanding and accommodation so that other autistic people, both children and adults, could achieve their potential, too. She provides a powerful role model for autistic children, and for autistic girls in particular, but her journey to becoming a world famous scientist and public speaker is inspiring to all.
Grandin is also the author and co-author of multiple books about autism, including The Autistic Brain: Helping Different Kinds of Minds Succeed, Unwritten Rules of Social Relationships: Decoding Social Mysteries Through Autism's Unique Perspectives, and a book for parents and educators, Autism and Education: The Way I See It.
When Temple Grandin was a child, she was different from other children — and her parents were told that she wouldn't be able to attend school, let alone live an independent life. Instead, her mother found people who could help her, and tried to understand why some things, like eye contact, strong smells, bright lights, and loud noises were so overwhelming for Temple. As she got older, Temple discovered that she also had incredible gifts, including a remarkable visual memory and the ability to understand how animals perceived their environment. As an animal scientist and as an autism advocate, she's change the way other people see the world, too! Tthis inspiring book from the Ordinary People Change the World series is a tribute to the power of unique perspectives.
Uniquely Me: Books about kids with Autism
Understanding Myself: Guides for Autistic Girls
Supporting Autistic Girls: Books for Parents and Educators
Additional Recommended Resources