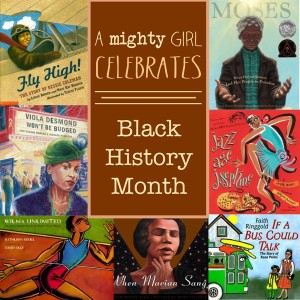 By Lili Sandler, A Mighty Girl Senior Research Intern
Sojourner Truth and Harriet Tubman. Rosa Parks and Coretta Scott King. We are all familiar with the names of these famous and remarkable women. But what of the lesser known queens of black history? If only we were all as familiar with names such as Claudette Colvin, Wilma Rudolph, Viola Desmond, Effa Manley, or Molly Williams.
February is well known as Black History Month in the United States and Canada. Schools, libraries, organizations, and individuals across the continent take time to honor black Americans and Canadians and their essential role in our nations' stories throughout the second month of the year.
At A Mighty Girl, our take on this important celebration will be to focus on Black Herstory -- the too-often forgotten female half of black history -- by sharing the stories of both contemporary and historical tales of girls and women of African descent through our Facebook page and blog posts.
Black History Month evolved from "Negro History Week", as created by African-American historian Carter G. Woodson and other members of The Association for the Study of Negro Life and History in 1926. The group chose the second week in February due to the timing of both Frederick Douglass and Abraham Lincoln's birthdays. Woodson hoped that eventually, black history would be a fundamental portion of any American history lessons, making a Black History Week unnecessary.
While black history is taught as a part of all comprehensive American history courses, maintaining a dedicated portion of the year to focus on black history has become a modern American tradition. To whit, every U.S. president since 1976 has officially designated the month of February as Black History Month.
To honor this tradition, we will feature books, movies, toys, and music by and about black girls and women, as well as the true stories of historical and contemporary black Mighty Girls in North America throughout the month of February. We plan to highlight girls and women who are not often remembered in addition to the giants of women's history.
Please join us in recognizing the remarkable contributions of black girls and women every day of the year and especially during this month as A Mighty Girl Celebrates Black History Month!
To browse A Mighty Girl's black history resources, visit the following sections:
Help keep A Mighty Girl growing in the years ahead!
If you discover any books or other resources via this post that you would like to purchase, please use the "Buy at Amazon" link on every A Mighty Girl product page. By doing so, at no added cost to you, you help to support the site and allow us to continue providing you with wonderful girl-empowering resources. Thanks for your support!