"Nobody, but nobody, is going to stop breathing on me."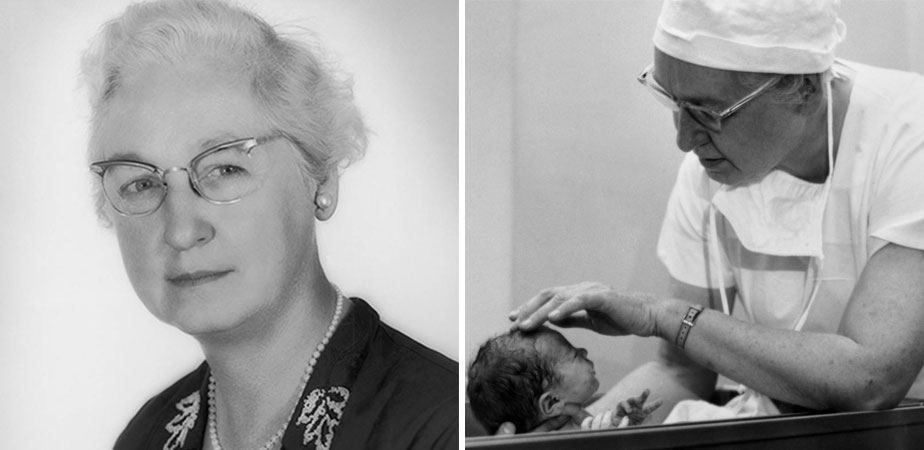 You've likely heard doctors or parents talking about a baby's Apgar Score, but did you know that this lifesaving measure is named for its creator, Dr. Virginia Apgar, the pioneering anesthesiologist whose work has helped save countless newborns? The Apgar Score, which is now used in many countries around the world, helps doctors quickly assess the health of newborns to determine if they need medical intervention. Apgar also authored a groundbreaking book called Is My Baby All Right? which provided parents with a reassuring and informative guide to birth defects, which had previously been a taboo topic and a source of shame to many families. Apgar's unflagging determination to provide the best possible care for both women and their babies is perhaps best summed up by her famous quote: "Nobody, but nobody, is going to stop breathing on me."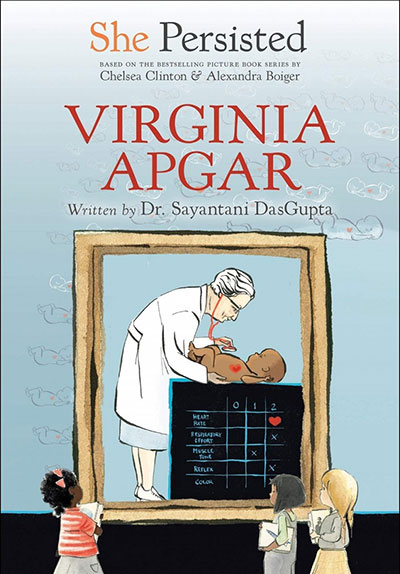 Born in Westfield, New Jersey on June 7, 1909, Apgar developed an interest in medicine by high school, where she performed poorly in her mandatory home economics classes but thrived in science and math. She completed an undergraduate degree at Mount Holyoke College in zoology with minors in physiology and chemistry — while also playing on multiple sports teams, reporting for the college newspaper, acting in local plays, and playing violin in the orchestra! It's no wonder that one of her teachers once remarked, "...frankly, how does she do it?"
Apgar went on attend Columbia University College of Physicians and Surgeons (CUCPS) as one of nine women in a class of ninety students. She received her medical degree in 1933 and began a residency in surgery. Allen Whipple, the chairman of surgery at CUCPS, encouraged Apgar to switch to anesthesiology. Anesthetic had previously been given by nurses, but as surgeries became more complicated, anesthesiology was starting to become a doctor's specialty. However, the field was still new and poorly researched, and Whipple believed that Apgar had the enthusiasm, intelligence, and energy to take on the challenge. After receiving her anesthesiologist's certification in 1937, she returned to CUCPS to become the director of the newly formed division of anesthesia and, in 1949, she became the first female full professor in CUCPS' history.
Her position allowed her to conduct research at the affiliated Sloane Hospital for Women with laboring and new mothers. She soon realized that medical personnel had no standardized way to assess the health of newborn babies. Although mortality for children under a year old had been going down in the U.S. between the 1930s and 1950s, the rate of death among newborns had remained constant, in part because doctors weren't identifying babies who were at risk. In a 1953 paper, Apgar proposed a test to assess infant health on five criteria: heart rate, respiration, color, muscle tone, and reflex irritability. Within a few years, the test was becoming broadly adopted and had become known as the Apgar Score, a mnemoic learning aid based on its inventor's last name which stands for Appearance, Pulse, Grimace, Activity, Respiration. Due to its effectiveness and simplicity, the Apgar Score was widely used by hospitals throughout the United States by the 1960s, and is now used by doctors throughout the world.
In 1959, Apgar left Columbia to pursue a Master of Public Health degree at Johns Hopkins University, and took a position at the March of Dimes Foundation directing its research into the prevention and treatment of birth defects. She was one of the first people at March of Dimes to bring attention to the role of premature birth as a significant cause of children's health issues; today, working to prevent premature birth is one of the foundation's top priorities.
During the rubella or German measles pandemic of 1964 and 1965, when the United States had an estimated 12.5 million rubella cases, Apgar also advocated for universal vaccination to prevent mothers from transmitting the disease to their babies in utero. Now easily preventable with a vaccine that first became available in 1969, the devastating rubella pandemic led to tens of thousands of miscarriages, thousands of infant deaths, and tens of thousands of babies born with severe birth defects such as deafness and blindness.
Apgar published over 60 papers during her lifetime, and continued working and researching until her death in 1974. Since that time, Apgar has been recognized with multiple awards and honors, including a U.S. Postal Service stamp and induction into the National Women's Hall of Fame. Her influence lives on in the March of Dimes Foundation: during her time with the organization, she helped expand its focus to funding prenatal services for at-risk and under-served communities, as well as neonatal intensive care units for babies born prematurely. In a tribute to Apgar on the 100th anniversary of her birth in 2009, David Rose wrote, "Virginia Apgar was an irrepressible and charismatic champion for babies whose wit and lively personality captivated everyone she encountered in her constant quest for improvements to maternal and infant health.... It has been said that every baby is first seen through the eyes of Virginia Apgar."
Books About Virginia Apgar And Pioneering Female Doctors
Elizabeth Blackwell didn't want to be a wife, or a teacher, or a seamstress: she wanted to be a doctor! But in the 1830s, that just wasn't something women did. Elizabeth wasn't swayed, though: when people told her she wasn't smart enough, or strong enough, she knew better. She fought her way past detractors and skeptics to attend medical school, and not only was she the first woman to graduate from a medical degree in the US, she became the first woman to join the UK Medical Register. Her brilliant career would become an inspiration for generations of women after her. With its colorful art and inspiring tone, this is sure to be a favorite for would-be doctors everywhere.