Books, toys, clothing, and more celebrating girls and women in soccer in honor of the 2019 Women's World Cup!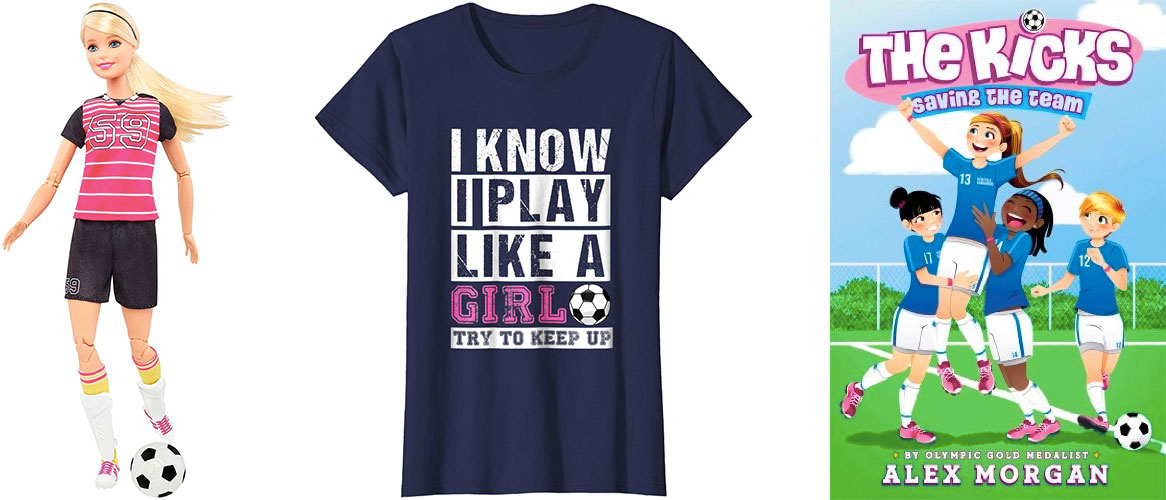 With over 250 million players in over 200 countries, it's no surprise that soccer is the world's most prominent women's team sport! In fact, women's soccer games have been recorded since the late 19th century, and today, 177 nations have national women's soccer teams. Best of all, girls' soccer leagues continue to thrive, with gender representation among youth soccer players almost exactly 50-50, something that's all too rare in athletics. It's no wonder that excitement about the 2019 FIFA Women's World Cup is at a fever pitch, with millions of girls around the world eager to cheer on their favorite players — and dream about their own turn kicking the winning goal!
To celebrate Mighty Girls and their love of the beautiful game, we've put together a selection of books, clothing, toys, gear, and movies that support and encourage Mighty Girl soccer lovers. Whether she's a toddler kicking her first ball into a pop-up net, or a teen reading about her favorite soccer hero, there's something for players and fans of every age. We hope that these inspiring resources will keep your Mighty Girl playing her favorite game for many years to come!
Soccer Stories: Books About Soccer
Maisy and her friends can't wait to play a game of soccer! Together, they lace on their cleats, grab the ball, and split into teams. As the game gets going, kids will get swept up in the excitement: who will score first? Who will win? But in the end, what really matters is that all of them are having a great time playing their favorite game. This sweet story reminds young players that the best part about soccer is how much fun it is to play!
Gear Up For The Game: Soccer-Themed Clothing
Time To Play: Soccer Toys And Training Gear
Soccer On Screen: Soccer-Themed Movies