With a one million franc bounty on her head, Witherington presided over the surrender of more than 18,000 German troops.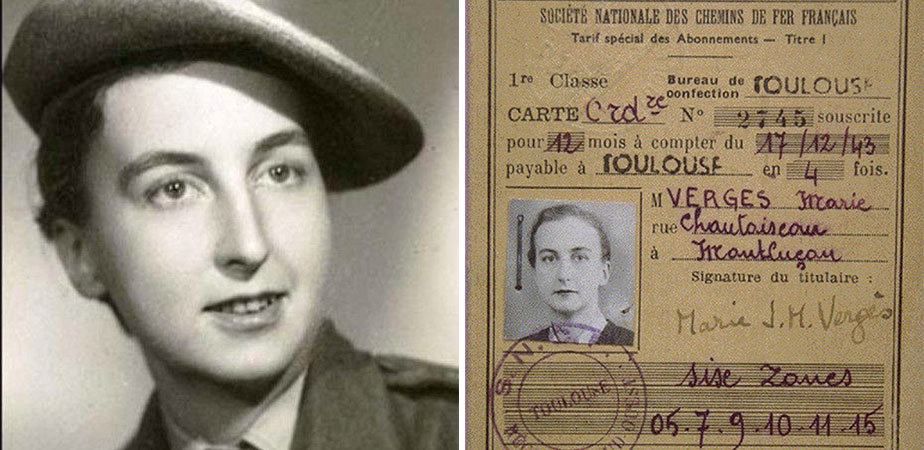 On the night of September 22, 1943, a 29-year-old British Special Operations Executive agent parachuted into occupied France. It sounds like the beginning of a spy movie, but it's actually the real-life story of Pearl Witherington, one of World War II's little-known female heroes! Witherington led a network of thousands of French Maquis resistance fighters in battle against the Nazis, and even presided over the surrender of 18,000 German troops at the end of the war.
Born on June 24, 1914 to British parents in France, Witherington's peaceful life there — which included a job at the British embassy and a French fiancé — was shattered when Germany invaded in May of 1940. She escaped to Britain with her mother and sisters that December, but was determined to find a way to fight back. She began working with the Women's Auxiliary Air Force, then in June 1943, eager to take a more active role in the war effort, she joined the Special Operations Executive (SOE), which had been formed to conduct espionage, sabotage, and reconnaissance in occupied Europe. "Deep down inside me I'm a very shy person but I've always had a lot of responsibilities ever since I was quite small," she later reflected. "So I thought, 'Well, this is something I feel I can do.'"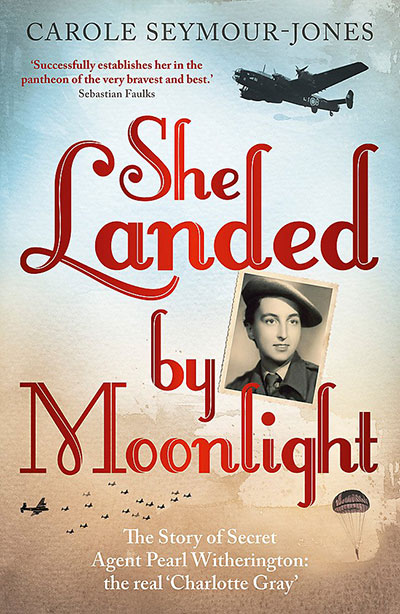 Witherington excelled at SOE training: her instructors found her "cool and resourceful and extremely determined" and were astounded at her natural ability with a firearm, with one of them calling her "probably the best shot (male or female) we have yet had." Her commander praised her as "very capable [and] completely brave." By September, her superiors felt that she was ready to go operational. She parachuted into occupied France and connected with the French Resistance, including her fiancé, Henri Cornioley, who had escaped from a German prison camp. Witherington spent eight months working as a courier for Maurice Southgate, leader of the SOE Stationer Network, under the code name Marie, often posing as a traveling cosmetics saleswoman.
After Southgate was arrested by the Gestapo and sent to the Buchenwald concentration camp in May 1944, the SOE ordered Stationer to be divided into two separate networks; Witherington became the leader of the new Wrestler Network under the code name "Pauline." Her command of Wrestler, which grew to include over 3,500 French Resistance Maquis fighters at its peak, was so effective that the Nazis put a one million franc bounty on her head. At one point, in an effort to break the network, the Germans ordered 2,000 troops with artillery to attack Witherington when approximately 140 Maquis were gathered. She reported that the battle raged for 14 hours and the Germans lost 86 men while the Maquis lost 24 "including civilians who were shot and the injured who were finished off."
After the battle, Witherington quickly regrouped, and her network launched large scale guerrilla attacks which wreaked havoc on the German columns marching to the front. Among other successes, her force disrupted a key railroad line between the south of France and Normandy over 800 times, all the while suffering only a few casualties. In the second half of 1944, with the German military being pushed back out of France, Witherington presided over the surrender of more than 18,000 German troops.
After the war, Witherington was recommended for Britain's Military Cross, but was deemed ineligible because she was a woman. Instead, she was offered the civil division of the award of Member of the Most Excellent Order of the British Empire (MBE), which she declined, stating "there was nothing remotely 'civil' about what I did. I didn't sit behind a desk all day.... I do consider it to be most unjust to be given a civilian decoration. Our training, which we did with the men, was purely military and as women we were expected to replace them in the field." In 1945, her contributions to the war effort were appropriately honored when she received a military MBE. She was also awarded France's Legion d'honneur for her work with the French Resistance. More than half a century later, in 2004, she was made a Commander of the most Excellent Order of the British Empire (CBE), receiving her insignia from Queen Elizabeth II during a state visit to France.
Witherington received what she considered her greatest honor in 2006, at the age of 92: her Royal Air Force parachute wings. She had completed three training jumps, plus one operational jump, "but the chaps did four training jumps, and the fifth was operational — and you only got your wings after a total of five jumps," she said. "So I was not entitled — and for 63 years I have been moaning to anybody who would listen because I thought it was an injustice." After hearing her in a television interview, RAF parachute instructor Squadron Leader Rhys Cowsill agreed, and took up the cause of getting Witherington her wings. On April 11, 2006, Cowsill and Major Jack Lemmon of the Parachute Regiment traveled to her retirement home in France and officially granted her parachute wings.
In 1997, Witherington wrote a memoir with Hervé Larroque, where she shared many of the strange but true stories of her time as an SOE agent — everything from diving into a cornfield to avoid German fire, to nearly being killed by a Resistance leader who doubted her identity, to keeping a pet rabbit that came with her to so many dangerous places that it became oblivious to machine gun fire. That book has since been adapted into the young adult memoir, Code Name Pauline: Memoirs of a World War II Special Agent, and her story was also recently told in the adult biography She Landed By Moonlight: The Story of Secret Agent Pearl Witherington.
Witherington died in 2008 at the age of 93, still living in France. For her, fighting the Nazis to protect her adopted homeland had never been in question: "I just thought, This is impossible. Imagine that someone comes into your home — someone you don't like — he settles down, gives orders: 'Here we are, we're at home now; you must obey.' To me that was unbearable."
Books About Pearl Witherington And Other Female Spies of WWII
During World War II, the Danish Resistance successfully smuggled over 7,000 people — nearly Denmark's entire Jewish population — across the sea to safety in Sweden. This powerful picture book captures the suspense and heroism of this incredibly brave act through the story of two children. Anett's family lives in a small Danish fishing village, and they're concealing Carl and his mother, the last pair they need to get aboard a fishing boat and to safety. But with the occupying soldiers getting suspicious and a cloudy sky that will prevent Carl from seeing which way is safe from patrols, it takes Anett's clever idea of a chain of whispers to ferry them safely to the harbor.